Frankincense, known for its rich, woody aroma, has been valued for its wellness benefits for thousands of years. In modern times, its appeal continues, especially when blended with other essential oils, enhancing not only the scent but also the holistic benefits.
Derived from the resin of the Boswellia tree, Frankincense enhances the properties of other oils when blended, contributing to a balanced blend that benefits physical, emotional, and spiritual well-being.
Reputable brands like doTERRA and Young Living offer pre-formulated Frankincense blends or pure Frankincense oil for those interested in creating their own blends. Products like doTERRA's Frankincense Touch or Young Living's Sacred Frankincense provide an accessible introduction to the world of essential oil blends with Frankincense.
The market offers a variety of essential oils that pair well with Frankincense. Lavender for relaxation, Lemon for revitalization, and Myrrh for spiritual connection are examples of oils that, when blended with Frankincense, create a beneficial mixture.
This blog post aims to explore essential oil blends with Frankincense, delving into their benefits and practical applications, and providing insights into creating your own blends. Through exploring the aromas and benefits, you'll discover the potential that a bottle of Frankincense blend holds, and why it's worth considering for your wellness routine.
Creating Blends with Frankincense
Creating blends with Frankincense opens up a realm of aromatherapy, offering diverse aromatic profiles and therapeutic benefits. Here's a simplified guide to blending essential oils and the complementary nature of Frankincense:
Basics of Blending Essential Oils
Identifying Purpose: Define the goal of your blend, be it for relaxation, skin care, or other wellness aims.
Selecting Oils: Choose oils that align with your goal. Oils have unique properties; some are calming while others are energizing.
Understanding Notes: Oils are categorized into top, middle, and base notes based on evaporation rates. Balancing these notes yields a harmonious aroma.
Testing Ratios: Begin with a basic ratio like one drop of each selected oil, and adjust to your preference and the oils' strength.
Safety First: Ensure the oils and the blend are safe for your intended use, avoiding any allergens or irritants.
The Complementary Nature of Frankincense
Frankincense, a versatile base note with a rich aroma, serves as a solid foundation in blends. Its complementary nature:
Enhances Other Oils: Frankincense amplifies the properties and aromas of other oils, making a valuable addition to blends.
Balances Aromatic Profiles: Its grounding scent balances lighter, volatile top and middle notes, creating a balanced aromatic profile.
Boosts Therapeutic Properties: Traditionally, Frankincense is believed to enhance the therapeutic benefits of other oils, although individual experiences may vary.
Understanding these basics and Frankincense's complementary role enables beginners to start creating blends, delving into the world of essential oils with a solid foundation.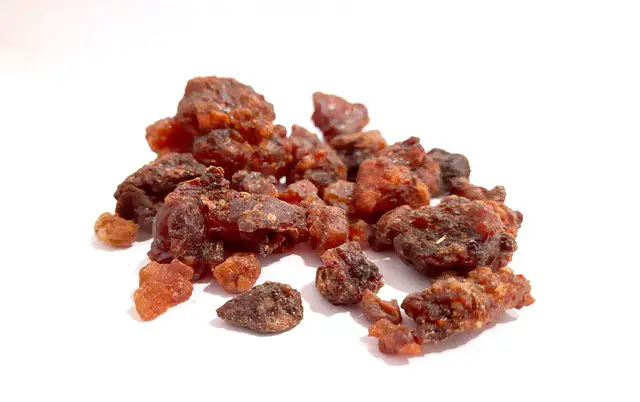 Enhancing Relaxation and Sleep
Lavender and Frankincense Blend
Lavender and Frankincense essential oils are valued for promoting sleep and relaxation.
Lavender Oil
Various studies suggest that lavender oil, through aromatherapy or capsule form, can improve sleep quality, reduce anxiety, and alleviate sleep disorders in various populations, such as hemodialysis patients, coronary artery disease patients, and nursing home residents.
Linalool, a compound in lavender oil, is known for its anxiety-relieving effects. A 2014 study found that, Aromatherapy with lavender essential oil has positive effect on improving sleep quality in hemodialysis patients and may be used as a noninvasive, easy and low-cost method for sleep disorders in these patients.
Another study in 2019 found that, lavender essential oil increased quality of sleep and reduced level of anxiety in patients with coronary artery disease. These finding were echoed by a 2020 study published in the Journal of ethnopharmacology. It found that, Inhaled lavender can improve sleep quality and quantity, quality of life and mood in diabetic patients suffering from insomnia with no significant effect on metabolic status.
Frankincense Oil
A 2019 study published in the Journal of oleo science by Okano revealed that frankincense effectively counters the effects of stress. The research demonstrated the oil's ability to alleviate anxiety and depression, enhancing mental tranquility and overall well-being.
Inhaling frankincense affects the limbic system and nervous system, lowering heart rate and blood pressure, and fostering a calm state conducive to sleep.
Blending lavender and frankincense oils for Sleep
Combine 5 drops each of lavender and frankincense oils with 30 ml of a carrier oil like jojoba or almond oil. Apply to the wrists, temples, or neck before sleep, or use a diffuser in the bedroom. Ensure a patch test to avoid allergic reactions.
Boosting Immunity
Studies show that lavender and frankincense essential oils can support the immune system. Lavender has anxiolytic, anti-inflammatory, and antidepressant effects, while frankincense offers cognitive enhancement, anti-inflammatory, antioxidant, and antimicrobial properties. When combined, they may have a synergistic effect, potentially providing a natural way to boost immune function, alleviate stress, lessen inflammation, and guard against pathogens.
Lavender Essential Oil
Study 1: Anxiolytic Effect of Lavender Essential Oil Inhalation on Open-heart Surgery Patients (2014)

Findings: Lavender essential oil demonstrated a significant anxiolytic effect on patients undergoing open-heart surgery. It reduced anxiety levels, which can positively impact the immune system by lowering stress-related immunosuppression.

Study 2: The Mechanism of Lavender Essential Oil in the Treatment of Acute Colitis (2021)

Findings: Lavender essential oil reduced the levels of inflammatory cytokines in serum and colon tissue. It mediated Th17 cell differentiation, indicating its potential in modulating immune responses and reducing inflammation in colitis.

Study 3: Lavender Essential Oil Ameliorates Depression-like Behavior and Increases Neurogenesis and Dendritic Complexity in Rats (2017)

Findings: The oil exhibited antidepressant effects, which can contribute to immune enhancement by alleviating stress and depression, factors known to suppress immune function.
Frankincense Essential Oil
Study 4: Frankincense Improves Memory and Learning in Mice (2017)

Findings: Frankincense improved memory and learning in mice. While the study focused on cognitive functions, enhanced brain health can indirectly support the immune system.

Study 5 & 6: The Anti-Inflammatory, Antioxidant, and Antimicrobial Properties of Frankincense (2021)

Findings: Frankincense essential oil exhibited anti-inflammatory, antioxidant, and antimicrobial properties. These characteristics are crucial for boosting the immune system, reducing inflammation, and protecting the body against pathogens.
Method of Blending Lavender and Frankincense for Immunity Boost
Mix 2 drops of lavender essential oil with 2 drops of frankincense essential oil. Combine this blend with a carrier oil, like coconut or almond oil, at a 1:10 ratio for safe application. Apply the mixture topically to the soles of the feet, wrists, or behind the ears, or inhale gently. Use 1-2 times daily. Conduct a patch test to avoid allergic reactions and avoid sunlight post-application to prevent photosensitivity.
Alleviating Stress and Anxiety
Frankincense and bergamot
Both frankincense and bergamot have demonstrated potential benefits in reducing stress and anxiety through their anti-inflammatory properties and effects on the nervous system. These findings suggest their potential use in holistic approaches to mental health and well-being.
Frankincense
Anti-Inflammatory and Neuroprotective Effects:

Frankincense has demonstrated anti-inflammatory properties, which are crucial in alleviating anxiety and depression, as inflammation is often linked to these mental health issues (Beheshti et al., 2021).
The extract of frankincense reduced levels of inflammatory cytokines IL-6 and TNF-α in rats, indicating its potential in reducing inflammation and associated anxiety and depression.

Modulation of Neurotransmitters:

Frankincense has been found to modulate the release of neurotransmitters in the brain, aiding in the management of mood disorders, including anxiety and depression (Hindawi, 2017).

Stress Reduction in Sleep-Deprived Rats:

A study found that frankincense essential oil significantly reduced corticosterone levels in sleep-deprived rats, indicating a reduction in stress (Okano et al., 2019).
Bergamot
Parasympathetic Nervous System Activation:

Bergamot essential oil aromatherapy has shown effectiveness in promoting the activation of the parasympathetic nervous system. This activation is associated with relaxation and stress reduction (Chang & Shen, 2011).
The study involved elementary school teachers exposed to Bergamot essential oil aromatherapy, resulting in significant decreases in blood pressure and heart rate, indicators of reduced stress and anxiety.

Anti-Inflammatory Activity:

Bergamot oil exhibited anti-inflammatory effects in a study, suggesting its role in managing conditions associated with inflammation, which can indirectly contribute to alleviating stress and anxiety (Karaca et al., 2007).
Mechanism of Action
Frankincense: The anti-inflammatory, anxiolytic, and antidepressant properties of frankincense are attributed to its bioactive compounds that modulate neurotransmitter release and reduce inflammatory cytokines.
Bergamot: The stress and anxiety alleviating effects of bergamot are linked to its ability to activate the parasympathetic nervous system and its anti-inflammatory properties.
Recommended Blending Ratios
Bergamot Essential Oil: 3 drops
Frankincense Essential Oil: 2 drops
Method
Select Quality Essential Oils:

Ensure that both Bergamot and Frankincense essential oils are of high quality, pure, and organic to achieve the best results.

Mixing:

In a small glass container, add 3 drops of Bergamot essential oil.
Add 2 drops of Frankincense essential oil to the container.
Gently swirl the container to mix the oils thoroughly.

Application:

Diffuser: Add the blend to a diffuser and let it diffuse into the air for a calming and relaxing atmosphere.
Topical Application: Dilute the blend with a carrier oil (like jojoba or coconut oil) before applying to the skin. Always conduct a patch test to ensure no allergic reactions.

Inhale and Relax:

Inhale the aromatic blend deeply to experience the calming and stress-relieving effects. The synergy of Bergamot's uplifting and calming properties with Frankincense's grounding and centering effects can offer holistic relaxation.
Ylang Ylang and Frankincense Blend
A study by Hongratanaworakit and Buchbauer (2006), ylang-ylang oil was found to significantly decrease blood pressure and increase skin temperature, indicating a state of relaxation. Participants exposed to ylang-ylang oil rated themselves as more calm and relaxed compared to the control group. This study supports the use of ylang-ylang in aromatherapy for stress and depression relief (Phytotherapy Research).
The second study by Melchior et al. (2007) didn't directly study ylang-ylang but explored the impact of work stress on depression and anxiety. Although it didn't involve ylang-ylang, it provides context on the significant effects of stress and anxiety on mental health, underscoring the need for effective alleviation methods like those potentially offered by ylang-ylang (Psychological Medicine).
The third study by Hongratanaworakit and Buchbauer (2004) found that ylang-ylang oil caused significant decreases in blood pressure and pulse rate and increases in attentiveness and alertness. These effects are attributed to the oil's harmonizing properties, further supporting its role in alleviating stress and anxiety (Planta Medica).
Blending ylang-ylang and Frankincense
A recommended blending ratio for ylang-ylang and frankincense essential oils is a 1:1 ratio for a balanced aroma and therapeutic benefits. Here's a step-by-step guide:
Ingredients
5 drops of Ylang-Ylang essential oil
5 drops of Frankincense essential oil
30 ml of carrier oil (like jojoba oil, almond oil, or coconut oil)
Instructions
Select a Carrier Oil: Choose a carrier oil that suits your skin type and the purpose of the blend. Carrier oils dilute the essential oils, making them safe for skin application.
Mix Essential Oils: Add 5 drops of ylang-ylang and 5 drops of frankincense essential oils to a dark glass bottle. This 1:1 ratio provides a balanced blend, combining the relaxing and mood-enhancing properties of ylang-ylang with the grounding and calming effects of frankincense.
Add Carrier Oil: Pour 30 ml of your chosen carrier oil into the bottle with the essential oils. This gives approximately a 5% dilution, which is generally considered safe for adult skin application. Adjust the amount of carrier oil for a lower or higher dilution as needed.
Blend Well: Cap the bottle and shake it gently to mix the oils thoroughly. Allow the blend to sit for at least 24 hours to let the oils synergize.
Patch Test: Before applying the blend to a larger area of your skin, conduct a patch test to ensure there's no adverse reaction.
Application: Apply the oil blend to the wrists, behind the ears, or on other pulse points, or use it for a relaxing massage.
Elevating Skin Care Regimens
1. Geranium:
Benefits for the Skin:
Balancing: Geranium helps to balance the skin's natural oil production, making it beneficial for both dry and oily skin types.
Anti-Aging: It possesses antioxidant properties that combat signs of aging, promoting a radiant and youthful complexion.
Soothing: Geranium has anti-inflammatory properties that soothe skin irritations and inflammations.
Blend with Frankincense:
Ratio: Combine 4 drops of geranium with 4 drops of frankincense essential oil.
Carrier Oil: Add the essential oil blend to 30 ml of a carrier oil like jojoba or almond oil.
Application: Apply to the skin after cleansing to hydrate, balance, and soothe the skin. It's particularly effective for evening out skin tone and texture.
2. Rose:
Benefits for the Skin:
Hydrating: Rose oil deeply moisturizes the skin, making it soft and supple.
Toning: It has astringent properties that tone the skin, tighten the pores, and restore the skin's natural radiance.
Anti-Aging: Rich in antioxidants, rose oil helps to reduce the appearance of wrinkles and fine lines.
Blend with Frankincense:
Ratio: Mix 3 drops of rose oil with 5 drops of frankincense essential oil for a rejuvenating blend.
Carrier Oil: Integrate this blend into 30 ml of a carrier oil like rosehip or argan oil for enhanced skin nourishment.
Application: Use this blend as a nightly serum to promote skin regeneration, elasticity, and hydration.
3. Frankincense:
Benefits for the Skin:
Rejuvenating: Frankincense promotes cell regeneration and keeps the skin tissue healthy.
Tightening: It has astringent properties that help to tighten and tone the skin, reducing the appearance of pores and wrinkles.
Healing: Frankincense is known for its ability to heal and soothe the skin, making it excellent for blemish-prone skin.
Blend with Itself:
Ratio: Frankincense can be used on its own or blended with carrier oils to dilute its potency.
Carrier Oil: Mix 5-10 drops of frankincense with 30 ml of a carrier oil like avocado or grapeseed oil.
Application: Apply to the skin to enhance tone, texture, and clarity, and to promote a healthy, glowing complexion.
Frequently Asked Questions (FAQs)
What are the benefits of blending Frankincense with other essential oils?

Blending Frankincense with other oils can amplify their therapeutic properties. Its grounding aroma balances other scents, and it's known to enhance relaxation, support immune function, and provide anti-inflammatory benefits.

How do I create my own Frankincense essential oil blend at home?

Start by defining the purpose of your blend. Select complementary oils, and begin with a basic ratio, like one drop of each oil. Adjust the ratios to suit your preference, ensuring the blend is safe for its intended use.

Are there any precautions to take when using Frankincense essential oil blends?

Always conduct a patch test to check for allergic reactions. It's advisable to dilute essential oils with a carrier oil before topical application to avoid skin irritation. If pregnant, consult with a healthcare provider before use.

What are some popular blends featuring Frankincense and their applications?

Frankincense blends well with Lavender for relaxation, Lemon for immune support, and Myrrh for spiritual connectivity. These blends can be used in diffusers, topical applications or inhalation for varied wellness benefits.