Are you looking for a natural remedy with impressive health benefits and a delicious, flavourful addition to your dishes? Here comes the dill oil! Dill essential oil is extracted from the aromatic dill herb and is becoming increasingly popular for its versatility and potential therapeutic properties. Are you ready to unlock the secrets of the benefits of dill oil? What are dill oil's benefits, and how can you incorporate it into your routine? And are there any side effects you should watch out for? Join us as we explore the world of dill oil, uncover its benefits, discover different methods of use, and shed light on potential side effects. Let us embark on a journey to unlock the wonders of dill oil and enhance your well-being.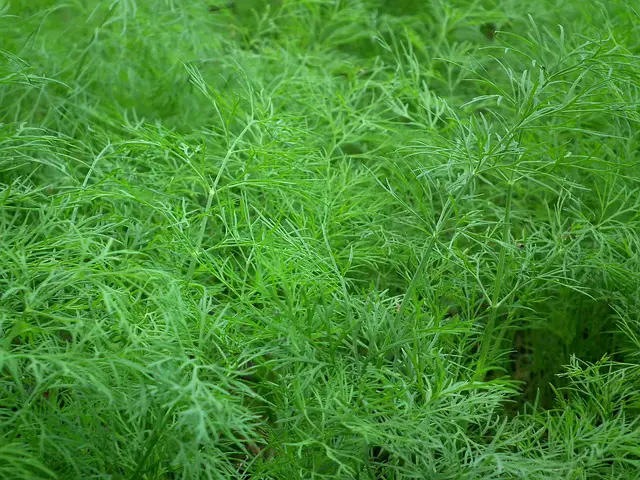 Dill Seed Oil Uses and Benefits
Supports wound healing
Dill oil has properties that can support the healing process of wounds. Its antimicrobial and anti-inflammatory properties help protect against infection and reduce inflammation, allowing wounds to heal better. When applied topically, dill oil can soothe the affected area and promote the regeneration of healthy skin cells, which supports the overall healing process.
It helps with sore throats, colds, and fevers
Dill oil is traditionally used to relieve the symptoms of sore throats, colds and fevers. Its antiviral and antibacterial properties help fight pathogens responsible for these ailments. Used as a gargle or through steam inhalation, dill oil can relieve inflammation, soothe the throat and promote faster recovery from respiratory ailments.
Maintains stomach health
Dill oil is known for its positive effects on digestive health. It can help maintain a healthy stomach by stimulating the secretion of digestive juices, enzymes and bile, which promotes proper digestion. In addition, dill oil can promote regular bowel movements and prevent digestive problems such as bloating and constipation, contributing to overall gastrointestinal well-being.
Relieves excess bloating
Excess gas in the stomach can cause discomfort and bloating. Dill oil is rich in carminative properties, which can help relieve excess bloating and prevent it from occurring. Dill oil relieves flatulence and promotes more comfortable digestion by relaxing the gastrointestinal tract muscles and reducing gas accumulation.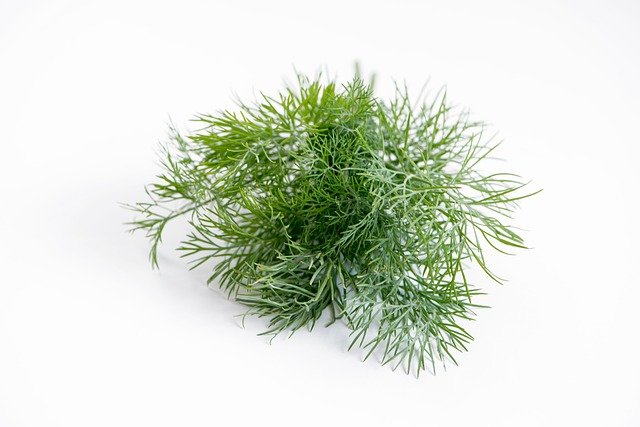 Rich in antispasmodic substances
Dill oil contains natural antispasmodic properties, making it a valuable remedy for muscle cramps and discomfort. Whether menstrual cramps, digestive cramps or muscle tension, the relaxing effect of dill oil on smooth muscle can provide relief and promote a sense of calm.
Relieves stress
The aroma of dill oil is known to have a calming effect on the body and mind. It has mild sedative properties that can help relieve stress and anxiety. Inhaling the scent of dill oil or using it in aromatherapy can promote relaxation, relieve mental tension and increase overall well-being.
Dill Oil Properties
Dill oil offers a variety of health benefits beyond its culinary uses. With its high antioxidant content, including vitamin A, this essential oil is a valuable support for overall well-being. Let's explore the remarkable properties of dill oil that contribute to its positive effect on health:
Anti-inflammatory properties
Dill oil exhibits strong anti-inflammatory properties that make it valuable for treating various skin conditions such as psoriasis and eczema. By reducing inflammation, dill oil can help soothe irritated skin, relieve itching and promote overall skin health.
Relieve muscle pain and discomfort
Dill oil's anti-inflammatory and pain-relieving properties make it an excellent natural remedy for relieving sore and aching muscles. Dill oil can relieve and support faster recovery, whether you suffer from sore muscles after exercise or muscle tension.
Sleep aid and relaxation
The calming properties of dill oil also extend to its ability to promote relaxation and contribute to restful sleep. By inhaling the aroma or using dill oil in aromatherapy, you can create a calm atmosphere that helps combat insomnia, relax after a long day, and improve overall sleep quality.
Respiratory support
For respiratory health, dill oil can be helpful for conditions like bronchitis and asthma. Its expectorant properties help clean mucus, relieving congestion and making breathing easier. Incorporating dill oil into your respiratory treatment routine can help clear the airways and ease breathing difficulties.
Potential effects on diabetes
New research suggests that dill oil may positively impact the treatment of diabetes. Some studies suggest that dill oil may help regulate blood sugar levels, although further research is needed to fully understand the mechanisms and effectiveness of the oil in this regard.
Dill Oil Side Effects
Although dill oil is generally safe, knowing the possible side effects is essential. Although they're usually mild and temporary, knowing how your body may react to this herbal remedy is important. Here are some common side effects associated with dill oil:
Gastrointestinal upset
Dill oil's most commonly reported side effects include nausea, vomiting, diarrhoea or constipation. These digestive symptoms are usually mild and resolve on their own. However, if you experience severe nausea or your body reacts adversely to the oil, you should stop taking it and consult your doctor.
Allergic reactions
In rare cases, allergic reactions to dill oil may occur. Symptoms may range from mild skin irritation, itching or redness to more severe manifestations such as swelling, difficulty breathing or hives. If you notice signs of an allergic reaction after using dill oil, seek medical attention immediately.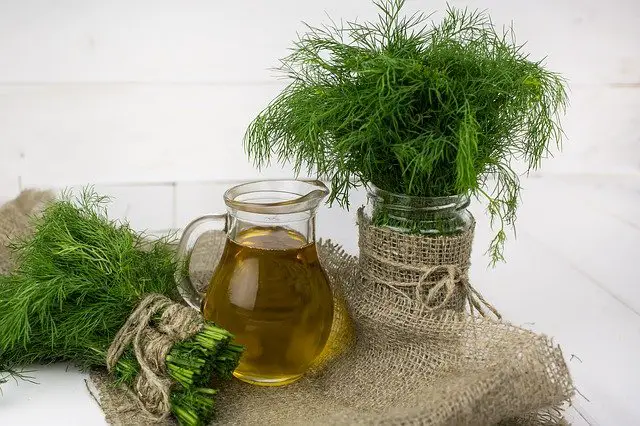 Sensitivity to sunlight
Dill oil contains compounds that may increase sensitivity to sunlight or cause photosensitive reactions in some people. If you're prone to sunburn or have sensitive skin, avoid prolonged exposure to direct sunlight after topical application of dill oil. Consider using sunscreen, such as sunscreen or wearing protective clothing to minimize the risk of adverse skin reactions.
Drug interactions
As with any herbal product, it's essential to consider potential interactions with medications you may be taking. Dill oil may interact with certain medications, including blood thinners or anticoagulants. If you're taking medication, talk to your doctor before adding dill oil to your routine.
Remember that everyone reacts differently to dill oil, and it's important to listen to your body. Stop taking dill oil and consult a healthcare professional if you notice problematic or persistent side effects. By staying informed and using the oil responsibly, you can safely enjoy the benefits of dill oil while minimizing the risk of side effects.
Dill Oil Dosage
The appropriate dosage of dill oil may vary depending on the intended use and individual factors. Here are some dosage recommendations for different purposes:
Digestive support
Taking one teaspoon of dill oil twice daily is generally recommended to support digestion. This dosage can help stimulate digestion, relieve stomach discomfort, and promote overall gastrointestinal health. However, starting with a lower dosage and gradually increasing it as needed is always advisable, closely monitoring the body's response.
Skin diseases (psoriasis or eczema)
When using dill oil to treat skin conditions such as psoriasis or eczema, two teaspoons daily, three times per week, is often recommended. This dosage can help reduce inflammation, soothe irritated skin and support skin health. However, since reactions can vary from individual to individual, it's important to assess the effects on your skin and adjust the dosage accordingly under the guidance of a physician.
Muscle pain and stiffness
A dose of 2-3 tablespoons of dill oil per day may be appropriate to relieve muscle pain and stiffness. This dosage can help relax muscles, ease discomfort and improve mobility. As with any herbal remedy, it's important to listen to your body's response and consult a physician to determine the optimal dosage for your needs.
Remember that these dosage recommendations are general guidelines, and individual needs may vary. Before starting any new regimen, consult a physician or qualified herbalist, especially if you suffer from any health conditions, are taking medication, are pregnant, or are breastfeeding.
Conclusion
Dill oil is a versatile and valuable natural remedy with numerous benefits for health and culinary purposes. It aids wound healing, relieves sore throats, maintains stomach health, reduces stress, and offers other advantages. Its anti-inflammatory effects can alleviate skin conditions, relieve muscle pain, and promote relaxation. Dill oil may also provide respiratory support and show the potential to aid diabetes management.
While dill oil is generally safe, it's important to be aware of possible side effects such as mild gastrointestinal upset, allergic reactions, and increased sensitivity to sunlight. Using dill oil responsibly, monitoring your body's response, and consulting a healthcare professional when needed are essential, especially regarding medication interactions.
Dosage recommendations for dill oil vary depending on the purpose, whether supporting digestion, addressing skin conditions, or relieving muscle pain. Adhering to the suggested dosages ensures optimal benefits and safety.
Incorporating dill oil into your lifestyle can be transformative for enhanced well-being. Embrace its benefits, understand potential side effects, and follow appropriate dosage guidelines to harness its wonders naturally.
Now that you know dill oil's benefits, uses, side effects, and dosage, it's time to unlock the secrets of this remarkable herbal remedy. Are you ready to embark on a journey to embrace the power of dill oil and cultivate a healthier, vibrant life? Explore the possibilities, consult healthcare professionals, and enjoy dill oil's remarkable benefits.