Tired of reapplying your essential oil perfume every hour or two? You aren't alone! Many people face the same challenge and wonder how to make their perfume last longer with essential oils. Extending the shelf life of your favourite scent is undoubtedly tempting, but finding the right method can be a bit of a mystery.
In this blog post, we'll shed some light on this topic and give you clear and actionable steps to extend the shelf life of your perfumes with essential oils. We'll also introduce you to specific essential oils that create long-lasting scents. Excited? Let's dive in and uncover the secrets to a long-lasting and enjoyable fragrance experience.
How long does essential oil perfume last?
The duration of action of an essential oil perfume can depend on several factors, such as the oils used, their concentrations, individual body chemistry, and application methods. On average, essential oil perfumes last between 4 and 8 hours. However, some high quality perfumes or special oils with longer lasting properties can extend the scent duration up to 12 hours or more. It's important to note that personal experiences can vary and factors such as skin type, environmental conditions, and the specific fragrance composition can affect how long the perfume lasts on a person.
Can You Add Essential Oils To Perfumes?
Can essential oils be added to perfumes? Absolutely! While many commercial perfumes can be too strong and affect the environment, homemade essential oil perfumes offer a pleasant and health-conscious alternative. These perfumes have a long-lasting scent that will keep you smelling great throughout the day.
The good news is that essential oil-based perfumes have no negative side effects on your skin or clothing. The ingredients found in essential oils are proven to be safe, so you can enjoy a pleasant scent without causing harm to others.
Adding essential oils to perfumes is possible, but using the right amounts is important to avoid too strong a scent. In addition, essential oils for perfume are often cheaper compared to commercial perfumes.
We recommend using natural essential oil perfumes, especially for those with allergies. If you're planning a trip, choosing a fragrance that won't affect the other passengers is advisable.
In conclusion, using essential oils in perfumes is a wonderful way to create personal scents that are pleasant, healthy and considerate of others. Enjoy the benefits of natural fragrances and a wonderful aroma that lasts long.
What Essential Oils Make A Good Perfume?
Wondering which essential oils are suitable for making a good perfume? Designer perfumes can be expensive, making it difficult for people on a budget to afford them. Also, these perfumes often contain ingredients that can cause allergic reactions on the skin.
In addition, the strong scent of commercial perfumes can irritate people nearby, causing sneezing or discomfort. These factors have led many people to turn to homemade alternatives.
Essential oil perfumes have become very popular because they're affordable and don't contain potentially harmful ingredients. However, many people want their perfumes to have a long-lasting effect, whether applied to the skin or clothing. A well-made essential oil perfume recipe can provide a long-lasting scent, making you feel great all day.
The market offers a wide range of essential oil perfumes, so users have many choices depending on their preferred scents. It's worth noting that essential oils have been proven to affect a person's emotional and physical well-being positively.
In conclusion, essential oils are an affordable and healthier alternative to designer perfumes. By choosing the right essential oils, you can create a perfume that not only smells great but has a long-lasting effect and promotes a sense of well-being. Discover the world of perfumes with essential oils and find the perfect scent.
How to Make Essential Oil Perfume Last Longer
The longevity of essential oil perfume may depend on factors such as the brand and the individual user. Although some claim that essential oil perfumes don't last as long as synthetic fragrances, it's important to consider the following factors that may affect how long the scent lasts on the user:
Concentration
The concentration of essential oils in a perfume formulation significantly impacts the longevity of the perfume. Research indicates that higher concentrations of essential oils generally result in longer-lasting fragrances on the skin. Because essential oils are derived from natural and harmless ingredients, creating highly concentrated perfumes is possible.
By increasing the concentration of essential oils in your perfume formulation, you can improve its longevity and ensure that it outlasts conventional synthetic fragrances available on the market. A well-made and highly concentrated essential oil perfume can give off a strong, captivating scent that lasts for an extended period.
When formulating your perfume, you should increase the concentration of essential oils to create a stronger and longer-lasting fragrance experience. However, it's important to note that personal preferences may vary, and it's advisable to test different concentrations to find the right balance for the desired fragrance intensity and longevity.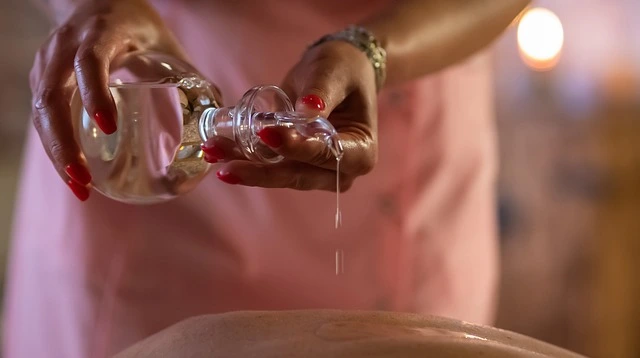 Skills
The application technique used by perfumers can have a significant impact on the longevity of the fragrance. Inexperienced individuals often make the mistake of applying perfume directly to clothing rather than to the skin, which can result in shorter fragrance longevity. When perfume is applied to clothing, it is more susceptible to being blown away by the wind and evaporated by intense sunlight.
To maximize the longevity of the fragrance, it is best to apply perfume directly to the skin before getting dressed. This way, the scent remains confined to the body and can interact with the body's natural oils and heat, which helps the scent last longer. In addition, applying perfume to pulse points on the body, such as the wrists, neck and behind the ears, can further increase the perfume's longevity, as these areas generate more heat.
If you apply the perfume not only on the clothes but directly on the skin, you can make the fragrance last longer throughout the day.
Quality
The quality of essential oils used in perfumes is a crucial factor that influences their longevity on the skin. There are numerous plants from which essential oils can be extracted, each with a unique aroma to suit different tastes and preferences. When creating perfumes from essential oils, it is important to prioritise quality, as it directly affects the duration of the fragrance.
Using high-quality essential oils in perfume formulations enhances their beauty and provides a distinctive and long-lasting fragrance experience throughout the day. High-quality essential oils are carefully extracted and processed to preserve their aromatic components and potency. These premium oils have a more robust and rounded fragrance profile, creating a perfume that lingers long on the skin.
Investing in high-quality essential oils will ensure your perfume retains its beguiling aroma and provides a satisfying fragrance experience. Using low-quality or synthetic oils can produce a short-lived scent that fades quickly.
When creating perfumes with essential oils, it is important to select reputable suppliers and ensure the authenticity and purity of the oils. By selecting high-quality oils and focusing on the artisanal creation of the perfume, you can create a scent that will not only delight the senses but also stand the test of time.
Base Ingredients
Their composition and basic ingredients greatly influence the longevity of perfumes. Extracting perfume ingredients from various plant parts can be a complex process, especially for those without experience in this field. However, experts can skillfully extract and formulate these ingredients to create perfumes that last long after application.
The choice of base ingredients in perfume formulation is critical in how long the fragrance lasts on the skin. For example, carrier oils or alcohol can affect the evaporation rate of the fragrance. If the ingredients are poorly isolated or formulated, they can evaporate quickly or volatilize into the atmosphere, resulting in a shorter shelf life for the perfume.
Therefore, proper extraction and formulation techniques must maximize the perfume's longevity. Experienced perfumers and experts understand the science behind selecting and combining base ingredients to create long-lasting fragrances. Their expertise makes it possible to design perfumes that retain their captivating scent over a long period.
Composition
The composition of a perfume can significantly affect its longevity. Research shows that perfumes with deeper notes last longer than those with lighter notes. So if you want your essential oil perfume to last longer, increase the composition to create a stronger, deeper scent when applied to the skin.
Deeper perfume notes usually come from woody, resinous or musky elements. These notes dissipate more slowly and stay on the skin longer. By including a higher concentration of these ingredients in your perfume formulation, you can increase the longevity of the scent.
Experimenting with different compositions and ingredient combinations can help you achieve the desired effect. Balancing the aromatic components in your perfume to create a harmonious blend of top, heart, and base notes can help create a more complex and long-lasting fragrance experience.
It's important to note that personal preferences and individual body chemistry can influence how fragrances are perceived to last. Therefore, finding the ideal composition that matches your preferences and complements your skin chemistry is important to achieve a longer-lasting essential oil fragrance.
Skin Chemistry
How long the scent of perfume lasts on a person's skin depends on their body chemistry. Each person has different factors, such as pH, body temperature, and skin type, that can affect how long a perfume lasts.
The skin's pH can change how a perfume interacts with it. Skin with a higher pH can cause fragrances to volatilize more quickly, resulting in a shorter shelf life. Similarly, variations in body temperature can affect the rate of perfume evaporation, which in turn affects how long the perfume stays on the skin.
In addition, different skin types, such as oily, dry or sensitive skin, can affect how long a perfume lasts. Oily skin holds fragrances longer, while dry skin may have difficulty retaining the scent longer.
It's important to realize that individual experiences may vary based on these factors. What works well for one person's skin chemistry may not have the same effect on another. Therefore, finding the right perfume that matches your body chemistry for a longer-lasting fragrance experience is important.
Application Technique
The technique used to apply a perfume can significantly impact its longevity. The right application method can help the fragrance stay on the skin longer. Here are a few tips on how to improve the longevity of your perfume:
Moisturize the skin: if you apply your perfume to well-moisturized skin, the fragrance molecules can bind better and last longer. Use a fragrance-free lotion or unscented moisturizer before applying the perfume.
Aim for pulse points: Pulse points on the body, such as wrists, neck, behind the ears and the inside of the elbows, tend to generate more heat. Applying perfume to these areas can help activate and release the scent throughout the day.
Avoid friction: avoid rubbing your wrists together or the sprayed area against your clothing when applying perfume. This friction can break down the fragrance molecules and shorten the shelf life of the perfume.
Layering technique: to further increase the longevity of the fragrance, you can use a layering technique. In doing so, use additional fragrance products that match or complement the perfume, such as body lotions or shower gels. Layering creates a multi-dimensional fragrance that lasts longer.
Remember that everyone's skin and body chemistry is unique, so you may need to experiment to find the best application technique for your perfume. By taking these tips to heart, you can optimize the longevity of your perfume and enjoy its beguiling scent for a longer period.
How Do I Make My Fragrance Last Longer?
The power of perfume evokes emotions and physical well-being. Natural fragrances, especially essential oils, help create a timeless scent. However, some people experience shorter fragrances, while others have more extended periods. Here are some of the things that make the two things stand apart. They include:
How to make body oil last longer?
To extend the longevity of the body oil, consider the following data-backed tips:
How to use: apply the body oil immediately after showering or bathing while the skin is still slightly damp. This helps to lock in moisture and distribute the oil more evenly, reducing the amount needed.
Amount: start with a small amount of body oil and gradually increase as needed. A small amount is sufficient, and too large can lead to wastage.
Coverage: focus on areas prone to dryness or that you want to moisturize the most. If you apply the body oil sparingly to these areas, you can maximize its effect.
Storage: store your body oil in a cool, dry place and keep it out of direct sunlight. Heat and light can break down the oil and shorten its shelf life.
Packaging: opt for body oils that come in dark glass or opaque containers. These containers protect the oil from light exposure and preserve its quality for longer.
Ingredients: Choose body oils with ingredients known for their long-lasting properties. Look for oils such as jojoba, almond, coconut or argan oil, as these tend to last better on the skin.
Layering: Consider layering your body oil with a moisturizing lotion or cream. Applying a thin layer of lotion first and then sealing it with body oil can create a barrier that prevents moisture loss.
Care: Keep your skin hydrated throughout the day by drinking plenty of water and using a gentle cleanser. Hydrated skin retains moisture better, so your body oil will last longer.
Spray after Moisturizing
According to research, dry and moisturized skin tends not to hold perfumes' aroma for longer. Therefore, we recommend you spritz the perfume on the skin immediately after leaving the shower. This makes the aroma last for a long.
Consider Layered Fragrances
Apply skin jelly on the skin spray with perfumes, resulting in the competition of fragrances. This is the reason behind it not lasting long. We recommend considering body oils that have fragrances to minimise competition. This makes the scents last longer.
Apply to Various Parts
Restricting yourself to specific points on the body gives the fragrances a short lifespan after application. The best way is to apply to several parts where more warmth is generated, and this wants to make it last longer.
Storage of Perfumes
Intense light and heat tend to damage the majority of these natural perfumes. The delicate compounds tend to disappear in the atmosphere, making them less stable and long-lasting. We recommend storing the perfumes in a dry and dark place. This makes the ingredients last longer and hence last for an extended period on the skin.
Avoid Overheating
A warm temperature makes the body overheat and start sweating. The entire process eradicates the perfume fragrance on your skin after application. It is advisable to stay away from the hot sun or do strenuous activities after applying the perfume in case you want it to last longer.
Final Thoughts
An excellent natural perfume makes a distinctive smell sweet and helps improve the skin's beauty. The natural ingredients help to nourish the skin. Synthetic perfumes contain ingredients that tend to be toxic to the skin, which is the reason behind the mass shift to natural scents.
Essential oils are significant components that are quite popular for designing homemade perfumes for people worldwide. The most beautiful thing is that these natural perfumes are inexpensive and can easily be afforded. Besides that, the model and style of application will determine the period it will take on the skin. Follow the steps in our guide to experience a long-lasting effect after use.