What is cedarwood essential oil?
If the name does not give it away, cedarwood is derived from cedarwood. It comes from conifers from within the pine and cypress family of cedar. You will often find it referred to as cedar oil or cedarwood oil. The oil is extracted by distilling the trees that were usually chopped for timber.
There are various ways that this oil is utilised. It is commonly used for its antibacterial and pesticidal properties. These are properties that make it medicinal. Beyond that, it is also used within art and perfumery. It has that woody scent that some men fancy. You will also find it in room sprays to reduce stress.
HISTORY OF CEDARWOOD OIL
Although no one can say for sure, the Egyptians and Sumerians were among the earliest recorded cedarwood oil users. The Sumerians are said to have used cedarwood oil as an ingredient in their paint. 
CEDARWOOD OIL USES: Benefits
As a fragrance in perfumes, soap, insecticides, and cleaning agents
As a polishing oil for clearing screens
As part of aromatherapy 
As insect repellent
Reviving the cedarwood smell on furniture
As an antifungal 
As an anti-inflammatory
As a diuretic
Cedarwood Oil for Hair Loss
Hair loss is a massive problem among middle-aged men. There are various causes for this issue. In cases where the issue comes down to your immune system targeting your hair follicles, cedarwood oil could come to the rescue.
The idea is that the immune system attacks are generally the body's response to inflammation. The anti-inflammatory properties in cedarwood oil reduce inflammation. Once this is done, hair starts to grow again. This is the same idea that applies to Cedarwood oil for scalp conditions.
How to treat Scalp Conditions with Cedarwood oil
Mix the cedarwood oil with another base oil or shampoo.
Gently massage the oil onto your scalp
If used in shampoo, wash off afterwards.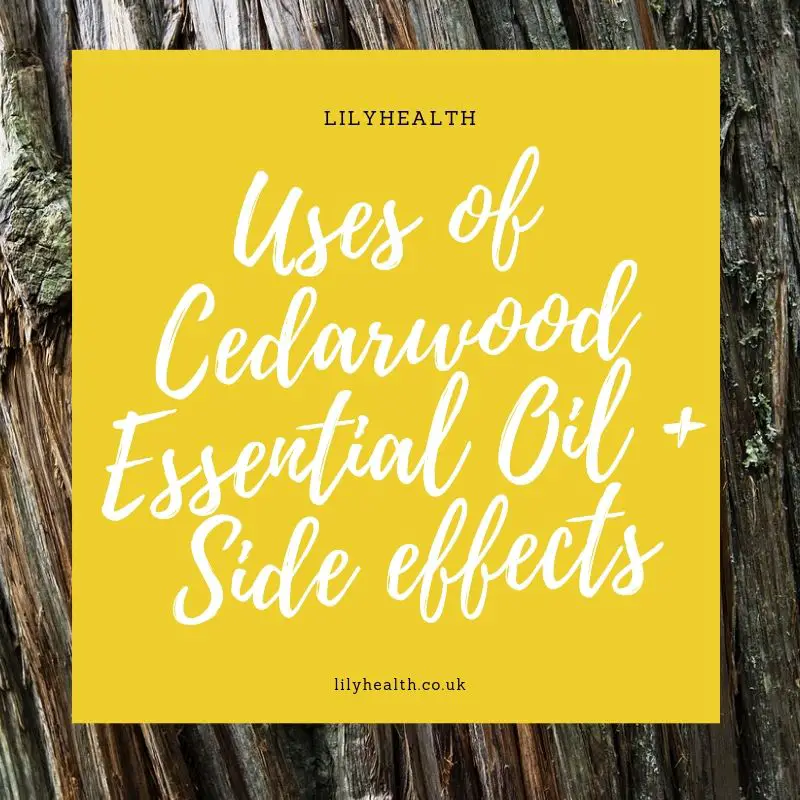 Cedarwood Oil for Skin Conditions
This one comes back to inflammation. Many skin conditions, such as eczema and acne, are directly linked to inflammation. When treating your skin, there is no one size fits all. The best way to do it is always to start with small amounts and in a small area.
This could add a drop of cedarwood oil to whatever cream you use on your face. As you see the results, you can then increase or reduce the amount and frequency of use. If in doubt, speak to your dermatologist.
Cedarwood Essential Oil for Sleep
Essential oils have always been used for relaxing. This is thought to be due to their sedative properties. If you are struggling with insomnia, cedarwood essential oil may help. You may use them in an oil burner or an oil diffuser.
This would usually come down to personal preference and safety concerns. The diffusers tend to be electric, which makes them safer than having a live fire in the home. The burners are like a candle flame. It would take an error to cause a fire from this.
Cedarwood oil for Anxiety
As with sleep, you can use the same essential oil to calm down. The same sedative properties apply here too. You can use the oil in a burner or diffuser. It reduces stress.
Cedarwood Oil as an Aromatherapy Treatment
Aromatherapy is another use for cedarwood oil. It is fairly easy to do on your own. Most aromatherapy involves inhalation. You can get some cedarwood oil into your air and breathe it in. This can be done by spraying it into a diffuser or an atomiser. Spraying it onto surfaces is another way to keep it there longer. This can be on your pillow for better sleep. You can pair your cedarwood oil with other fragrances as well.
Cedarwood oil in fragrances
As mentioned before, the woody scent of cedarwood is great for colognes. You will find it in a lot of eau de toilette. One of my favourite variants of woody fragrances is the "oud" variety. They are common in the Middle East, North Africa, and Tom Ford's OUD.
Middle Eastern variants tend to be alcohol-free and oil-based. You can use cedarwood oil as a fragrance. As you would do with Middle Eastern oil fragrances, you only need to rub a tiny drop onto your neck and cuffs. It usually lasts an entire day. Use in small amounts.
Cedarwood oil as a treatment for acne
To treat acne with cedarwood oil, dilute a drop of oil with your usual face cream or lotion. Wash your face and use this mixture. The idea is that cedarwood oil will remove toxins on your skin, allowing it to recover.
Cedarwood oil as a flea and moth repellent
Moths, fleas and other flying parasites don't fancy the smell of cedarwood oil. If sprayed in the air or rubbed onto surfaces, it will deter these parasites from coming along.
There is no evidence to say that cedarwood oil repels mosquitoes.
Are There Any Side Effects Associated with Cedarwood Oil Use?
The simple answer is NO. However, if used in excess, you will likely irritate your skin. The best thing to do here is to use it in small doses.
Contraindications Of Cedarwood Oil
The best to get the most out of your cedarwood oil is to try it in small doses, in small areas. It is not considered to pose any danger to users. However, moderate use is advised. If you have concerns or have adverse reactions to using it, speak to your doctor about it.
Recommended Product
The recommended product is based on great reviews, and the bottle comes with a pipette. This makes it easier to apply it and to measure droplets.