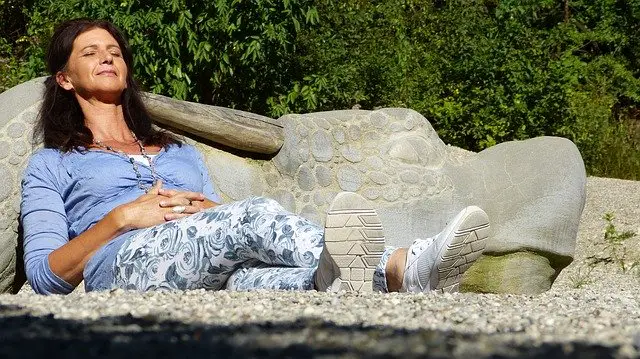 Life presents seasons and transitions, akin to our homes' changing ambiance. As with smart window coverings adjusting to daylight, natural remedies aid life's shifts. Menopause often brings challenges, including anxiety. Essential oils offer comfort. This post explores essential oils for menopause anxiety, revealing natural solutions. Whether you seek top-notch or budget-friendly choices, gain insights into holistic anxiety management.
Symptoms, which include hot flashes and mood swings, may not be a big deal that warrants hospitalization, but they can disrupt your day-to-day activities.
The good news is that there quite several homeopathic remedies. Essential oils are amongst these remedies. Let's take a look at what they can do for you.
In a Hurry?
There are a number of features that you need to look for when buying essential oils for menopause. It is necessary for you to know what symptoms you are trying to get rid of, then look for those properties in essential oil. That being said, check the label and make sure that the oil is what it says it is and that it has the ingredients that you need. 
Look for pure oil, and make sure that its integrity has not been compromised. If the price os too cheap, that is a red flag. Essential oil extraction and packaging is no easy feat and so it will not be sold at a giveaway price.
Also, check on the bottle, dark-coloured glass bottles are best at maintaining the integrity of the oil. Zone in on the symptoms you want to treat
Essential oils to deal with Hormone Imbalance
Menopause brings with it a great many symptoms. One of the most common and often debilitating is hormonal imbalance, which can cause insomnia, fatigue, and the dreaded mood swings. There are a couple of essential oils that can help deal with his. 
Lavender is one of those essential oils worth giving a try. It is distilled from the Lavandula angustifolia and it is part of the mint family. It has many properties that help a lot of conditions.
It has hypotensive and sedative effects and this helps you catch better shut-eye. It also has the ability to help you deal with depression and mood swings. Its an all-rounder. 
How to use it
You can add one drop of diluted essential oil to a cold compress, and use this to give you relief. 
Cons
Lavender can in some cases cause skin irritation and in some cases nausea.
Lavender essential oil is considered a natural remedy for menopause anxiety due to its calming properties. While not a cure-all, it can complement symptom management.
Calming Effects: Lavender oil contains linalool and linalyl acetate, which calm the nervous system. It can help mitigate menopausal anxiety due to hormonal fluctuations.
Sleep Improvement: Menopausal women often have sleep disturbances, exacerbating anxiety. Lavender oil promotes better sleep quality if used before bedtime, reducing anxiety.
Stress Reduction: Menopause is a stressful period due to physical and emotional changes. Lavender oil aids in stress management, alleviating anxiety.
How to Use Lavender Essential Oil for Menopause Anxiety:
Aromatherapy: Diffuse lavender oil to create a calming atmosphere using an essential oil diffuser.
Topical Application: Dilute lavender oil with a carrier oil and apply it to wrists, temples, or the neck after a patch test.
Bath: Add a few drops to a warm bath to relieve anxiety.
Pillow Spray: Spritz a lavender and water mixture on your pillow before bedtime for better sleep.
What Makes Lavender an Ideal Option:
Natural and Safe: It is a safe natural remedy, without risks of pharmaceutical anxiety medications.
Versatile: Lavender oil offers various application methods.
Minimal Side Effects: Properly diluted, lavender oil typically has minimal side effects. Always do a patch test.
Holistic Approach: Lavender oil addresses emotional and physical aspects of menopause anxiety.
While lavender oil can help with menopause-related anxiety, individual responses vary. Consult a healthcare professional if symptoms significantly impact your life. Lavender oil can complement other treatments during menopause.
Geranium essential oil is believed to benefit menopause-related anxiety. It should not replace medical advice but can complement treatment.
Hormone Balance: Menopause involves hormonal changes, notably reduced estrogen, causing mood swings and anxiety. Geranium oil's hormone-regulating properties may alleviate emotional symptoms.
Stress Reduction: Geranium oil's floral scent calms the nervous system, reducing anxiety during menopause.
Emotional Support: Aromatherapists suggest geranium oil helps cope with menopausal emotional challenges due to its uplifting scent.
Sleep Improvement: Geranium oil may improve sleep by calming anxiety.
How to Use Geranium Essential Oil:
Diffusion: Add a few drops to an essential oil diffuser for relaxation.
Topical Application: Dilute with a carrier oil and apply to pulse points for mood support.
Bath: Add to a warm bath for relaxation.
Inhalation: Inhale directly or on a cloth for relief.
Why It's Ideal:
Natural Remedy: Appeals to those favoring holistic approaches.
Low Risk: Generally safe when used cautiously.
Pleasant Scent: Offers comforting aromatherapy.
Consult a healthcare professional before using geranium oil for menopause anxiety. It complements but doesn't replace medical treatment.
Basil oil, derived from basil (Ocimum basilicum), is considered for managing menopause anxiety due to its calming and mood-enhancing potential.
Why basil oil helps with menopause anxiety:
Stress Reduction: Basil oil may reduce stress and anxiety due to compounds like linalool and eugenol.
Mood Enhancement: The aroma of basil oil could enhance mood and reduce anxiety by triggering neurotransmitter release.
Anti-Inflammatory Effects: Some studies suggest basil oil's anti-inflammatory properties might indirectly help manage anxiety.
Using basil oil for menopause anxiety:
Aromatherapy: Inhale basil oil's steam in a diffuser or hot water for a calming atmosphere.
Massage: Dilute basil oil with a carrier oil for a relaxing massage.
Bath: Add basil oil drops to bathwater for relaxation.
Inhalation: Inhale basil oil directly for quick calming effects.
Topical Application: Dilute basil oil with a carrier oil and apply to wrists or temples.
Why basil oil is ideal:
Natural Remedy: Basil oil may have fewer side effects than pharmaceuticals.
Easy to Use: It's readily available and versatile in aromatherapy, massage, and baths.
Holistic Approach: Aligns with holistic and complementary approaches to manage menopause symptoms.
Remember that responses to aromatherapy vary, and consult a healthcare professional if symptoms persist. Perform a patch test if you have allergies, and always dilute basil oil with a carrier oil for topical use.
Ylang ylang oil is a natural remedy for menopause-related anxiety due to its aromatherapy properties that can uplift mood. Menopause can cause mood swings and anxiety due to hormonal changes, and ylang ylang oil's scent may help reduce anxiety.
It is believed to reduce stress during menopause, managing the stress caused by physical and emotional changes.
Some studies suggest that ylang ylang oil can modulate hormones, potentially balancing hormone levels and alleviating anxiety.
To use ylang ylang oil for menopause anxiety:
Inhale it by adding a few drops to a diffuser or hot water to create a calming atmosphere.
Apply it topically by diluting it with a carrier oil and applying it to wrists, temples, or behind the ears after a patch test.
Add it to bathwater for a relaxing experience.
Consider aromatherapy jewelry, like diffuser necklaces or bracelets, to carry the aroma with you.
Individual responses to essential oils vary, so consult an aromatherapist or healthcare provider if you're new to ylang ylang oil or have medical conditions.
Approach menopause holistically, incorporating a balanced diet, regular exercise, and stress management techniques alongside ylang ylang oil to manage symptoms effectively.
Buyer's Guide
When looking for essential oils to help you deal with menopause, it is important that you focus on the specific symptoms that you want to deal with. Dealing with menopause can mean dealing with a host of symptoms like hot flashes, vaginal dryness, insomnia, fatigue, irritability, depression and so much more.
Whilst a lot of essential oils will usually deal with more than one issue at a time, it is important to also keep in mind what symptoms you want to deal with and look for an essential oil that has the properties for that symptom. Make sure to carefully read the label and research on the ingredients so that you know what you are getting.
It is also necessary to make sure that you are not allergic to the oil, and reading about the ingredients and the plants the oil is taken from will help you make the right pick.
Clary sage, peppermint, and basil are great for dealing with hot flashes. Whilst sandalwood, rose, roman chamomile, cape chamomile, lavender, and frankincense are good for vaginal dryness. 
Final Thoughts
Essential oils can do wonders for you and your home. While menopause is part of life, it does not have to bring your life to a halt. Essential oils will help you deal with the symptoms. We hope that our top picks will help you find your perfect fit. Happy shopping!