Are you trying to find the best essential oil for Nasal Congestion? This is one of the most irritating and sometimes painful conditions that you may not be able to avoid.
Your nose may be congested because of different factors. Anything that can irritate or inflame the nasal tissues, can cause congestion. Conditions such as flu, colds, tobacco smoke, dust, and allergies can cause nasal congestion.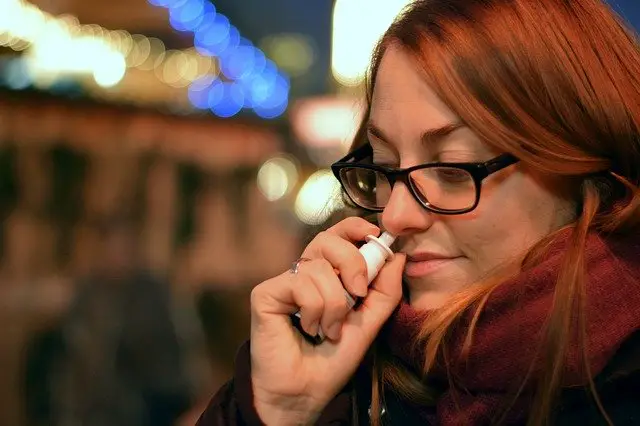 Aside from environmental factors, your nasal passage may be congested because of chronic sinusitis, dry air, enlarged adenoids, food, especially spicy dishes, a foreign body in the nose or sometimes even overusing nasal sprays.
You can use essential oils to help with this. Science research shows that nasal cilia keep moving 20 hours after death. Some studies think that this could be a measure of death. Let's take a look at how essential oils can help ease nasal congestion. 
How to use essential oils to relieve congestion
Essential oils are quite popular for their many benefits and also the fact that they are natural. This comes in handy when you are trying to switch from al things chemical and be all-natural. They are extracted from natural plants and then packaged.
With so many of these oils on the market, it is important to know how to use them and also what ingredients have gone into them as well as how they can help you. Pure essential oils work differently compared to when they are mixed into other substances like cosmetics.
To get rid of nasal congestion, you can inhale the essential oil. Simply drop a few drops of your preferred essential oil on tissue or cotton. Inhale the scent, and make sure that it does not touch your skin. Another way that you can inhale the oils, is to add a few drops in a bowl of hot water.
The steam infuses with the oils and this is what you can inhale. For it to be effective, you will need to make sure that it doesn't escape. You can do this by covering your head with a blanket or thick towel, over the bowl.
If you would like to apply the oil to your skin, then you will need to dilute it in a carrier oil of your choice. You can dilute it using this recipe: Use 3-5 drops of essential oil for every ounce of carrier oil. Before you use any essential oil, you must know whether your skin can take it or not. Some oils or some methods can cause allergic reactions.
Safety Precautions
Undiluted essential oils can cause skin irritation or burning. It is important to take the necessary precautions such as conducting a skin patch test on an inconspicuous part of your skin first. Make sure to do this at least 24 hours before you use it for treatment. That way the skin has enough time to tell you if it likes the oil or not.
Essential oils smell great, and you are not the only person who notices this. If you have children around, they may be wondering where the sweet smell is coming from. Because of this, it is important to always make sure that you keep them out of the reach of children. Once ingested, some essential oils can be poisonous.
Do not handle undiluted essential oils with your bare hands. They can be very harsh on your skin. Rather use a dropper or mix them with carrier oils or other products, like your shampoo or your favorite cosmetics.
If you want to diffuse the oils, make sure that you do so in a well-ventilated room. Also, make sure to use them at 60-minute intervals at most. 
Make sure to understand when and how to use the oils. Some oils can not be used before you go out into the sun, and so they are best used at night. If the oils cause you to be photosensitive you should not use it before you go out into the sun. Also, make sure to wash your hands after .every time you use essential oils.
Using Room Diffuser
There are different types of room diffusers, One of them is a room diffuser that makes use of reed sticks, that transfuse the essential oil through the sticks and into the air. the only thing that you will need to do, is to periodically flip the reeds.
This way you get the oil that has been soaked into the reed to disperse into the air. The more reeds you have in the bottle of fragrance, them more fragrance will fill the air. However, this also means that you will run out of essential oil faster. this diffuser is quite common.
You can also use a nebulizing diffuser or an ultrasonic diffuser. A nebulizing diffuser uses pressurized air steam and a nozzle to get the scent in the air. This diffuser does not use water or heat, which can be dangerous if you have children around.
An ultrasonic diffuser uses electric frequencies and water which create a mist, that is then dispersed into the air. The other type of essential oil diffuser is an evaporative diffuser that uses airflow to get the scent in the air.
Using Humidifier
Humidifiers help bring moisture into a room which will help with moisturizing both your skin and your nasal passages. This is particularly helpful if it is cold outside or if you've slept with windows open and let cold air come in.
When you use a humidifier, get one that can help you keep track of humidity levels. Make sure to use clean water. Distilled water is always best. Also, make sure that you keep the humidifier clean and change the filters as instructed.
Using it in the bath or shower
You can also use the essential oils of your choice by adding it to your bathtime routine. Simply add a few drops to your bathwater. The steam will have the therapeutic effects you want from the oils.
If you want to use essential oils in the shower, you can wet the walls with cold water, after which, you can sprinkle with the essential oil of your choice and enjoy its benefits.
What is the difference between stuffy nose and nasal congestion?
According to healthline.com and mayoclinic.com, there is no difference. The two terms are commonly interchanged, as they present the same symptoms. They are both a result of excess fluid in the nasal passages.
Source links
https://www.medicalnewstoday.com/articles/324570
https://www.mayoclinic.org/symptoms/nasal-congestion/basics/definition/sym-20050644