Are you looking for a natural solution to end night terrors? Do you wish you had a calmer night's sleep or essential oils to help your child recover? Nighttime anxiety can disrupt your precious sleep and leave you feeling exhausted. A good night's sleep is crucial to a productive day, but nighttime anxiety can ruin the joy of it.
Night terrors manifest as crying, intense anxiety and flailing in your sleep. They are often accompanied by sleepwalking and are classified as parasomnia, an unwanted event during sleep. Unlike nightmares, night terrors do not put you to sleep and usually cannot be remembered when you wake up. They occur mainly in the night's first half and rarely during nap time.
Night terrors may cause you to suddenly scream, sit up in bed with your eyes wide open, and show physical symptoms such as heavy breathing, racing pulse, flushed face, and dilated pupils. Sometimes there is also kicking, kicking, difficulty waking up, confusion when waking up, and inconsolability. The sleeper usually has little or no recollection of the incident.
Night terrors usually last only a few seconds but occasionally can last longer. They are more common in children, affecting nearly forty per cent of them, while they are less common in adults. Fortunately, most children outgrow night terrors by their teenage years.
These troubling episodes require treatment if they pose a risk. Many people look for natural remedies to treat them, and essential oils can be very helpful. Certain oils can help relieve stress and anxiety and improve sleep.
Essential Oil for Night Terrors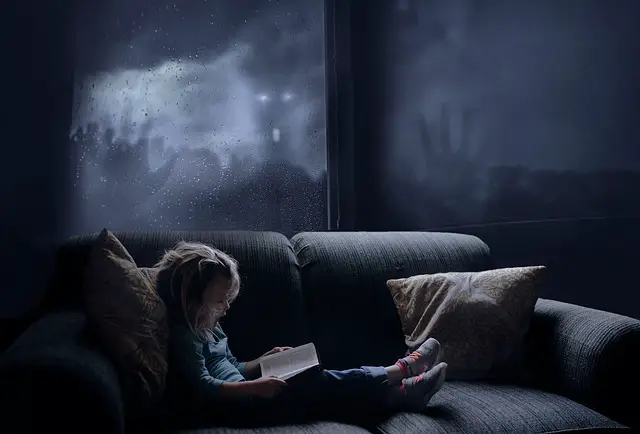 In a Hurry?
In a hurry and looking for a solution? Essential oils offer a natural remedy for better sleep, calming your nervous system and promoting relaxation. If you're looking to recover from nighttime anxiety, certain oils can be especially helpful. Learn about these essential oil blends that can transform your nights.
Lavender essential oil is known for its sleep-inducing properties. It effectively combats insomnia and promotes a sense of calm. A few drops applied behind the ears or with a roller bottle are effective for using lavender oil.
Lavender Essential Oil
Lavender essential oil has long been used in medicine and aromatherapy. It is extracted from the lavender plant, provides various benefits, and is widely used in perfumes, cosmetics, and culinary applications.
Steam distillation is used to obtain the pure lavender essential oil. This process maximizes oil yield while preserving important ingredients. The lavender flowers are harvested in June and subjected to distillation, which condenses the steam and separates the oil from the water by gravity.
The chemical composition of lavender oil can vary, but it typically contains compounds such as linalyl acetate, linalool, cineole, camphor, coumarins, tannins, 1,8-cineole, thymol, carvacrol, perillyl alcohol and D-limonene. These components contribute to its special properties and potential health benefits.
Lavender oil is commonly used to promote relaxation, relieve anxiety, and improve sleep quality. It can help reduce symptoms associated with night terrors. Recommended methods include diffusing the oil in the air or working it into bed linens to create a calming aroma.
When used as directed, lavender oil is generally safe and has no significant side effects. Its versatility and gentle nature have made it a popular choice among essential oils.
Roman Chamomile
Roman chamomile is known for its therapeutic use as a home remedy. It has soothing effects, making it suitable for digestive problems and safe for children. Chamomile tea should be prepared in a closed container to preserve the essential oils.
Roman chamomile flowers have anodic, anti-inflammatory, antispasmodic, nervine, stomachic, tonic and vasodilator effects. The single-flowered variety is most effective medicinally, but large doses can irritate the stomach and intestines. The double-flowered variety is often preferred because it contains a smaller amount of the alkaloid that causes these problems.
Roman chamomile essential oil is anti-inflammatory, although the chamazulene content is lower than German chamomile oil. It relieves sprains, strains and swelling when used in massages or cold packs. Combining it with sweet marjoram, black pepper, helichrysum, plain, or rosemary increases its effectiveness for muscle pain. Due to its antispasmodic and anti-inflammatory properties, the oil helps with arthritis, stiffness, stomach cramps, menstrual cramps and nausea.
To use Roman chamomile, apply the oil to your pillow, diffuse it into the air or enjoy it as tea.
Chamomile is generally safe, although it can cause drowsiness and, in high doses, vomiting. People allergic to related plants from the daisy family may experience allergic reactions.
Sandalwood Essential Oil
Sandalwood essential oil has recently gained popularity as it has long been used in perfumes and air fresheners. In Ayurvedic medicine, this oil is highly valued for its therapeutic properties that benefit physical and mental well-being.
Sandalwood essential oil is extracted from the wood and roots of Santalum album, also known as the East Indian sandalwood tree. It is considered a valuable and somewhat expensive alternative medicine. Read the label carefully to avoid synthetic products often found on the market.
Although sandalwood comes mainly from Africa and the West Indies, its essential oil is relatively rare compared to other oils. The oil is mainly extracted by steam distillation of the wood, especially the roots. The duration of the process depends on the quality of the wood. Another method is water distillation, which is traditionally used for personal consumption rather than commercial purposes.
Sandalwood essential oil has aromatherapeutic properties that positively affect mental health. It is often used in spiritual rituals such as meditation and prayer. The antibiotic properties of the oil help fight bacteria that cause diseases. However, seeking medical advice before using sandalwood essential oil for bacterial infections is advisable.
the compound α-santol contained in the oil has been studied for its ability to induce the death of cancer cells, so it could be useful in treating skin cancer. In addition, the oil's olfactory receptors promote the growth of skin cells, thus supporting wound healing. To use sandalwood essential oil at home, you can apply it topically by mixing it with a body lotion. Also, heating a small amount in a cauldron or jar releases a lovely scent perfect for spiritual rituals. Adding a few drops to bath water can help manage anxiety and increase mental alertness.
Sandalwood essential oil is generally safe to use; however, some people may experience skin allergies when applied topically. Reduce the risk of an allergic reaction by mixing the oil with a carrier oil.
Mandarin
Mandarin (Citrus reticulata) is a widely cultivated fruit tree in warm temperate, tropical regions. It is a small, evergreen tree with thorny branches that can grow up to 8 meters tall. The leaves are long, slender, and dark green. The star-shaped white flowers give way to rosy orange fruits that resemble tangerines. However, mandarins are smaller, rounder, sweeter, and have thinner peels with minimal mesocarp. They can be consumed fresh, in salads and desserts, or juiced. Fresh or dried peel is also used as a spice and in traditional medicine to improve digestion and reduce phlegm.
Where it comes from or how it is made
Mandarins can be found in various parts of the world. The name "Mandarin" may connect to the Chinese language due to its resemblance.
How to use it
Mandarin essential oil can be diffused to fill the air with its familiar scent, which can help with night terrors.
Cons
No drawbacks to diffusion.
Buyer's Guide
Nighttime anxiety can be a common and stressful experience, but there are ways to manage it. Understanding the triggers and having the right tools can help alleviate the occurrence of night terrors. Natural remedies like essential oils can bring the calm needed for restful sleep. Daily stressors can affect our brain's ability to relax, leading to nightmares and night terrors.
What triggers night terrors?
Night terrors typically occur in the first half of sleep, between midnight and 2 am. They can be triggered by extreme fatigue, lack of sleep, stress, changes in sleep patterns, or fever.
Are night terrors dangerous?
Night terrors can be worrisome because they are often associated with sleepwalking. It can be difficult to wake someone who suffers from night terrors, so there is a risk that they will hurt themselves because they are not aware of their actions.
How long do night terrors last?
Most nocturnal anxiety lasts only a few seconds to a few minutes. However, it may take up to thirty minutes for the sufferer to fully calm down.
Do fevers cause night terrors?
Fever, like other stressors to the body, can cause night terrors. The exact cause of this sleep disorder is unknown, but certain factors, including fever, may act as triggers.
Why do night terrors happen in adults?
Night terrors may occur in adults due to various underlying conditions. Nighttime snacking can lead to nightmares because it stimulates the metabolism and keeps the brain on its toes. Certain medications such as blood pressure medications, antidepressants, and narcotics, are also associated with night terrors and nightmares because they affect chemicals in the brain.
Final Thoughts
Essential oils offer a natural and effective solution for managing night terrors and promoting restful sleep. By incorporating certain oils such as lavender, Roman chamomile, sandalwood, and tangerine into your sleep routine, you can experience a calmer and more peaceful night's sleep. These oils have been shown to have therapeutic properties that relieve stress and anxiety and improve sleep quality.
Lavender essential oil combats insomnia and promotes serenity. Roman chamomile has a calming effect and is suitable for children. Sandalwood essential oil has a positive effect on mental well-being and promotes relaxation. Mandarin essential oil with its familiar scent creates a soothing atmosphere when diffused.
By incorporating these oils into your nighttime routine, you can effectively combat nighttime anxiety and promote restful sleep. Say goodbye to nighttime anxiety and enjoy the rejuvenating effects of essential oils. Sleep well and wake up feeling refreshed. Have fun shopping!