Are you seeking the best essential oil for razor bumps? Razor bumps can be irritating, spoiling the smooth finish after shaving.
Shaving regularly may result in razor burn or bumps, which resemble a red rash. Razor bumps occur when cut hair curls back into the skin, causing follicle irritation and small red lumps. Preventing these issues is straightforward. Proper skin preparation and shaving techniques are key.
Exfoliating before shaving lifts hair for a cleaner shave, reducing razor bumps and ingrown hairs. The uppermost skin layer, the stratum corneum, can trap hair beneath the epidermis, leading to ingrown hairs.
After exfoliating, use a clean, sharp razor. Rinse it before and after use with hot water. Soften hair with water and apply shaving oil to lubricate your skin and blade, creating a smoother shaving surface. This protects and moisturizes your skin. Choosing the right oils is crucial for an easy and rejuvenating shave.
Essential oils like chamomile and sandalwood, known for stress reduction, also provide a closer, smoother shave. Consider adding them to your shaving kit.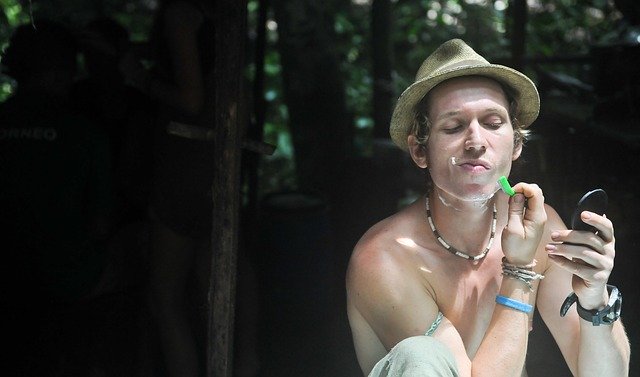 Our Top 4 Essential Oils for Razor Bumps
In a Hurry?
If you are in a hurry and do not know which oils to get for shaving? You can get essential oils that will help you get a clean close shave, and leave your skin feeling and looking great too. Look for oils that will moisturize your skin and leave it feeling smooth. You can use essential oils to prep your skin for shaving, as a shaving cream and also as an aftershave.
Essential oils such as sandalwood are found in most commercial shaving creams and with good cause too. The downside is that commercial shaving creams can contain chemicals that your skin may react to. It is these reactions that cause bumps and rashes when you shave. It is oily and can moisturize your skin and prep the hair. Make sure you look for an essential oil that promotes skin rejuvenation and protects your skin as well.
Tea Tree Oil

Tea Tree Oil is an ideal choice for treating razor bumps because of its unique skin benefits:
Antiseptic and Antibacterial: Tea Tree Oil prevents and treats razor bumps by combating bacterial infections that often cause or worsen follicle inflammation.
Anti-Inflammatory: Razor bumps, essentially ingrown hairs, lead to skin inflammation. Tea Tree Oil reduces redness, swelling, and discomfort.
Exfoliation: Tea Tree Oil gently exfoliates, removing dead skin cells and debris, preventing ingrown hairs, and maintaining clear skin.
Soothing: Tea Tree Oil provides a cool, soothing sensation, easing the itchiness and discomfort of razor bumps.
Natural Astringent: Tea Tree Oil tightens pores, reducing the risk of trapped hair, and preventing future ingrown hairs.
To use Tea Tree Oil for razor bumps:
Dilution: Mix 1-2 drops of Tea Tree Oil with 1 tablespoon of a carrier oil (e.g., coconut, jojoba, or olive oil) to avoid skin irritation.
Cleanse: Ensure the affected area is clean, free from residual shaving products, using a gentle cleanser or warm water.
Application: Apply the diluted Tea Tree Oil directly to the razor bump or affected area, gently massaging it in for absorption.
No Rinsing: Leave the mixture on the skin without rinsing, applying it post-shave or before bedtime for overnight treatment.
Consistency: Apply consistently, potentially daily, until the razor bump heals completely.
Sensitivity Check: Monitor for skin irritation or allergies; discontinue use and consult a dermatologist if adverse reactions occur.
Aloe Vera
Aloe Vera is an ideal remedy for razor bumps due to its soothing and healing properties. Here's why it works:
Anti-Inflammatory: Aloe Vera contains glycoproteins and polysaccharides with natural anti-inflammatory effects, reducing redness, swelling, and discomfort in razor bumps.
Moisturizing: Aloe Vera hydrates the skin, crucial for soothing razor bumps and promoting faster healing, minimizing irritation.
Cooling Sensation: It provides immediate relief from the burning or itching sensation of razor bumps.
Antibacterial: Aloe Vera's natural antibacterial properties can prevent infection in irritated razor bumps.
Gentle: Well-tolerated by most, Aloe Vera is less likely to worsen irritation, making it suitable for sensitive areas affected by razor bumps.
To use Aloe Vera for treating razor bumps:
Choose High-Quality Aloe Vera Gel: Opt for pure, natural Aloe Vera gel or extract, avoiding products with added chemicals or fragrances that could irritate further.
Clean the Area: Ensure the affected area is clean and dry, using mild, unscented soap and patting it dry with a clean towel.
Apply Aloe Vera: Gently massage a small amount of Aloe Vera gel onto the affected area, ensuring even coverage.
Allow It to Dry: Let the Aloe Vera air dry on your skin; no need to rinse it off immediately.
Repeat as Needed: Apply Aloe Vera multiple times a day, especially after shaving, to keep the area moisturized and aid healing.
Lemon Juice

Lemon juice is an effective natural remedy for razor bumps due to its antiseptic properties, exfoliating action, and skin-lightening abilities.
Antiseptic Properties: Lemon juice helps prevent infection and reduce inflammation in irritated follicles by killing bacteria on razor bumps.
Exfoliating Action: Citric acid in lemon juice acts as a mild exfoliant, removing dead skin cells and debris that clog hair follicles and cause razor bumps. This action can also prevent ingrown hairs.
Skin Lightening: Lemon juice's natural skin-lightening properties can reduce dark spots and hyperpigmentation that often accompany razor bumps, promoting an even skin tone.
How to Use Lemon Juice for Razor Bumps:
Ingredients:
Fresh lemon
Cotton ball or pad
Optional: Water (for dilution)
Instructions:
Prepare Lemon Juice: Squeeze fresh lemon juice into a small bowl. If you have sensitive skin, dilute the lemon juice with an equal amount of water to reduce acidity.
Cleanse Affected Area: Gently clean the area with mild soap and water, patting it dry with a clean towel.
Apply Lemon Juice: Dip a cotton ball or pad into the lemon juice (or diluted mixture for sensitive skin). Apply it to the razor bump-affected areas, avoiding excessive pressure to prevent skin irritation.
Leave On: Allow the lemon juice to air dry on your skin without rinsing it off immediately. Evening application is recommended for overnight skin recovery.
Moisturize: After the lemon juice dries, apply a soothing, alcohol-free moisturizer to hydrate the skin and prevent further irritation.
Repeat as Needed: You can repeat this process daily until razor bumps improve or disappear. If irritation occurs, discontinue use.
Lavender Essential Oil
Lavender essential oil is ideal for treating razor bumps due to its properties:
Anti-Inflammatory: Lavender oil reduces redness, swelling, and inflammation in razor bumps, providing immediate relief.
Antiseptic and Antibacterial: It prevents infection and speeds healing in razor bumps, which can become infected if ignored.
Skin Calming: Lavender oil soothes skin, easing itching and burning in razor bump-affected areas.
Moisturizing: It hydrates the skin, aiding the healing process.
Aromatherapeutic: Lavender oil's pleasant scent relaxes and reduces stress, beneficial for irritated skin.
To use lavender essential oil for razor bumps:
Dilution: Mix 2-3 drops of lavender oil with a carrier oil like jojoba, coconut, or almond oil.
Application: Gently apply the diluted mixture to the affected area with a cotton ball or fingertip.
Frequency: Apply it a few times daily, especially after shaving or when discomfort arises.
Patch Test: Test on a small, less sensitive area before using on a larger area to avoid adverse reactions.
Buyer's Guide
Can I make my shaving cream with essential oils?
You can create your shaving cream with essential oils, especially if you have sensitive skin. Many prefer this DIY approach due to reactions to commercial shaving creams.
Here's a simple recipe:
Ingredients:
Shea butter or coconut oil (as the base)
Essential oils: Sandalwood, peppermint, and tea tree oil
Instructions:
Select Your Base: Choose shea butter or coconut oil as your base for moisturization.
Add Essential Oils: Incorporate a few drops of essential oils for fragrance and skin benefits. Peppermint provides a fresh scent, while sandalwood and tea tree oil soften skin and prevent ingrown hairs.
Mix Thoroughly: Combine the base and essential oils until you achieve a creamy texture.
Store: Transfer the homemade shaving cream to an airtight container in a cool, dry place.
Application: Apply a small amount to damp skin before shaving for a smooth, moisturizing shave.
This versatile homemade shaving cream suits both men and women, offering a customized, chemical-free solution for sensitive skin. Enjoy the benefits of a natural shaving experience.
How do I use essential oils to prepare my skin for shaving?
You can use essential oils in your pre-shaving routine for a smoother shave. One method is using sandalwood essential oil:
Moisturize: Dampen your skin with water before applying shaving cream to keep it hydrated and prevent irritation.
Apply Sandalwood Oil: Gently massage a few drops of sandalwood essential oil into damp skin. It moisturizes and creates a protective barrier, reducing friction during shaving.
Shaving Cream: Follow with your regular shaving cream. The combination of oil and cream ensures a smooth surface for the razor, minimizing nicks and irritation.
Consider blending essential oils containing vitamin E for added skin benefits. Mix them with sandalwood oil or apply separately before using shaving cream. This enhances your pre-shaving routine, promoting a comfortable and irritation-free shave.
Can I use essential oils as an aftershave?
If you have sensitive skin and want to avoid the stinging effect of alcohol-based aftershaves, you can use natural essential oils to achieve similar soothing and moisturizing benefits. Here's how to create your own natural aftershave:
Ingredients:
Almond oil
Aloe vera juice
Neroli oil
Palmarosa oil
Patchouli oil
Water (optional, for thinning)
Instructions:
Mixing: Combine almond oil, aloe vera juice, neroli oil, palmarosa oil, and patchouli oil in a container. These oils offer soothing, healing, and moisturizing properties for post-shave care.
Thick Formula: Initially, the mixture will be thick, which aids in quick healing of shaving cuts and prevents facial hair from drying out.
Adjust Thickness: To thin the formula, add a few drops of water gradually until it reaches your desired consistency. Avoid over-diluting.
Application: After shaving, apply a small amount of the natural aftershave to your face. Gently massage it into the skin, focusing on areas with cuts or irritation. The formula will soothe the skin, prevent dryness, and aid in healing.
This homemade aftershave with essential oils is an excellent alternative to commercial products, particularly for sensitive skin. It offers an effective and natural post-shave skincare solution, leaving your skin refreshed and moisturized. Give it a try to experience the benefits of a customized, skin-friendly aftershave.
Final Thoughts
There are ways to get around razor bumps and essential oils once again, come to the rescue. Most razor burns and bumps are because you have used chemicals on sensitive skin or have not shaved properly, or used an old razor. These are just a few of the reasons. Using natural products is one of the best ways to solve this issue. We have done our research and found the best essential oils to keep your skin rejuvenated and bump-free. We hope this has made your shopping a little easier. Happy shopping!