Household cleaning innovation is reshaping routines and enhancing our lives. The fusion of essential oils with steam mops, an unconventional yet effective pairing, elevates domestic cleaning with utility and sensory delight.
This article explores essential oils and steam mops, their potential to transform cleaning into a multisensory experience. We'll discuss the marriage of technology and aromatherapy, offer practical implementation tips, and examine their impact on your home environment. Additionally, we'll present budget-friendly alternatives for an enhanced cleaning regimen. Join us on a journey into the aromatic world of essential oils in your steam mop.
6 Essential Oils to use in a Steam Mop
Using Essential Oil in Steam mops is common. Cleaning technology has come a long way, and it keeps evolving. The thing about the way we clean our homes and spaces is that it is personal. We all have ways in which we feel are better to clean our homes. Some prefer to have the smell of bleach through the home to feel like surfaces are clean. Whilst others prefer to use only natural means to clean. Essential oils are one of those ways.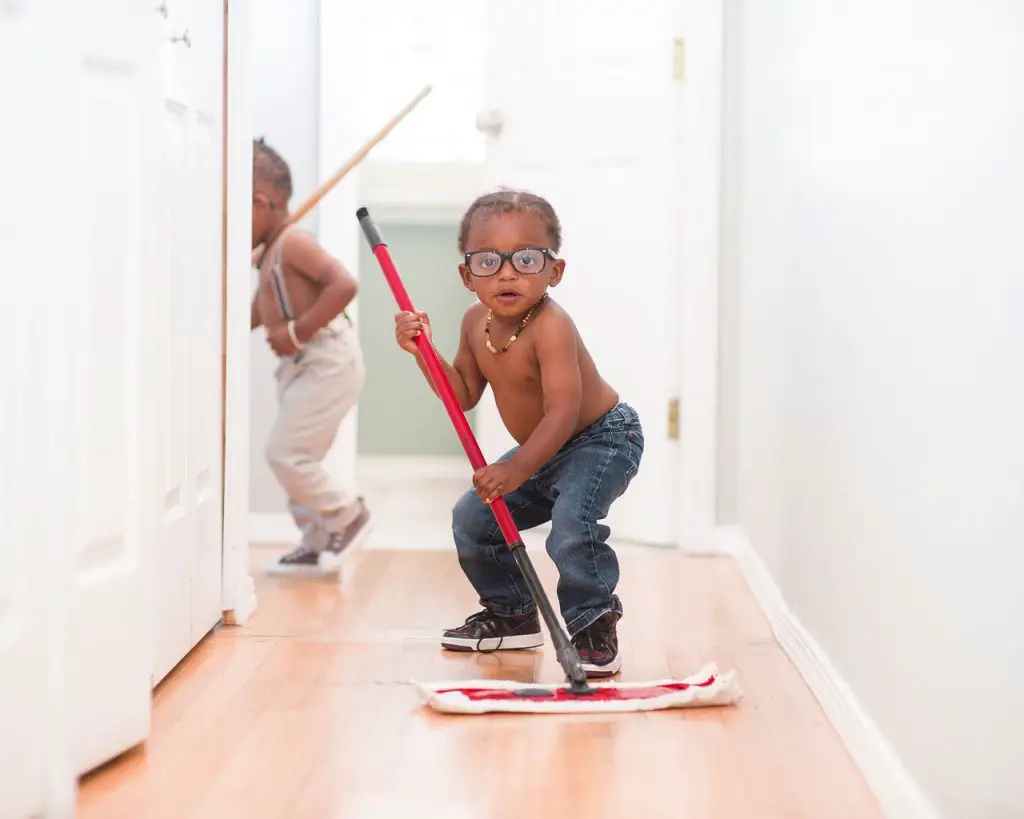 When used properly, they can offer you the same clean feel with an added aroma that will fill your house. A steam mop is a good way to thoroughly disinfect your floors, as it uses steam from the water you ordinarily wouldn't be able to touch with your bare hands. It's faster and more sanitary than regular cleaning. Essential oils aren't just a pretty face, they can also kill bacteria and microbes around the house.
Lemon Essential Oil
Lemon essential oil is a versatile choice for steam mops:
Natural Cleaning: Lemon oil's compounds like limonene and citric acid offer antibacterial and antiviral benefits, aiding in sanitizing surfaces.
Pleasant Fragrance: Its fresh scent elevates your home's ambiance and masks unpleasant odors.
Grease and Stain Removal: Lemon oil effectively tackles grease and stubborn stains on floors and surfaces.
How to Use Lemon Essential Oil in a Steam Mop:
High-Quality Oil: Use pure, high-quality lemon essential oil without additives.
Dilution: Dilute a few drops in water, following your steam mop's instructions.
Adding to Mop: Pour the diluted mix into your steam mop's reservoir.
Begin Cleaning: Use your steam mop as usual to sanitize and refresh surfaces.
Why Lemon Essential Oil is Ideal:
Natural and Safe: Lemon oil is non-toxic, avoiding harsh chemicals at home.
Effective Cleaning: Its antibacterial properties disinfect surfaces.
Aromatic Benefits: Lemon's scent freshens your space and boosts mood.
Grease Removal: It excels in removing grease and grime, especially in kitchens.
Budget-Friendly: Affordable and widely available, it suits many households.
Lavender Essential Oil
Lavender essential oil is an excellent choice for steam mops due to its versatility and numerous benefits:
Why Lavender Essential Oil:
Pleasant Fragrance: Lavender oil has a calming and soothing scent. When used in a steam mop, it not only cleans but also fills your home with a delightful aroma.
Antibacterial Properties: Lavender oil naturally sanitizes and disinfects floors, especially in high-traffic areas like kitchens and bathrooms.
Aromatherapy Benefits: Inhaling lavender reduces stress, anxiety, and improves mood and sleep. Adding it to your cleaning routine creates a calming atmosphere.
Insect Repellent: Lavender oil deters pests, making it useful for outdoor areas like patios.
How to Use Lavender Essential Oil in a Steam Mop:
Choose a Compatible Steam Mop: Ensure your steam mop works with essential oils, as many modern models have designated oil trays.
Select High-Quality Lavender Oil: Use pure, organic lavender oil to avoid additives and pesticides.
Dilute: Mix a few drops (5-10) of lavender oil with water, following your steam mop's instructions for specific dilution.
Add Oil: Place lavender oil in the designated tray or attachment.
Mop Slowly: Steam clean your floors, letting the mop's heat vaporize the oil, distributing its fragrance and antibacterial properties.
Enjoy: Breathe in the calming lavender aroma as you clean.
What Makes Lavender Ideal:
Lavender oil's versatility, pleasant scent, antibacterial properties, and aromatherapy benefits enhance the steam mop experience. It cleans, disinfects, and transforms cleaning into a therapeutic ritual. Plus, its natural insect-repelling properties are a valuable bonus for outdoor areas.
Chamomile Essential Oil
Chamomile essential oil is versatile and soothing for steam mops due to its benefits:
Natural Antiseptic: It sanitizes and disinfects surfaces, ideal for homes with kids or pets.
Aromatherapeutic: Its calming aroma reduces stress during cleaning, improving indoor air quality.
Allergen Reduction: Chamomile combats allergens, especially for allergy-prone individuals.
Non-Toxic: Safe around kids and pets when diluted, leaving no harmful residues.
How to Use Chamomile Essential Oil in a Steam Mop:
Dilute: Add a few drops to water (5-10 drops per cup) for the right scent strength.
Mix Thoroughly: Ensure even distribution to prevent damage or residue.
Add to Steam Mop: Pour the mixture into the reservoir.
Clean: Use as usual, infusing the air with chamomile's calming scent.
Why Chamomile is Ideal:
Chamomile's natural cleaning, soothing aroma, and safety make it perfect for enjoyable and effective cleaning without harsh chemicals.
Eucalyptus Essential Oil
Eucalyptus essential oil is a versatile addition to your steam mop with several benefits:
Why Eucalyptus Essential Oil?
Antibacterial and Antiviral Properties: Eucalyptus oil naturally kills germs when added to your steam mop's reservoir, ensuring clean and microbe-free surfaces.
Respiratory Benefits: The steam releases eucalyptus oil, aiding in easier breathing and clearing nasal passages, particularly beneficial for those with allergies or respiratory issues.
Refreshing Scent: Eucalyptus creates an invigorating atmosphere, masking unpleasant odors in your living spaces.
How to Use Eucalyptus Essential Oil in a Steam Mop:
Select a Compatible Steam Mop: Ensure your steam mop allows essential oil addition, consulting the user manual for confirmation.
Prepare the Solution: Fill the reservoir with water following the manufacturer's instructions, typically using distilled water.
Add Eucalyptus Essential Oil: Include a few drops in the water reservoir, adjusting based on your preference.
Steam Clean: Power up your steam mop, and as it generates steam, it will release eucalyptus-infused steam, efficiently cleaning your floors.
Enjoy the Benefits: Experience cleaner surfaces and the refreshing scent of eucalyptus throughout your home.
What Makes Eucalyptus an Ideal Option:
Natural and Chemical-Free: Eucalyptus oil is a chemical-free cleaner, an eco-friendly alternative to commercial products.
Multipurpose: Beyond floors, eucalyptus-infused steam is suitable for countertops, bathroom tiles, and upholstery.
Aromatherapy Benefits: Eucalyptus essential oil not only cleans but also promotes well-being, enhancing your cleaning routine.
Tea Tree Essential Oil
Tea Tree Essential Oil, extracted from the Australian tea tree (Melaleuca alternifolia), serves as a potent, natural cleaning agent. When used with a steam mop, it offers notable benefits, enhancing your cleaning routine.
Why Use Tea Tree Essential Oil in a Steam Mop?
Antimicrobial Power: Tea Tree Oil is famed for its antimicrobial and antifungal potency. Adding it to your steam mop water eradicates germs, bacteria, and mold, ensuring a thorough clean.
Natural Deodorization: Its fresh, medicinal aroma acts as a natural deodorizer, leaving your home pleasantly scented after mopping. It excels in neutralizing pet odors and kitchen smells.
Effective Stain Removal: Tea Tree Oil's stain-breaking ability is valuable for high-traffic areas and homes with kids or pets.
How to Use Tea Tree Essential Oil in Your Steam Mop:
Select Quality Oil: Choose 100% pure Tea Tree Essential Oil devoid of additives or synthetic fragrances.
Add a Few Drops: In your steam mop's water reservoir, add a few drops of Tea Tree Oil (usually 5-10 drops per tank; follow your steam mop's guidelines).
Thorough Mixing: Ensure even distribution by swirling the water.
Start Mopping: Proceed with your usual mopping routine. The steam will disperse the Tea Tree Oil-infused water, sanitizing and deodorizing surfaces.
What Makes Tea Tree Oil Ideal?
Natural and Non-Toxic: As a natural alternative to chemical-laden cleaners, Tea Tree Oil is safe for your family and pets, free from harmful toxins.
Versatile: Beyond cleaning, Tea Tree Oil offers various applications, such as treating skin conditions, relieving congestion, and soothing insect bites.
Cost-Efficient: A little Tea Tree Oil goes a long way, making it an economical choice for maintaining a clean and healthy home.
Pine Essential Oil
Pine essential oil enhances your steam mop for practical and sensory benefits:
Natural Disinfectant: Pine essential oil's terpenes act as natural antimicrobials, aiding in germ elimination when used in a steam mop, promoting a cleaner living space.
Pleasant Aroma: The invigorating pine scent transforms cleaning into a fresher, more enjoyable experience, creating a forest-like ambiance in your home.
Grease and Grime Buster: Pine oil effectively tackles grease and grime, ideal for high-traffic or kitchen floors, removing stubborn stains and leaving a spotless surface.
Deodorizing Properties: Pine oil neutralizes unwanted odors, from pet smells to cooking scents, refreshing your living space.
How to Use Pine Essential Oil in a Steam Mop:
Choose Quality Oil: Select pure pine essential oil, devoid of additives or synthetic fragrances.
Dilute Appropriately: To avoid residue, dilute 5-10 drops of pine oil per gallon of water.
Add to Mop's Tank: Carefully pour the diluted oil into your steam mop's water tank following the manufacturer's instructions.
Standard Steam Cleaning: Proceed with your regular steam cleaning routine. The mop's heat disperses pine-scented steam, efficiently cleaning and deodorizing your floors.
Why Pine Essential Oil Is Ideal:
Pine essential oil combines cleaning efficacy and aromatherapy:
Natural Disinfectant: It kills germs.
Aromatic Pleasure: Refreshes your home.
Grime Fighter: Tackles tough stains.
Odor Neutralizer: Eliminates unwanted scents.
This makes it a versatile choice for a clean, fresh home. Its invigorating aroma can make cleaning a more enjoyable experience.
Can you put essential oils in a carpet-shampooer?
Adding essential oils to a carpet shampooer depends on the manufacturer's recommendations. Some advise against it to avoid damage and warranty issues. Prioritize adhering to these guidelines to prevent repair costs.
Essential oils offer a natural, chemical-free option for carpet cleaning. You can create a DIY cleaner by mixing 3 parts water, 1 part vinegar, a bit of dishwashing liquid, and your preferred essential oil for fragrance.
Another option: blend 176ml (3/4 cup) of hydrogen peroxide, 1.5 cups of water, and 5 drops of lemon essential oil for carpet cleaning.
For a fragrant carpet freshener, mix 20 drops of essential oil with 1 tablespoon dried flowers, 1 cup baking soda, and 1 cup borax. Transfer this blend to a spray bottle for easy application before cleaning.
Before using any essential oil-based solution on your whole carpet, perform a spot test in an inconspicuous area to ensure it won't harm or discolor it. After applying, vacuum the treated area.
Essential oils can enhance your carpet cleaning, but always follow manufacturer guidelines and conduct spot tests to maintain your carpet without risking damage or voiding warranties.
Can you put essential oils in a steam cleaner?
You can add essential oils to a steam cleaner to enhance its cleaning and sanitizing abilities, offering a cost-effective home cleaning solution. Steam cleaners operate at high temperatures, effectively removing dirt and germs without the need for vigorous scrubbing.
Introducing essential oils into your cleaning routine elevates the steam cleaner's disinfecting power. Citrus essential oils, for instance, excel at breaking down grease and grime, making them effective for handling tough stains. Create a mixture by blending essential oils with agents like baking soda, transfer it to a spray bottle, and apply it to your cleaning surfaces.
Using 10 to 20 drops of essential oil in the steam cleaner's reservoir not only imparts a pleasant scent but also boosts its cleaning effectiveness. Essential oils possess natural antibacterial properties, effectively eliminating resilient bacteria. Be mindful of your steam cleaner's specifications; some models can accommodate detergents or oils, while others use water exclusively. Always refer to the manufacturer's instructions to avoid potential damage.
What can I put in my steam cleaner to make it smell nice?
Adding essential oils to your steam cleaner is an effective way to infuse a pleasant scent into your cleaning routine. Here's how:
How to Add Essential Oils to Your Steam Cleaner:
Choose Your Essential Oil: Select an essential oil with a fragrance that suits your preference and the ambiance you want to create. Popular choices include orange, lemon, and lavender essential oils for their delightful scents.
Dilution: Since essential oils are concentrated, dilute them before use. Add 5-10 drops of your chosen essential oil to a small amount of water, like a cup or bowl.
Adding to Steam Cleaner: Carefully pour the diluted essential oil mixture into your steam cleaner's water tank. Be cautious not to overdo it, as excessive oil may create an overpowering scent and may not be suitable for all surfaces.
Start Cleaning: Continue with your regular steam cleaning process. The heat from the steam will disperse the pleasant aroma of the essential oil throughout your home as you clean.
Why Essential Oils Are a Great Choice:
Natural Fragrance: Essential oils offer a natural and non-toxic way to create an inviting home scent without the harsh chemical odors found in some cleaning products.
Aromatherapy Benefits: Beyond freshening the air, essential oils can have therapeutic advantages, promoting a relaxing or energizing atmosphere based on your oil selection.
Disinfection Properties: Several essential oils, such as lavender and tea tree oil, possess natural antimicrobial properties, aiding in surface disinfection while leaving a pleasant scent.
By incorporating essential oils into your steam cleaning routine, you can enjoy a fragrant and naturally refreshing home while cleaning, with the added benefit of knowing you're using a safe and eco-friendly fragrance option.
Can I put lemon juice in my steam mop?
Avoid adding lemon juice to your steam mop. Steam mops use water exclusively to create steam for cleaning. Here's why and how to effectively use lemon juice:
Why Not to Use Lemon Juice in Your Steam Mop:
Manufacturer Guidelines: Manufacturers explicitly advise against adding anything but water to the mop's reservoir. This could void your warranty or damage the mop.
Residue and Clogs: Heated lemon juice can leave sticky residue or clog internal mop components, affecting performance and lifespan.
Using Lemon Juice for Steam Mop Cleaning:
Instead of adding lemon juice to the mop's reservoir, follow these steps:
Prepare Lemon Juice Solution: Mix lemon juice and water in a spray bottle. A 1:4 ratio (lemon juice to water) is a suitable starting point to prevent excess acidity that may harm some floors.
Spray on Floors or Mop Pads: Before using your steam mop, lightly spray the floor or mop pads with the lemon juice solution. This applies lemon juice where needed.
Steam Clean Normally: Use only water in the mop's reservoir and proceed with your usual steam mop cleaning. The steam will interact with the lemon juice on the floor or mop pad, effectively cleaning and leaving a fresh scent.
By following these steps, you can benefit from lemon juice's cleaning and refreshing properties without compromising your steam mop's performance or warranty. This method keeps your floors clean and fresh while adhering to the manufacturer's guidelines for proper use.
What to consider when picking your essential oil for a steam mop
When selecting an essential oil for your steam mop, consider these key factors:
Aroma: Choose scents that enhance your home's ambiance, such as citrus for a clean scent, lavender for calmness, or eucalyptus for refreshment.
Safety: Ensure the oil is safe for everyone, including pets. Avoid oils that can harm animals and be mindful of allergies or sensitivities.
Quality: Opt for pure, additive-free oils from reputable brands to avoid introducing harmful substances into your home.
Preference: Pick scents aligned with your personal preferences and the desired atmosphere.
Cleaning Purpose: Match the oil to your cleaning goal, such as using antibacterial oils for disinfection or pleasant scents for freshness.
Dosage: Dilute the oil appropriately to prevent overpowering aromas or residue. A few drops per gallon of water should suffice.