We will be covering tea tree oil for hives. Before we jump straight into it, let's make sure we all know what we are referring to.
WHAT ARE HIVES?
Can you use tea tree oil for hives? Yes indeed, you can. Hives are also known as urticaria. They present as an outbreak of redness, bumps and rash that causes the skin to become swollen. This can be linked to a known allergy, or happen for reasons that you may not be aware of.
Hives will often just spring up without any warning. The redness is usually linked to itching or stinging. There is no limit to where hives can appear. You may get these on your face, tongue, ears, lips and so on. The rashes are usually very small, but they also often present themselves in larger sizes.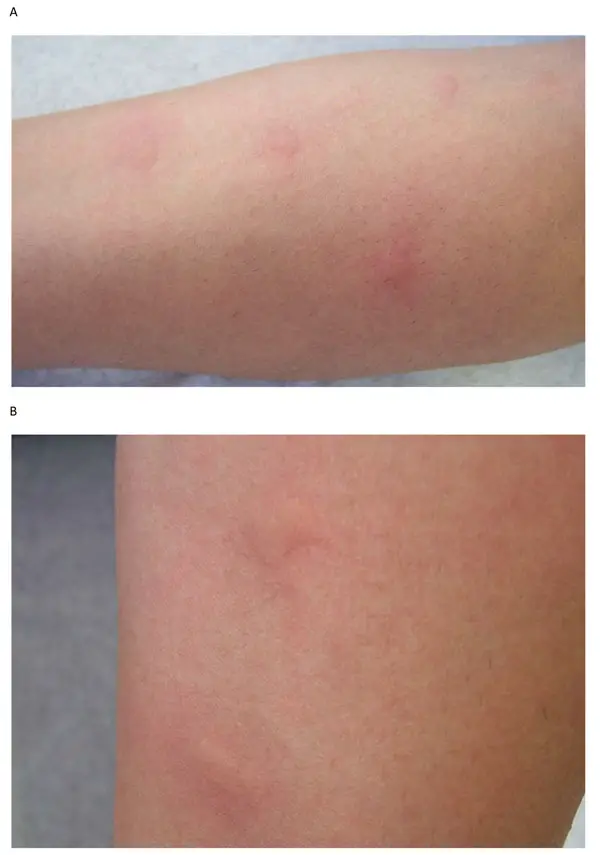 [Kanani A]
CAUSES OF HIVES
There are two main causes of hives. Hives can be resultant from allergic reactions, and chronic. The allergic reactions are fuelled by histamine being released in response to an irritant. Histamine is somewhat of a marker that triggers a response from cells when an irritant is detected. The release of histamine triggers an inflammatory response from our cells. There come hives!
You can also get hives due to stress, alcohol, exercise, infections, scratching or weather.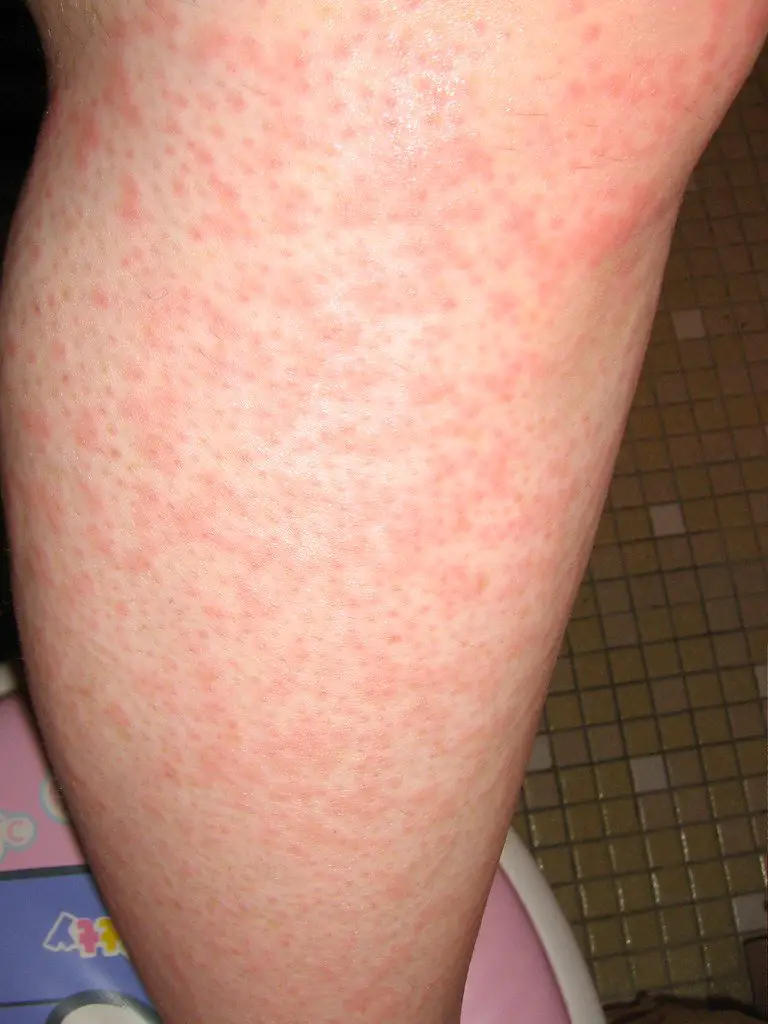 The image above shows hives that resulted from waxing. The trauma to the skin would have caused a systemic reaction.
Acute Hives
Acute Hives last up to six weeks. They are directly linked to reactions to food, medication, insect bites or preexisting conditions. The food commonly linked to acute hives include nuts, chocolate, fish, tomatoes, eggs, berries, and milk. You will also find that you may react to some of these at one point or another, but not always.
NSAIDs such as ibuprofen, as well as ACE inhibitors such as codeine. Aspirin can also be linked to hives.
CHRONIC HIVES
If hives last more than 6 weeks, they are likely to be chronic. Chronic hives are more difficult to link to a cause. Some of the common causes of chronic hives include thyroid disease, hepatitis and cancer. Some systemic infections can also cause chronic hives.
Unlike acute hives that usually present on the skin, chronic hives can also affect internal organs. They can affect the lungs, muscles, and your gut. In such cases, symptoms will include vomiting, pain the muscle area, dyspnea (shortness of breath), as well as diarrhoea. The symptoms are a telling sign of what area has been affected by chronic hives. For instance, shortness of breath would indicate that the lungs are affected.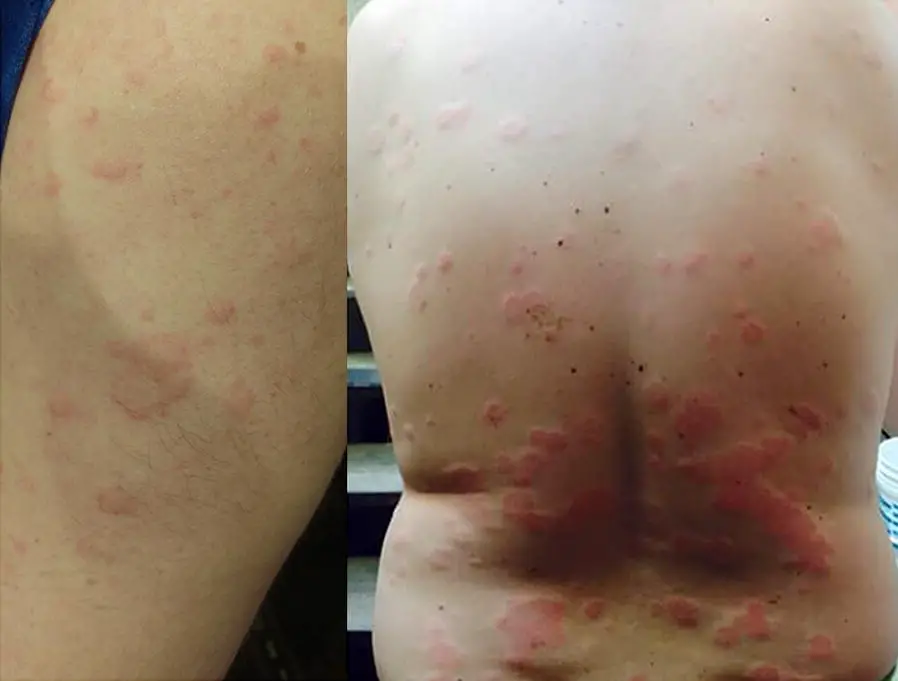 SIGNS AND SYMPTOMS OF HIVES
The symptoms of hives are usually difficult to link to hives. This is to say that there are other conditions that may cause similar symptoms to present themselves. There isn't a specific test that can be used to determine if you have hives or not. The doctors tend to eliminate potential conditions to determine if it is hives that you are suffering from.
There are some skin tests that are used to find out what irritant is causing the hives, once diagnosed. Patch tests are used to achieve this.
How to use TEA TREE for hives
I will mention that tea tree oil is not the only way that you can treat hives. However, it is a great way of doing so.
Clean the affected area
Dab it lightly with diluted tea tree oil
Leave overnight
The Benefits of Tea Tree Oil
Tea tree oil has soothing effects. When the skin is soothed, there is less histamine released in response to inflammation.
Tea tree also has antibacterial properties. These would be handy, in cases of infection or if your body is reacting to the presence of bacteria. This is what makes it effective for treating conditions such as acne.
Caution when Using tea tree oil
Tea tree oil is generally safe. It is generally an over the counter purchase. You do not need a prescription to purchase it. Most people would be able to use tea tree without any adverse reactions. I should mention that it is only to be used topically. This is to say that it should be used on the skin, and not ingested.
If swallowed, tea tree oil can be a toxin. It can cause loss of control in muscles, confusion and unconsciousness.
Do not use tea tree oil if you have eczema!
Common side effects of tea tree oil, although fairly unusual include redness, itching, stinging, burning and skin irritation.
If you encounter any of these issues, stop use immediately and seek medical attention. I don't mean to scare anyone with this one. However, as safe as tea tree oil is for use, it is better to be safe rather than sorry.
Managing Hives
The basis of most treatment of hives is an antihistamine. The production of histamine causes hives, so by taking antihistamines, you deter the production of histamine.
If your case of hives in particularly severe, the doctor may prescribe stronger treatment methods such as corticosteroids, leukotriene inhibitors and immunosuppressants. In essence, what they do is minimise your body's response to the irritant or allergen.
Beyond the treatment, there are small changes that you can make. These would make you more comfortable going about your day. The idea behind this is to minimise the irritant.
Wear clothes that are loose-fitting. This minimises cross-contamination and spread of hives.
Take note of what you are eating, to see what is triggering your bouts.
It is best not to scratch at poke at hives. That issue of cross-contamination applies here. This is more relevant in cases of infection caused hives.
Further Reading
https://www.webmd.com/skin-problems-and-treatments/guide/hives-urticaria-angioedema#3
https://www.liebertpub.com/doi/full/10.1089/ped.2012.0149
https://www.mayoclinic.org/diseases-conditions/chronic-hives/symptoms-causes/syc-20352719
https://www.medicinenet.com/image-collection/cutis_marmorata_telangiectatica_congenita_picture/picture.htm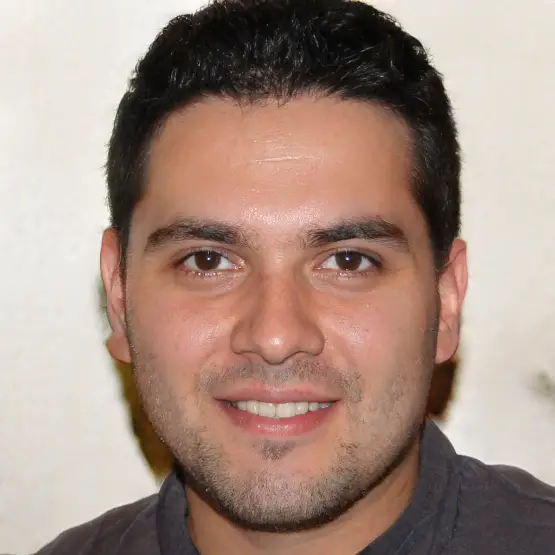 Nature remains the greatest healer. I aim to be a student for my lifetime. All of my content is researched to share this passion.