Weeds, though natural, can be detrimental. Traditional weed control methods, including chemical pesticides, often pose risks to other plants and the environment. Essential oils present a cost-effective and safer alternative, aligning with organic and sustainable gardening practices.
This guide offers gardeners and homeowners insights into using essential oils, such as Clove, Peppermint, and Orange Oil, for effective and eco-friendly weed control. Supported by scientific evidence, eugenol-rich clove oil excels in eradicating weeds without harming the environment, a characteristic also found in Peppermint and Orange Oil.
The guide offers practical advice on applying and diluting these oils to manage weeds effectively while ensuring the safety of the garden's ecosystem. The popularity of essential oils in weed control is attributed to their effectiveness and environmental safety. Readers will find actionable insights to achieve a weed-free, thriving garden economically and sustainably.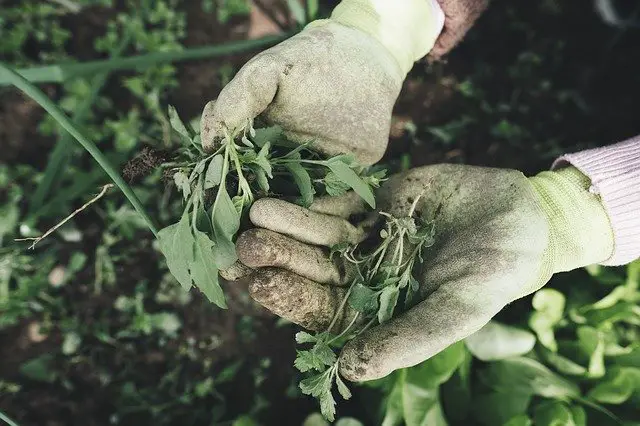 8 Essential Oil that can kill weeds
Clove
Clove oil, containing eugenol, is a natural herbicide. A study in Weed Technology journal confirmed its effectiveness against specific weeds, making it a potential tool for organic farming.
Using Clove Oil for Weeds:
Dilution: Mix 1 part clove oil with 10 parts water. Adjust the ratio based on a patch test.
Application: Spray the mixture on weeds, avoiding contact with desired plants.
Frequency: Apply based on the observed effectiveness on weeds.
Safety: Use gloves and goggles during application to avoid skin and eye contact.
Peppermint Oil
Peppermint oil, enriched with Alpha-Terpineol and Eucalyptol (1,8-cineole), exhibits properties that can be harnessed for weed control. These compounds are noted for their ability to disrupt the cell structure of weeds, leading to their demise (Frontiers).
The oil is a potent herbicide that induces wilting and death in weeds by obstructing air and sunlight. However, its non-selective nature warrants caution during application to avoid damage to other plants (Essential Oil).
Safety is paramount in the use of peppermint oil for weed control. Dilution and testing on a small patch of land are recommended to mitigate potential adverse effects on plants and the environment (Frontiers).
Orange Oil
Orange oil, enriched with Alpha-Terpineol and Eucalyptol (1,8-cineole), is a potent weed control agent.
1. Action Mechanism:
Orange oil's herbicidal properties stem from its active compounds, Alpha-Terpineol and Eucalyptol, which disrupt the cellular structure of weeds, causing cell leakage and plant death (DrugBank).
2. Weed Control Efficiency:
The oil is a non-selective, post-emergence herbicide effective against a variety of weeds, causing visible damage within hours of application (DrugBank).
3. Organic Horticulture Application:
Orange oil is valued in organic horticulture for its antimicrobial, antioxidant, and insecticidal properties, offering a biodegradable and eco-friendly alternative to synthetic chemicals (Frontiers).
4. Challenges:
The oil's volatility and potential phytotoxic effects necessitate enhanced formulations for broader use. Its non-selective nature requires careful application to avoid affecting non-target plants (Frontiers, DrugBank).
Usage Recommendation:
Dilution: Test a dilution of orange oil with water or a carrier oil on a small area before general application to prevent damage to desired plants.
Application: Administer directly to weeds, avoiding desired plants.
Monitoring & Reapplication: Observe the treated area and reapply, adjusting the dilution as necessary for optimal results.
Eucalyptus Oil
Eucalyptus oil may serve as a natural herbicide, though research on its effectiveness for weed control is sparse. The oil contains Alpha-Terpineol and Eucalyptol (1,8-cineole), compounds noted for their antimicrobial and insecticidal properties (DrugBank).
A study in the Journal of Essential Oil Research underscores the oil's allelopathic effects, where it releases chemicals that can inhibit weed germination and growth. Although not directly linked to weed control, the oil's insecticidal and antimicrobial traits, highlighted by Frontiers in Nutrition, could reduce weed growth by controlling pests and diseases.
Sources like Essential Oil and Undecorated Home suggest essential oils, including eucalyptus, can benefit plant health and pest control, hinting at an indirect role in weed management.
To use eucalyptus oil as a weed killer, dilute it with water, apply it as a spray on weeds, and avoid desired plants. Monitor the treated area to assess the oil's safety and effectiveness.
Lavender Oil
Lavender oil, containing Alpha-Terpineol and Eucalyptol (1,8-cineole), may serve as a herbicide. These compounds have antimicrobial and insecticidal properties that can help control weeds.
Bioactive Compounds: Lavender oil's key components, Alpha-Terpineol and Eucalyptol, are known for their antimicrobial and insecticidal properties (DrugBank).
Weed Control Mechanism: These compounds in lavender oil can disrupt weed cellular structures, inhibiting their growth (DrugBank).
Insect Repellent: Lavender oil deters pests, reducing weed seed propagation (DrugBank).
Organic Horticulture Use: Lavender oil is considered for biocontrol in organic farming as an alternative to chemical herbicides (Frontiersin).
Application Challenges: Its volatility and potential phytotoxic effects must be managed for effective use (Frontiersin).
Usage Recommendation: For weed control, diluted lavender oil should be tested in controlled settings to ensure efficacy and safety.
References:
Rosemary Oil
Rosemary oil might be a tool for weed control, but there's limited direct evidence to support this. The oil contains 1,8-cineole, linalool, and terpinen-4-ol, compounds known for antimicrobial and pesticidal properties. 1,8-cineole could inhibit weed growth by affecting germination or cellular functions. Essential oils, including rosemary, are noted for their bioactive properties, suggesting a potential in weed control.
To use rosemary oil for weed control, dilute it with water or a carrier oil and test the solution on a small area. Apply it directly to the weeds, monitor the area for weed die-off, and observe any effects on other plants. Wear protective equipment to avoid irritation and consider the ecological impact of using the oil.
Tea Tree Oil
Tea Tree Oil can be effective against weeds, though direct studies on this application are lacking. The oil's antimicrobial properties, including its ability to combat bacteria, viruses, and fungi, are well-documented (The Essential Oils Volume One: History—Origin in Plants, Production—Analysis., Page 104; Rubin, J. (2017). Essential Oils: Ancient Medicine, Page 191).
Toxic Effects on Plants:
Tea Tree Oil and similar essential oils can affect plant transpiration and, with prolonged exposure, can be damaging, leading to increased cellular permeability and death (The Essential Oils Volume One: History—Origin in Plants, Production—Analysis, Page 103). Components like Alpha- & Y-Terpinenes, P-Cymene, and Terpinen-4-ol could disrupt the cellular structures of weeds.
Application for Weed Control:
A diluted solution of Tea Tree Oil can be applied directly to weeds. Monitor the treated area for effectiveness and any potential damage to other plants. Adjust the concentration or application method as necessary.
Mixture:
A mixture of 5-10 drops of Tea Tree Oil with a liter of water or carrier oil can be tested on a small patch of weeds to gauge effectiveness and safety for other plants.
Cinnamon Bark Oil
Efficacy and Mechanism:
Cinnamon Bark Oil, rich in compounds like cinnamaldehyde and eugenol, is noted for its antimicrobial properties, making it a candidate for weed control. A ScienceDirect study underscores its effectiveness against bacteria, suggesting potential applicability to weed cells. Another piece from Frontiers in Nutrition supports the oil's broad antimicrobial attributes.
Practical Application:
Recipes for weed control using cinnamon bark oil are highlighted by Essential Oil and Rocky Mountain Oils, indicating its direct application efficacy.
Recommended Mixtures and Application:
Two mixtures are recommended:
Mixture 1:
10 drops of cinnamon bark oil
8 oz of water or white vinegar
Apply in full sun (Source)
Mixture 2:
15 drops each of cinnamon bark oil and clove bud essential oil
6 cups of white vinegar
3 cups of water
1 tablespoon of liquid castile soap
Apply directly to weeds (Source)
Application Tips:
Mix ingredients in a spray bottle.
Apply to weeds, avoiding other plants.
Test on a small area before full application.
Apply in the early morning or evening to prevent plant burn.
Buyer's Guide
When looking for essential oils to kill weeds, you must look for oils with properties that will kill weeds and be gentle on the other plants around the weeds. Remember that weeds will be growing in between other plants, which means you do not want to use a weed killer to be harmful to your plants. 
This is why you must know the ingredients in the oil. Make sure that they are plant-friendly. This means that you do not want to have chemicals in the mix.
Final Thoughts
Be cautious of the chemicals in weed killers, as they can impact your health and environment. Opting for essential oils as weed killers is a safer, cost-effective alternative. These natural solutions are not only environmentally friendly but also budget-friendly, utilizing common household items like water, vinegar, and dish soap. Ensure the safety of your surroundings and loved ones by choosing these eco-friendly options.