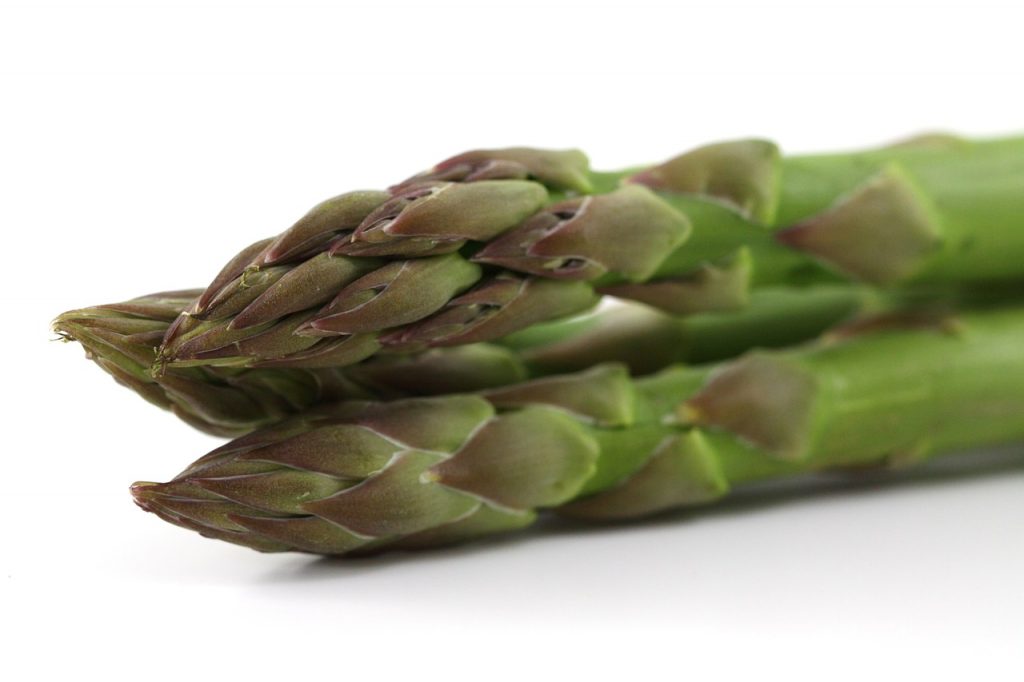 Asparagus is one of those vegetables most of us would have detested as children. It is definitely not the most visually appealing vegetable. No matter how it was served, nothing made it appeal to me. That is until I was much older. Not only did I begin to appreciate the nutritional value but the taste is not as bas as I had always thought it to be. I guess this is the same thing that I could say about mushrooms. My mother used to have to force me to eat them. Asparagus is best consumed fresh, not that tinned stuff.
Key Information
Asparagus takes about two years to produce its first yield. That may seem like a lot, until you consider that the productive life span is 8-20 years. That is up to a quarter of a human being's lifespan. Each plant will also give you about 20-25 spears per yield.
Asparagus requires a bit of work to keep it going. There is a lot of work that goes into preparing the soil. It also takes up a lot of space. This means that there is need for hand weeding.
How to plant Asparagus
The best depth for planting asparagus is about 8 inches deep and 12 inches wide. If you are doing this in trenches, best practice is to keep them at least 3 feet apart. This may seem like a lot of space, however when you consider that this doesn't have to be done this way. I have seen friends with apartments throw this wisdom away and make use of the space they have. They still managed to grow health asparagus. Do not be stopped by best practice guidelines. It is always worth trying things out for yourself.
Asparagus life cycle
The asparagus life cycle is such that it is always best to plant at the end of the winter season. This allows the plants time to settle and become strong in warm conditions.
When to plant
Plant between mid-March and end of April.
The Soil
The soil is always an important component for any plant. There are a few things that you may want to keep in mind. You need to have good drainage when growing asparagus. It doesn't not really matter what soil type you use, as long as there is good drainage. If you feel that you need to improve the drainage you may do so by digging it, adding manure and watering it.
Keep the soil free of excess roots. When you get rid of other plants, make sure that their roots do not remain in the soil.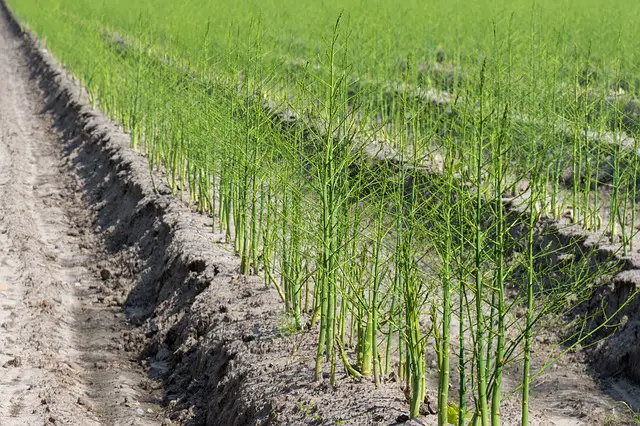 Caring for Asparagus Plants
Weeds are absolute vermin. All the water and nutrients that you pump into the soil for the benefit of the asparagus ends up being shared with them. It is important to keep hand weeding around your plants.
If the stems of the plants are not strong enough to stand, consider adding some sticks and string to support them.
When they fruit, make sure the berries are picked before they fall onto the ground. This keeps everything clean in the soil.
Do not keep the stems too long. Once they are yellow, there is no way back. Cut them. Keep the remaining stumps between 1-2 inches tall.
Keep track of where you have planted the stumps, and dig small trench to insert some fertiliser or compost.
Harvesting
Most people get excited when the first crop from the stumps of asparagus sprout. For the first ones, leave them to grow. They will become ferny. Allow them to continue for the entire first year. We won't go into the key benefits of this.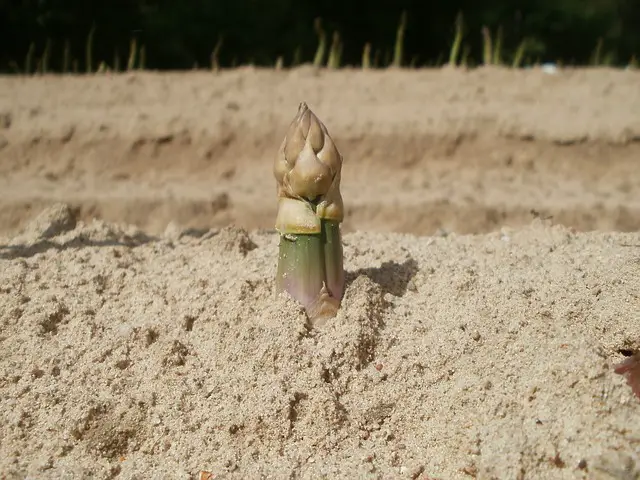 Wait for the plants to grow to about 4-5 inches. By which time, you should be in the second year. Cut them at the 3 inch mark. At this point, you should continue to trim and keep them at that sort of height. In the middle of the summer is when cutting would stop. In the UK, this would be around the middle of June.
When cutting stops, allow the plant to grow. The ferns will start to develop for the new crop. This would be the first edible harvest that you would have.
Consumption
The most common way to prepare asparagus is by steaming it. It is usually then served alongside a range fo dressings, depending on personal preference. My personal choice would be an oil and vinegar dressing.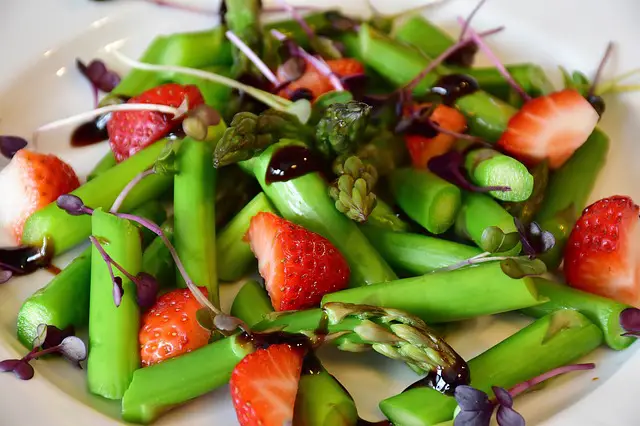 I think everyone would agree that it is best consumed crunchy, not soggy. You can also have it in soup, soufflé among other things.
The limited shelf life will mean that there are few things that can be done with it. You can store it for about 3 days in a refrigerator.
Asparagus how to cut
Wash the spear one at a time.
Peel away the skin from just under the tips using a sharp knife.
Do this all around the stem.
The key is to remember that you are shaving, not scrapping.
Types of Asparagus
There are about 6 types of asparagus:
Lorella: French origins, thick stems, high total yield.
Martha Washington: Common in America. Produces long spears. Resistant to rust
Connovers Colossal: The most common one across the world. Thick stalks. Excellent for freezer storage.
Minerve: Another French Variant. Great yield.
Sutton's Perfection: Most commonly sold in crown form. Sturdy.
Giant Mammoth: The most difficult one to find. Search high and low.
Asparagus nutrition
It contains:
Protein
Fat
Fiber
Vitamin C
Vitamin A
Vitamin K
Vitamin E
Folate
Potassium
Phosphorous
Also has small amounts of:
iron
zinc
riboflavin
Asparagus benefits
Based on the nutrients, we can pick a few Asparagus effects.
Antioxidant: lowers blood pressure, reduces inflammation, Has antiviral effects
Fiber: Improves digestion
Folate: Vitamin B9 is essential for pregnancy.
Common Issues
Slugs
We all know what these bad boys do. They eat at the plants, making sure it wont make it to your plate.
Asparagus Beetle
These commonly eat the stem and foliage area. The leaves start to fall off.
Frost
If you plant your plant well, this shouldn't be an issue. If it gets too cold before the plants have matured, the plants will darken and start to die. Covering with sacking is a good solution.
Violet Root Rot
If this one hits your crop, you have cause for concern. The roots become purple and mouldy. The leaves grow yellowish. The area becomes unusable for a period of at least 3 years.
Spindly Spears
The shoots are uncharacterically thin. This may be due to cutting the stem too soon or prolonged cutting.
Wind Rock
This happens when there isnt a windbreak. The roots are shaken out of the ground. This may lead to rot.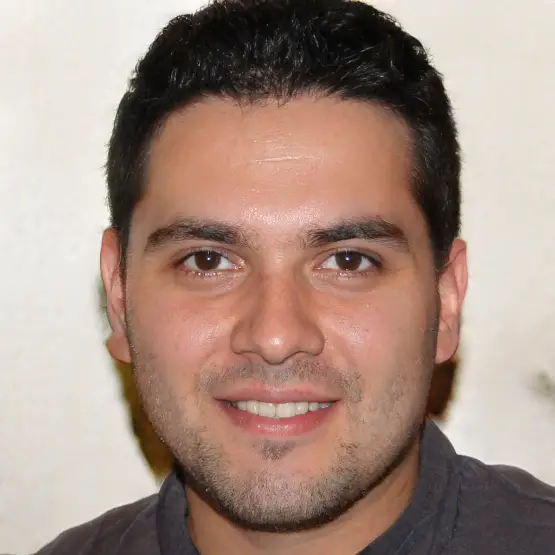 Nature remains the greatest healer. I aim to be a student for my lifetime. All of my content is researched to share this passion.