Asparagus is one of those vegetables that most of us loathed as children. It is not the most visually appealing vegetable. No matter how it was served, I did not find it appealing. That is, until I was much older. I began to appreciate not only the nutritional value but also that the taste was not as simple as I always thought. I think that's the same thing I can say about mushrooms. My mother used to make me eat them. Asparagus is best eaten fresh, not canned.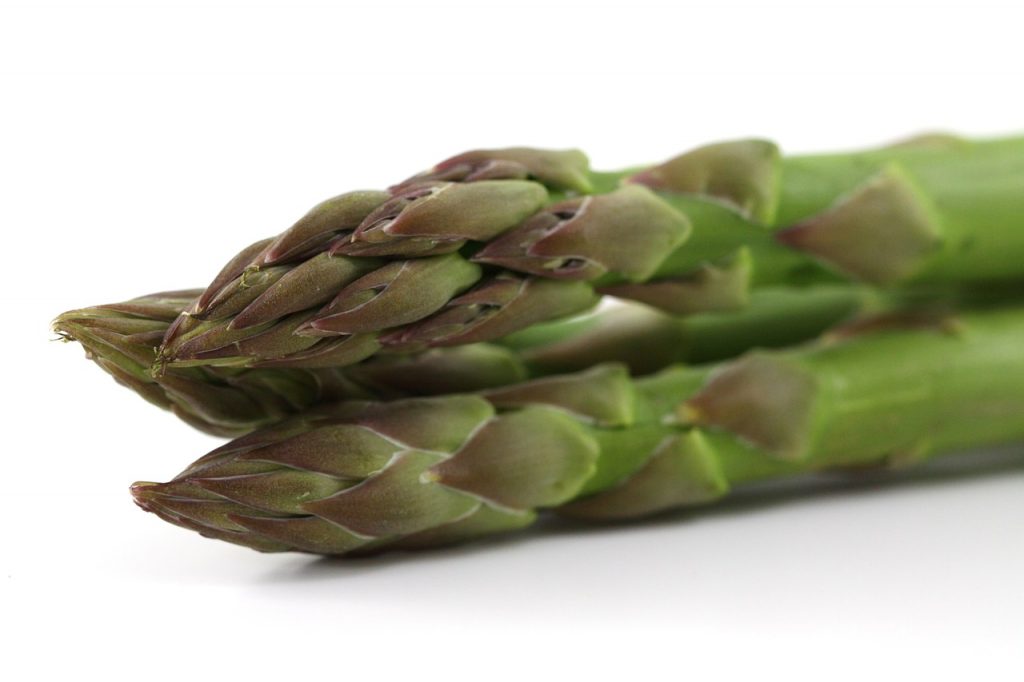 Key Information
It takes about two years for asparagus to produce its first yield. This may seem a lot, but the productive life span is 8-20 years. That's up to a quarter of a person's lifetime. Each plant yields about 20-25 spears per harvest.
Asparagus requires a little work to keep it alive. It takes a lot of work to prepare the soil. It also requires a lot of space. This means that you have to weed by hand.
How to plant Asparagus
When planting asparagus, digging a trench about 8 inches deep and 12 inches wide is generally recommended. If you follow traditional guidelines, the trenches should be at least three feet apart. However, it is essential to note that these recommendations are not set in stone. Many people have successfully grown asparagus in unconventional spaces, such as apartments or smaller gardens, by adapting planting methods to the available space.
Do not be discouraged by the recommended guidelines if you have limited space. Feel free to experiment and try different methods to suit your particular circumstances. Asparagus is a hardy plant, and with proper care and attention, you can achieve healthy growth and a satisfying harvest. So do not hesitate to be creative and adapt the planting process to maximise the available space.
Remember that gardening is a constant learning experience, and it's always worth trying new things to see what works best for you. Enjoy the process of growing asparagus, and have fun experimenting with different techniques!
Asparagus life cycle
The life cycle of asparagus begins with planting. It is generally recommended to plant asparagus crowns or seedlings at the end of the winter season or in early spring. This timing allows the plants to become established during the warm growing season.
After planting, asparagus spears begin to sprout from the soil within a few weeks. Asparagus spears are harvested when they reach a suitable height, usually about 6 to 8 inches, and are tightly closed. Harvesting should be selective, meaning that only a portion of the shoots should be cut off while the others are allowed to continue growing. This will ensure that the plant's energy goes into building a robust root system.
After the harvest period, asparagus plants enter the fern stage. In this stage, the stems grow taller and develop feathery foliage. The fern plants capture sunlight and produce energy through photosynthesis, which is important for replenishing the plant's energy reserves and storing nutrients in the underground crown.
Throughout the summer, ferns continue to grow and mature. Providing the fern with adequate water and nutrients is important to promote healthy development during this phase. The foliage serves as a factory for energy production that will support the growth and productivity of the fern in subsequent seasons.
The plant stores energy in its crown and prepares for winter. The ferns gradually turn yellow and die as the weather cools in late fall. This signals the beginning of the dormancy period, which is an essential part of the asparagus life cycle.
The asparagus enters a dormant phase during winter, resting until the next growing season. This dormancy is necessary for the overall health and longevity of the plant. Protecting the asparagus crowns from extreme cold or frost during this period is important to prevent damage.
With the arrival of spring, the cycle begins anew as the asparagus crowns awaken from dormancy and begin a new round of growth and harvest.
When to plant
The ideal time to plant asparagus can vary depending on location and climate. Planting asparagus crowns or seedlings between mid-March and late April is generally recommended in the United Kingdom. This period allows the plants to take advantage of the warmer weather and become established before the growing season begins.
The best time to plant asparagus in the United States may depend on the region. Generally, asparagus is planted in early spring when the soil has thawed and become workable. However, the exact time may vary by state and region because the climate varies. It is advisable to check with local agricultural extension offices or the horticultural offices serving your area for more specific planting recommendations.
When choosing when to plant asparagus, consider frost dates in your area and decide when the ground is not too wet or frozen. Asparagus benefits from a longer growing season, so planting early in the spring will allow the plants to establish a strong root system before the summer heat sets in.
By matching the planting time to the optimal conditions at your site, your asparagus plants will have the best chance of thriving and producing a healthy harvest.
The Soil
Soil plays a crucial role in the successful growth of asparagus. Here are some important factors to consider with the soil:
Drainage: good drainage is essential for asparagus plants. They do not tolerate waterlogging well. Make sure the soil has good drainage to prevent water from collecting around the roots, which can lead to root rot. If your soil has poor drainage, you can incorporate organic matter such as compost or well-rotted manure to improve soil structure and water movement.
Soil type: asparagus can grow in various soil types, including sandy, loamy or clay. However, well-drained soil rich in organic matter is generally preferred. This type of soil promotes healthy root development and provides necessary nutrients. Perform a soil test to determine the pH and fertility of your soil. Asparagus thrives in slightly acidic to neutral soil with a pH between 6.0 and 7.0.
Root Competition: Asparagus plants have a deep root system, and keeping the soil free of excess roots and competing plants is important. Remove all weeds and vegetation from the planting area before establishing your asparagus bed. This will prevent potential competition for water, nutrients and space.
Soil preparation: prepare the soil before planting asparagus. First, remove rocks, debris and roots of perennial weeds from the area. Dig the soil about 12 to 18 inches deep and work in organic matter such as compost or old manure to improve fertility and structure. This will create a loose, well-drained planting bed for the asparagus crowns or seedlings.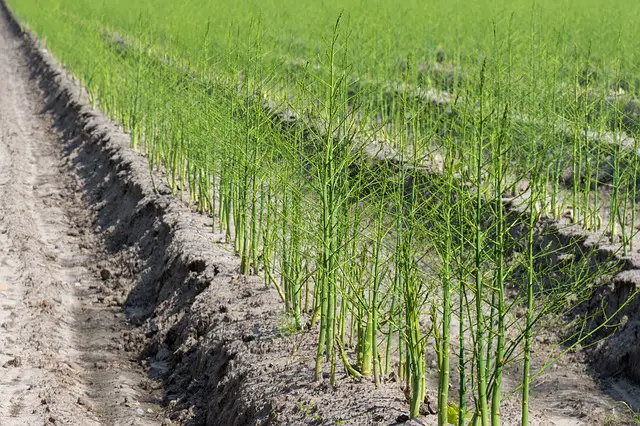 By paying attention to drainage, soil type and preparation, you can create an optimal growing environment for asparagus. Healthy soil conditions contribute to the overall health and productivity of asparagus plants and result in a more abundant harvest.
Caring for Asparagus Plants
When caring for asparagus plants, there are some important measures to ensure their health and productivity. Here are some important aspects to consider:
Weed control: Weeds are absolute vermin. Weeds can compete with asparagus for nutrients and water, so keeping the planting area free of weeds is important. All the water and nutrients that you pump into the soil for the benefit of the asparagus end up being shared with them. It is important to keep hand weeding around your plants. Regular hand weeding around the plants is recommended to prevent weed growth and maintain a clean growing environment.
Support for weak stems: Sometimes, the stems of asparagus plants need to be supported if they are not strong enough to stand upright. You can support asparagus stems by tying them down with stakes or twine to keep them upright. This will prevent them from bending or breaking under the weight of the foliage.
Harvest berries: asparagus plants produce berries that contain seeds. Removing the berries before they fall to the ground is generally recommended. This will prevent the seeds from self-seeding and possibly causing unwanted growth. Check the plants regularly for berries and harvest them to maintain a clean growing area.
Stem Care: Asparagus spears should be harvested when they reach a suitable height, usually 6 to 8 inches, and when they are still tightly closed. Once the stalks turn yellow, they become woody and lose their flavour. At this time, it is best to cut them off near the ground, leaving 1 to 2 inches of the stump. In this way, the plant's energy is redirected to developing new stems.
Fertilization: Asparagus plants benefit from regular fertilization to maintain their nutrient levels. Keep an eye on where you planted the asparagus crowns and dig a small trench next to the plants during the growing season. You can incorporate fertilizer or compost into this trench to give the plants additional nutrients.
By following these care measures, you can promote the health and productivity of your asparagus plants, ensure a bountiful harvest, and maintain a clean growing environment.
Harvesting
Asparagus harvesting requires careful timing and proper techniques to ensure a healthy and abundant yield. Here are the most important steps:
Establishment year (first year): When planting asparagus, it's important to let the spears grow without harvesting during the first year. This allows the plants to form a strong root system and develop healthy foliage. The spears will grow into fern-like leaves; you should leave them undisturbed throughout the first year. This will help the plants gather energy for future growth.
Harvesting in the second year: in the second year, you can start harvesting the asparagus spears once they reach a height of about 4-5 cm. Usually, the plants are then strong enough to allow a limited harvest. Cut the asparagus spears at the base so that the spears are about 5 cm above the ground. Be careful not to damage the stalks growing nearby. Harvest the shoots by about mid-summer, which in the UK is about mid-June.
Allow the fern to develop: After the harvest season, it's important to allow the remaining stems to grow and develop into ferns. Ferns are essential for photosynthesis and help replenish the plant's energy reserves for future growth. As the summer progresses, the ferns will develop into lush foliage.
First Edible Harvest: The following year, usually the third year after planting, you can expect the first major harvest from your asparagus plants. By allowing the fern plants to grow and gather energy over the past year, they have become more vigorous and productive. Harvest the spears using the same technique as in the second year, cutting them at the base when they reach the desired height.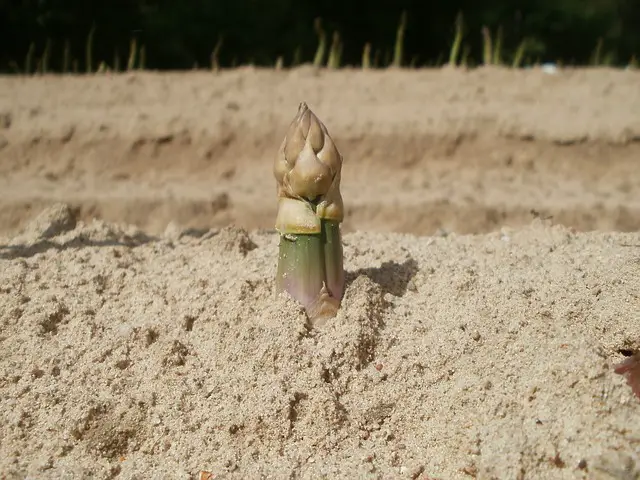 Be careful not to over-harvest and give plants enough time to recover between harvests. Asparagus plants can produce for 10 to 15 years or longer with proper care and management.
Consumption
The most common way to prepare asparagus is by steaming it. It is usually served alongside various dressings, depending on personal preference. My personal choice would be an oil and vinegar dressing. Asparagus is a versatile and delicious addition to a variety of dishes. Here are some common ways to prepare and eat asparagus: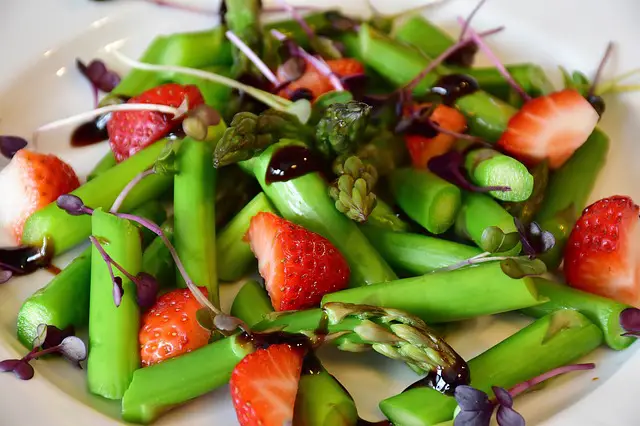 Steaming: steaming is a popular way to prepare asparagus because it preserves a bright colour and crunchy texture. Place the asparagus spears in a steamer basket over boiling water and steam for 3-5 minutes until tender but slightly crunchy. Steamed asparagus can be served as a stand-alone side dish or incorporated into other recipes.
Dressings and Sauces: Depending on personal preference, Asparagus pairs well with various dressings and sauces. A common choice is dressings with oil and vinegar, lemon butter, hollandaise sauce, or a simple drizzle of olive oil with salt and pepper. These additions can enhance the flavour of the asparagus and complement its natural taste.
Roasting and grilling: Roasted or grilled asparagus adds a smoky flavour and a slightly caramelized texture. Toss the asparagus spears with olive oil, salt and pepper, then roast in the oven or grill over medium heat until tender and slightly charred. This method brings out a deeper flavour profile in the asparagus.
Use in various dishes: Asparagus can be used in various dishes, including stir-fries, salads, pasta, soups, quiches or omelettes. It adds a fresh and vibrant element to these recipes, complementing the other ingredients and providing a nutritious addition.
Storage: Asparagus has a relatively short shelf life. To keep it fresh for as long as possible, store it in the refrigerator, preferably wrapped in a damp paper towel or plastic bag to retain moisture. Asparagus should be consumed within 3-4 days of purchase for optimal taste and quality.
Experiment with different preparation methods and recipes to discover the versatility of asparagus. Whether you like it crisp or tender, asparagus can be enjoyed in various ways, adding flavour and nutrients to your meals.
Asparagus how to cut
When cutting asparagus, it's important to use the right technique to get the best results. Here is a step-by-step guide:
Washing: First, wash the asparagus spears thoroughly under running water. This will remove dirt and debris from the surface.
Cutting: Trim off the woody ends of the asparagus spears before cutting. Take one spear at a time in your hand and bend it near the bottom until it breaks off naturally. The spear will break where the hard, fibrous part ends and the tender part begins. Repeat this process with the remaining sticks.
Peel (optional): If the asparagus spears are thick or have hard outer skin, peel them for a more tender texture. To do this, use an asparagus peeler or sharp knife and carefully peel the skin from the tip to the stem end. This step is especially helpful for larger or older asparagus spears. However, peeling is not essential for thin and tender asparagus spears.
Trimming: Once the asparagus is trimmed and peeled, you can cut it to the desired length. Depending on your recipe or personal preference, you can cut the asparagus spears into equal-length pieces or leave them whole. Use a sharp knife and make clean cuts in the desired places.
Remember to handle the asparagus spears carefully when cutting them so as not to damage the delicate flesh. If you cut and prepare asparagus properly, it will have a pleasing texture and look better overall when cooked or served.
Types of Asparagus
There are different types of asparagus, each with its characteristics and suitability for different purposes. Here are some common varieties of asparagus:
Mary Washington: this variety of asparagus is very popular in America. It forms long spears and is known for its excellent flavour. Mary Washington asparagus is also resistant to rust, a common disease that affects asparagus plants.
Connover's Colossal: Connover's Colossal is one of the most widely grown asparagus varieties in the world. It is known for its thick spears that are tender and flavorful. This variety is also good for freezing, making it a popular choice for preserving asparagus for later use.
Purple Passion: As the name implies, Purple Passion is a unique variety of asparagus with bright purple-coloured spears. Compared to green asparagus, it has a slightly sweeter and nuttier flavour. The striking purple colour can add visual appeal to dishes.
Jersey Knight: Jersey Knight is a popular hybrid asparagus variety known for its high yields and thick, tender spears. Commercial growers especially favour it because of its productivity and disease resistance.
UC-157: UC-157 is a widely grown asparagus variety known for its uniform and consistent spear size. It has good disease resistance and produces flavorful, medium-sized spears for various culinary uses.
Pacific Purple: Pacific Purple is another purple asparagus variety characterized by thick and juicy spears and has a milder flavour than green asparagus. It retains its purple colour even after cooking, making it an attractive and unique addition to meals.
These are just a few examples of the many asparagus varieties available. When choosing an asparagus variety, consider factors such as flavor, spear thickness, disease resistance and intended use to find the variety that best suits your preferences and culinary needs.
Asparagus nutrition
Here you will find a comprehensive tabular overview of the typical nutritional components of asparagus:
| Nutrient | Amount per 100g [1] |
| --- | --- |
| Protein | 2.2g |
| Fat | 0.2g |
| Fiber | 2.0g |
| Vitamin C | 5.6mg |
| Vitamin A | 38μg |
| Vitamin K | 41.6μg |
| Vitamin E | 1.1mg |
| Folate | 52μg |
| Potassium | 202mg |
| Phosphorous | 52mg |
| Iron | 1.1mg (small amount) |
| Zinc | 0.5mg (small amount) |
| Riboflavin | 0.1mg (small amount) |
Asparagus benefits
Asparagus offers several potential benefits due to its nutritional composition. Here are some potential benefits of asparagus:
It is important to note that results may vary individually, and the potential benefits of asparagus should be considered as part of a balanced diet. As always, if you have any particular health problems or conditions, you should consult a physician or nutritionist for individualized advice. Source
Common Issues
Slugs
We all know what these bad boys do. They eat at the plants, ensuring they won't reach your plate. 
Asparagus Beetle
These commonly eat the stem and foliage area. The leaves start to fall off. 
Frost
If you plant your plant well, this shouldn't be an issue. They will darken and die if it gets too cold before the plants have matured. Covering with sacking is a good solution.
Violet Root Rot
If this one hits your crop, you have cause for concern. The roots become purple and mouldy. The leaves grow yellowish. The area becomes unusable for at least three years.
Spindly Spears
The shoots are uncharacteristically thin. This may be due to cutting the stem too soon or prolonged cutting. 
Wind Rock
This happens when there isn't a windbreak. The roots are shaken out of the ground. This may lead to rot.