What is agarwood tea
This beverage is a trendy herbal tea generally made from the sapwood of the Agarwood tree. More specifically, from fine Agarwood leaves mixed with heartwood. These tea leaves are found on a tree species called Aquilaria. It is primarily found in countries within Southeast Asia and has numerous medicinal properties.
Medicinal properties such as weight loss have made the tea highly sought after. The high demand in the market is one of the main reasons this product is relatively expensive. Another reason is the tea is highly refined and must undergo complex safety tests such as the skin sensitization test.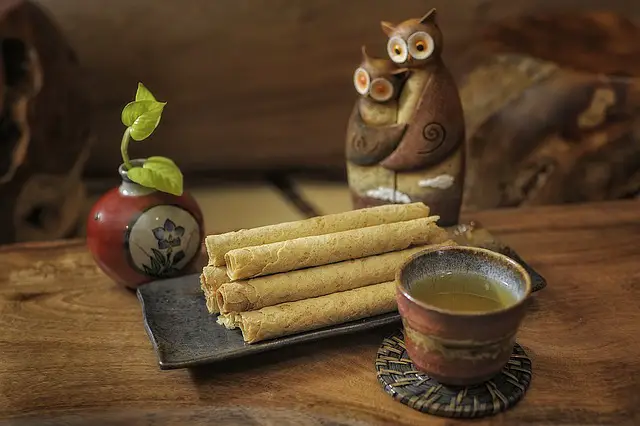 Agarwood tea can flush the human system with various toxins and fats. It is 100% organic and offers improved blood flow control for its drinkers. It is helpful to combat the ever-increasing free radicals associated with processed food. Poor diets and unhealthy lifestyles can be boosted by the high antioxidant powers of Agarwood tea.
You can expect the tea to have a bitter and tangy flavor. The taste is mainly dependent on the way it is processed. You can expect the tea to be less bitter and have no astringency if processed with finely chopped leaves rather than whole leaves. It is not an addictive tea because it has no caffeine and can be drunk before bed.
Many people drink this in various ways; either a hot or cold temperature is acceptable. The main advantage of this tea is that it is well researched within the academic fraternity, so there is sufficient data to support its health advantages.
Pharmacological Properties of agarwood tea
Research has determined that the leaves of Agarwood tea have complex chemical properties. Most commonly, you will find 2-(2-phenylmethyl) chromones, phenolic acids, steroids, fatty acids, benzophenones, xanthonoids, flavonoids, terpenoids, and alkane. These properties are vital to the core pharmacological benefits provided by this tea. 
They are directly related to anti-arthritic benefits and provide anti-inflammatory assistance. You will also gain long-term protection against cancerous tumors through the anticancer, antitumor, antioxidant, antibacterial, antifungal, antidiabetic, antihistaminic, lipid-lowering, laxative, acetylcholinesterase (AChE) inhibitory, and hepatoprotective properties.
How to brew agarwood tea
This beverage can be prepared the same way you would make any other tea. Ensure that you use hot water to brew the tea. A temperature of 80 degrees Celsius is high enough to help to drain the leaves of their flavor and goodness. For every 160mls of boiled water, you can add 1 gram of Agarwood leaves. Keep the leaves brewing for 5 minutes in hot water.
Once this period has lapsed, the nutrients will have transferred to the water so you can cool the tea and drink it cold. Commonly this tea is consumed without sugar. It is safe to consume between 2 – 3 cups of this tea daily.
Agarwood tea benefits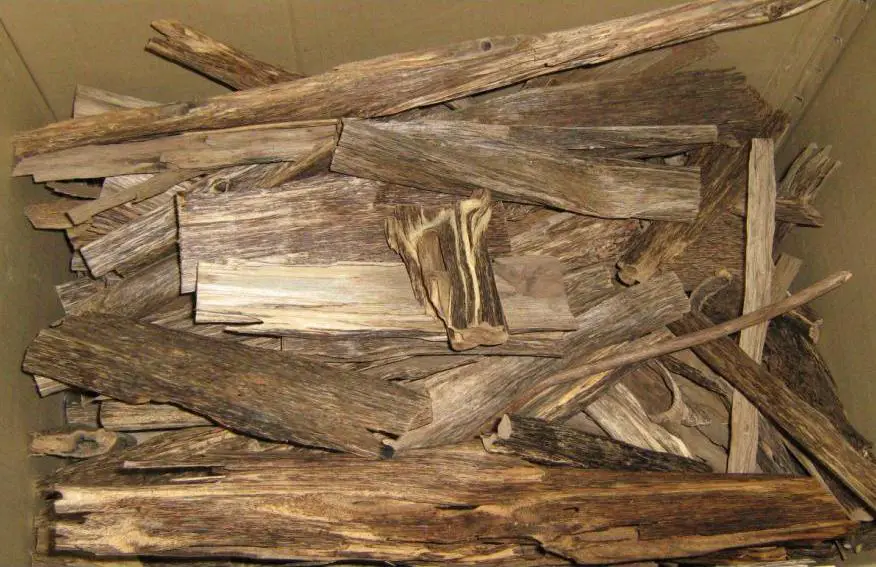 Detoxification
Humans naturally accumulate a wide range of toxins throughout the day. One common toxin is Mercury. Without an appropriate healthy lifestyle, it is challenging to get rid of them. These toxins will lead to adverse health consequences such as diseases when compounded over the years. Detoxifiers have become a big part of healthy living, and these are predominantly found in herbal teas such as this one.
Relaxation
For people dealing with very stressful jobs, this can be a lifesaver in the literal sense. It is known to provide relief to consumers who deal with epilepsy. It has tranquilizing properties suited to anxiety, headaches, and stress. Effectively minimizing any high blood pressure health problems can lead to a better frame of mind. Therefore, with continuous usage of this tea, you can hope to experience an improved mental health state. 
Improved Digestion & Blood Flow
Incorrect eating habits lead many people to have weak digestion systems. This tea can flush the stomach tract of any unhealthy bacteria. Issues such as dead cells and unwanted waste will over time become less familiar to people who consume this tea.
Improved Skin Health
The reduction of toxins in your body will leave you feeling more hydrated. This additional hydration leads to serial skin benefits. You will notice you are experiencing fewer wrinkles and blemishes. Instead, you will begin to experience a tightening of the skin because the tea will burn off any unwanted fats.
Weight loss
If you combine the main advantages of drinking Agarwood tea, you will notice they all work together to help with weight loss. The chemical properties of the tea work well to burn off any unsaturated fats from your body. It is an effective method to use when controlling cholesterol.
Agarwood tea side effects
Stomach Rumble
If you drink this tea in excess, you will dilute your stomach acid. This action will undo any of the positive effects provided by the tea for bowel relief. Any food you eat will not be adequately digested with overly diluted stomach acid. You will likely experience stomach pains and/or diarrhea. 
Nausea
Due to its cleansing nature, there is a chance that initial use of this tea may result in nausea. If you live an unhealthy lifestyle, using this tea might shock your body. There is a chance your body will begin to reject it, and you will feel nauseous. Nausea is quite normal on the first few consumption times, but this feeling will subside after a few days. To help the stomach, you can add honey to your tea which will neutralize the acidity of the tea.
Agarwood tea price
This tea is quite pricey and often ranges between $8 – $50 for a box of 20 teabags. It mainly varies depending on how delicate the leaves you purchase are. To save money, it is best to buy whole leaves and, if possible, try to brew the tea in a teapot for additional value.
Where to buy Agarwood tea
You can buy this tea online, but make sure to purchase it from a reputable site. You can find sites that sell this tea in health food stores near you or buy it directly from the company manufacturing the product.
Some of the places to buy it are:
Amazon
Specialist tea shop
Markets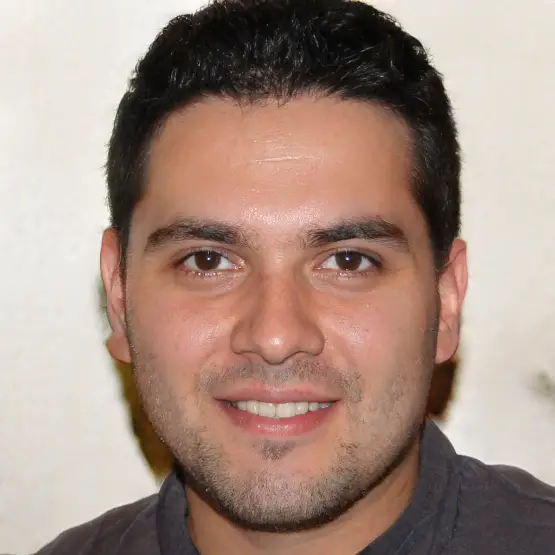 Nature remains the greatest healer. I aim to be a student for my lifetime. All of my content is researched to share this passion.