Aloe Blossom Herbal Tea is more than a delightful beverage; it's a gateway to holistic wellness. Infused with the healing touch of aloe blossom, every cup promises a blend of antioxidants, vitamins, and minerals that fortify immune health, rejuvenate the skin, and support digestive wellness.
The tea isn't just nourishing but also a sanctuary for the senses. Its aromatic essence and rich flavors are a natural retreat, offering relaxation and stress relief in every sip.
In our blog post, we unpack the health attributes of this special blend. Each benefit is illuminated by scientific research, providing a well-rounded perspective. Our goal is to arm you with the insights you need to consider this tea as a staple in your wellness journey.
What is Aloe blossom herbal tea
Consumers like Aloe blossom herbal tea for its immense health benefits and rich aroma. It is a low-calorie drink that is caffeine-free. It is a natural concoction of leaves, herbs, and spices. The smell of the tea is organic and comes with delicate hints of aloe blossom. The tea has ingredients from all over the globe and offers the drinker rejuvenation.
Aloe blossom herbal tea can be prepared at almost any temperature, making it a versatile beverage to serve. Its adaptability, and straightforward preparation process, make it a standout option to keep in the home for daily use. You can expect warm fruity flavors combined with soothing ginger when consuming this drink. The cinnamon and chamomile aspect of the drink is very calming and helps counteract the natural bitterness of herbal tea.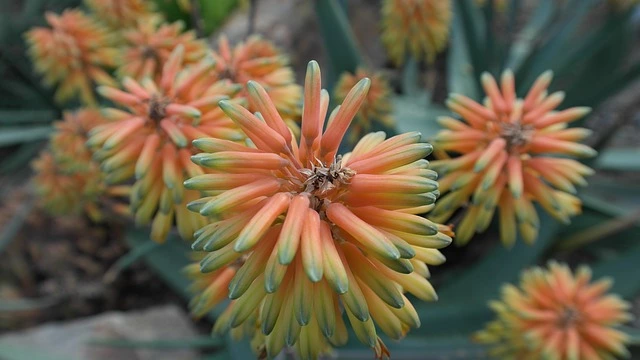 Key Ingredients
Aloe Blossom
Aloe Blossom has positive health effects on the digestive system. It helps the body retain the correct amount of water. It has powerful rehydration effects.
Cinnamon
Here are the refined benefits of the compounds in cinnamon, an ingredient in Aloe Blossom Herbal Tea:
1. Cinnamaldehyde:
Antioxidant Effects: Helps neutralize harmful free radicals (Source).
Blood Glucose Regulation: May benefit individuals with type 2 diabetes (Source).
Anti-inflammatory: Aids in reducing inflammation and muscle relaxation (Source).
2. Eugenol:
Antioxidant: Contributes to overall health (

Source

).
Digestive Health: Reduces gastrointestinal problems and nausea (Source).
3. Methyleugenol:
Antispasmodic Activity: Benefits gastrointestinal health by reducing smooth muscle contractions (

Source

).
4. Phellandrene:
Associated with a pleasant aroma and potential antioxidant properties, though specific information is limited.
Benefits of Aloe Blossom Herbal Tea with Cinnamon:
Immune System Boost: Strengthens immunity due to antioxidant properties.
Skin Health: Promotes skin vitality.
Digestive Wellness: Improves digestion and reduces discomfort.
Stress Relief: Eugenol and phellandrene promote relaxation.
Blood Sugar Regulation: Can be a beneficial addition for those monitoring blood sugar levels.
Consultation with a healthcare professional is advised before incorporating Aloe Blossom Herbal Tea into one's diet to ensure it aligns with individual health needs and conditions.
Ginger
Here are the benefits of ginger, a key ingredient in Aloe Blossom Herbal Tea:
1. Pain Relief and Anti-Inflammatory Effects
The presence of ginger in Aloe Blossom Herbal Tea suggests potential pain-relieving and anti-inflammatory benefits for individuals experiencing these types of pain.1
2. Antioxidant Properties
The antioxidant properties of ginger in Aloe Blossom Herbal Tea can contribute to cellular health and the body's defense against free radicals.2
3. Digestive Wellness
Aloe Blossom Herbal Tea drinkers may experience improved digestion and relief from gastrointestinal discomfort due to the ginger content.
4. Enhanced Immune Function
The inclusion of ginger in Aloe Blossom Herbal Tea could potentially bolster the immune system, aiding in the prevention of infections and illnesses.
5. Relaxation and Stress Relief
The ginger in Aloe Blossom Herbal Tea can offer a calming effect, making the tea a suitable choice for relaxation and mental well-being.4
Clove
Clove in Aloe Blossom Herbal Tea offers health benefits due to eugenol, a compound with antioxidant, anti-inflammatory, and antimicrobial properties.
Eugenol neutralizes harmful free radicals, reducing oxidative stress linked to chronic diseases like cancer and cardiovascular disorders, as highlighted in a study on ScienceDirect. Aloe Blossom Herbal Tea drinkers can bolster their antioxidant defenses.
A ResearchGate publication notes eugenol's ability to alleviate inflammation and pain, making the tea beneficial for those with inflammatory conditions.
Eugenol's antimicrobial properties, effective against bacteria, viruses, and fungi, are underscored in a study in the International Journal of Current Microbiology and Applied Sciences. Aloe Blossom Herbal Tea could strengthen the immune system and offer protection against infections.
The same ResearchGate article highlights eugenol's dental health benefits, indicating that Aloe Blossom Herbal Tea drinkers might experience relief from toothaches and improved gum health.
Chamomile
Aloe Blossom Herbal Tea, enriched with chamomile, offers health benefits attributed to Angelate, Esters, and Isobutyrate.
Anti-Inflammatory Effects

Chamomile's volatile oils and flavonoids provide anti-inflammatory properties, aiding in gastrointestinal health by reducing gas and soothing the stomach (

Srivastava, Shankar, & Gupta, 2010

).

Immune Boost

The tea enhances the immune system and combats cold-related infections (Srivastava et al., 2010).

Hemorrhoid Relief

Chamomile ointment and tinctures alleviate hemorrhoid inflammation (Srivastava et al., 2010).

Bone Health

The extract stimulates osteoblastic cell differentiation, suggesting potential in osteoporosis prevention (Srivastava et al., 2010).

Sleep Aid

Chamomile induces sleep, attributed to the flavonoid apigenin binding to brain receptors (Srivastava et al., 2010).

Anxiety Reduction

Aromatherapy with chamomile improves anxiety and self-esteem levels (Srivastava et al., 2010).

Health Protection

It contributes to cardiovascular health, immune stimulation, and offers cancer protection (Srivastava et al., 2010).
These insights are backed by scientific research, underscoring the health-promoting attributes of chamomile in Aloe Blossom Herbal Tea.5
Orange Peels
Aloe Blossom Herbal Tea with orange peel offers health benefits including:
Reference:
A review on the chemical composition and nutritional value of citrus fruits is available at PubMed Central.
How to brew aloe blossom herbal tea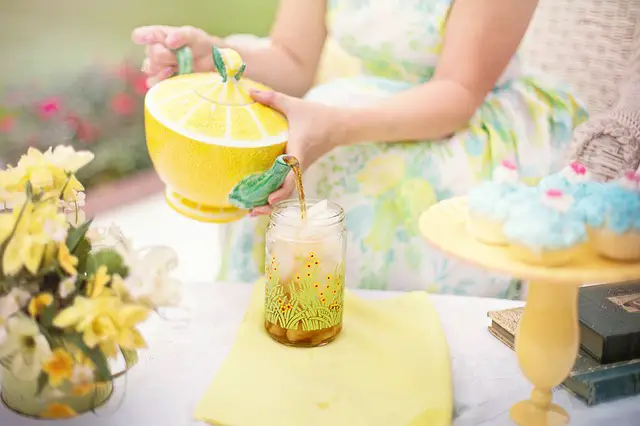 To brew Aloe Blossom Herbal Tea:
Ingredients:
Aloe Blossom Herbal Tea bag or loose leaves
Hot water (85-90°C or 185-194°F)
Optional: honey, lemon slice, or herbs
Steps:
Heat Water:

Heat water to the specified temperature to retain the tea's flavors and nutrients.

Prepare Teacup/Teapot:

Add a tea bag or a teaspoon of loose leaves to your teacup or teapot.

Pour Hot Water:

Pour the hot water over the tea, ensuring it's submerged for infusion.

Steep:

Let the tea steep for 3-5 minutes. Avoid over-steeping to prevent a bitter taste.

Remove Tea Bag/Strain Leaves:

Remove the tea bag or strain the leaves.

Customize (optional):

Enhance flavor with a lemon slice, honey, or herbs.

Enjoy:

Savor the tea, noting the benefits from ingredients like chamomile and orange peel.
Note:
Adjust brewing time and additions to taste.
Store the tea in a cool, dry place.
Pharmacological properties of Aloe blossom herbal tea.
Cinnamon stick (Cinnamomum cassia) and orange peel (Citrus sinensis) help provide antioxidants and flavor. The cloves (Carophyllus aromatics), mulberry leaves (Rubus fruticose), Jamaican pepper (Eugenia pimenta) are some of the ingredients responsible for assisting with diabetes. Fennel seeds (Foeniculum vulgare), root ginger (Zingiber officinale), cardamom seed (Elettaria cardamomum) are helpful to help control cholesterol. Dehydrated aloe flowers, Gymnema Sylvestre leaves, herbs, and chamomile flowers (Matricaria chamomilla) can help prevent high blood pressure and heart disease.
Aloe blossom herbal tea benefits
Aloe Blossom Herbal Tea offers a variety of health benefits due to its rich blend of natural ingredients, each contributing unique properties to promote overall well-being. Here are the key benefits:
1. Rich in Antioxidants:
Ingredients: Cinnamon, orange peel, and chamomile.
2. Supports Digestive Health:
Ingredients: Chamomile and ginger.
Benefits: These ingredients aid in digestion, reduce bloating, and can alleviate gastrointestinal discomfort. Chamomile, in particular, has anti-inflammatory properties that soothe the digestive tract (Source).
3. Boosts Immune System:
Ingredients: Orange peel and chamomile.
Benefits: Rich in vitamin C and other immune-boosting compounds, these ingredients enhance the body's ability to fight off illnesses (Source).
4. Promotes Relaxation and Stress Relief:
Ingredients: Chamomile.
Benefits: Known for its calming effects, chamomile promotes relaxation and can improve sleep quality (Source).
5. Supports Skin Health:
Ingredients: Orange peel and chamomile.
Benefits: The antioxidants and anti-inflammatory properties of these ingredients promote radiant, healthy skin (Source).
6. Aids in Blood Sugar Regulation:
Ingredients: Gymnema Sylvestre leaves.
Benefits: These leaves have been associated with reduced sugar absorption in the intestine, supporting balanced blood sugar levels.
7. Enhances Flavor and Aroma:
Ingredients: Cinnamon, cloves, and orange peel.
Benefits: These ingredients not only contribute to the tea's health properties but also enhance its flavor and aroma, making for a delightful sensory experience.
Aloe blossoms herbal tea side effects
Aloe Blossom Herbal Tea can cause side effects or interact with medications and health conditions. Potential issues include:
1. Allergic Reactions:
Allergies to ingredients like chamomile, cinnamon, or aloe can cause rashes, itching, swelling, or respiratory issues.
2. Digestive Issues:
Excessive consumption can lead to nausea, vomiting, or diarrhea, despite some ingredients aiding digestion.
3. Pregnancy and Breastfeeding:
Caution is advised as some herbs can affect hormone levels, uterine contractions, or milk supply.
4. Blood Sugar Levels:
Ingredients like cinnamon and Gymnema Sylvestre can affect blood sugar, requiring close monitoring for those with diabetes or on related medications.
5. Blood Pressure:
Individuals with hypertension or on blood pressure medications should be cautious.
6. Medication Interaction:
Consult a healthcare professional if on medication to avoid potential interactions.
7. Excessive Consumption:
Avoid excessive intake to mitigate potential side effects.
Recommendations:
Begin with a small amount to test for reactions.
Seek professional advice if pregnant, breastfeeding, on medication, or have health conditions.
Aloe blossom herbal tea weight loss
Claims of Aloe Blossom Herbal Tea leading to weight loss due to improved metabolism aren't strongly supported by evidence. Ingredients may influence metabolism and digestion indirectly, but direct weight loss links are unestablished. Holistic approaches and professional consultations are advised for weight loss.
1. Aloe Vera:
Known for laxative effects leading to temporary water weight loss, not fat loss. Using laxatives for weight loss can be harmful (Foster, M., Hunter, D., & Samman, S. (2011). Evaluation of the Nutritional and Metabolic Effects of Aloe vera. In Benzie IFF, Wachtel-Galor S (Eds.), Herbal Medicine: Biomolecular and Clinical Aspects. 2nd edition. CRC Press/Taylor & Francis).
2. Cinnamon:
Studied for effects on blood sugar regulation, indirectly influencing weight management. Direct links to weight loss are unconfirmed (Mang, B., Wolters, M., Schmitt, B., Kelb, K., Lichtinghagen, R., Stichtenoth, D. O., & Hahn, A. (2006). Effects of a cinnamon extract on plasma glucose, HbA, and serum lipids in diabetes mellitus type 2. European Journal of Clinical Investigation, 36(5), 340–344. https://doi.org/10.1111/j.1365-2362.2006.01629.x).
3. Orange Peel:
Contains fiber and flavonoids, contributing to fullness and potential calorie intake reduction. Direct weight loss impact is unproven (Ghanim, H., Sia, C. L., Upadhyay, M., Korzeniewski, K., Viswanathan, P., Abuaysheh, S., & Dandona, P. (2010). Orange juice neutralizes the proinflammatory effect of a high-fat, high-carbohydrate meal and prevents endotoxin increase and Toll-like receptor expression. The American Journal of Clinical Nutrition, 91(4), 940–949. https://doi.org/10.3945/ajcn.2009.28584).
4. Chamomile:
Associated with relaxation and sleep, not directly linked to weight loss (Srivastava, J. K., Shankar, E., & Gupta, S. (2010). Chamomile: A herbal medicine of the past with a bright future (Review). Molecular Medicine Reports, 3(6), 895–901. https://doi.org/10.3892/mmr.2010.377).
Aloe blossoms herbal tea and fertility
Aloe Blossom Herbal Tea's ingredients contribute to overall health but lack direct, scientific backing for fertility enhancement. Consultation with a healthcare professional is advised for those considering the tea for fertility purposes.
The assertion that Aloe Blossom Herbal Tea enhances fertility by boosting calcium, potassium, and iron levels lacks substantial evidence in scientific literature.
Ingredients:

The tea comprises chamomile, cinnamon, and orange peel. Direct evidence connecting these to increased fertility is scarce.

Chamomile:

Known for relaxation and anti-inflammatory properties (Srivastava, Shankar, & Gupta, 2010), its direct impact on fertility is unproven.

Cinnamon:

Studies indicate cinnamon's role in improving menstrual cyclicity in PCOS patients (Kort & Lobo, 2014), but it's not a universal fertility enhancer.

Orange Peel:

Rich in antioxidants (González-Molina, Domínguez-Perles, Moreno, & García-Viguera, 2010), its direct correlation with fertility is unclear.

Mineral Levels:

The tea's impact on calcium, potassium, and iron levels, and by extension fertility, isn't supported by concrete evidence.
Aloe blossom herbal tea and pregnancy
The connection between Aloe Blossom Herbal Tea and fertility or pregnancy requires careful consideration due to the complex effects of its ingredients.
Aloe Blossom Herbal Tea and Fertility:
There's no direct research linking this tea to fertility. While ingredients like cinnamon and ginger offer health benefits, their direct impact on fertility isn't well-established.
Aloe Blossom Herbal Tea and Pregnancy:
Consuming aloe vera, an ingredient in the tea, is advised against during pregnancy as it can stimulate uterine contractions and act as a laxative, potentially leading to complications. The inclusion of chamomile is also debated; it's used for relaxation but might affect uterine contractions.
Conclusion:
Caution is advised for those looking to conceive or who are pregnant due to the potential effects of aloe vera and chamomile on uterine contractions. Consultation with a healthcare professional is recommended for personalized advice.
Aloe blossom herbal tea price
Aloe blossom herbal tea can cost up to $50 for a box of 25 servings.
When to drink Aloe blossom herbal tea
Drinking this tea before bed will help promote deep sleep. Many people enjoy this because it cleanses them—the Chamomile and Cinnamon in the tea work to help control and calm the nervous system.
Footnotes