What is this tea?
Barley tea is a healthy beverage popular in Korea, China and Japan. Because of its versatility, consumers enjoy this beverage in both hot and cold seasons. It is a tea consumed daily and known as boricha in Korean. The drink is also referred to as damai cha in Chinese and mugicha in Japanese.
Barley tea is mainly made from Barley. This grain is scientifically referred to as Hordeum vulgare. Barley tea differs from other teas because it is not made from traditional tea leaves. Most teas are typically harvested from the Camellia sinensis plant; however, barely is not.  
The barley grain is roasted to offer consumers a woody, nutty flavour. Honey is often added to negate the slightly bitter aftertaste. You can also consider adding fruit juice or other mild sweeteners to it for a different taste.
Besides the refined taste of barley tea, consumers typically drink it for its immense health benefits. Many non-scientific reports argue this tea can prevent cancer or treat acne. Its benefits vary; however, the proven ones are generally associated with the health benefits of eating Barley. These benefits include reduced hunger, weight loss, improved digestion and lower cholesterol.
The only reason one wouldn't drink barley tea is that Barley contains gluten. Consumers on a gluten-free diet should avoid barley tea.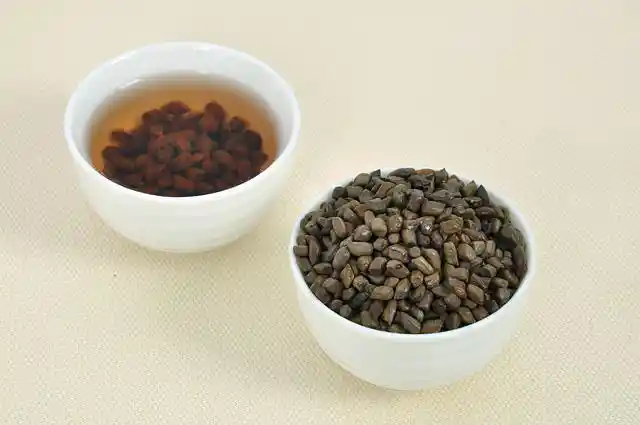 Chemical properties of Barley Tea 
Barley tea comprises a wide variety of vitamins, nutrients and biological compounds. The positive health benefits of this drink are the result of vitamins A and C and antioxidants. These are known to help to eliminate free radicals and amino acids.
Nutritional Facts of Barley Tea
Nutrients per Serving
A single pot of Barley tea with a half-cup of cooked Barley contains: 
97 calories
2g of Protein
1 g of Fat
22g of Carbohydrates
3g of Fiber
0g of Sugar
Benefits of Barley Tea
Barely tea is a traditional medicine with advantages in preventing diarrhoea, fatigue, and inflammation. These benefits are mainly based on consumer reports, often not supported by research. 
Low in calories
Barley tea is considered a weight loss drink and has almost zero calories. The drink can be drunk without milk, cream, or sweeteners, providing immense weight loss benefits. The drink can be made in varying strengths to contain trace amounts of calories and carbs. Regardless, it cannot impact your daily intake, so consumers find it a healthy and flavorful alternative to water. 
Antioxidant-rich
Barley tea is rich in antioxidants. This ingredient means your body is better prepared to fight against free radical damage. Free radicals are all around us, and these harmful molecules attack the body's cells. Barley tea can help prevent inflammation and cellular dysfunction. The tea contains vital antioxidants such as chlorogenic and vanillic acids. These are useful for boosting how much fat your body burns at rest. Its anti-inflammatory effects are a source of quercetin. This ingredient is known to improve heart health, blood pressure, and brain health.
Anti-cancer properties
Whole grain tea is known to offer cancer-prevention benefits. According to WebMD, the lower the barley cultivation and consumption, the higher the likely chance of cancer mortality. This study shows correlation, but not causation, meaning the cancer is not necessarily caused by lower barley intake.
Potential downsides
Barley tea has many benefits; however, there are some reasons why consumers would avoid it. 
In large quantities, Barley tea can introduce an anti-nutrient called acrylamide. Studies have shown this ingredient can lead to a higher risk of colorectal and pancreatic cancer. When the Barley blend is roasted, this anti-nutrient is released. It is best to burn the Barley to a deep, dark brown before steeping to avoid this release.
The tea has a bitter aftertaste which is often minimized through the introduction of Sugar and cream. Sugar and cream have a substantial amount of calories and fat. These ingredients can be harmful in high quantities meaning the beverage loses its weight loss benefits.
Lastly, Barley tea is not suitable for consumers on a gluten- or grain-free diet, as Barley is a gluten-containing grain.
How to make Barley Tea
How to Brew Hot Barley Tea
You can use Barley tea bags or Barley kernels to make this tea.
Combine the Barley with water in a kettle.
Try to source filtered water and whole roasted kernels for the best results.
A water kettle should generate 4 cups of tea from half a cup of roasted kernels. 
Heat the water and kernels until the mixture begins to boil. Once complete, you can turn off the heat and let the tea brew undisturbed for 5 minutes. You can allow the tea to steep for 15 minutes for a darker and more potent brew. 
Strain the tea liquid with a mesh strainer and serve hot.
How to Brew Cold Barley Tea
When brewing cold Barley tea, it is essential to allow the tea time to cool. The brewing process takes longer than preparing hot Barley. 
Boil the Barley tea bag in a cup of filtered water.
Remove the tea bag and place the tea in a glass pitcher.
Cover the pitcher and allow it to cool in the refrigerator for 2 hours.
When serving, you can add crushed ice for a colder taste.
How many cups of Barley Tea can you drink?
An average of 2 cups of Barley Tea should be enough to recognize its full health benefits. 
Additional FAQs
What does Barley Tea taste like?
Barley tea has a toasted and nutty taste depending on how strong it is brewed.
Does Barley Tea contain caffeine?
Barley Tea is made from grain and does not contain any caffeine. 
Is Barley Tea a real tea?
Barley tea is different from your typical teas because it is made from grain, not tea leaves. Tea leaves are traditionally harvested from the camellia Sinensis plant and are known to contain caffeine.