What is Butterfly Pea Flower Tea
Butterfly pea flower tea is a caffeine-free herbal tea, or tisane, a beverage made from a flower of the Clitoria ternatea plant. You can use the term blue Tea as an alternative. The liquid changes colour based on the pH level of the substance added to it. For instance, adding lemon juice to the tea will turn it purple. Butterfly pea flowers help ensure skin and hair health, promote weight loss, and reduce blood sugar levels.
When steeped in boiling water, the Butterfly Pea flower has a blue colour, which is unique compared to other teas. When combined with lemon, it turns the tea from blue to bright violet. The lemon changes the pH level of the tea, leading to a change in colour. This article will take you through the benefits and side effects of the butterfly pea flower and some tips on how to use it.
Chemical properties of Butterfly Pea Flower Tea
It is rich in anthocyanins, the antioxidant compounds, that make its unique colour. Its antioxidant compounds called ternatins help with inflammation and prevent cancer cell growth. It is also rich in other healing antioxidants, such as kaempferol, for fighting cancer cells. 
p-coumarin acid is for anti-inflammation, anti-microbial, and antiviral (nih.gov). Delphinidin-3,5-glucoside boosts immune function and fights cancer cells. Butterfly Pea produces specific peptides called cyclotides which are toxic to cancer cells. It has properties that fight against HIV, cancer, and other harmful diseases. It stimulates blood flow throughout the body, which helps to relieve the symptoms experienced when suffering from any disease.
Nutritional Facts on Butterfly Pea Flower Tea
Butterfly pea flowers are rich in anthocyanin compounds called ternatins. Ternatins prevent cancer cell growth. It has Kaemphferol, a compound rich in cancer-fighting properties. p-Coumaric acid has anti-inflammatory, antimicrobial, and antiviral effects, which help protect against disease.
Delphinidin-3,5-glucoside is an antioxidant that helps stimulate immune function and causes cell death in colorectal cancer cells (sciencedirect.com).
Benefits of Butterfly Pea Flower Tea
Butterfly pea Flower Tea supports skin and hair health. Butterfly pea extract increases your skin's hydration. It also promotes hair growth and treats hair loss. The butterfly pea flower contains rich antioxidants for promoting hair and skin health.
It also promotes weight loss by slowing the formation of fat cells and regulating pathways involved in cell progression. The pea flower tea stabilises blood sugar levels. That reduces your risk of diabetes and related symptoms. Drinking a beverage containing butterfly pea flower extract increases antioxidant levels, reducing blood sugar and insulin levels.
The antioxidant properties of the butterfly pea flower protect against cell damage and complications related to diabetes. That is the impact it has on your long-term blood sugar control. When considering boosting your brain, you might consider Butterfly Pea flower tea. It works as a brain herb, to enhance memory, and treat anxiety and depression.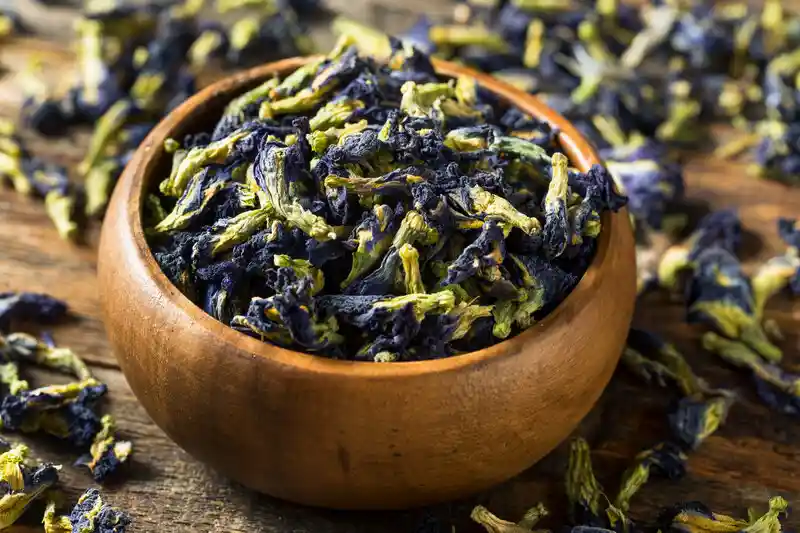 It has the active compound acetylcholine, which is memory enhancing and for brain health (nih.gov). Drinking this flower tea reduces the symptoms of stress-induced ulcers and helps relieve symptoms of disorders related to brain function. 
Butterfly pea flower tea helps your eyesight as it contains the antioxidant anthocyanin, which increases blood flow to the eyes. It helps your body fight glaucoma, damaging the retinas, blurred vision, and tired eyes. If you struggle with night vision, regularising drinking the tea to protect the eyes from potential damage.
Butterfly Pea tea is a treatment for problems with menstruation or vaginal discharge. It does not only work in women but also in men by helping with sperm production. It also helps women in delivering their babies safely.
Butterfly Pea tea is for treating the digestive system. Its anti-inflammatory properties soothe stomach muscles, alleviating nausea and indigestion. It has anthelmintic properties, which help prevent the growth of harmful bacteria. 
It also stimulates bile flow from the liver, acting as a mild laxative. Like many teas, Butterfly Pea tea can also aid in weight loss by relieving the body's digestive system from unnecessary waste and replacing it with antioxidants.
For respiratory health, Butterfly Pea Flower Tea reduces the irritation of the lungs and other respiratory organs. It also helps drain fluid build-up, which works toward colds and coughs. It has become one of the best therapeutic alternatives for treating asthma and allergies. Blue tea increases your energy levels and adds to alertness.
Potential downsides
Butterfly pea flower is safe when consumed in moderation, but you should not ignore the side effects like nausea, stomach pain, and diarrhoea. If you have underlying health conditions or are taking medications, talk with your doctor before using butterfly pea flower (pregnancybirthbaby.org). It promotes uterine contractions and should be avoided during pregnancy. 
How to make Butterfly Pea Flower Tea
Add one teaspoon of dried flowers to 1 cup of hot water.
Let the tea steep for 10–15 minutes before straining the dried flowers. 
Enjoy hot or served over ice. You can also add a bit of lemon, lime, or honey to spice up the flavour. The acidity of citrus fruits can also turn the drink a deep purple hue due to the ternatins the plant contains. If you want to serve it hot, add lemon or lime juice to taste and serve. To serve it cold, allow the tea to cool to room temperature before pouring it over ice. 
How many cups of Butterfly Pea Flower Tea can you drink?
Two cups of blue tea in your daily routine is the standard intake. A cup of Butterfly Pea tea every day can help reduce fatigue. 
FAQs
Why does butterfly pea tea change colour?
It changes colour due to its pH levels. The compounds in blue tea react to the acidity in lemon juice. Its deep blue hue transforms to purple. As you add more acidity, the liquid changes colour to magenta and pink. 
The molecules involved in this reaction belong to phenolic compounds called anthocyanins, responsible for the butterfly pea flower's blue colour.
What does butterfly pea flower taste like?
The bright blue colour of butterfly pea tea gives you a signal for a fruity flavour, but it tastes more like green tea. It is also earthy and grassy. You can add lemon juice and honey to brighten and sweeten the taste. Other alternatives are ginger, mint, lemongrass, and cinnamon.