What is Orange Ginger Tea?
Orange Ginger tea is a beverage rich in antioxidants and nutrients, steeped with ginger and flavoured with orange juice. The Orange Ginger tea is a fruit-flavoured iced green tea with detoxifying benefits. Since it is rich in detoxifying, that boosts your immune system and may help reduce your risk of diabetes. This article focuses on the benefits, chemical properties, Nutritional Facts, side effects, and uses of orange ginger tea.
Chemical properties of Orange Ginger Tea
There is an active chemical in orange peels that may help relieve heartburn. Ginger and its extracts help in degenerative disorders. Gingerol is the main nutraceutic, from Ginger with antiradical and disease-preventive potentials (researchgate.net). Ginger in iced tea enhances the sensory and nutritional qualities of the product. Gingerol in ginger iced tea improves the overall health-promoting properties of the product.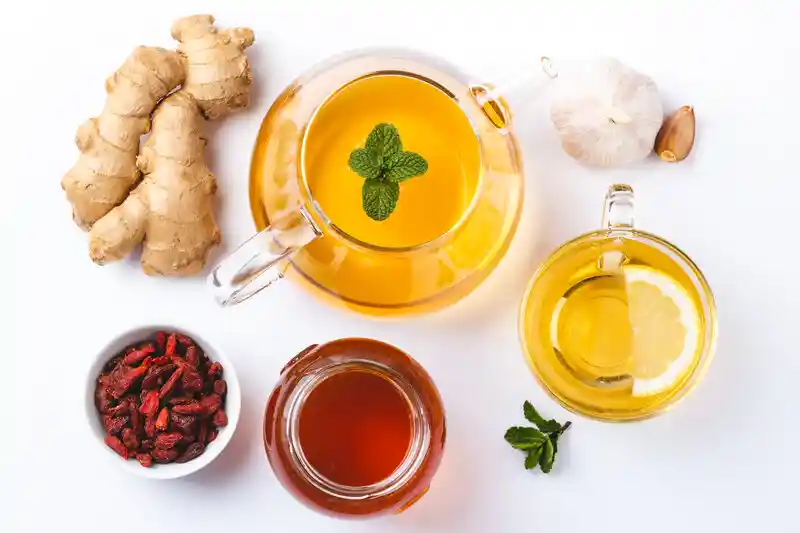 Nutritional Facts on Orange Ginger Tea
Orange Ginger tea contains calories, protein, carbohydrates, fiber, sugars, vitamins A, C, calcium, iron, magnesium, potassium, and sodium. The nutritional content of Orange Ginger contains the healthiest spices. 
It is a flowering plant from the Zingiberaceae family, and the spice is related to turmeric, cardamom, and galangal. Ginger can be used fresh, dried, powdered, or as an oil or juice. Ginger also contains nutrients like vitamin B3 and B6, iron, potassium, vitamin C, magnesium, phosphorus, and zinc (nih.gov) .
Benefits of Orange Ginger Tea
Orange Ginger Tea lowers cardiovascular diseases. It has an active chemical in orange peels that help relieve heartburn. If you have a heart and cardiovascular disease, Ginger helps your body fight. A combination of vitamin C, fiber, potassium, and choline, keeps your heart healthy. 
Drinking tea supports your natural inflammatory response. If you are more into the diet, Ginger helps you stay healthy. It contains "gingerol", a compound that supports one's body's natural anti-inflammatory response. It activates spice receptors on the tongue (ebi.ac).
Orange Ginger tea helps you lose weight. When it comes to its health-promoting properties, anti-inflammatory, and gastric properties, it boosts your digestive system. As you lose weight, it boosts your metabolism, eliminates body fat, and boosts your energy. 
This tea works as an anti-cholesterol agent due to the anti-cholesterol compounds in oranges found in the peels. These compounds may help remove bad cholesterol in your body that may form clots and plaque, increasing clogged heart arteries.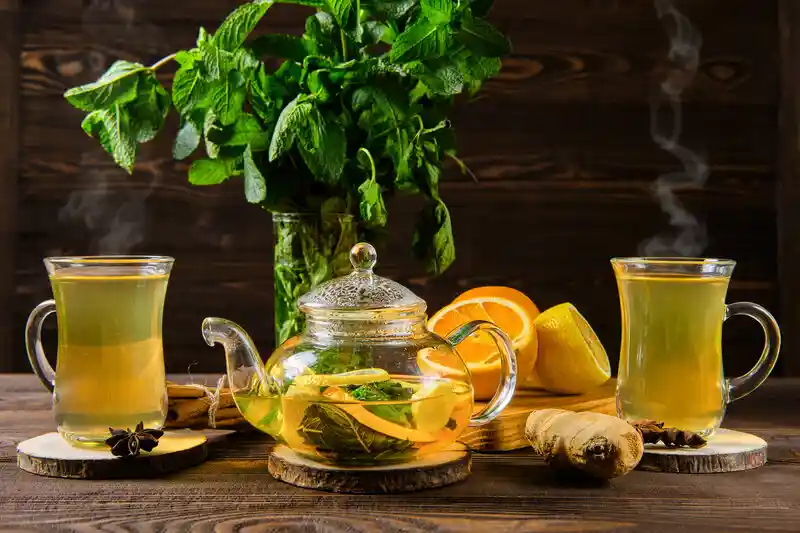 Try ginger tea when suffering from digestive distress, such as an upset stomach, indigestion, heartburn, or bloating. Drinking a cup of ginger tea helps you heal from a cough and a runny nose. That is why you end up loosening phlegm and relaxing the respiratory system. 
It also gives warmness to the body and leaves one feeling fresh. It comes with a light and subtle flavor, which helps the immune system with this Ginger Orange tea. This Iced Ginger Orange Tea is delicious and fun to drink during summer. It gives your immune system a boost during cold and flu season.
Drinking a cup of ginger tea can help prevent nausea and vomiting associated with motion sickness. You can also drink a cup of Orange Ginger tea at the first sign of nausea to relieve the symptom.
Potential downsides
The side effects of orange ginger tea differ from person to person. It may cause heartburn, stomach upset, diarrhoea, and bloating. Although orange ginger tea has several side effects, it has more pros than cons. However, pregnant people and those with gallstone disease, diabetes, or high blood pressure, consult their healthcare provider before taking ginger tea.
Do not consume more than 4 grams of ginger a day. Check with your doctor before you use ginger tea if you have a history of gallbladder problems. Like when you eat chillies or other spicy foods, drinking ginger tea may cause heartburn or stomach upset (medicalnewstoday.com). You might have this irritation for a ginger allergy.
Do not use orange ginger tea if you have an allergy to ginger, which sometimes manifests through a rash or discomfort in your mouth or stomach after drinking ginger tea. Since ginger tea may help lower blood pressure, you might experience light-headedness as a side effect. Ginger contains salicylates, a chemical in aspirin that acts as a blood thinner. That may not be ideal for people with bleeding disorders.
How to make Orange Ginger Tea
Bring water to a boil and place eight tea bags in a large pitcher.
Remove peel from one orange. Avoid the white pith as you take the bright orange peel. Use a small sharp knife or carrot peeler for better results. 
Place orange peel and grated ginger in a pitcher on the tea bags.
Pour boiling water into the pitcher and let it steep for ten minutes.
Serve hot or chill to serve iced.
You can substitute four teaspoons of loose-leaf green tea for the tea bags. For a fair share, divide loose tea between two loose tea balls. Place tea balls or cheesecloth-wrapped tea in the boiling water mixture, cover, and steep as directed. Remove tea and serve.
How many cups of Orange Ginger Tea can you drink?
You should drink two to four cups of ginger tea daily to get the best results. That works well when it comes to curing feelings of nausea and soothing tummy discomfort caused by bloating and cramps.
FAQs
Does orange pair well with ginger?
Yes. Make sure the orange juice is fresh. The combination produces a sweet, spicy, delicious, healthful juice that can be homemade. Use a blender for a smooth and well-done mixture. Pair ginger juice with other ingredients for a zingy taste. 
Does orange ginger tea have caffeine?
It does not have any caffeine. It consists of oranges, which makes it taste better. It is refreshing and calming with the right amount of spices and no caffeine.
Is it good to drink ginger tea every day?
Yes, but only for a minimum amount. Ginger tea is a safe beverage for most people to consume daily. However, for an amount, you should consult your doctor, especially if you are on any medications. A cup of ginger tea every day can be enough to fix your health problems.
Who shouldn't drink ginger tea?
Those with gallstone disease should be cautious when using ginger since it may increase the bile flow. Orange ginger tea is safe to drink, but you should avoid consuming more than 5 g of it per day.