What is Buckwheat tea?
Buckwheat tea is a hot beverage made of buckwheat seeds and grains. If you are health conscious, this might be your drink to start and end your day. It comes with health benefits since it is gluten-free. It is light and subtle, helps in weight loss, improves the health of the blood vessels, and reduces blood cholesterol. The nutrients and chemicals in the tea can serve as a nutritional supplement.
There are two types of buckwheat tea: a herbal infusion made by steeping buckwheat leaves in hot water and soba-cha tea made by infusing roasted kernels in hot water. Buckwheat leaf tea may cause phototoxicity if consumed in large amounts. You can hardly have side effects associated with the consumption of buckwheat kernel tea.
Chemical properties of Buckwheat tea
Buckwheat contains multiple nutrients, including carbohydrates, polyphenols, phytosterols, vitamins, carotenoids, and minerals. These contribute to various health benefits such as anti-oxidative, anti-cancer, anti-hypertension, anti-diabetic and cholesterol-lowering, 
Buckwheat contains higher amounts of bioactive components such as rutin, preventing multiple disorders (medicalnewstoday.com). Buckwheat improves human health. Buckwheat has functional substances in flavonoids, phytosterols, fagopyrins, fagopyritols, phenolic compounds, resistant starch, dietary fibre, lignans, vitamins, minerals, and antioxidants. It has cholesterol-lowering effects that lessen constipation and obesity.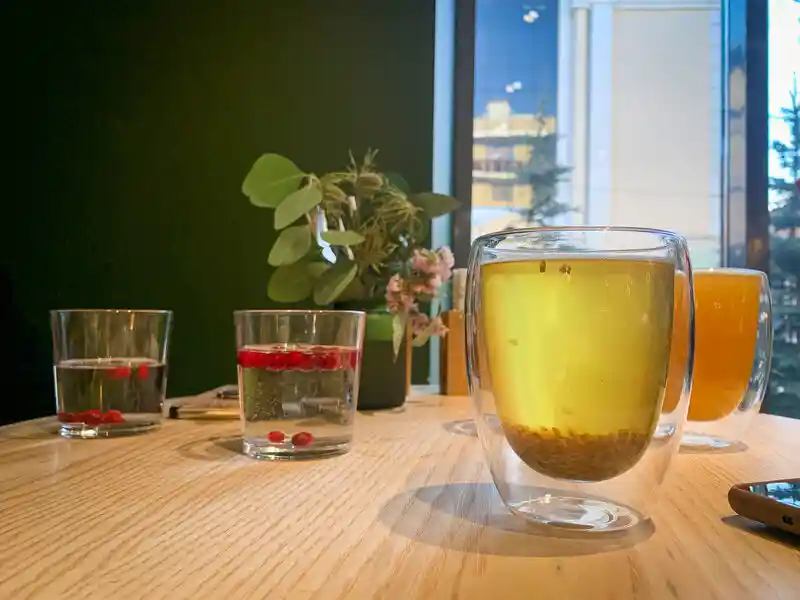 Nutritional Facts of Buckwheat tea
Rutin is a nutrient found in buckwheat with anti-inflammatory properties. It reduces the impact of arthritis. Buckwheat tea may help with other inflammatory conditions such as colitis. 
Carbs are the main dietary component of buckwheat, followed by protein, minerals, and antioxidants. The nutritional value of buckwheat is considerably higher than most grains. Buckwheat contains fibre, which your body cannot digest. That is why fibre is also known as resistant starch. This nutrient is good for colon health.
Buckwheat contains small amounts of protein, giving it a well-balanced amino acid profile (webmd.com). It helps to increase the work of the immune system and heals wounds. For effective results, consume other protein foods including meat, eggs, fish, and beans, to fulfill the protein needs in the body. The minerals in cooked buckwheat groats are well absorbed.
Buckwheat tea is a source of Manganese. The compound promotes bone structure and metabolism. It creates enzymes for building and also promotes calcium absorption in the body. Consuming buckwheat tea, helps you to have a natural source of manganese.
The magnesium in buckwheat tea provides a mineral that helps to improve blood flow and relaxes blood vessels. That lowers blood pressure and helps to deliver the nutrient through blood.
Benefits of Buckwheat tea
An increased intake lowers the risk for cardiovascular diseases, such as glucose, total cholesterol, and triglycerides. It also reduces the risk of hyperglycemia or high blood glucose. Buckwheat tea improves renal function. The chances of having kidney disease are low. 
Buckwheat tea lowers blood sugar levels in diabetic people. Buckwheat contains rutin that prevents type 2 diabetes (mayoclinic.org). Glucose lowering is caused by a chiro-inositol compound that plays a role in cell signalling and glucose metabolism. The chiro-inositol acts as insulin and increases the sensitivity of the body cells to insulin.
Buckwheat is a whole grain that improves digestion, and stomach and gallbladder problems. It contains gut-friendly compounds converted into mammalian lignans. They protect the body against breast cancer, other hormone-dependent cancers, and heart disease. It also improves the body's cancer-fighting ability and keeps heart problems on hold.
Buckwheat tea improves immunity since it has insoluble and fat-soluble vitamins and powerful antioxidants. It is rich in vitamins, improving natural immunity. The antioxidants fight against harmful viral, bacterial, and fungal infections.
If you are on a weight loss journey, buckwheat tea is the way. It is low in calories, making it an ideal alternative to high-calorie drinks. Substituting high-calorie beverages with buckwheat tea helps you to lose weight. The extracts in buckwheat tea contain catechins that help in weight control.
If you are willing to cut down on the caffeine in your diet and follow a low-oxalate diet, buckwheat tea is the way. Buckwheat tea has vitexin and rutin that improve blood flow and prevent varicose veins and leg edema.
Drinking buckwheat tea helps reduce swelling. After a long term of drinking buckwheat tea, it can also prevent arthritis. Buckwheat is a good source of protein, fibre, and energy. Buckwheat does not contain gluten, making it ideal for people with celiac disease or gluten intolerances (ndtv.com). Buckwheat tea has all benefits of green tea and can be used to prevent the formation of kidney stones.
Potential downsides
Continuous exposure to buckwheat may cause allergic reactions including skin rash, runny nose, asthma, and a drop in blood pressure. It also causes itching, swelling, and difficulty in breathing. You might have complications in pregnancy, light sensitivity, or gastrointestinal and topical skin inflammation. If any of these side effects appear, discontinue use. Always consult your doctor before you start using buckwheat tea. 
How to make Buckwheat tea
An amount of 10 grams of buckwheat makes about one tablespoon of buckwheat. If your teapot is larger or smaller than 500 ml, adjust the amount to the size of the teapot you have. If you intend to brew an amount based on the number of people, assume 5 grams of buckwheat per person. 
For effective results, get a teapot with an infuser so that it becomes easier to remove the buckwheat once done. Buckwheat is for about three steps, but if you reduce the steeping time you get a few more brews. Increasing the steeping time intensity of the flavour will reduce the number of steeps.
Steps
Take dry buckwheat and a pan. Boil 3 and a half cups of water in a saucepan on the stove.
Add 10-20 grams of roasted buckwheat grains to the saucepan and boil for 30 seconds to 1 min.
Add the roasted buckwheat grains and boiling water to the pan.
Allow the tea to steep for 3-4 minutes.
Strain, serve the tea hot, and enjoy its smoky flavor. You can add honey to enhance the taste.
How many cups of Buckwheat tea can you drink?
You can drink as much buckwheat tea as you want. That does not compromise your weight. A cup of buckwheat itself contains lots of calories but when infused as a tea, one cup contains only about 2 calories.
FAQs
Can I drink buckwheat tea every day?
Yes, you can drink buckwheat tea every day. Buckwheat tea has antioxidants and other compounds that help boost your immune system.
Does buckwheat tea help lose weight?
Yes. Buckwheat tea contains catechins for your weight loss. It improves digestion and prevents constipation. The tea is rich in fibre and helps you burn calories. That makes you lose weight. It is an easy way of weight management.