Originally from South Asia, butterfly pea or blue pea tea is also referred to as blue tea. It is created by brewing the dried petals of the Clitoria ternatea L. plant, set out by its distinctive bright blue hue. The therapeutic benefits of blue tea are well known, and it also serves as a natural food color. For example, it purportedly has positive benefits on the heart and brain and anti-diabetic and anti-cancer properties. This page discusses this rich tea and purple tea, an alternative to butterfly pea flower tea, including its advantages, disadvantages, and preparation instructions for blue tea.
Butterfly Pea Tea
The loose butterfly pea blooms appear thoroughly dried flowers; the younger the hues, the greener the stems. If all branches are brownish-yellow, the blossoms are a few seasons old. More so than green tea, BPT has a wonderfully delicate flavor. The brewed tea has a soothing earthy aroma comparable to the leaves, while the dried blossoms have an earthy yet flowery scent with a mild sweetness. Its mild flavor does not detract from the flavors of the items while keeping the color, which is another reason why it is so well-liked in cooking and mixology. For this reason, many everyday recipes for this tisane also include lemon, honey, or other herbs like lemon verbena.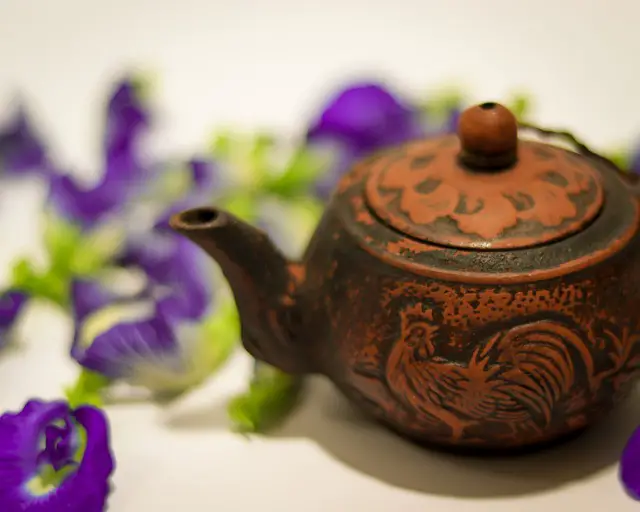 How to make Butterfly Pea Flower Tea
Butterfly Pea Flower Tea is simple to prepare and tastes great, hot or cold. The components you'll need to prepare a cup of blue tea at home are listed below:
Boil one cup (240 mL) of water.
3-5 butterfly pea flowers, one tea bag, or one tablespoon of dried butterfly pea flowers.
Honey, sugar, or any other preferred sweetener (optional).
1/2 a lime or lemon juice (optional).
Put some butterfly pea flowers or a tea bag in a cup and then fill it with boiling water. Five minutes should pass during this time for the water to turn a vivid blue tint. If you'd like, add sugar or honey to taste.
You might also include lemon or lime juice, as this changes the tea's color from blue to violet and imparts a tart flavor while also bringing down the pH level of the beverage.
Allow the tea to cool, pour it into a glass, and top it off with crushed ice to enjoy a cold glass of blue tea on a hot summer day.
 Purple Tea as Butterfly Pea Flower Alternative
This tea, which you may find strange and delightful, is highly similar to Blue Tea while also being different from it. Both are teas that change color when exposed to acids like lemon juice or alkalis and are antioxidant powerhouses that are less well-known in the USA. They both change hues, which makes them the most stunning and captivating teas ever created.
The tea shrub, or Camellia sinensis, is the source of purple tea. All "real" tea, whether green, black, white, oolong, or, you guessed it, purple, comes from this plant, as you may already be aware. Due to the presence of anthocyanins, the antioxidants that give blueberries their blue color, purple tea gets its name from the color of its distinctively crimson leaves. It is treated similarly to green tea to maintain its vibrant flavor and antioxidant qualities.
You can brew whole-leaf purple tea using the CTC (Crush-Tear-Curl) method, which gives the beverage its distinctive twisted-wire appearance. The general rule for loose-leaf teas still applies: the more intact the leaf, the higher the quality of the ensuing beverage. It is valid for all "genuine" teas from Camellia sinensis. Purple tea has a mildly sweet aftertaste. It tastes like moderately tannic green tea. The aroma of purple loose-leaf tea is vegetal with undertones of hay or dry grass. The smell of the brewed tea is more flowery.
If your teapot gets delivered by your high school chemistry lessons, you indicate that the tea plant will respond when you apply an acid or a base/alkali after being brewed in water. Because they are both pH-sensitive, purple and butterfly pea flower tea has recently gained popularity. With acid added, both teas change color, which sounds more dramatic than it is. Compared to purple tea, BPT has a stronger color, making the pre- and post-acid addition phases more distinct. If you want to add milk but don't want it to curdle, you can use acidic plants like hibiscus and lemongrass. People typically add lemon or lime.
Benefits of drinking blue tea
Packed with antioxidants
Antioxidants can scavenge the damaging molecules known as free radicals. Oxidative stress brought on by an overabundance of free radicals may hasten the onset of several diseases. The deep blue to the purple hue of butterfly pea blossoms is primarily due to anthocyanins, particularly delphinidin, which is abundant in the blooms. A class of antioxidants called anthocyanins. They are found in edible fruits, vegetables, and flowers and have protective effects against conditions like diabetes, heart disease, and some forms of cancer. Delphinidin protects against lipid peroxidation. According to a study, damaged cell membranes hasten age and produce malondialdehyde, a chemical that causes cancer.
Encourages cardiac wellness
Drinking blue tea may benefit heart health by reducing blood pressure and cholesterol levels. Animal studies show that butterfly pea flower extract may, in turn, lower blood pressure by relaxing blood arteries and increasing blood flow. Additionally, it has antithrombotic qualities that may reduce the risk of blood clots, which raise the likelihood of a stroke.
Might possess anti-diabetes qualities
Anthocyanins included in blue tea may aid in controlling your blood sugar. In some experiments, three carb-digesting enzymes, intestinal alpha-glucosidase, pancreatic alpha-amylase, and intestinal sucrase have been blocked by the antioxidants in butterfly pea extract. The extract hinders the enzymes above, delaying the breakdown and absorption of carbohydrates. As a result, the levels of insulin and blood sugar decrease. Lower risk of insulin resistance, blood vessel dysfunction, obesity, and metabolic syndrome are linked to lower blood insulin levels. However, human research continues to produce inconsistent results when examining the anti-diabetic benefits of blue tea.
Side Effects of Butterfly Pea Flower & Purple Tea
Happily, drinking blue or purple tea has no documented negative consequences. It can cause nausea and diarrhea when consumed by BPT roots or seeds. However, this is very different from steeping the blooms! Although neither tea has received the same amount of research as green tea, BPT has been consumed for thousands of years and is possibly safe to ingest without adverse side effects. 
It is logical to believe that purple tea is similar to green tea regarding safety and adverse effects because it comes from the same, if not an equal, plant as green tea but has more anthocyanin in its leaves. However, pregnant women and nursing moms should always consult their doctors.