What is Chaga tea?
Chaga mushrooms have been used to make tea for many centuries. This type of tea is prevalent in Eastern Europe, with consumers reporting it brings many health benefits. The Chaga mushroom is typically found on the trunks of birch hardwood trees in the Northern Hemisphere. For those in the U.S., this mushroom is mainly grown in the Northeast.
The word "Chaga" is a Latin word that stems from Inonotus obliquus. In the U.S., it is also referred to as birch conk, cinder conk and clinker polypore. The mushroom looks like a clump of dirt or burnt tree bark on the outside; however, you will find a nutrient-rich, rusty, yellowish-brown interior inside. This is where the mycelial mass is concentrated.
Chaga mushrooms are referred to as functional mushrooms. These mushrooms differ from medicinal mushrooms as they survive on living trees. These mushrooms are symbiotic and can survive almost 20 years. 
Consumers and manufacturers use this mushroom because it is a natural and healthy substance. This mushroom is a decomposer, which can break down and recycle nutrients. It means Chaga mushroom tea contains valuable nutrients not found in plant or animal products. It is said to help with stomach aches and has excellent weight loss abilities.
The only downside to drinking Chaga tea is that the mushrooms are natural bio accumulators. They often can absorb toxins and heavy metals in the soil where they are planted.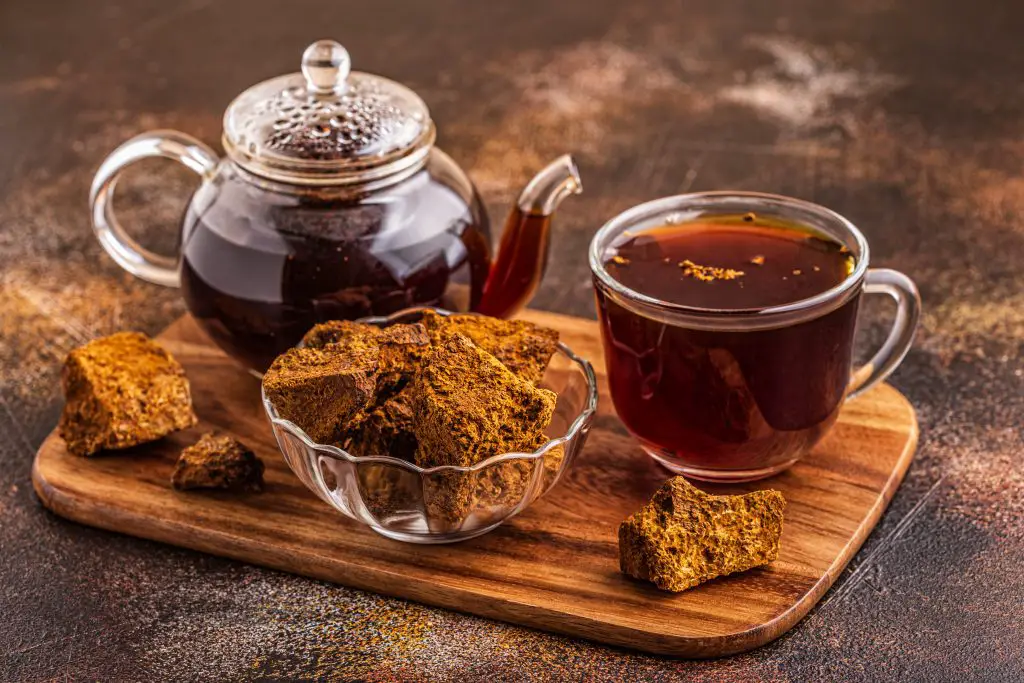 Chemical properties of Chaga Tea 
Chaga mushroom tea has numerous chemical components. The mushroom typically absorbs and repurposes elements from the buried soil. The main bioactive features include polysaccharides, terpenoids and phenolics/lignin. Depending on the environment and climate, the Chaga mushroom tea can contain melanin, peptides/protein, and their covalent complexes. Alkaloids can also be found in Chaga mushrooms.
Nutritional Facts of Chaga Tea
Chaga tea is a non-regulated beverage. The drink has nutrients that have plenty of antioxidants. It is difficult to estimate the standard serving size of one cup as the nutritional facts will depend on the form you take and the quantities.
B-complex vitamins
Vitamin D
Potassium
Rubidium
Caesium
Amino acids
Fibre
Copper
Selenium
Zinc
Iron
Manganese
Magnesium
Calcium
Benefits of Chaga Tea
Cancer Prevention
The primary ingredients help prevent cancer and slow tumour growth. Mixing hot water with pure Chaga mushrooms is suitable for inhibiting tumour growth and accelerating the death of colon cancer cells. Some studies advocate for the use of Chaga mushrooms in the development of anticancer drugs. The studies are, however, not conclusive, and further human research is needed.
Immune System Function
Chaga mushroom tea is full of Beta-D-glucans. This nutrient is beneficial for balancing out the immune system. Chaga mushrooms have been used to make energy drinks for those feeling drained. They have the effect of regulating your immune system. The drink can help provide a boost or downregulate an overactive immune system.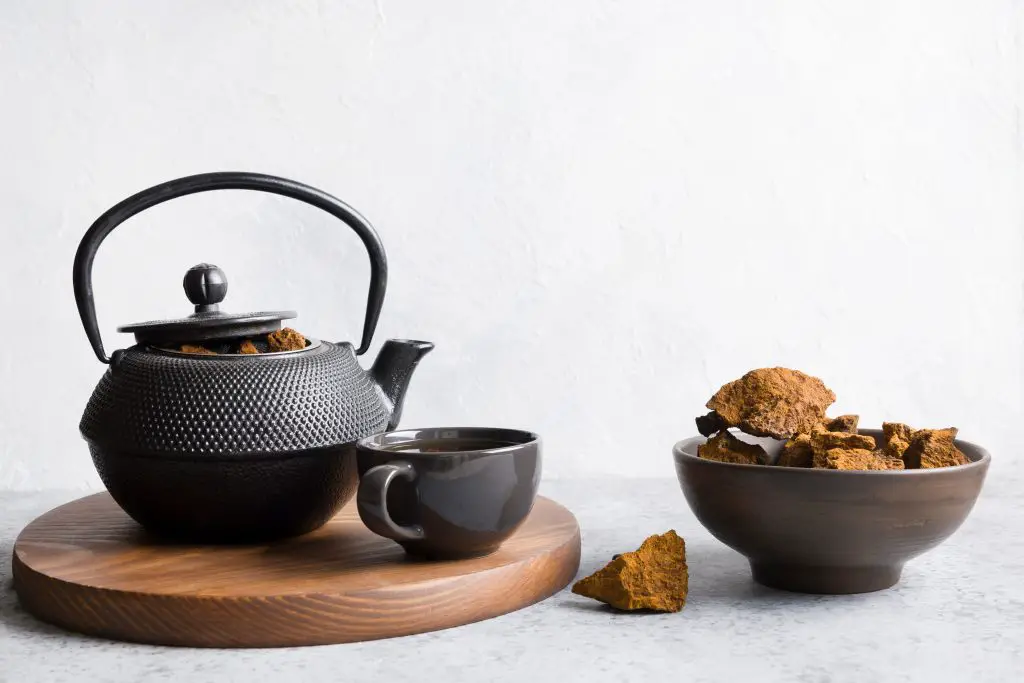 Reduction of Inflammation
Cytokines often cause inflammation in the body. The most common type is known as 'tumour necrosis factor alpha'. Chaga mushroom tea contains betulinic acid, inotodial, and ergosterol peroxide. These ingredients are great defenders of the body and operate to reduce inflammation by minimalizing the production of cytokines.
Liver Protection
The exterior of a Chaga mushroom is known as sclerotium. This layer is thin, but it contains significant amounts of polyphenols. These have substantial health benefits as they operate as antioxidants. Free radicals are typically associated with liver and organ damage. Drinking Chaga mushroom tea helps protect against free radicals. 
Intestinal Health
Chaga mushroom tea is good for stomach ulcers. People who typically suffer from high acidity levels drink Chaga tea to help minimize the pain. Ulcers often form when Helicobacter pylori are introduced to the body.
Potential downsides
Consuming excessive amounts of Chaga can lead to an accumulation of Oxalate. This chemical compound is an anti-nutrient that binds with calcium very quickly. Overconsumption of Chaga mushroom tea can eventually lead to kidney stones or kidney failure.
Chaga tea is also dangerous to consume for people with diabetes. It operates similar to insulin by lowering blood sugar. Low blood sugar will cause people to faint. Combining the two can lead to a sudden drop in blood sugar levels for people who need to inject insulin.
Chaga mushroom tea extract can limit platelet aggregation. This bodily feature measures how well a person's blood cells clump together. If you extract powerful Chaga mushrooms for your tea, this can get in the way of blood clotting. Consumers who take anticoagulant and antiplatelet drugs should avoid drinking Chaga tea.
This drink has healing abilities; however, Chaga mushroom tea is not an alternative to scientific medication. Ideally, a consumer should consult a doctor before combining the tea with drugs and supplements. 
The side effects of Chaga mushroom tea also include allergic reactions, although these are uncommon. Some recorded responses to Chaga tea include laboured breathing, arrhythmia and loss of consciousness are medical emergencies.
How to make Chaga Tea
Hot Chaga Tea
Use ready-to-steep ground Chaga for the fastest results.
Use a wide pot and pour filtered water over the ground Chaga mushrooms. Boil the water on medium heat.
When the Chaga tea begins to boil, reduce the heat to simmer. 
Allow the tea to brew for 30 minutes.
The tea should have a dark brown colour.
Strain the Chaga compounds with a mesh strainer and serve while hot.
Chaga Iced Tea
Bring filtered water to a boil in a wide pot.
Add ground or chunky Chaga mushrooms to the dish
Allow the brew to simmer for five minutes. 
Transfer the strained Chaga tea mushroom to a glass pitcher and place it in the refrigerator. 
The Chaga tea will take up to two hours to cool down after brewing. 
To serve this mushroom tea, you can mix in some honey or maple syrup to taste. 
You can also add crushed ice for a cool beverage.
How many cups of [tea name] can you drink?
Ideally, one cup of Chaga tea is often sufficient to enjoy all the associated health benefits. The maximum you should consider drinking is three cups of Chaga tea in 24 hours. When you first begin to consume Chaga tea, it is best to start slow and allow the body to adjust before increasing your consumption.