What is chamomile tea?
Wondering what chamomile tea benefits for skin you are acquiring when you drink it? I'm sure you've heard a lot about chamomile tea when it comes to drinks that help soothe and calm a person down enough before bedtime, it is also used a lot for a myriad of health issues.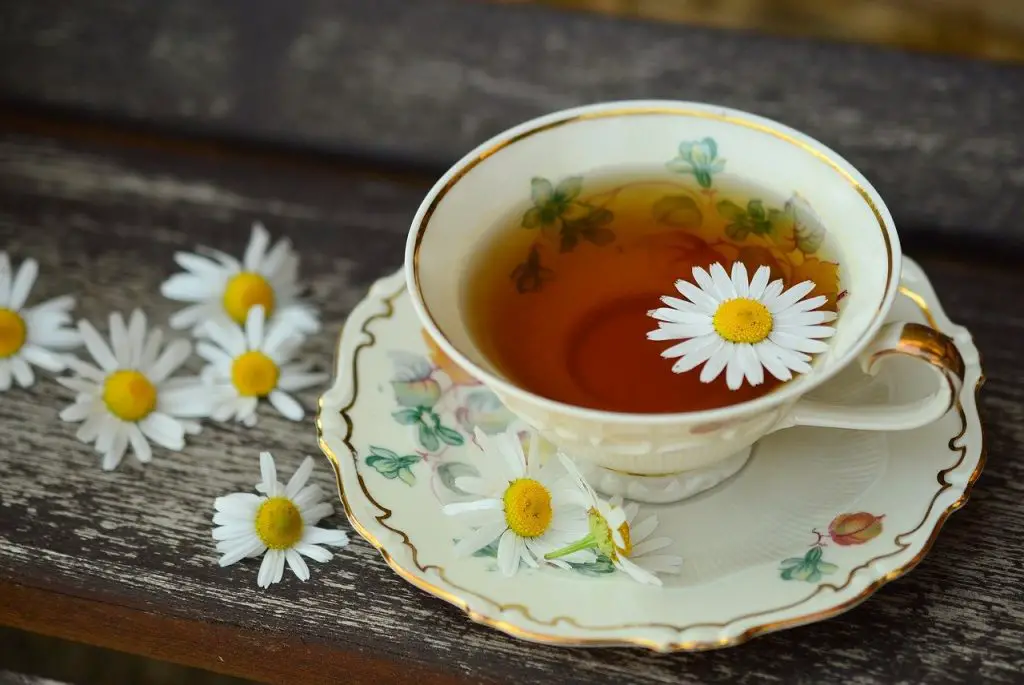 This is one of the common and popular herbal teas because it has numerous benefits that it comes with, such as having a calming effect and helping soothe sore stomachs. In this article, we will take a look at how chamomile tea can be great for your skin.
This tea comes from the flowers Asteraceae plant family, which also has flowers like the sunflower and marigold. The flowers, which look a bit like daisies, are dried and then infused in hot water to make the popular chamomile tea. The floral infusion is hard to miss. One of the great things about chamomile tea is that it is caffeine-free. As such, many drink it as a healthy alternative to other teas that have caffeine in them.
Where does chamomile tea come from?
The chamomile tea origins story has its roots based in ancient Egypt. It was initially used as a cosmetic and also for medicinal purposes such as treating a fever. The Romans took it a step further and would use it to flavor different drinks, (even beer) in addition to treating people. Some have used chamomile as an air freshener, by dipping the leaves in the water in sprinkling the desired area. This was done in medieval times.
What does chamomile tea taste like?
Chamomile tea is a product of dried flowers, as such, it has floral hints to it. Its notes are soft and delicate, as you might expect a flower to be. It can sometimes be compared to the taste of a crisp apple. Also, it tastes sweet and it is light. It often doesn't need sweeteners, (but this is up to you).
Adding a sweetener may not be necessary but it certainly adds a different dimension to the drink. Chamomile has a sweet aromatic scent to it and this also comes out strongly in the tea.
How do you brew chamomile tea?
Chamomile tea has light notes. As such it's important to keep it light, by not letting it steep for too long. The longer you steep any tea, the stronger it will be. You are better off under steeping it. steep the tea leaves in hot water for about five minutes. This should do the trick.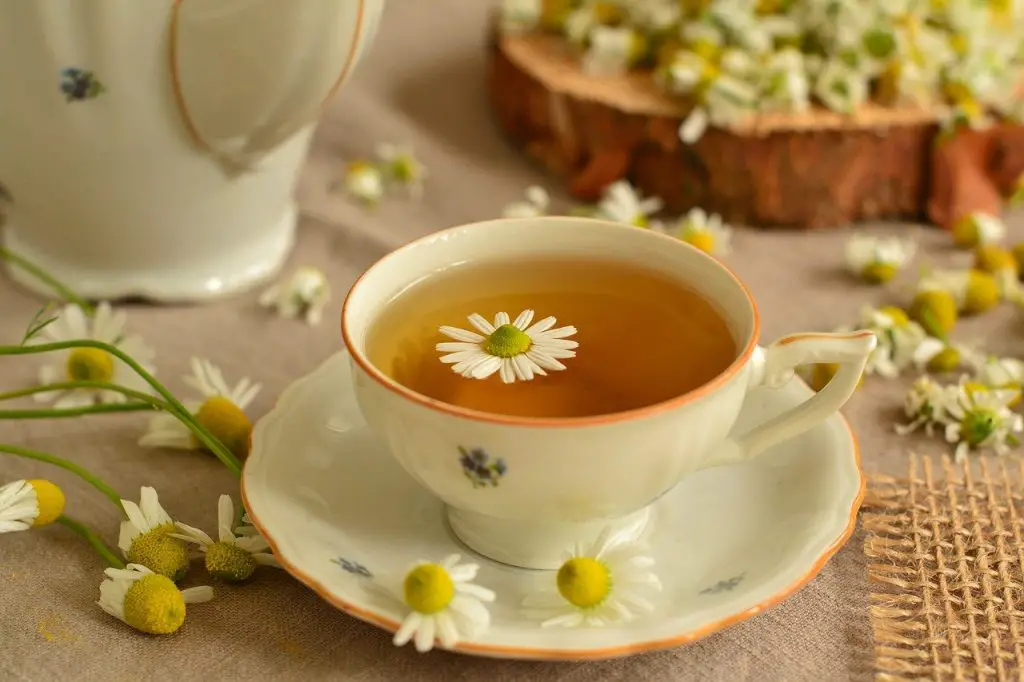 Benfits of chamomile tea in general
Help you sleep better
Chamomile tea's benefits include helping you relax and calm down. This makes it a great bedtime drink. Studies have shown that taking a cup of chamomile tea may help you sleep better. This is thanks to the stress-relieving properties found in the tea. It has a warm and soothing feel that helps in relieving anxieties too.
Studies have shown that chamomile tea can help to increase serotonin and melatonin, which are the hormones related to your stress levels. When these hormones are elevated, it is easier to relax. Also, it has apigenin, which is an antioxidant that may help deal with insomnia, as it attaches to particular brain receptors.
It can potentially protect you against cancer.
Some types of cancer can be avoided by drinking chamomile tea. It is important to note that this is not a conclusive result and as such, medical advice should always be sought. That being said, it doesn't hurt to have a non-toxic, and non-medicinal brew that can help avert potential danger.
Apigenin, found in chamomile tea, has the ability to fight cancer cells for cancers such as breast, skin, uterus, prostate, thyroid, and digestive tract cancer.
Help regulate blood sugar.
Chamomile tea also has the added benefit of helping to regulate blood sugar, which, if it goes unchecked, can be quite dangerous and even fatal. When blood sugar levels are increased, there's a risk that the cells on the pancreas may get inflamed and need to be soothed to avoid painful attacks.
When the pancreas is compromised, it cannot regulate insulin as it is supposed to. As such, lowering blood sugar and keeping it within range can help keep sugar levels low and thereby also help the pancreas and keep it in good health. Drinking chamomile tea may help in this regard.
Benefits of chamomile tea for the skin
Chamomile tea is more than just a tasty non caffeinated drink. Your skin will react positively to the antioxidants and nutrients that are in chamomile tea.
It has anti-inflammatory properties
One of the great attributes of chamomile tea is that it has anti-inflammatory properties. Skin can get inflamed due to several reasons. It may happen because of an allergic reaction to something. The other reason may be an immune system dysfunction or an infection. As such, you may see visible signs such as redness, a rash, itchiness, or swelling. As with any other medical condition, it's important that you get medical advice so that you know what you are dealing with.
Chamomile tea has anti-inflammatory properties and this helps reduce some of these signs and symptoms that come along with inflamed skin. It has polyphenols and phytochemicals which can help speed up the healing process of scars or any marks on the skin. The polyphenols also help eliminate free radicals, which are the major cause of aging effects on the skin. they also help reduce wrinkles and skin breakouts.
So drinking a cup may just help you shave off a few years from your look. On its own, chamomile is sometimes used in baths to help reduce the occurrence of inflammation.
It is rich in antioxidants
Chamomile tea also has antioxidants that help the health of your skin, restoring it and keeping it from damage caused by conditions such as eczema. These antioxidants may also help you attain clearer and lighter skin. This is something that you can use as a natural alternative and not have to worry about plugging your skin with chemicals.
FAQs 
Can I put chamomile tea on my face?
Yes! Chamomile tea is excellent for your skin. It can help to soothe and calm your face and provide anti-inflammatory effects that can help reduce the redness and irritation that occur with acne flare-ups. Boil a cup of chamomile tea, let it cool before use, dip a facial cotton pad in the liquid and gently apply it to the skin.
Does chamomile tea lighten skin?
Some scientific studies suggest chamomile tea can help to lighten skin. However, there is not any conclusive evidence due to the lack of clinical testing.
What does chamomile do for your skin?
Chamomile tea is often used to soothe inflamed skin because of its anti-inflammatory and antioxidant properties. A study found that over 80% of participants saw a reduction in redness, itchiness, swelling, or irritation when they drank chamomile tea than drinking water alone after just one week!
Tea tree oil and chamomile tea together?
Yes! You can combine these two ingredients in a facial cleansing balm or liquid soap to provide excellent treatment for those with acne-prone skin.
Does chamomile have side effects?
Chamomile can have very mild side effects. In some cases, it can cause nausea, dizziness, and bloating if taken in excess. As a topical cream or liquid, chamomile is safe to apply directly to the skin.
How long does it take for chamomile tea to work?
To get the best results from your chamomile tea face mask, you need to use it regularly. The longer you use it, the more effective it will be in soothing and helping to reduce the redness, swelling, and irritation on your skin.
What is chamomile tea for?
Chamomile tea is excellent for calming inflamed skin, reducing redness, and helping to reduce inflammation associated with acne.
Is chamomile good for pimples?
Chamomile tea helps treat inflamed pimples and can help to reduce the redness, swelling, and itchiness caused by them.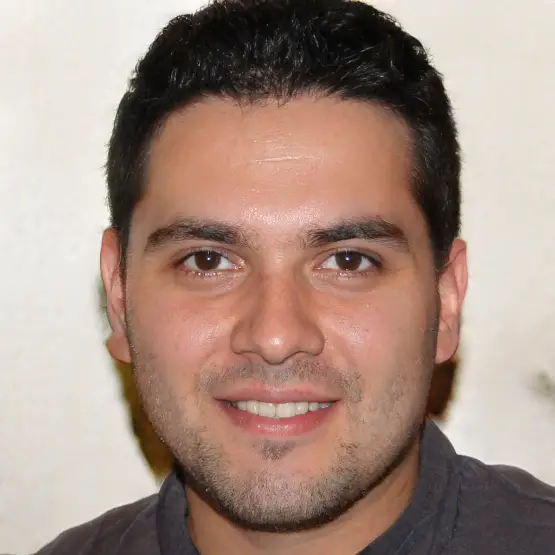 Nature remains the greatest healer. I aim to be a student for my lifetime. All of my content is researched to share this passion.