What is chamomile tea?
Chamomile tea is made from an ancient medicinal herb that has been passed down for generations. The herb comes from the Asteraceae/Compositae family. This plant has two common varieties: German Chamomile (Chamomilla Recutita) and Roman Chamomile (Chamaemelum Nobile). To make the tea, harvesters use dried flowers of Chamomile. These flowers are known to contain terpenoids and flavonoids. These ingredients make the drink popular because of its medicinal properties. Throughout history, Chamomile has been prepared to treat health issues such as hay fever, inflammation, muscle spasms and menstrual disorders. The drink has anti-acidic properties that help prevent ulcers, wounds, gastrointestinal disorders, rheumatic pain, and haemorrhoids. Chamomile is used to make numerous amounts of essential oils to use for cosmetics and aromatherapy. It is a versatile plant that is widely used but most popularly for tea. This herbal tea is believed to be drunk one million times a day worldwide. Chamomile offers similar benefits to traditional medicine, meaning it has curative and preventive properties. It is often recommended to help live a balanced lifestyle as it functions as a therapeutic agent promoting human health.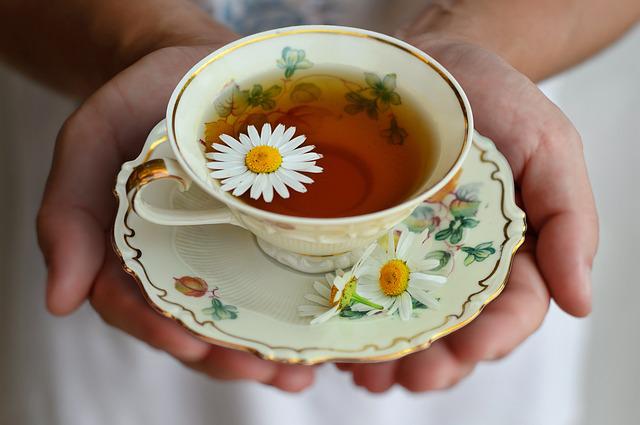 Chemical properties of Chamomile tea
The Chamomile plant has numerous chemical properties; however, the flowers are used to make tea. These chamomile flowers are made up of 1–2% volatile oils. The main ingredients are alpha-bisabolol, oxides A & B, and matricin. The buds then convert these core chemical compounds into chamazulene and other flavonoids. From these main elements, several anti-inflammatory and antiphlogistic properties are derived. 
Human studies have shown that Chamomile flavonoids and essential oils can penetrate the skin's surface. The flowers have powerful topical antiphlogistic (anti-inflammatory) agents. It is helpful to inhibit LPS-induced prostaglandin E(2). The release of this enzyme can lead to the attenuation of cyclooxygenase (COX-2) enzyme activity. The chemical property affects the constitutive form, COX-1 (38), making it a healthy option for the body.
Nutritional Facts of Chamomile tea
Per Serving
Tea, herb, Chamomile, brewed, 1 cup (8 fl oz)
Protein (g) = 0
Total lipid (fat) (g) = 0
Carbohydrate, by difference (g) = 0.47
Energy (kcal) = 2.37
Sugars, total (g) = 0
Fiber, total dietary (g) = 0
Calcium, Ca (mg) = 4.74
Iron, Fe (mg) = 0.19
Magnesium, Mg (mg) = 2.37
Phosphorus, P (mg) = 0
Potassium, K (mg) = 21.33
Sodium, Na (mg) = 2.37
Zinc, Zn (mg) = 0.09
Copper, Cu (mg) = 0.04
Manganese, Mn (mg) = 0.1
Selenium, Se (mcg) = 0
Vitamin A, IU (IU) = 47.4 
Retinol (mcg) = 0
Carotene, beta (mcg) = 28.44
Carotene, alpha (mcg) = 0
Vitamin E (alpha-tocopherol) (mg) = 0
Cryptoxanthin, beta (mcg) = 0
Lycopene (mcg) = 0
Lutein + zeaxanthin (mcg) = 0
Vitamin C, total ascorbic acid (mg) = 0
Thiamin (mg) = 0.02
Riboflavin (mg) = 0.01
Niacin (mg) = 0
Pantothenic acid (mg) = 0.03
Vitamin B-6 (mg) = 0
Folate, total (mcg) = 2.37
Vitamin B-12 (mcg) = 0
Vitamin K (phylloquinone) (mcg) = 0
Folic acid (mcg) = 0
Folate, DFE (mcg_DFE) = 2.37
Cholesterol (mg) = 0
Fatty acids, total saturated (g) = 0
Fatty acids, total monounsaturated (g) = 0
Fatty acids, total polyunsaturated (g) = 0.01
Benefits of Chamomile tea?
Relieves Menstrual pain
Chamomile tea has significant links to improved episodes of menstrual cramps. Human studies suggest that consuming chamomile tea daily will help relieve the pain associated with monthly menstrual cramps. The anxiety and distress associated with period pain are also reduced through Chamomile tea.
Manage Blood Sugar
Chamomile tea can help balance the blood sugar levels in people who live with diabetes. The beverage has health benefits but is not a viable substitute for prescribed medication. Chamomile tea can be used as a helpful supplement to existing treatments. Drinking one cup of Chamomile tea daily can help prevent blood sugar from increasing, reducing the long-term risk of diabetic complications.
Helps Prevent Osteoporosis
Drinking Chamomile tea can help to prevent the progressive loss of bone density. Osteoporosis is significantly associated with a high risk of broken bones and stooped posture. This health burden is shared among post-menopausal women. Drinking Chamomile tea can help negate the effects of estrogen. The anti-estrogenic properties of the tea make it suitable for promoting bone density.
Helps Manage Inflammation
Inflammation is a common contributor to an ineffective immune system. This bodily reaction happens when there is a need to fight infection. Chamomile tea has significant chemical compounds that work to combat inflammation. Health issues such as haemorrhoids, gastrointestinal pain and arthritis often need to be managed long-term. Autoimmune disorders and even depression can be better managed by drinking chamomile tea regularly.
Cancer treatment and prevention
Chamomile tea potentially targets cancer cells and destroys them. These studies are not conclusive; however, theoretically, tea should help to prevent cancer cells from developing in the body. Chamomile's anti-cancer properties are slight but can be good for you in the long term.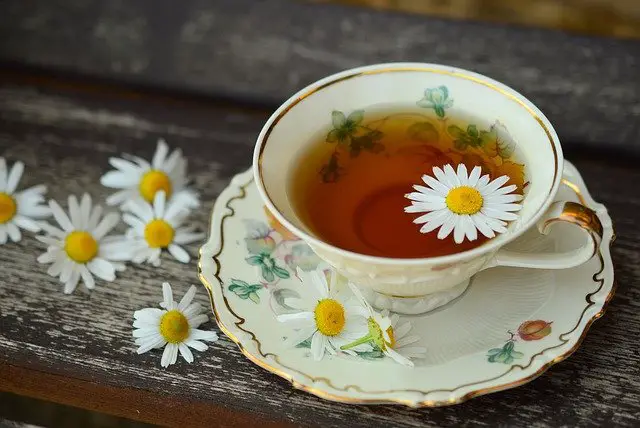 Potential downsides
Chamomile tea has allergens that can lead to adverse health effects. Affected persons can sometimes experience drowsiness and sometimes vomiting. These effects are often dependent on the dose taken. These allergic reactions stem from the daisy family.
How to make Chamomile tea?
Separate the flower head from the stem of the Chamomile tea.
Clean the Chamomile flowers in warm water. 
Wait until the leaves are dry. 
A handful of fresh chamomile flowers is needed to make a strong tea brew.
Add 8 ounces of boiling water to the flower petals.
Add one tablespoon of sugar/honey.
Allow the Chamomile tea to brew for 5 minutes.
Serve in a teacup while hot.
How many cups of Chamomile tea can you drink?
A maximum of two cups per day is recommended when drinking Chamomile tea. Overdrinking this beverage can lead to gastrointestinal challenges such as vomiting.