What is Chrysanthemum Tea?
Chrysanthemum tea has been popular since the Song Dynasty in China. This tea is harvested from Chrysanthemum plant flowers. It is a tea known for its refreshing taste when consumed hot or as iced tea. Chrysanthemums are flowering plants native to East Asia. This tea flower often blooms pale yellow or bright red. The other varieties can sometimes be purple and white. The flowers are used for culinary purposes or used to decorate gardens. Growing some in your garden also works as a natural pest control. 
Chrysanthemum tea is organic, and the flower petals infuse well with hot water; however, consumers can use the full flower for many health advantages. When soaked in hot water, chrysanthemum flowers release antioxidants, minerals, amino acids, and vitamins. These boost immunity and provide the essential nutrients required to survive.  
Eastern practices and holistic medicines have used the four different varieties, but the tea mainly comes out with a beautiful yellow colour. The longer the tea is brewed, the more intense the colour becomes. When fully brewed, you can expect a powerful floral scent.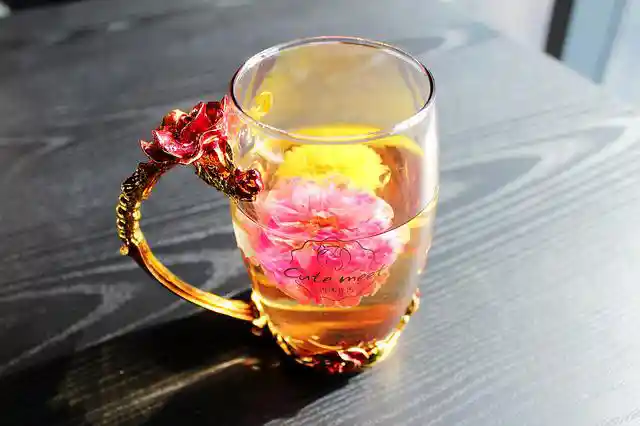 Chemical properties of Chrysanthemum
Chrysanthemum has a large amount of phenolic content:
Relative DPPH: 12.72 
Oxygen Radical Absorbance: 12.72 
Gallic Acid Equivalents/g: 105.48 
Umol Trolox equivalents/g: 1222.50 
Nutritional Facts Chrysanthemum
A single cup of Chrysanthemum leaves typically contains: 
Calories: 12.2 
Protein: 1.71 grams 
Fat: 0.286 grams
Benefits of Chrysanthemum
Boosts Skincare
Chrysanthemum is a flower that has a substantial amount of beta-carotene. This nutrient helps the body absorb vitamin A. Vitamin A has powerful antioxidant properties that benefit the skin.  
The vitamin operates by replenishing any damaged cells. Damaged cells and oxidative stress often lead to acne on the skin. These cells can be found anywhere around the body and must be flushed out. 
Chrysanthemum tea can also be topical. The tea has produced therapeutic results for painful conditions such as psoriasis and eczema. It may feel weird; however, you can smear the tea on the skin. It is an excellent option to consider for relief when the skin has patches of itchy redness. 
Reduces Anxiety
Chrysanthemum tea has powerful calming agents. The tea can help to relax the nerves. The tea can be consumed daily to help relieve the pressures of stress. The vitality offered boosts energy and helped consumers deal with their anxiety. The destressing agent works by reducing blood pressure. A slower heart rate has the effect of making you feel calm. Drinking Chrysanthemum tea can also decrease inflammatory conditions and cool you off when drank with ice. 
Regulates Immune System 
Chrysanthemum flower tea helps to regulate the human immune system. The immune system's lack of Vitamin A and C can weaken the body against diseases. Vitamin A helps the body absorb the high potassium levels, magnesium, and calcium in the flower tea. Vitamin C is imperative to boosting white blood cell production. White blood cells help protect against free radicals. 
Strengthens the bones 
Drinking Chrysanthemum tea is suitable for bone density. It provides a high level of mineral content that positively affects bone health. Chrysanthemum flower tea is ideal for children still growing who want to improve their bone strength as they grow. 
Improved Vision 
Chrysanthemum tea is packed with Vitamin A, and this ingredient has benefits for a person's eyesight. Macular degeneration is a standard part of adult life, and flower tea can boost retinal neuropathy. In their advanced age, consumers who drink flower tea often protect themselves against the blurry vision. 
Improved Metabolism 
Vitamin B in Chrysanthemum tea provides folic acid, choline, riboflavin, and niacin for the human body. This combination of ingredients improves blood circulation and hormones. Chrysanthemum tea also has a positive effect on brain chemical activities. Consumers also have their children consume it when of sufficient age to assist them with their developmental progress. 
Anti-Inflammatory Advantages 
The powerful antioxidants in flower tea help improve pain, inflammation, and swelling. Irritations are common health problems that can be eased with flower tea. Chrysanthemum is helpful for issues such as lung irritation or a sore throat. Consumers ideally take this to help their bodies defend against the common cold. 
Improve Your Heart Health 
Chrysanthemum tea is good for promoting heart health. Coronary artery disease is a common symptom of a poorly functioning heart. This disease causes high blood pressure and is treated with Chrysanthemum tea, which reduces cholesterol and blood pressure. When consumed hot, tea can provide high potassium vasodilator levels; this helps expand the blood vessels to improve blood flow.
Potential downsides
Allergies and side effects. Consumers who have an allergy to daisies or ragweed may be affected by chrysanthemum tea.
The Chrysanthemum flower, if not handled correctly, can irritate sensitive skin and possibly cause asthma. 
You must avoid combining Chrysanthemum with prescription medications. This flower tea is not an alternative or a supplement to a doctor-recommended medicine.  
Using the Chrysanthemum plant to make essential oil can lead to antimicrobial and antiviral problems. 
If Chrysanthemum tea is not prepared well, the body may consume a substance called pyrethrum. The compound is dangerous for the skin and lungs. Manufacturers often choose this ingredient to design pesticides.
How to make Chrysanthemum tea?
Boil filtered water. 
Warm up a wide teapot with hot water.
Place the ground Chrysanthemum or teabag into the teapot and add hot water.
Place the teapot away from the heat and allow it to brew for 5 minutes. 
For a smoother taste, ensure you strain the Chrysanthemum flowers. 
Serve while hot.
How many cups of Chrysanthemum tea can you drink?
Chrysanthemum is ideally drunk twice a week. Drinking this tea in excess can cause harmful side effects; therefore, it is best to limit yourself to one cup every 3-5 days with pauses.