What is Darjeeling Tea?
Darjeeling tea is grown in the Darjeeling district of West Bengal, India, known for its distinct flavor profile influenced by the region's climate and elevation.
This tea is versatile, with leaves that can be processed to make black, green, white, and oolong tea, each having a unique flavor and aroma due to different processing methods.
The flavor varies with the "flush," or harvest season. The first flush yields a light, floral tea; the second flush is full-bodied with a muscatel character; the monsoon flush is bold, ideal for blended teas; and the autumn flush has a mature, full-bodied flavor.
Darjeeling tea has a Geographical Indication (GI) tag, meaning only teas from this region can be labeled "Darjeeling," ensuring authenticity and quality.
Stages of growing Darjeeling tea?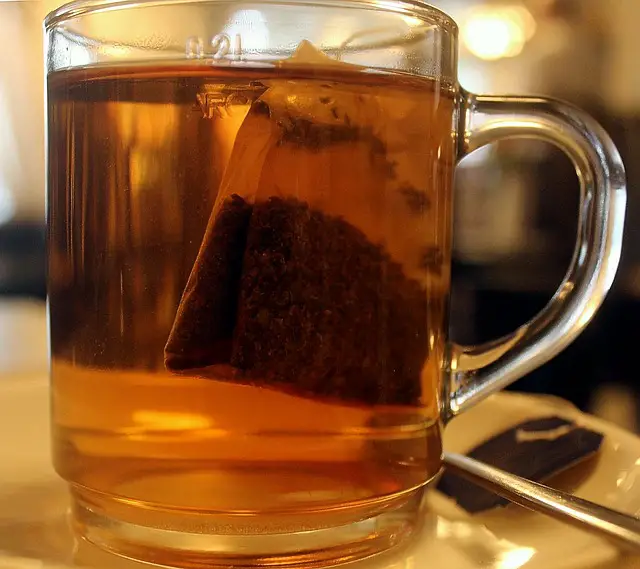 Stages of Growing Darjeeling Tea
Darjeeling tea cultivation involves specific stages to produce its distinct aroma and flavor. We outline these stages below:
1. Cultivation
Planting: Darjeeling tea is cultivated from the Camellia sinensis var. sinensis plant, primarily grown in the Darjeeling and Kalimpong districts in West Bengal, India.
Climate and Soil: The tea thrives in the region's unique climate and soil conditions, contributing to its distinct flavor profile.
2. Harvesting
Flushes: The tea plants are harvested in four flushes, each offering distinct flavors and aromas.

First Flush: Post-winter, yields a light, floral tea.
Second Flush: Known for its distinctive muscatel aroma.
Monsoon Flush: Less flavorful, robust leaves.
Autumn Flush: Offers a more muted but fuller body flavor.
3. Processing (
Life Cycle Assessment of Drinking Darjeeling Tea

)
Withering: The freshly harvested leaves are spread out to wither, reducing their moisture content and making them pliable for rolling.
Rolling: The withered leaves are then rolled to break the cell walls, initiating oxidation.
Oxidation: The leaves are left to oxidize, developing their flavor, aroma, and color.
Drying: The oxidized leaves are dried to stop the oxidation process and reduce the moisture content, making them suitable for storage and sale.
4. Grading
Whole Leaf: Well-made, twisted leaves with a delicate character and refreshing aroma.
Brokens: Well-sized leaves with essential flush character, offering a stronger brew.
Fannings: Well-sized leaves with good aroma and a fuller cup, refreshing and energizing.
Dust: Even-sized first flush dust.
5. Packaging and Distribution (
Life Cycle Assessment of Drinking Darjeeling Tea

)
Packaging: The processed tea leaves are packaged, considering factors like preservation of aroma and flavor, and transportation.
Distribution: The packaged tea is distributed to various markets, both locally and internationally.
6. Consumption
Preparation: The tea is prepared by steeping the leaves in hot water, allowing the flavors and aromas to infuse the water (

Life Cycle Assessment of Drinking Darjeeling Tea

).
Serving: Darjeeling tea can be served in various ways, depending on the flush and personal preference.
Table: Darjeeling Tea Flushes and Characteristics
| Flush | Characteristics | When |
| --- | --- | --- |
| First Flush | Light, floral tea, harvested post-winter. | Mid-March to May |
| Second Flush | Distinctive muscatel aroma, fuller flavor compared to the first flush. | June to mid-August |
| Monsoon Flush | Less flavorful, robust leaves, harvested during the rainy season. | Late August to October |
| Autumn Flush | Muted but fuller body flavor, harvested in the autumn following the monsoon season. | November to early spring |
Each flush occurs during specific times of the year, influenced by the changing seasons and climatic conditions in the Darjeeling region. These distinct periods contribute to the unique flavors and aromas associated with each flush of Darjeeling tea.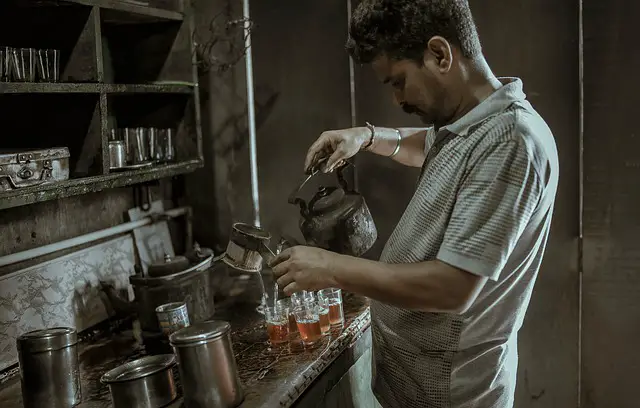 What are the benefits of Darjeeling tea?
Health Benefits of Darjeeling Tea
1. Antioxidant Properties:
Source: Compounds like linalool and ocimene in Darjeeling tea have antioxidant properties, combating free radicals and reducing oxidative stress (PubMed).
2. Antimutagenic and Anticancer Activity:
Source: Darjeeling tea extract has shown significant antimutagenic activity, indicating its potential protective effects against cancer (PMC).
3. Cardiovascular Health:
Source: Darjeeling tea's bioactive compounds may improve blood circulation and reduce cholesterol, supporting heart health (Harvard Health Publishing).
4. Digestive Health:
Source: Compounds like nerolidol and indole in Darjeeling tea can aid digestion and alleviate gastrointestinal discomfort (Healthline).
5. Mental Alertness and Relaxation:
Source: Linalool in Darjeeling tea can reduce stress and anxiety, enhancing mood and cognitive function (PubMed).
6. Weight Management:
Source: Green Darjeeling tea may boost metabolism and enhance fat oxidation, aiding in weight management (PubMed).
Other Benefits of Darjeeling Tea
1. Rich Aroma and Flavor:
Darjeeling tea is known for its distinct flavors and aromas resulting from different flushes. The first flush offers a light floral taste, while the second flush brings out a muscatel aroma.
2. Environmental Impact:
A study by Doublet and Jungbluth highlighted the environmental footprint of Darjeeling tea and how consumer habits, like reducing electricity use during water boiling, can lessen this impact (Doublet and Jungbluth, 2010, Page 17).
3. Geographical Indication Protection:
Darjeeling tea has geographical indication protection, meaning only tea from specific estates in Darjeeling and Kalimpong can bear the Darjeeling label, preserving its uniqueness.
4. Variety in Tea Types:
Darjeeling tea includes types like black, green, white, and oolong, each with unique flavors. Ruby tea is noted for its lingering taste and aroma (Jay Shree Tea Catalogue, Page 3).
5. Cultivation Practices:
The use of organic and biodynamic practices in Darjeeling tea cultivation highlights a focus on sustainability and quality.
Preparation and Storage
Preparation of Darjeeling Tea
1. Water Quality:
Use fresh, cold water, preferably filtered or bottled. The quality of water plays a significant role in bringing out the true flavor of Darjeeling tea.
2. Temperature Control:
Heat the water to a temperature of about 85-90°C (185-194°F). Avoid boiling water as it can scorch the tea leaves and affect the flavor.
3. Tea Quantity:
Use about one teaspoon of Darjeeling tea leaves for every 8 ounces of water. Adjust the quantity based on your taste preference.
4. Steeping Time:
Allow the tea to steep for about 3-5 minutes. The first flush should be steeped for a shorter time to preserve its delicate flavor, while the second flush can be steeped a bit longer to extract the muscatel flavor.
5. Serving:
Darjeeling tea can be enjoyed plain to savor its natural flavors. However, a dash of lemon or honey can be added to enhance the taste, if desired.
Storage of Darjeeling Tea
1. Avoid Light and Air:
Store the tea in a dark, cool place away from light and air. Exposure to these elements can degrade the quality and flavor of the tea.
2. Airtight Containers:
Use airtight containers for storage to maintain the freshness and aroma of the tea. Avoid plastic containers as they can sometimes impart an unwanted flavor to the tea.
3. Avoid Moisture:
Ensure the storage area is dry. Moisture can lead to the growth of mold and spoil the tea.
4. Keep Away from Strong Odors:
Store the tea away from spices or any items with a strong odor as tea leaves can absorb these smells, affecting their aroma and flavor.
5. Bulk Storage:
If buying in bulk, store the bulk of the tea sealed and take out a smaller quantity for daily use to ensure the rest remains as fresh as possible.
Recommendations
1. Quality Assurance:
Always purchase Darjeeling tea from reputable sources to ensure authenticity and quality.
2. Experiment with Flushes:
Explore teas from different flushes to experience the diverse range of flavors and aromas that Darjeeling tea offers.
3. Avoid Additives:
To truly enjoy and appreciate the nuanced flavors of Darjeeling tea, avoid adding milk or sugar, especially when trying it for the first time.
4. Proper Brewing Techniques:
Pay attention to the brewing time and temperature. Over-brewing or using water that is too hot can make the tea bitter.
5. Regular Check on Stored Tea:
Regularly check the stored tea for any signs of moisture or odor contamination to ensure its quality is maintained.
Additional Source
For a more detailed guide on the preparation and storage of various types of tea, including Darjeeling, refer to the comprehensive resources available on the Tea Association of the USA's website.
Comparison with Other Teas
FAQs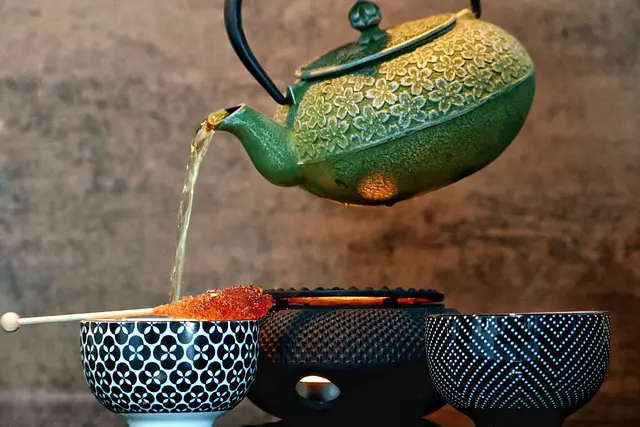 What Darjeeling Tea Does in the Body?
1. Combats Oxidative Stress:
Darjeeling tea, rich in antioxidants due to compounds like linalool and ocimene, helps neutralize harmful free radicals in the body. This process reduces oxidative stress, protecting cells from damage and supporting overall cellular health (PubMed).
2. Supports Cancer Prevention:
The tea exhibits antimutagenic and anticancer properties, as indicated by a study that showed its ability to decrease micronuclei formation. This suggests that Darjeeling tea may offer protective effects against certain types of cancer (PMC).
3. Promotes Heart Health:
The bioactive compounds in Darjeeling tea are associated with improved blood circulation and reduced cholesterol levels. These effects contribute to enhanced cardiovascular health, reducing the risk of heart diseases (Harvard Health Publishing).
4. Aids Digestion:
Compounds like nerolidol and indole in the tea facilitate the digestive process. Darjeeling tea can alleviate bloating and reduce gastrointestinal discomfort, promoting a healthy digestive system (Healthline).
5. Enhances Mental Well-being:
Linalool in Darjeeling tea has a calming effect, reducing stress and anxiety. It enhances mood and cognitive function, promoting mental alertness and relaxation (PubMed).
6. Supports Weight Management:
The antioxidants and bioactive compounds in green Darjeeling tea can boost metabolism and enhance fat oxidation. These effects aid in weight management and support healthy weight loss efforts (PubMed).
Is Darjeeling tea high in caffeine?
Caffeine Content in Darjeeling Tea
Darjeeling tea's caffeine content is influenced by the tea type, flush, and preparation method.
1. Tea Type:
Black Tea: Second flush Darjeeling black tea contains moderate caffeine, less than coffee but more than green or white teas.
Green/White Tea: These have lower caffeine content.
2. Flush:
First Flush: Contains slightly less caffeine due to younger leaves.
Second Flush: Has more caffeine because of mature leaves.
3. Preparation:
Brewing time and water temperature affect caffeine extraction.
Darjeeling tea provides a moderate caffeine level, suitable for those seeking a balance between revitalization and relaxation. The choice of tea type, flush, and brewing method can help manage caffeine intake.
Do you put milk in Darjeeling tea?
Milk is typically not added to Darjeeling tea due to its delicate flavors and variety in types.
Delicate Flavors:

Darjeeling tea, especially the first flush, has a light, floral taste. Milk can mask these flavors.

Variety in Tea Types:

Different types of Darjeeling tea, including Ruby tea, have distinct flavors and aromas that are best experienced without additives (Jay Shree Tea Catalogue, Page 3).

Recommendations:

The tea is often enjoyed plain, and while some additives can enhance the flavor, milk is typically not one of them.
How long do you steep Darjeeling tea?
Steeping Time for Darjeeling Tea Based on Flush
| Flush Type | Characteristics | Recommended Steeping Time |
| --- | --- | --- |
| First Flush | Delicate, light, and floral | 3 minutes |
| Second Flush | Rich, full-bodied, muscatel flavor | 4-5 minutes |
Explanation:
First flush Darjeeling tea, with its light, floral notes, should be steeped for about 3 minutes. The second flush, known for its muscatel flavor, requires 4-5 minutes of steeping to fully develop the taste. Steeping times can be adjusted to suit individual taste preferences.
Adjustments to the steeping time can be made according to personal taste preferences, ensuring a customized and enjoyable tea-drinking experience.
Is Darjeeling tea the same as Earl GREY?
Darjeeling Tea vs Earl Grey Tea
Darjeeling Tea:
Origin:

Darjeeling tea is specific to Darjeeling and Kalimpong in West Bengal, India, and is protected by geographical indication.

Flavor Profile:

Its flavor varies with each flush, transitioning from light floral to muscatel aroma.

Types:

Includes black, green, white, and oolong, each offering unique flavors (Jay Shree Tea Catalogue, Page 3).

Chemical Composition:
Earl Grey Tea:
Origin:

Named after the 2nd Earl Grey, not tied to a geographical location.

Flavor Profile:

Black tea infused with bergamot orange flavor.

Types:

Typically black tea, variations exist, characterized by bergamot infusion.

Chemical Composition:

Defined by the presence of bergamot oil.
How does Darjeeling tea taste?
Darjeeling tea's taste is shaped by various compounds:
Aroma:
Floral and Spicy:

Linalool adds floral and spicy notes.

Freshness:

Benzyl Alcohol and cis-3-Hexenol contribute freshness and a grassy scent.

Fruity:

α-Farnesene and Ocimene introduce green apple and citrusy aromas.

Nutty and Sweet:

Benzyl Nitrile adds almond and cherry notes.

Floral Depth:

Indole enhances floral richness.

Woody Character:

Nerolidol imparts a woody, fruity aroma.
Sensory Experience
The tea offers a blend of complex aromas, floral and spicy touches, freshness, fruity undertones, nutty sweetness, rich floral depth, and woody character. Each compound adds a unique layer, creating a harmonious, multifaceted taste.
What tea is similar to Darjeeling?
Teas Similar to Darjeeling:
1. Nilgiri Tea:
Nilgiri tea, grown in the Nilgiri Hills of India, has a fragrant and brisk character similar to Darjeeling.
2. Ceylon Tea:
Sri Lankan Ceylon tea, especially the high-grown varieties, shares the briskness and aroma, reminiscent of Darjeeling's second flush.
3. Nepal Tea:
Grown in Nepal's hilly regions, this tea exhibits the muscatel flavor associated with Darjeeling's second flush.
4. Oolong Tea:
Lightly oxidized oolong teas possess floral and fruity notes akin to the first flush Darjeeling tea.
Contributing Factors:
1. Terroir:
The soil, climate, and altitude influence the flavor profile of the tea.
2. Processing:
The aroma and flavor are impacted by the withering, rolling, oxidation, and drying processes.
3. Flushes:
Multiple harvests throughout the year yield a variety of flavors and aromas.