The cultivation of tea and coffee are two very different processes. Tea cultivation is an ancient practice that has been perfected over centuries, while coffee cultivation is a relatively new industry. Though both beverages are brewed from plants, the differences in their cultivation give each drink its unique flavor and character. Tea is grown in warm, humid climates with plenty of rainfall. The best teas are grown at high altitudes, in cool air, and the soil is rich in minerals.
Tea plants can be harvested three times a year, and each flush produces a different quality of tea. The first flush, or spring harvest, yields the most delicate and flavorful teas. The second flush, or summer harvest, produces a fuller-bodied tea, while the third flush, or autumn harvest, has a robust and astringent tea.
The best coffees are grown at high altitudes, in rich soil, and receive plenty of sunshine. On the other hand, coffee is grown in hot, dry climates. Coffee plants are usually harvested only once a year, in the early spring. The coffee beans are then roasted to bring out their flavor. So, while both tea and coffee are brewed from plants, the differences in their cultivation give each drink its unique flavor and character.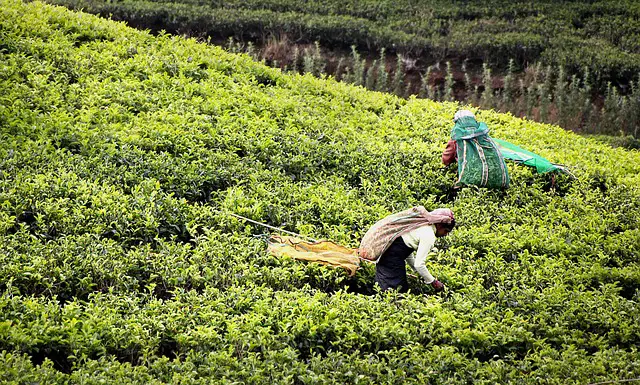 Overview of tea cultivation
Tea is a beverage from the leaves and buds of the Camellia Sinensis bush. To get the tea, boil dry leaves or buds in water. You can also add milk, depending on preference. Amongst the tea types are green tea and black tea. 
The leaves are just the same, but the difference lies in fermentation. Tea is associated with curing many diseases like heart disease and cancer. Some ingredients in tea are for pain relief in arthritis and inflammatory disorders.
Tea production statistics
Global tea production annually is over USD 17 billion. Its trade value is about USD 9.5 billion. Its smallholders are responsible for 60 percent of world production. India is the largest producer of tea in the world (Byjus.com), with 80% of its tea consumed in the country.
Overview of coffee cultivation
Caffeine is the ingredient, and coffee comes as espresso, brewed, instant, decaf, plunger, and filter. Coffee is from the roasted beans of the coffee plant, which comes from Africa. It is known for its refreshing effects. 
If you have any asthmatic condition, coffee relaxes the airways in the lungs. Coffee is also responsible for the functioning of the brain, with caffeine in the coffee acting as a stimulus. Use any recipe to make a cup of coffee, with or without milk.
Coffee production statistics
There are 110 – 120 million bags of coffee produced worldwide each year, with Brazil taking the lead. A standard coffee tree has 10 pounds of coffee per year or 2 pounds of green beans. The tree requires rich soil, mild temperatures, frequent rain, and shaded sun.
Are coffee plants self-pollinating?
Yes, coffee plants are self-pollinating, although bees play a role in the process. During the process, the flowers form at the nodes on each branch. Each flower becomes a fruit known as a coffee cherry. The flowers eventually turn brown and fall off the coffee branch. A carpel is left behind. It is a small, round ball that grows into a fruit with one or two seeds after six months. 
Although coffee varieties can be self-pollinated, the presence of pollinators improves the quality and size of the coffee beans. They are not wind-pollinated like different coffee types. However, other types of coffee need cross-pollination (Coffeeresearch.org). You should know the coffee you are working on.
Is growing coffee sustainable
Growing coffee is not sustainable because coffee-growing communities are poorer due to a lack of economic balance and social sustainability. Long-term profit is one aspect coffee growers look at in the industry, and in some cases has failed them. When it comes to sustainability, there is consideration of the triple p-place, people, and profit. 
Unstable coffee prices have a direct impact on basics. There is no access to education, housing, food, healthcare, and other necessities. Coffee farmers are isolated due to the high costs of buying tools or transporting a harvest. These can be inaccessible when coffee prices fall.
Child labor is another social issue to consider when it comes to sustainability. Children work as cherry pickers on plantations in some countries. Coffee farmers hardly get paid enough to sustain their families. Coffee farming requires a lot of resources. Coffee production has left some places with deforestation and water pollution.
 Climate change is also an enemy to farmers. Its negative impact lies in the way it degrades the coffee quality. For the betterment of economic and social sustainability in coffee-growing nations, there is a need for global implementation of agricultural practices, environmental protection of the environment, good working conditions for workers, and earning a decent income.
Is growing tea sustainable
Yes, growing tea is a sustainable business considering the rise of tea consumption. The tea industry is growing bigger and bigger each day. The environment, economy, and society determine the coffee business's growth. 
Tea is a widely consumed beverage in the world, other than water. It can be served hot or iced, mixed with lemonade for a sweet treat, or even added to cocktails. That makes it a versatile and enjoyable drink.
Tea consumption is rising worldwide, meaning there is also growth in tea sales. Other than just being a beverage, people keep buying it for health benefits. There is a long-term success of tea relying on consumers and continued appreciation for the product, hence the growth of sales 
Although climate change has affected tea growth, it has survived for years in countries like Kenya and India, where 10 percent of their citizens rely on tea production.
Main differences between tea and coffee cultivation
Tea works in healing diseases, whereas coffee has limited positive effects on health.
Coffee and tea are different in flavour, preparation, and taste.
Tea is from the leaves and buds of the tea plant, and coffee beans are from the coffee plant.
Both plants develop into large trees, but height by trimming the shrubs.
Both contain caffeine, but the amount of caffeine is more in coffee than in tea.
Coffee is helpful in asthma, while tea is known for cancer, heart diseases, level, and blood clotting.
Coffee comes from Africa, whereas Tea is grown in tropical and sub-tropical climates.
For climate, the lowest temperature for the growth of tea is 16ºC, and 150-250 cm of rainfall is for tea cultivation. Coffee is grown on the tropical highlands and requires a temperature between 16 degrees C to 28 degrees. It is sensitive to cold and frost as well as direct sun rays. The coffee plant needs rainfall between 125 cm and 200 cm and is distributed throughout the year.
The soil also matters. The soil is rich in iron and organic matter. Tea shrubs require fertile mountain soil mixed with lime and iron. The ground has to be rich in humus, while the coffee plant needs deep loamy soil from weathered lava.
Tea is grown on well-drained rolling plain lands, low plateau areas, and hill slopes, whereas hill slopes and plateau areas are for coffee cultivation.
Conclusion
Both tea and coffee are sustainable businesses that offer many benefits to growers and drinkers alike. While they differ in some ways, such as flavour and preparation, they share many similarities, such as their caffeine content and ability to be grown in many different climates. No matter which beverage you prefer, you can rest assured knowing that tea and coffee are good for the environment and the economy.