What is Ginkgo Biloba Tea?
Ginkgo helps your body fight circulatory disorders, asthma, and allergic inflammation. It is well-known for its memory enhancement. If you are on any prescription medication, speak to your doctor before consuming it. It is a relaxing tea made from the dried leaves of the ginkgo tree. For a pleasant aroma and better taste, combine with other herbal ingredients. That also boosts your health benefits. Below is a detailed review of its chemical properties.
Chemical properties of Ginkgo Biloba Tea
The components of ginkgo are flavonoids, which have powerful antioxidant qualities, and terpenoids, which help improve blood circulation by making the blood vessels wider (sciencedirect.com). It has several compounds that make it rich in medicinal properties. 
The Ginkgo plant has powerful antioxidants that empower your body and improves your health by eliminating free radicals. Although the body produces free radicals, an influx of free radicals can damage healthy cells and tissue, contributing to ageing and disease.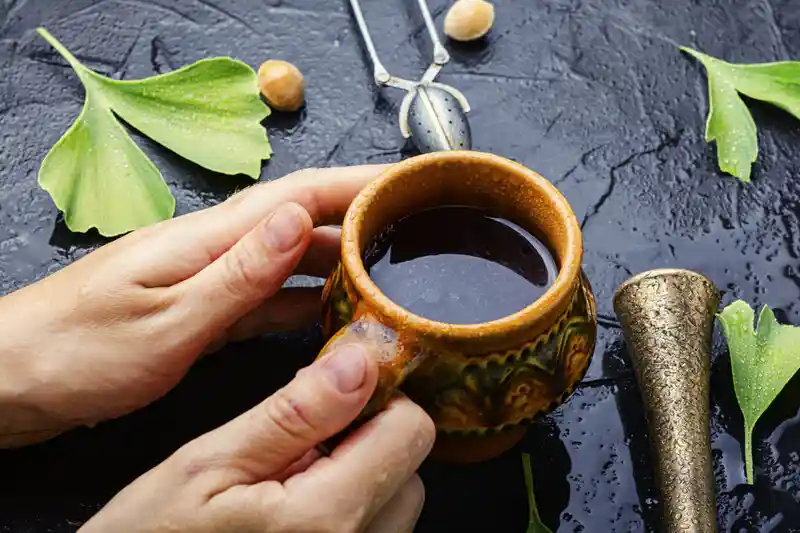 When you sip a cup of tea of ginkgo leaf, you are helping to chase away the effects of these free radicals. The ginkgo leaf also contains compounds known as terpenoids. Ginkgo biloba has a variety of flavonoids.
Ginkgo tea is caffeine-free, although the ginkgo leaf is in various caffeinated tea blends, like white and green tea. Pairing ginkgo with caffeine supports brain function and clarity.
Nutritional Facts on Ginkgo Biloba Tea
Ginkgo is rich in phenolic compounds, flavonoids, terpenoids, and other organic chemicals (nih.gov). Ginkgo has high levels of vitamin A, vitamin C, niacin, sodium, phosphorus, copper, and potassium.
Benefits of Ginkgo Biloba Tea
Ginkgo is rich in high levels of flavonoids and terpenoids, compounds with strong antioxidant effects. Antioxidants take care of the effects of free radicals since they have the potential to damage healthy tissues, ageing, and disease development.
Ginkgo Biloba Tea helps fight inflammation. When it comes to the inflammatory response, there are components of the immune system produced to fight against the foreign invader or heal the injured area. Note that excessive inflammation can cause permanent damage to the body's tissues and result in chronic diseases (healthline.com). Ginkgo Biloba tea helps your body fight arthritis, irritable bowel disease, cancer, heart disease, and stroke. 
The beverage improves circulation and heart health. It increases blood flow to almost every part of the body. It increases in levels of circulating nitric oxide, a compound for dilating blood vessels. It has protective effects on heart health, brain health, and stroke prevention.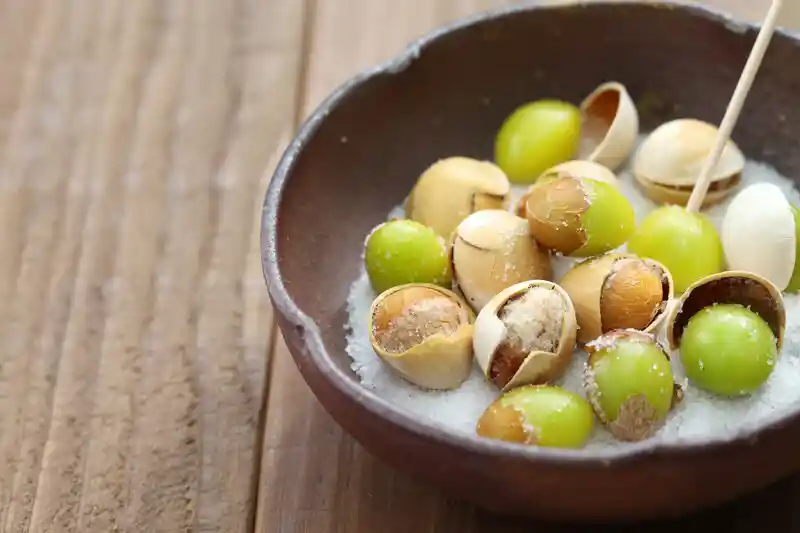 Ginkgo biloba tea reduces symptoms of psychiatric disorders and dementia. It also reduces anxiety, stress, and other symptoms of Alzheimer's disease. Ginkgo improves blood flow to the brain.
Ginkgo Biloba tea helps your brain function, increasing mental performance. It improves your memory and attention capacity. If you have anxiety problems or depression, try the tea. 
Depression is a mood disorder that causes a persistent feeling of sadness and loss of interest (mayoclinic.org). Ginkgo's anti-inflammatory properties improve the body's ability to cope with high-stress hormone levels. To improve your mental health and maintain a positive mindset, you do not just take the tea but combine it with stress-relieving activities, such as meditating and exercising.
If you have glaucoma, ginkgo tea increases blood flow to the eye. Ginkgo has anti-inflammatory and antioxidant effects for excessive stress. Ginkgo dilates blood vessels to improve symptoms if the headache is related to reduced blood flow or constricted blood vessels.
Ginkgo improves symptoms of asthma and other inflammatory respiratory diseases. The anti-inflammatory compounds in ginkgo allow for reduced inflammation of the airways and increased lung capacity. The herbal formula reduces cough and bronchitis. Ginkgo also treats both the physical and psychological symptoms of premenstrual syndrome. 
Ginkgo biloba may affect blood clotting, so it should not be used by people with bleeding disorders or those taking medication or supplements that affect blood clottings, such as warfarin, aspirin, garlic, vitamin E, and nonsteroidal anti-inflammatory drugs.
Most of these bleeding cases have occurred in individuals, not on another blood thinner. Individuals with epilepsy or diabetes should also avoid the Ginkgo biloba unless the herb is under a medical professional. Pregnant women should not take ginkgo
Potential downsides
When taking Ginkgo tea, you may experience nausea, diarrhoea, dizziness, headaches, stomach pain, and allergic reaction. Talk to your doctor before including ginkgo in your routine. Although ginkgo has lower chances of causing side effects, there are cases in which ginkgo may cause serious harm. If you are allergic to plants that contain alkylphenols or taking certain medications, avoid taking ginkgo.
Patients with blood circulation disorders or on anticoagulants, such as aspirin, should avoid taking ginkgo, like those taking selective serotonin reuptake inhibitors (SSRI) as antidepressants. It reduces the effectiveness of the medications.
Combining the two increases the risk of serotonin syndrome. Serotonin syndrome is a life-threatening drug reaction that results from too much serotonin in your body (clevelendclinic.org).
Gingko can also exaggerate the good and bad effects of another type of antidepressant, monoamine oxidase inhibitors (MAOIs). Ginkgo leaves contain long-chain alkylphenols, which are allergenic. People who are allergic to poison ivy and other plants with alkylphenols should avoid taking ginkgo.
Ginkgo biloba tea promotes healthy kidneys due to the boost in antioxidants kidneys that have healthier tissue can more effectively filter toxins out of the body. If you take the tea regularly, you will get boosted kidney function that filters heavy metals out of your blood.
How to make Ginkgo Biloba Tea
Ginkgo tea can be prepared at home, but it is not possible to know the dose of active properties when taking ginkgo as tea. Therefore, you should use ginkgo in supplement form to obtain the correct therapeutic dose.
Bring 2 cups of water to a boil in a medium saucepan.
Remove from heat.
Add ginkgo Biloba leaves and let steep for 10 minutes. 
Strain and serve.
How many cups of Ginkgo Biloba Tea can you drink?
Take 1 to 2 cups daily.
FAQs
Is it okay to drink ginkgo every day?
Yes, you can drink Ginkgo tea daily, but it can cause minor side effects such as stomach upset, headache, dizziness, and allergic skin reactions. Ginkgo leaf extract might increase the risk of bruising and bleeding or cause arrhythmia.
How to take ginkgo biloba?
Preparation methods vary based on the results you wish to achieve. Always read the directions on the label, or consult your doctor. 
Who should not take it?
Children should not use ginkgo under 12, pregnant women, breastfeeding women, or people with a high risk of haemorrhage.