What is Hibiscus Tea?
Hibiscus tea is a popular herbal beverage native to Africa and Asia. This plant is known as Hibiscus sabdariffa for its edible nature. The plant flowers and is then harvested into tea leaves. This tea differs as the part of the plant you can eat and drink is the calyxes of the flower. This part of the flower is known as the sepals. Sepals help to protect the buds and petals.
The tea has many names, e.g. roselle, sorrel and zobo. It is created by steeping its red dried calyxes water. Hibiscus tea can be consumed with hot or cold water for various cooking applications. Harvesters sometimes use this plant to make hibiscus syrup, jam and taco sauce. The dried hibiscus sepals are very potent. They contain sufficient power to add flavour and colour to drinks. The tea generally comes out with a bright red colour resulting from its red calyxes. They are this potent because they are protected from the sun and contain a high concentration of anthocyanins. This antioxidant is very healthy for the human body and has a concentrated red-blue pigment. When diluted with water, you can make this tea to your preferred strength and colour. The result of brewing is a refreshing floral taste. Hibiscus tea is used in many drinks because it combines fruity, tart and sweet flavours without added preservatives. The drink is popular because of its natural taste, which resembles cranberries, but with a floral twist.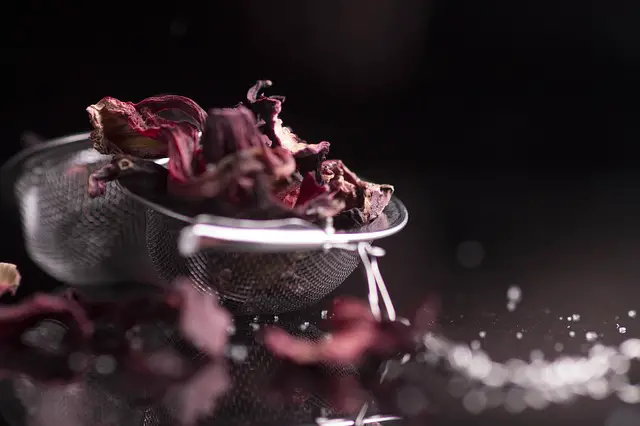 Chemical properties of c Tea 
Hibiscus tea is mainly made up of organic acids. This beverage has been proven to contain a high percentage of organic acids. Organic acids often include citric Acid, hydroxy citric Acid and hibiscus acid. Within Hibiscus tea, there are also malic and tartaric acids, which form the drink's significant compounds. The tea has oxalic and ascorbic Acid as minor compounds. These chemical properties can vary in quantity depending on the origin of the plant. The general make-up of Hibiscus tea, however, includes 
Acid – 13–24%
Citric Acid – 12–20% 
Malic Acid – 2–9%
Tartaric Acid 8%
Ascorbic Acid – 0.02–0.05%
Nutritional Facts of Hibiscus Tea
The Hibiscus tea plant has many nutrients depending on which part you harvest. You are more likely to find more nutrients in a plant grown in favourable conditions. The most commonly found nutrients are:
Calcium
Phosphorous
Iron
Niacin
Vitamin C
Riboflavin
Per Serving
Calories: 28
Protein: .5 gram
Fat: 0 grams
Carbohydrates: 6 grams
Fibre: 0 g
Sugar: 0 g
Benefits of Hibiscus tea?
Rich in Antioxidants
Beta-carotene, vitamin C and anthocyanin are some of the primary antioxidants saturated in Hibiscus tea. Drinking antioxidant-rich tea is helpful for a few health conditions.
These ingredients protect the body against harmful molecules known as free radicals. Free radicals cause damage to the replication of cells. This problem can lead to increased ageing and diseases such as cancer, heart disease and diabetes. The body has a supply of antioxidants to defend against free radical damage. Improving this supply through drinking Hibiscus tea will help play a role in preventing disease.
Reduces inflammation
Hibiscus has healing properties that help to fight inflammation. This health problem is the cause of numerous illnesses such as cancer, asthma and Alzheimer's disease. Drinking one cup of Hibiscus tea daily gives you a better chance of avoiding heart disease and rheumatoid arthritis. This bodily advantage occurs as a result of the tea's anti-inflammatory effects.
Reduces blood pressure
Poorly managed blood pressure is the leading cause of numerous health problems. In this U.S., nearly 1 out of 2 adult people are affected by this health burden. Drinking hibiscus tea will lower the chances of a person suffering from a heart attack, stroke, heart failure or kidney disease. The tea has a calming agent clinically proven to reduce human blood pressure.
It should be noted, however, that although there is a reduction in blood pressure levels, Hibiscus and other herbal remedies should not be used as an alternative to medicine. Their effects are not significant enough to replace the medication for those with high blood pressure.
Reduces Cholesterol
High cholesterol is often associated with a low-quality life. This health burden affects millions of adults and is one of the leading causes of severe diseases like heart attack and stroke. Some studies have shown that Hibiscus tea can have the effect of lowering cholesterol levels. It has a slight mark that can help maintain healthy cholesterol levels.
Improved Weight Loss
Hibiscus tea is a valuable drink for those who wish to manage their weight. Human studies have described a positive impact on weight loss from drinking Hibiscus tea regularly. The tea has slimming agents that can help to prevent obesity. Hibiscus extract is significantly more potent and concentrated than hibiscus tea. The teas will have no calories and almost no nutritional value. Sweetened teas, syrups, and sauces will have calories and nutrition from the added sugar and other ingredients. Although few people eat Hibiscus in its natural form, that's the most accurate way of assessing its nutritional value.
Kills Bacteria
Hibiscus has antibacterial properties meaning it can help keep your gut clean of bacteria. Drinking this tea will keep the digestive system balanced and prevent bowel-related illnesses.
Potential downsides
Hibiscus flowers can contain allergens making it dangerous for people sensitive to mallow plants. 
Hibiscus tea can interact with certain medications. You should avoid drinking this if you are taking the malaria drug chloroquine.
How to make Hibiscus Tea?
To make Hibiscus tea, you will need dried hibiscus petals. 
Depending on your preference, these petals are then brewed in hot or cold water. 
If using boiling water, then allow the tea to boil for 5 minutes before serving. 
If you plan to have the drink cold, you can speed up the process by using iceblocks to chill the tea. On a hot day, this method is excellent for enjoying the full flavour of Hibiscus.
How many cups of Hibiscus Tea can you drink?
Hibiscus tea should be drunk in moderation. Two cups per day are sufficient to realize the full benefits of the drink.