Iced tea can be a good substitute for water in some cases. Still, it is vital to consider the possible advantages and disadvantages of consuming iced tea as a substitute for water.
One potential benefit of iced tea as a substitute for water is that it provides hydration and helps meet daily fluid needs. In addition, iced tea can be a tasty and refreshing alternative to plain water, making it easier for some people to consume the required amount of fluid.
However, you should remember that iced tea may contain sugar and calories, depending on how it is made. If you are trying to limit your added sugars or calories intake, it may be best to choose unsweetened iced tea or dilute sweetened iced tea with water. Also note that iced tea may contain caffeine, which can have a stimulating effect on the body and is not suitable for everyone, especially in large quantities or late in the day.
Overall, iced tea can be a good substitute for water in moderation. Still, it is important to consider the potential drawbacks and choose a variety that suits your needs and preferences.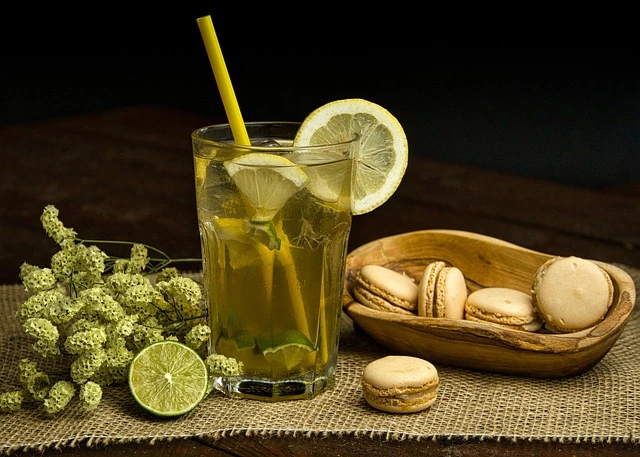 Can I drink tea in place of water?
Yes, you can drink tea in place of water.  Tea can be a way to rehydrate as long as it does not contain any sugar or other high-calorie additives. Caffeine and sugar are two enemies of hydration. Unsweetened tea has zero calories and minerals, such as sodium and calcium, depending on the water used to brew the tea. Add mint and a spritz of lemon for an enjoyable taste. The reason why caffeine is for dehydration is that it causes you to pee more.
Does drinking iced tea dehydrate you?
No, it only dehydrates you if it is sweetened and caffeinated. Iced tea can dehydrate you if made with more sugar than regular tea. When the sugar is absent from the iced tea, the drink dehydrates. 
Avoid drinking more iced tea since it can dehydrate you if you drink too much. Dehydration can make you feel thirsty, and the more you feel thirsty, drink more. Avoid dehydration by limiting how much you drink and by drinking plenty of fluids throughout the day (Amedisys.com). Unsweetened iced tea keeps you hydrated. It helps you meet your daily hydration needs when you are bored of water, and should not be your primary source of fluids throughout the day.
Nutritional value of iced tea
It contains Calories. 2g; Fat. 0 g; Carbs. 0.67 g ; Protein. 0.02 g; Serving Size, 1 cup (8 fl oz).
Difference between iced tea and water
Drinking more cups of tea a day is better for your health than drinking plain water because tea has more nutritional benefits than water. The only disadvantage of drinking iced tea is that it contains more caffeine. It becomes a source of dehydration rather than hydration. 
Since it has a certain amount of caffeine you can consume in a day, it is hard for you to control your tea intake. Some people are more sensitive to caffeine than others and might not be aware. If you enjoy tea but are worried about your caffeine intake, consider switching to water. With water, you do not have to be worried about any caffeine. 
Unlike water, which does not contain added sugars, iced tea sometimes contains sugar. Since sugar plays a role in the development of diabetes and heart disease, try water with zero sugar, or consider adding a natural sweetener to your tea, such as honey.
Tea affects individuals with anemia, unlike water. That is why you should be cautious when drinking tea. Large amounts of tea can reduce the body's ability to absorb iron. 
Is ice a good substitute for water
Yes, since eating ice gives you some of the same benefits as water. Drinking water is a much more efficient method of hydration. Eating ice comes with its risks. You become exposed to painful, dental damage.
The outermost layer on your teeth, known as enamel, is not built to withstand hard treats such as ice. When tooth enamel erodes, it leaves your teeth sensitive and more prone to cavities (Healthline.com).
Chewing ice gives you the same hydration benefits as water. But ice cubes do not contain much water, so you are unlikely to eat enough ice to stay hydrated. An ice cube contains about 2 tablespoons of water. You may have to melt one ice cube to measure how much liquid it contains.
Why is tea not as good as water?
It is because water does not contain caffeine, sugar, or other additives. Drinking water is replacing the fluid, whereas tea replaces fluids and contains antioxidants. Compared with the same volume of water, tea is 1.55 times higher, so drinking more tea will cause more water from the human body.
Is tea an acceptable substitute for water
Yes, decaffeinated tea contributes toward your hydration goal because it is considered as hydrating as plain water. You can continue drinking tea, which will increase your hydration level. It should not replace the water if you can drink water. Drinking more than six or seven cups of black tea daily does not mean it is the same amount of water. What you can do is incorporate some water into your daily fluid intake.
Does tea count as water intake
Yes, tea counts as water intake but only if it has no sweeteners or caffeine. Some people hate the natural taste of water and would like to spice it up. That is where tea comes in as a substitute. However, you should not stay away from the water completely. 
Drinks like tea are high in sugar and, in some cases, high in calories. Be aware that too many calories can make you more likely to gain weight instead of lose weight. Sometimes the drink is high in both sugar and caffeine. Check the nutrition labels on your tea for healthier choices. Drink 6 to 8 cups or glasses of fluid a day. 
What happens if you only drink tea and no water
It keeps you hydrated only if you reach your daily fluid requirements. There are two possibilities when drinking tea. Tea will either hydrate you or dehydrate you. The caffeine levels in tea determine the amount of water in the tea. Caffeine is a strong diuretic in the doses you are likely to consume, even at higher doses.
You get enough water from drinks, adding to the net fluid intake. While you may only be drinking tea, you are likely getting water from other sources.
What percentage of tea is water
Tea is 99 percent water. Caffeinated teas can be counted as three-quarters of the volume of water. Tea is broken down into two types: caffeinated and non-caffeinated. Non-caffeinated tea is closer to water than caffeinated. 
What liquids count as water intake
Water, lower-fat milk, and sugar-free drinks, including tea and coffee, all count as water. Fruits are also an excellent source of water. Watermelon is 90% water, ranking the highest on the list. You may also go for oranges and grapefruit.