Is it ok to put milk in green tea?
Yes, it is OK to add milk to green tea. It all goes back to preference. However, if you are drinking green tea for health benefits, you might likely alter some of those benefits and the taste. Adding milk to green tea reduces the catechins, which are great for the heart and blood vessels (Nih.gov).
Drinking green tea with milk can reduce the benefits of catechins because milk changes and inhibits the chemical makeup of the catechins, reducing their impact on your body. There are no negative impacts of drinking milk with green tea. It does not produce any bad chemical reactions. 
Green tea does not have milk, but sometimes it comes with milk. You lose when you do not drink green tea with milk. What you can do is use healthy milk like Soya milk. Green tea still retains its nutritional value if you add milk.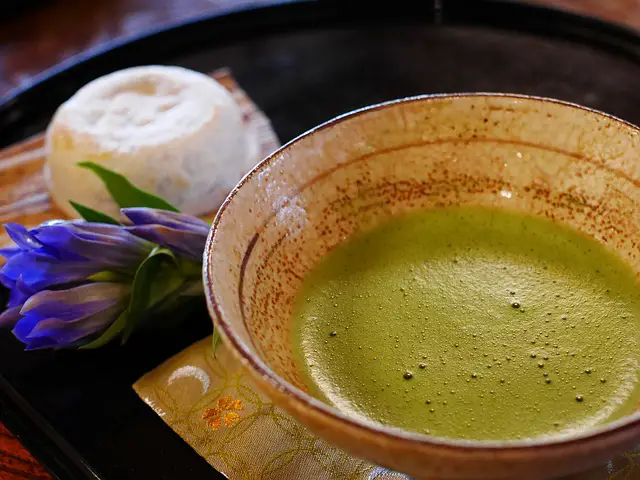 A protein in milk called caseins makes a chemical reaction with catechin and reduces the health benefits. Drinking tea with milk reduces the catechin, where blood vessels relax compared to drinking water.
You can still have your green tea with milk by choosing healthy milk such as soy milk rather than cow's milk. Soy milk contains lecithin, which helps you get the full benefits of catechin. You still get more components in tea, such as tannin, gallic acid, and even caffeine, when you drink green tea with milk.
Choosing matcha rather than sencha for tea used with milk gives you more benefits when you add milk. Since matcha is powdered, you still have the leaf rather than the steeped leaf-like sencha, meaning more health benefits.
Since milk is a source of magnesium and calcium, you still get those nutritional benefits if you add milk to your green tea. However, the combination delays the benefits of green tea to your body.
Does green tea with milk taste good
Yes, it tastes good. It changes the flavor, but in a positive way. However, it destroys the taste of the leaves and ruins the texture of a glass of green tea. You can still taste the green tea, but it is buried under the flavor of animal fat and the other flavors from cow's milk.
Green tea has a great flavor. It has numerous nutritional benefits, and it tastes great. Drinking green tea without milk tastes a hundred times better, and the nutritional benefits of green tea without milk are far superior.
The flavor of green tea is still enjoyable, with no sugar or flavors added, but some people do not like green tea on its own. Adding milk to it tastes better to some people. 
You can still enjoy teas like milk oolong on its own since it has milk already in it. The taste is amazing, and it smells like sweet butter.
How much milk to add to green tea
You can add half a cup of milk. 
How long should I wait to drink green tea after drinking milk
You should drink green tea after an hour of having milk.
Drinking green tea with milk and sugar
Adding sugar to green tea can help the body absorb helpful compounds that help fight health problems. However, sugar contains no nutritional benefits, leading to weight gain, high blood pressure, and high blood sugar (Cancervic.org).
Green tea with milk for weight loss
Drinking green tea with milk might be energy for your weight loss journey. It increases your risk of gaining weight. 
Drinking green tea and milk can help to promote weight loss by increasing calorie burning, fat oxidation, and metabolism. Still, when drunk together, the casein in milk will reduce the positive effects green tea can have on your body in promoting weight loss. Weight reduction and maintenance slow down when green tea and milk are drunk.
How to make green tea with milk
Add one teaspoon of loose-leaf green tea to a cup and add about 8 ounces of hot water. Let it boil.
Allow the tea to steep for about 2 minutes.
For more flavor, use two teaspoons of tea.
Add 1/2 cup of milk to the tea.
Drinking green tea with milk and honey
The reason why you should add honey to your green tea is for health and fitness purposes. Adding sugar allows the calories to add to the fat. That is why you should stay away from sugar. It eliminates the effects of green tea.
Drinking green tea with honey comes with multiple benefits. It helps your heart, manages cholesterol, fights bad breath and bone health, and healthy skin, improves brain function and hair growth and eases the common cold.
Can you add almond milk to green tea?
Yes, you can add almond milk to green tea. It makes green tea creamy and does not change its taste. It keeps you full while cleansing your body of toxins and waste. Run a one-day tea diet for calorie burning and excess fluids from the body. 
Almond milk adds a soft texture and a sweet, nutty flavor to your tea. Almond milk pairs well with matcha because of its thick, silky texture and sweet, creamy flavor. Almond milk is frequently used in matcha lattes to make the drink smoother and sweeter.
Almond milk has a subtle flavor that is delicate, sweet, and creamy. It is slightly thicker and has a stronger flavor than coconut milk. Pair it with matcha for health purposes because almond milk does not alter your body's digestion of matcha ingredients. 
Almond milk is delicious as it enhances vision, aids weight loss, and strengthens the bones and heart. It also boosts muscle strength, lowers blood pressure, and aids kidney function. Almond milk has a low-fat content but a high-calories. It also contains calcium, iron, magnesium, phosphorus, potassium, sodium, zinc, thiamine, riboflavin, niacin, folate, and vitamin E. For weight, almond milk is the way to go because it is low in calories and fat.