What is Jaggery tea?
Jaggery tea or Gur ki chai is a traditional Indian tea with jaggery and spices such as gud, ginger or adrak, green cardamom and cinnamon. It comes with great health benefits as it boosts your immunity during winters. Jaggery is also rich in iron and good for digestion. Assam tea leaves, a bit of dry ginger powder, and cardamom can be used. This tea has a deep earthy flavor that tastes delicious. The article below reviews the pros and cons of drinking jaggery tea and some tips. 
Chemical properties of Jaggery tea
Jaggery tea is an antioxidant-rich tea that protects body cells against free radicals. Free radicals are molecules produced when your body breaks down food. Jaggery tea is ideal during the winter season, as it increases the level of antioxidants. This helps remove toxins from the body and improves your skin.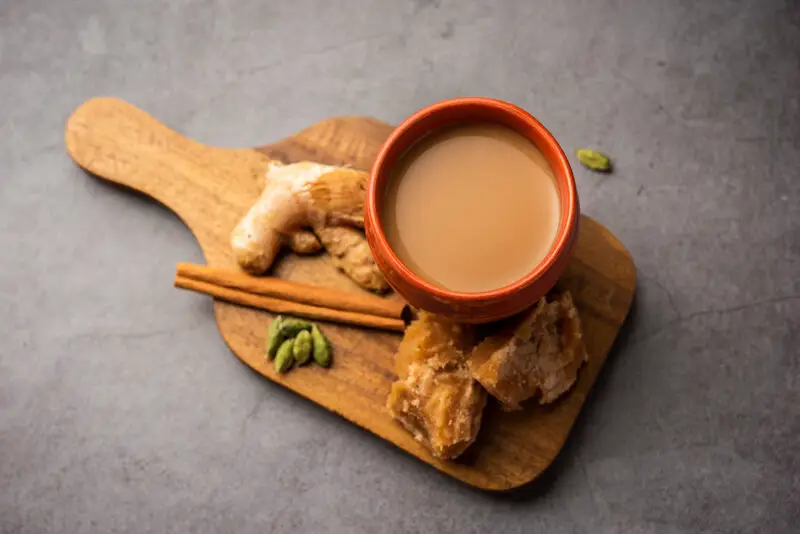 Jaggery has lower sucrose content than sugar. Jaggery is more chemically complex than sugar and consists of longer chains of sucrose. Sucrose is the scientific name for table sugar (healthline.com). It takes longer to digest and does not release energy instantly as refined sugar. Using jaggery adds an extra amount of nutrients into a person's diet. However, you should not add more jaggery to food to boost their nutrient intake. It is better to get vitamins and minerals from less calorific sources.
Jaggery is a slightly better option than white sugar, but a type of sugar, with many of the health drawbacks people associate with sugar consumption. Therefore, it is advisable to use jaggery in moderation.
Nutritional Facts on Jaggery tea
Jaggery tea contains essential vitamins and minerals like magnesium, iron, potassium, and phosphorus. That makes it an ideal hot beverage during winter. Jaggery helps keep the body warm by producing heat. 
Jaggery tea fights anemia as it contains iron. Drinking jaggery every day meets the daily iron requirement in the body and helps in its absorption. Jaggery is more nutritious than refined white sugar. Refined white sugar contains no protein, fat, minerals, or vitamins, whereas jaggery tea has sucrose, fructose and glucose, protein, potassium, magnesium, calcium, manganese, phosphorus, iron, vitamin A,  and E (medicalnewstoday.com).
Benefits of Jaggery tea
Jaggery helps treat health problems, including anxiety, migraines, digestion, and fatigue. It is an immunity booster. The masala is one of its ingredients with iron, minerals, and several essential nutrients that help boost immunity. That prevents unsafe substances from entering the body.
Jaggery tea prevents cold and flu. Amongst its ingredients clove, cinnamon, and ginger are rich in antioxidants and anti-viral properties. This helps prevent seasonal cold and flu, keeping your body warm. Drinking tea during winter helps you fight the cold (eteaket.co.uk). 
Jaggery tea provides a temporary soothing effect during the winter seasons. It helps speed up the healing process for people with nasal congestion and flu. However, note that jaggery tea gives different results for different individuals. Even though jaggery keeps the body warm, drinking jaggery tea gives the best results when consumed in moderation.
Drink the spicy tea in a controlled amount to help metabolism, promoting weight loss. The essential nutrients in the chai masala and jaggery help digest food easily. Jaggery tea is a detox tea for internal cleansing by flushing wastes from multiple organs. That works towards improving your body health.
A combination of Jaggery tea and nutritious food, with regular exercise, helps manage weight. Drinking it after a heavy meal, helps you relieve bloating and speed up the process of digestion.
Potential downsides
Just like any other tea, jaggery also has its disadvantages. It can raise blood sugar levels, although it is better than sugar. Jaggery is sweet, so consuming too much of it can increase your blood sugar.
Jaggery tea may lead to weight gain. The spicy tea is not for people who are dieting. Consuming a little amount will not hurt but having too much of it may lead to weight gain. What makes it add weight is the sugar and carbs. These distract your weight loss plan, although it gives you better nutrients.
 You can still have other options where you can get these nutrients with fewer calories, but if you want to stick to this tea, take it in smaller amounts or reduce the intake of sugar and carbs from other food sources.
​It raises the risk of parasitic infections when not prepared properly. It comes with impurities, increasing your risk of intestinal parasites and worms. Jaggery should be made under hygienic conditions to avoid microbes, which may affect your health.
Freshly made jaggery sometimes leads to diarrhea. Some might even experience constipation. If consumed in summers, it may cause nose bleeding. Avoid too much jaggery during summer.
Sometimes it worsens your health conditions. Jaggery is not refined and contains a high amount of sucrose. If you have any inflammatory conditions like rheumatoid arthritis, you must avoid it or take a minimal amount. Sucrose can interfere with the omega-3 fatty acids, increasing your inflammation (nih.gov).
Fish and jaggery should not be consumed together, as it causes side effects. If you have ulcerative colitis, avoid consuming jaggery. Jaggery tea relieves migraine and helps you overcome stress management. The tea can also treat headaches.
If you have some joint pain, Jaggery tea has essential nutrients like vitamins and minerals that reduce joint pain and any bone-related issue. The tea also aids in lowering the stiffness in the bones.
How to make Jaggery tea
Add 3/4 cup water to a pot, 1/2 teaspoon dry ginger powder, and two crushed cardamoms. Bring to a boil.
Add two teaspoons of tea leaves.
Bring to a boil and simmer for 3-4 minutes.
Add 1/2 cup milk and simmer for 2-3 minutes. Strain the tea well.
Add two teaspoons of jaggery powder to a cup. Add strained tea and mix well.
Serve jaggery tea hot. To make strong tea,  use less milk and brew the tea for a long time. For lighter milky tea, use 1/2 cup water, and 1/2 cup milk.
How many cups of Jaggery tea can you drink?
You can have up to four cups of Jaggery tea. Around 10 grams of jaggery is enough for daily consumption. Due to the sugar in tea, keep a count of cups they have daily. 
FAQs
How to prevent Jaggery tea from curdling?
When making this tea, you should not add jaggery to simmering tea like you add sugar. Simmer the tea, strain, and let it cool for a few seconds. Add jaggery and mix well. If you try adding jaggery to hot milk, the milk will curdle immediately due to the acidic nature of jaggery.
Is jaggery tea good for your health?
Jaggery is a better alternative to sugar since it is unsweetened and unprocessed. Jaggery tea can help you enjoy its health benefits, without compromising on the taste. Organic jaggery promotes a healthy lifestyle by giving out nutrients that improve immunity, fight anemia, and keep a check on your weight. Jaggery tea is healthier than sugar as it contains vitamins and minerals like phosphorus, iron, magnesium, and potassium (indianexpress.com).