What is Kukicha tea?
Kukicha is a Japanese tea made from the twigs and stems of the black tea and green tea plant. Kukicha, a twig or 3-year tea, is aged after harvest and roasted. Kukicha tea consists of stems and branches in the tea plant for at least three years, so they have lost all of the caffeine. Unlike other teas, Kukicha has the tea plant's stems and twigs, not the leaves.
Kukicha tea is between 0.5 and 1% caffeine, but it should have absorbed all the properties and vitamins of nature around them. Kukicha tea has a unique flavor that tastes sweet, creamy, and nutty. It is rich in vitamins and minerals and has a high calcium content. Note a cup of tea kukicha contains up to 13 times more calcium than a glass of milk.  
Chemical properties of Kukicha tea
Polyphenols reduce the effect of free radicals before they cause any harm to the skin. Kukicha tea is rich in antioxidants which protect cell tissues from the damaging effects of oxygen. That way, you get healthy skin.
Kukicha tea is high In L-Theanine. L-theanine is an amino acid, found in tea with multiple health benefits. It induces feelings of calmness, reducing anxiety and stress, without causing drowsiness. L-theanine moderates brain activity, enhancing alpha brain wave activity (nih.gov). 
Kukicha tea is also high in antioxidants such as polyphenols and tannins. Polyphenols are associated with multiple health benefits, due to their antioxidant powers. Kukicha contains high levels of tannin known as ellagitannin, which has anti-inflammatory and antioxidant effects that reduce damage in the body and minimize the development of chronic diseases. It decreases levels of inflammation to protect against diseases (healthline.com).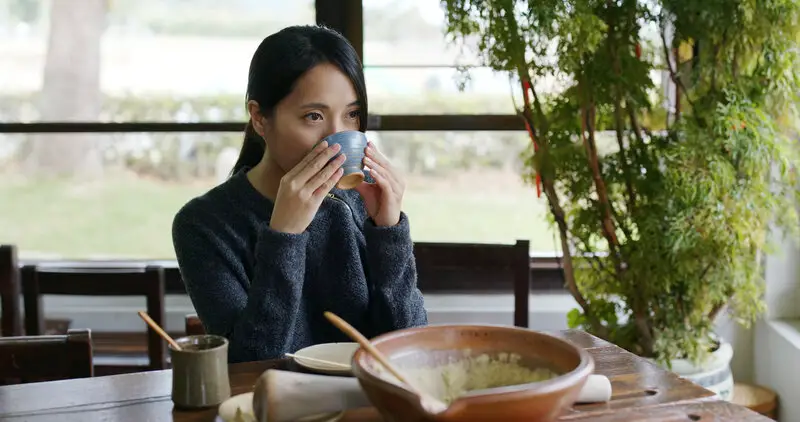 Nutritional Facts Kukicha tea
This tea contains vitamins A, B1, B2, B3, and C. It is also a source of copper, calcium, selenium, manganese, fluoride, zinc and catechins, flavonoids, and amino acids. The polyphenols help fight cancer that is in green tea. 
It has one of the highest levels of calcium. Calcium supports strong, healthy bones and teeth (aaos.org). It also helps in muscle control and blood circulation. Vitamin C is an antioxidant for protecting the immune system and taking care of skin and eye health. You have minimal risk of oxidative stress and cellular damage.
Benefits of Kukicha tea
Kukicha tea comes with all the benefits and properties of green tea and multiple antioxidants without theine. It is an alkalizing drink with a higher pH level than standard water (healthline.com). It neutralizes acidity and tannins, contributing to the digestion of grains and vegetables. Balancing pH levels helps prevent diseases.
Kukicha tea prevents cancer. The antioxidant compounds in green tea are effective enough against cancer cell lines, including breast, skin, lung, oral, intestinal, colon, prostate, pancreas, and liver cancers. Green tea stops the growth of cancerous tumors and prevents cancerous cells from forming. 
It also controls blood sugar, working in the prevention and treatment of type 2 diabetes. It increases the rate of glucose metabolism in humans and lowers blood sugar. It reduces the risk of chronic diseases such as cancer, heart disease, and neurodegenerative diseases.
Kukicha tea helps your digestive system. Drinking Kukicha tea during the day keeps you hydrated and promotes the growth and healthy activity of gut bacteria that aid digestion. The tea supports dental health. Since it contains calcium and fluoride, it prevents cavities and maintains healthy bone tissue and tooth enamel.
All the mineral contents in Kukicha tea strengthen the outer surfaces of the teeth weakened by acid. Fluoride also prevents harmful bacteria and plaque build-up in the mouth.
Potential downsides
Since green tea contains high levels of tannins, it disturbs iron absorption. If you have low iron but still want to enjoy Kukicha and other green teas, try supplementing with iron-rich foods. Drinking twig tea between meals could lessen the effects of hinder iron absorption.
Due to its health benefits, you can add small quantities of this tea into your child's juice so that they benefit from kukicha tea. Since it contains little caffeine, it brings little or no harm to the consumer. Since it is rich in nutrients and health benefits, this tea becomes part of your daily diet.
How to make Kukicha tea
Boil the water and add one teaspoon of kukicha. 
Let it brew in the water for about 2-3 minutes, and pour it into your cup. 
Serve with or without milk and honey.
Kukicha is steeped in water between 70 and 80 °C. Oversteeping or steeping too hot results in a bitter, unsavory brew. Kukicha tea uses the leftover stalks after the buds and leaves are harvested. The stalks, stems, and twigs are then blended and cut. The stems are withered and dried to make a powder.
How many cups of Kukicha tea can you drink?
You can drink as many cups as you want. Kukicha tea can be taken hot or cold but works better for breakfast. It brings a lot of energy without compromising your health. It can also be a digestive after meals. Since it has no caffeine, it can be taken any time of day, even after dinner, without running the risk of losing sleep. 
FAQs
What Does Kukicha tea taste like?
Kukicha taste like sweet tea. Its unique flavor consists of a nutty, woody aroma and creamy body. Its taste can be enjoyed without additionals, but you can still sweeten it with milk and honey.
How much caffeine does it have?
It has minimum caffeine content since the stems and twigs have less caffeine. It measures about 25 milligrams of caffeine in one eight-ounce cup. That is 90% less than an eight-ounce cup of coffee, which can have up to 200 mg of caffeine.
What is the best temperature to brew Kukicha?
The ideal brewing temperature is between 158 to 176 degrees Fahrenheit.
What are the advantages of drinking Kuchika tea?
It has multiple vitamins, minerals, and other natural compounds that promote health. It reduces the risk of chronic disease, helps digestion, supports healthy bones and teeth, defends the body against damaging oxidants, and alkalizes it.
Is Kukicha safe for pregnancy?
Yes, but it has to be a limited intake. What makes it safe during pregnancy are the vitamins, minerals, and antioxidants which helps relieve constipation. However, consult your doctor and other health care advisors before enjoying Kukicha during pregnancy.