Lapsang souchong tea is known for its bold, smoky flavor, a treat for some tea drinkers but may be too strong for others. If you are a fan of Lapsang Souchong but are looking for something with a similar flavor profile that is milder or more nuanced, several alternatives may suit your taste. This article will introduce you to some of the best Lapsang Souchong alternatives, including their flavor profiles and unique characteristics. Whether you are looking for a tea with a similar smoky flavor but a less intense aroma or you want to try a tea with similar notes but made from different tea leaves, there's an option for you.
Who shouldn't drink lapsang souchong tea
If you are sensitive to caffeine, you should not drink lapsang souchong tea. Among caffeine's effects are restlessness, insomnia, headaches, increased urination, irregular heartbeat, nausea, vomiting, and tremors (Medlineplus.gov). 
Lapsang Souchong tea falls under the Black Tea category, meaning there is a risk involved in consuming large quantities of the tea because of its high caffeine levels. If you have any of the above symptoms or suffer discomfort after drinking Lapsang, you should not have it.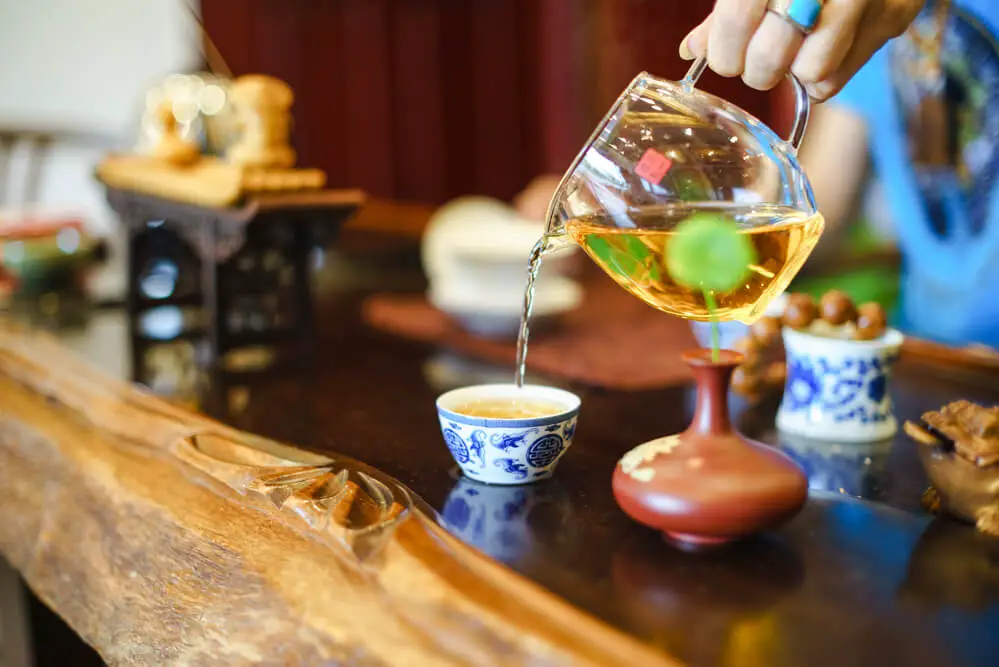 What is lapsang souchong tea good for
It is for heart disease, cancer, and diabetes. It also contains compounds that enhance mood and brain function. Lapsang Souchong benefits the mind, body, and soul. It takes care of your mental well-being. When it comes to boosting the immune system,  try lapsang souchong tea. 
Lapsang souchong tea is good for strokes and heart complications. It boosts your immune system due to L-theanine. It helps to prime the body for attacking bacteria, viruses, and fungi. Tea enhances brain function. If you are more concerned about the health of your teeth, try this tea. 
This tea works for weight loss because it boosts the metabolism of fat cells, allowing the body to burn fat more quickly and efficiently. Lapsang souchong tea reduces stress and diabetes. The same chemical compound that boosts the immune system can also reduce stress levels, reducing the risk of developing type-2 diabetes.
Chronic stress disrupts your sleep and blood sugar levels, leading to increased hunger and gaining unhealthy levels of body fat (Nutrisense.io). Lapsang Loose Tea is there to stop stress. This tea contains L-theanine, which stimulates the brain while maintaining a state of calmness.
What does lapsang souchong tea taste like
It has a sweet, refreshing, smoky flavor unique to this tea. It contains the flavor of pine resin since pine needles and wood are burned to smoke and dry the tea while crafting lapsang souchong. The taste is also light and delicate. You might enjoy the tea if you enjoy warm, roasted flavors with notes of a pin. It tastes like a smoked sausage cooked over burning pine wood. 
How do they make lapsang souchong tea?
Place one teaspoon of Lapsang Souchong into an infuser and place it into a teacup.
Boil the kettle to 100°C and pour the water into the teacup.
Let the tea leaves brew for 3-5 mins and remove the infuser. For the first time, you brew the tea, start tasting for two minutes and then continue to taste every 30 seconds.
Enjoy your tea.
Is lapsang souchong bad for you
 No, but some varieties of Lapsang Souchong can be carcinogenic. The pine smoke processing method used to create lapsang souchong does not comply with some food safety standards. Pinewood smoke has carcinogenic properties, so some tea shops in Europe and the United Kingdom do not offer lapsang souchong.
Is Lapsang Souchong high in caffeine?
No, it is less caffeine since the Lapsang souchong leaves are larger and more aged than most black teas. Lapsang Souchong contains moderate amounts of caffeine.
Is Lapsang Souchong good for weight loss?
Yes, since it boosts the metabolism of fat cells, which enables the body to burn fat quicker.
What does Lapsang tea smell like?
It smells like smoky bacon and pine. 
Is Lapsang Souchong the same as Russian Caravan?
No. Lapsang Souchong is a smoked tea, whereas Russian Caravan combines Lapsang Souchong with another black tea. Lapsang souchong and Russian Caravan are two types of tea that are often compared to each other due to their similar flavor profiles. Both teas are known for their smoky, bold flavors, achieved through drying and smoking the tea leaves over burning pine or other woods.
However, there are some key differences between the two teas. Lapsang souchong is a black tea native to the Fujian province of China. At the same time, Russian Caravan is a blend of black teas that is typically made with a combination of teas from India, China, and sometimes other origins. Russian Caravan is named after the tea caravans traveling from China to Russia along the Silk Road. The blend is designed to mimic the flavor of the teas traditionally traded along this route.
Overall, while Lapsang souchong and Russian Caravan have some similarities in flavor profiles, they are not the same tea. Lapsang souchong is a single-origin black tea from China, while Russian Caravan is a blend of black teas from various origins.
Lapsang souchong tea Alternatives
Oolong tea
Oolong tea and Lapsang souchong black tea are made from oolong tea leaves that are withered for 12 hours before rolling. The leaves must have one bud and two tips. Lapsang souchong green tea steams fresh oolong leaves during the wilting process.
Oolong tea is a whole-leaf tea. Its oxidation ranges from 10% to 80%, depending on the variety of the oolong tea. The process changes the flavor and strength. Oolong teas are fragrant, smooth, and sweet. It tastes like stone fruits, like apricots. Oolong tea is for weight loss, may increase your energy levels, and lower your blood sugar.
Pu-erh tea
Puerh is a fermented tea that aids in digestion. It cleanses toxins and free radicals. It also improves your heart health because it contains statins that lower cholesterol. Breastfeeding and pregnant women should also limit their caffeine intake to about 300 mg per day or avoid it at all costs. 
It is amongst brewed teas that are naturally calorie-free or extremely low in calories. However, add sugar or cream to increase the calorie content of your tea. Pu-erh tea has the highest amount of caffeine which may be toxic to your body. 
Russian Caravan Tea
Russian Caravan is a blend of two or more different teas. This tea combines equal parts of Lapsang Souchong and black tea. Russian Caravan is slightly lighter and mellower than Lapsang, with the smoky notes balanced out by black tea. Russian Caravan may also contain small amounts of oolong tea or another black tea, depending on the blend. Russian Caravan is slightly lighter and mellower than Lapsang, with the smoky notes balanced out by black tea. 
Keemun Tea
Chinese black teas are from camellia Sinensis var. Sinensis varietal. These types of tea plants have been cultivated in China. They tend to have smaller leaves than indigenous Indian tea plants and brew up into a lighter, mellower tea with less caffeine.
China Keemun is a Chinese black tea with a medium body. This tea brews up into a beautiful reddish amber color. When blended with Lapsang Souchong to make Russian Caravan, the mellow notes of this tea pair well with the bold smokiness of Lapsang for a flavorful, balanced blend. 
Earl Grey tea
Earl Grey tea is a tea blend flavored with bergamot oil. The rind's fragrant oil is added to black tea to give Earl Grey a unique taste. It can be served without milk, depending on your preference. Some blend the tea with lapsang souchong tea for a smoky character. 
It has cardiovascular, digestive, and cancer-preventive benefits. However, it causes drug interactions.