Discover the holistic benefits of Moringa tea, which can revitalize the body, mind and spirit. It boosts energy, strengthens the immune system, aids digestion and promotes vitality – a powerful way to stay healthy. Whether you love tea or want to improve your well-being, moringa tea should be your companion. Stay tuned as we uncover the secrets of this ancient herbal treasure and share knowledge and insights for a healthier, more vibrant life. Embark on an exciting journey and discover the amazing properties of Moringa tea, a natural elixir that can improve your well-being.
Moringa Tea Nutrition Facts
Moringa leaves are often harvested because they provide the drinker with an abundant source of vitamin C. The leaves are made into tea to avoid losing the vitamin during drying.
The average cup of moringa tea is very healthy. Nutritionally it contains:
0 Calories
0 grams of Protein
0 grams of Fat
0 grams of sugar
1 gram of Carbohydrates
1 gram of Fiber
What is Moringa tea good for?
Cough
Moringa has powerful anti-inflammatory properties that can help reduce inflammation in the lungs. Consumers sometimes consume this to help fight the infection in the body that is causing a cough. Drinking this tea positively affects the immune system within a few days.  
Weight
As Moringa leaves promote fat breakdown, they can improve your quality of life through weight loss. Animal testing has proved that Moringa leaves reduce fat formation and enhance fat breakdown. These tests have not been reliably tested on humans; however, Moringa powder is believed to help manage diabetes, hypertension, and asthma.
Pregnancy
Moringa can be taken during pregnancy to help lessen the effects of health issues such as anaemia, allergies, thyroid conditions, migraines, gastrointestinal problems, ulcers, and infections. Moringa tea is drunk to encourage newborn baby growth. The tea also helps reduce stress levels in the mother's body by breaking down cortisol. The tea also can quickly resolve digestive problems commonly associated with pregnancy.
Lactation
Once the mother gives birth, she can continue to drink Moringa tea, which helps stimulate milk production in the breasts. It will also help prevent burnout, and Moringa tea offers a nutritious energy boost to the drinker.
Hair
People who suffer from hair loss conditions such as alopecia often drink Moringa tea to help rejuvenate their hair. Moringa tea leaves are saturated with amino acids. These nutrients are essential building blocks of cells. The tea can activate dormant hair follicles. Drinking the tea will help enhance hair growth in bald areas because it has high levels of Biotin.
Energy
Moringa tea has a healthy combination of nutrients that helps to reduce stress and boost energy. A coenzyme called NADH is mainly responsible for energy production in the cells. Drinking this tea will help you with improved energy that doesn't lead to a crash like caffeine-induced energy. It also does not give the drinker any jitteriness or anxiety.
Can Moringa reduce belly fat?
There is evidence that moringa may have potential benefits in weight loss, including reducing abdominal fat. Animal and test tube studies have shown that moringa may reduce fat formation and promote fat loss [1]. In a study of mice fed a high-fat diet with moringa concentrate, there was less weight gain, improved glucose tolerance, and better insulin signalling [3] compared to the control group.
While there are few human studies on the specific effects of moringa on abdominal fat loss, some sources mention the use of moringa tea for weight loss and abdominal fat reduction [8]. Drinking moringa tea promotes fat loss, regulates blood sugar levels, helps lower blood pressure and cholesterol, inhibits inflammation, and promotes heart health. However, it should be noted that further research is needed to fully understand the effects of moringa on abdominal fat loss in humans.
It is worth noting that weight loss and belly fat reduction requires a combination of factors, including a balanced diet, regular exercise, and an overall healthy lifestyle. Moringa tea or other Moringa products should not be considered the sole solution to achieving these goals. It is always recommended to consult a physician or nutritionist before adding new supplements or products to your weight loss program.
Is Moringa tea better than green tea?
Moringa tea is considered to have several nutritional benefits over green tea. In comparing moringa and matcha, moringa contained all nine essential amino acids and provided greater amounts of fibre, protein, calcium, iron, vitamin A, vitamin C, and vitamin E [6]. Moringa is also reported to contain seven times more vitamin C than oranges, ten times more vitamin A than carrots, 17 times more calcium than milk, nine times more protein than yoghurt, 15 times more potassium than bananas, and 25 times more iron than spinach [1]. These nutritional properties make moringa a nutrient-rich option.
However, it's important to know that green tea also has health benefits. Green tea contains catechins and caffeine, which can enhance the body's ability to burn calories, promote digestion, and produce heat, promoting weight loss [3]. Green tea has various health benefits, including reducing the risk of heart disease, lowering high cholesterol and high blood pressure, and preventing ovarian cancer and diabetes [3][7]. In addition, green tea leaves can be used for cooking and impart a flavour similar to spinach [3].
In taste comparison, moringa tea has a pleasant aroma with lighter notes and a sweet aftertaste. On the other hand, the taste of green tea can vary depending on the variety, with roasted green tea tasting more sweet and steamed green tea having a bittersweet taste.
Can I drink Moringa tea on an empty stomach?
Moringa tea has high levels of acidity that can contribute to ulcers and heartburn if drunk on an empty stomach. The leaves come in various forms, most popularly as a powder that can be mixed with hot water or added to a smoothie. The seed extracts of Moringa can lead to toxicity in immune cells. It is important to note that high acidity levels in Moringa tea can contribute to ulcers and heartburn, especially for individuals prone to digestive issues. However, many people have found that taking Moringa with food can be slightly easier on the stomach [7]. Therefore, consuming Moringa tea with or after a meal is recommended to minimize the risk of potential digestive discomfort.
Does Moringa have side effects?
Moringa tea can be drunk with almost no side effects. Moringa tea has many healthy properties that boost a person's standard of living. Consuming the bark of a Moringa tree, however, is not advisable. The human body can experience Uterine contractions from moringa bark. The adverse side effects of this bark can lead to cell mutations. The mutations can cause interference with fertility. Due to laxative properties, you can also experience an upset stomach, gas, or diarrhoea. It is important to note that potential side effects are associated with other parts of the Moringa tree. Here are the correct details regarding the potential side effects of Moringa:
Moringa Bark: Consuming the bark of the Moringa tree is not advisable as it can cause uterine contractions and may interfere with fertility [3].
Roasted Moringa Seeds: Chemicals isolated from roasted Moringa seeds have been found to cause cell mutations, which could be a concern [3].
Laxative Properties: Moringa possesses laxative properties, meaning consuming it in large quantities or sensitive individuals may experience an upset stomach, gas, or diarrhoea [6].
It's important to note that reactions to moringa can vary from individual to individual, and it's always a good idea to consult a physician before adding a new supplement or herbal remedy to your routine.
Should I take Moringa in the morning or at night?
Moringa can be beneficial if taken in the morning or before bedtime. It contains energizing antioxidants that can ensure a productive start to the day when taken in the morning. The tea also reduces anxiety and stress and allows for deep sleep when consumed before bedtime. It is important to clarify that the effects of moringa can vary from person to person. Some people find that taking Moringa in the morning helps them to have more energy and gives them a productive start to the day. Others, however, prefer to take it before bed to relax and sleep better.
It's recommended to listen to your body and experiment with different times of the day to find out when Moringa works best for you. Also, it's always a good idea to consult a doctor or follow the product instructions for the specific Moringa supplement you're using.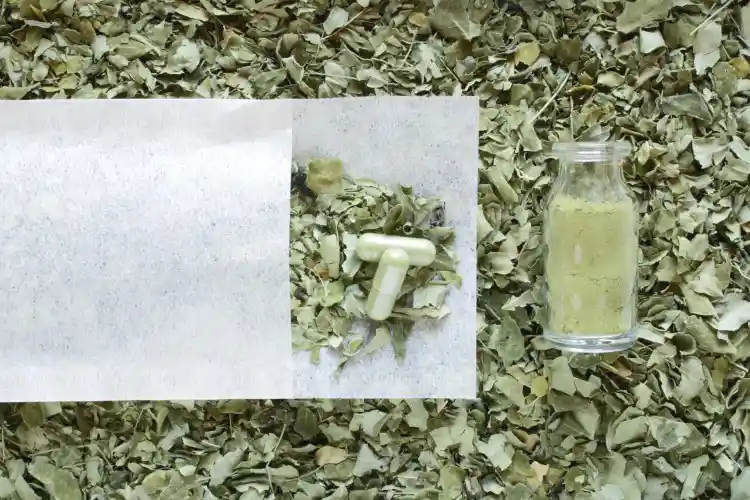 Can I boil Moringa leaves and drink the water?
To prepare Moringa tea, clean the leaves and boil them in water for a few minutes. To boil moringa leaves and drink the water, follow these steps:
Obtain fresh Moringa leaves and remove any dirt or debris from them.
Let the leaves dry up or consider grinding them into a powder for future use [7].
Bring a pot of water to a boil over medium heat.
Add the Moringa leaves to the boiling water. You can use approximately 10-15 leaves or one teaspoon of Moringa powder for every 3 cups of filtered water [3].
Cover the pot and reduce the heat to simmer for about 15 minutes [3].
After simmering, strain the liquid to separate the Moringa leaves from the tea.
You can sweeten the tea with honey or other sweeteners [2].
Enjoy the freshly prepared Moringa tea.
While boiling moringa leaves and drinking water is a common preparation method, there are other ways to consume moringa, such as using moringa powder in smoothies, salads, or other recipes. It is important to consult a physician or read the product instructions for the moringa leaves or powder you use to ensure proper use and dosage.
What's the best time to drink Moringa?
Moringa tea is often drunk in the morning. It is a highly energizing drink that is best taken to start a productive day. Moringa tea is known for its energizing properties, and consuming it in the morning can help boost energy and kick-start the day [6].
What does Moringa do to females?
Moringa tea offers a rich source of Vitamin B to women. Studies show women who drink Moringa tea experience positive effects on their fatigue and stress. Women also experience enhanced cognitive function. While Moringa tea does offer a rich source of Vitamin B and may have potential benefits for fatigue and stress [6], it is important to note that the effects of Moringa can vary among individuals and more comprehensive research is needed to draw definitive conclusions about its specific effects on females.
Moringa is a nutrient-rich plant that contains vitamins, minerals, and antioxidants. Some potential benefits of Moringa for females may include:
Nutritional support: Moringa is rich in essential vitamins and minerals for overall health, including calcium, iron, and magnesium. These nutrients can contribute to healthy bones, blood production, and hormonal balance.
Hormonal balance: Moringa may help support hormonal balance in females. Some studies suggest that Moringa leaves may impact estrogen levels, help regulate menstrual cycles, and alleviate symptoms associated with hormonal imbalances [2].
Antioxidant properties: Moringa is known to have high antioxidant content, which can help protect against oxidative stress and inflammation. This may benefit overall health, including supporting skin health and reducing the risk of chronic diseases.
Potential lactation support: In traditional medicine, Moringa has been used to support lactation in breastfeeding women. While more research is needed, some studies suggest that Moringa leaves may positively impact milk production and quality.
It's important to note that individual responses to moringa may vary, and it's always advisable to consult a physician or nutritionist for personalized advice. They can advise you on proper dosage, possible drug interactions, and special considerations for individual health conditions or circumstances.
Does Moringa detoxify the body?
Moringa, also known as Moringa oleifera, is traditionally used for its medicinal and nutritional properties. Here is a more comprehensive answer to the question about the detoxification potential of Moringa:
Antioxidant properties: Moringa is rich in antioxidants, such as flavonoids, polyphenols, and vitamin C. These antioxidants help combat oxidative stress and protect the body's cells from damage caused by free radicals.
Nutritional support: Moringa is highly nutritious and contains various vitamins, minerals, and amino acids important for overall health. Providing the body with adequate nutrition can support its natural detoxification processes.
Liver support: The liver is the primary organ responsible for detoxification in the body. Preliminary research suggests that Moringa extracts may help protect the liver against damage caused by certain substances and support its repair process [4].
Anti-inflammatory effects: Chronic inflammation can contribute to the development of various diseases. Moringa contains compounds with anti-inflammatory properties that may help reduce inflammation in the body [2]. By reducing inflammation, Moringa may indirectly support the body's detoxification processes.
Does Moringa make you sleepy?
Reducing the power of these hindrances can contribute to improved sleep quality. Moringa tea can help reduce anxiety and stress by breaking down cortisol. The drink doesn't make you sleepy; it offers an energy boost. You also expect moringa to:
Moringa's effect on sleep: There isn't a direct consensus on whether Moringa makes you sleepy. One source suggests that Moringa may help regulate blood sugar levels, indirectly improving sleep quality over time [3]. However, it doesn't specifically state that Moringa makes you sleepy.
Stress reduction: Moringa tea has been mentioned as a potential stress-reducing beverage. It is believed to help reduce stress levels by breaking down cortisol, a stress-related hormone [4]. While this information is related to sleep, it doesn't directly answer whether Moringa makes you sleepy.
Can Moringa cause kidney damage?
Moringa tea is harmless to the kidneys. Moringa bark is, however, dangerous and not fit for human consumption. It can affect your kidneys with uterine contractions.
Lack of evidence on kidney damage: No specific mention or scientific evidence suggests that Moringa causes kidney damage in the search results provided. The information seems to focus on Moringa's potential benefits and uses, but there is no explicit mention of kidney damage.
Moringa bark: One result suggests that it is not fit for human consumption and can affect the uterus, but it doesn't specifically address kidney damage [2]. It's important to note that the query specifically asks about Moringa, not its bark.
How many cups of Moringa tea can I drink a day?
While there is no specific dosage recommendation for moringa tea, it is considered safe for most people when consumed in moderation. As with any herbal tea or dietary supplement, it is advisable to consult a physician before incorporating it into your daily routine, especially if you suffer from health problems or are taking medication.
Since there is no specific information on the optimal number of cups of moringa tea per day, it is best to start with moderate consumption and observe how your body responds. Start with 1-2 cups daily and observe any side effects or changes in your well-being. It is important to listen to your body and adjust your intake accordingly. You should consult a doctor if you have any concerns or suffer from any particular health conditions.
Conclusion
Moringa tea offers holistic benefits that revitalize the body, mind and spirit. It boosts energy, strengthens the immune system, aids digestion and promotes vitality. Moringa tea positively affects cough, weight management, pregnancy, lactation, hair growth and overall energy levels. Compared to green tea, Moringa tea offers higher nutritional value with essential amino acids, fibre, protein, vitamins and minerals. Moringa tea should be consumed responsibly and in moderation. Possible side effects may occur with excessive consumption or certain parts of the Moringa tree. It is advisable to consult a physician before adding new supplements to your routine. Enjoy Moringa tea as part of a balanced and healthy lifestyle to enhance your well-being.