What is Oatstraw tea?
Oatstraw tea comes from the grasses that produce oatmeal. It strengthens bones, soothing the nervous system, stabilizes blood sugar, and relieves stress. Add honey, but drinking it plain does not compromise its nutritional value.
Oats are grains from the seed, whereas oat straw comes from the stems and leaves. Oat straw comes from the unripe Avena sativa plant. It is sold as a tincture but can also be powder and capsule. 
Chemical properties of Oatstraw
Oatstraw is a nervine herb, and its properties help calm the nervous system. The oat straw extract soothes feelings of stress and anxiety. Oatstraw is high in iron, manganese, and zinc, and these minerals are beneficial for the body. 
Also, oat straw reduces levels of pro-inflammatory cytokines. These are chemical compounds that are involved in the development of psychiatric disorders. It also helps brain activity. (motherlove.com)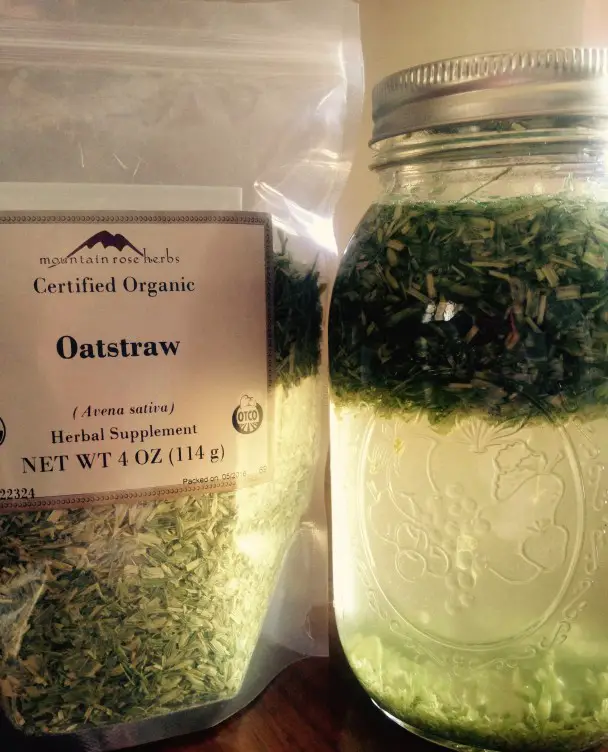 Nutritional Facts Oatstraw
Oat straw works as a relaxant and sleep aid. It calms the nervous system and relieves anxiety. It carries a high nutritional value and is rich in silica, potassium, iron, vitamin A, vitamin C, dietary fiber, and antioxidants.
Oatstraw tea has Folic acid that supports the formation of red blood cells and promotes cell growth. The tea fights oxidative stress due to B-complex vitamins and silica content. Vitamin B-1 helps in energy production and metabolism. 
Niacin reduces the risk of heart disease, lung injury, and cancer. That nutrient controls cellular signaling and works in DNA production. Oat straw tea is high in iron, phosphorus, magnesium, and selenium. The proteins help build and preserve muscle, support healthy energy levels, and regulate metabolism (healthline.com).
Benefits of Oatstraw
Oatstraw tea strengthens bones, soothes the nervous system, keeps your blood sugar level, relieves depression by nourishing your pancreas, liver, and adrenals, and keeps your teeth strong. It is rich in silica and vitamins, strengthening your teeth (verywellhealth.com). 
Oat straw tea is a natural stimulant and a brain booster. It lowers cholesterol and improves circulation by making your blood vessels more elastic. It also improves brain function in adults and heart health. It is also rich in phytonutrients and fiber.
Oatstraw tea boosts your mental performance. If you are struggling with your sleep, try Oatstraw tea, as it promotes relaxation, leading to better sleep. It improves your blood flow. 
Oatstraw tea improves your memory and increases your concentration because of its antioxidants. It gets rid of cholesterol and maintains healthy blood pressure without getting high.
Potential downsides
Oat straw is gluten-free, but there may be a risk of cross-contamination during processing. That is why you need to avoid gluten unless you buy oat straw extract that is certified gluten-free. Do not be surprised if you experience bloating, anal, and skin irritation. These are some of the side effects of oat straw tea. 
Children with atopic dermatitis have a higher risk of experiencing signs of a skin allergy when using products containing oats. Avoid using oat-based products on young children, especially infants. Its high silica and magnesium content makes it safe to consume if you are pregnant or nursing, but you still need to consult your doctor before adding it to your diet.
How to make Oatstraw
To make the Oatstraw tea, weigh 1 ounce of the herb, put it in a quart mason jar, fill the jar with boiling water, cover it with a tight lid and let it steep for 4-8 hours. Strain the infusion, squeeze the herb and drink the quart within 24-48 hours. Store in the fridge.
Making Oatstraw tea is a straightforward process that takes about 5 minutes. However, you spent more minutes straining after it steeps for 4-8 hours. You can make your tea overnight before and let it sleep on the counter. In the morning, it is ready to drink. You can still make it in the morning if you want to have it in the afternoon.
For a tasty cup of tea, season with sweeteners, milk, or any other additions. Take the dose in 1-2 cups a day. You can have it hot, chilled, or at room temperature. Do not exceed its limits. 
Pregnant women only take 4 to 5 cups oat straw tea daily. If you have an allergy or are intolerant to gluttons, consult your doctor before taking any herbal medication like oat straw tea, you might end up having unhealthy symptoms.
Steps
Put the oat straw in a saucepan with a lid.
Pour boiling water over the herb.
Add up to 3 teaspoons of dried oat straw to a cup filled with boiling water. If you want it strong, let it sit for 4 to 6 hours to pull the minerals into the solution.
Strain it out. Making it before you go to bed and straining it in the morning yields better results but if your time is limited, let it soak for about 15 minutes. 
How many cups of Oat Straw can you drink?
Strain and drink 1-3 cups daily. To make the tea, add 2-3 tablespoons of oat straw per liter of water and simmer gently for 10 to 20 minutes. Take 700 mg of oat straw extract 1 to 3 times per day. Take a meal first and at least 8 oz of water. Follow alternative dosage instructions from your doctor.
FAQs
How much calcium is in Oatstraw tea?
A cup of oatstraw infusion contains about 0.3-0.6 milligrams of calcium and other minerals. Its steroidal saponins nourish the pancreas and liver, improving digestion and stabilizing moods. According to the USDA, 100 g of dried oat straw contains about 37 mg calcium. One cup of brewed oat straw tea is made from 1-2 g of dried herb and contains less than 1% of the daily calcium requirement, i.e., about 0.4 to 0.8 mg.
Is Oat Straw good for hair?
Yes, it is good for the hair.  It is a nourishing herb with vitamins and minerals that helps with thinning hair. Oat straw also helps with itchiness and dandruff. The herb is in supplement form, as a tea, or it can be applied directly to the scalp.
What vitamins are in oat straw?
Oat straw is rich in vitamins A, C, E, K, & B-complex. It also contains minerals such as iron, calcium, magnesium, silica, and zinc.
Does oat straw contain caffeine?
Oatstraw is a natural herbal which does not contain caffeine. It is a caffeine-free energy booster. It belongs to the organics family as it only includes oat straw extract, a natural energy booster with no sugar or caffeine.