What is Raspberry Leaf Tea?
Red raspberry leaf tea comes from a raspberry plant. It is a remedy for pregnant and postpartum women and has gained popularity due to its medicinal benefits. Raspberry leaf tea does not taste like raspberries. 
It tastes like black tea. Its tea leaves are for health benefits during and after pregnancy. That includes boosting milk supply in lactating women and inducing labor in pregnant women. However, the herb may be harmful in some cases, but it has more advantages than disadvantages. 
Raspberry leaf tea is a herbal remedy for pregnancy, labor, and birth. You may consider using this beverage to help with the labor process but also understand its effectiveness. You should be able to tell if it provides aid during labor and birth.
The remedy contains vitamins, minerals, and other compounds that may possess anti-inflammatory and antioxidant properties. Its uses go beyond the pregnancy, which is why this article explains the health benefits of red raspberry leaf tea, its possible risks, and how to prepare it.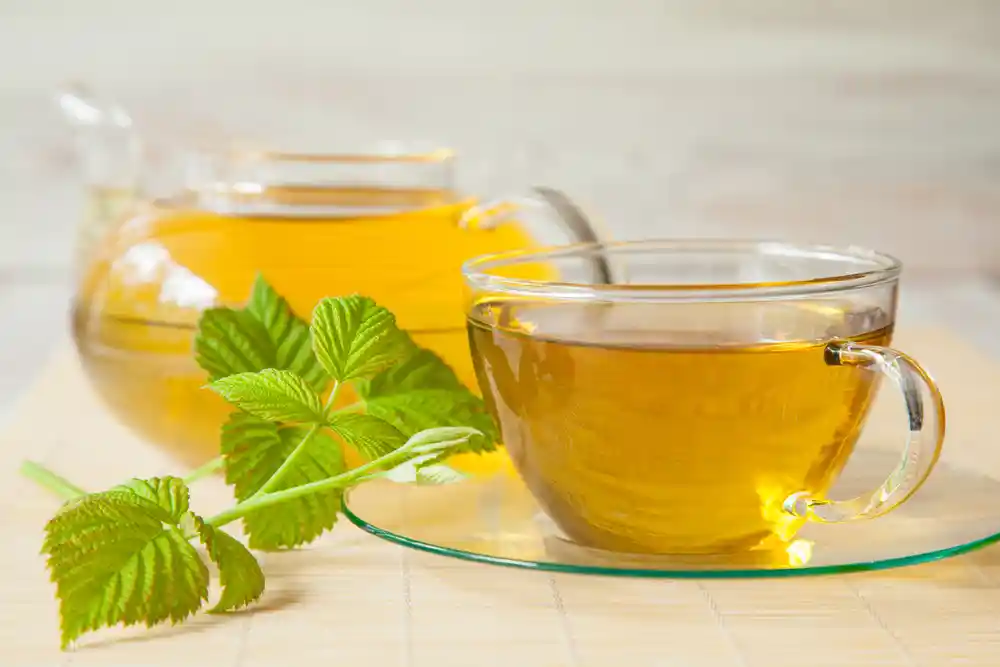 Chemical properties of Raspberry Leaf Tea
Raspberry leaves contain high amounts of polyphenols and are also a source of natural antioxidants for medicinal uses. Raspberry leaves contain phenolic acids, such as chlorogenic, gallic, ferulic, caffeic acids, and flavonoids, including quercetin and kaempferol-3-O-glucoside (nih.gov). Raspberry leaves contain tannins, flavonoids, phenol carboxylic acids, and sterols.
Nutritional Facts on Raspberry Leaf Tea
A cup of red raspberry leaf tea contains magnesium, calcium, and antioxidants. Red raspberry leaf tea is a source of potassium. Potassium helps keep blood pressure healthy and reduce the risk of stroke. Raspberry leaf is a rich source of vitamins and minerals. It contains polyphenols that are detectable in breast milk.
Red raspberry leaves contain polyphenols like tannins and flavonoids. These are antioxidants in your body that help protect cells from damage. The leaves also contain small amounts of ellagic acids, which neutralise carcinogens and destroy cancer cells (nih.gov). The leaf nutrient profile makes red raspberry leaf tea healthy.
Benefits of Raspberry Leaf Tea
Red raspberry leaf is a remedy for boosting milk production in women breastfeeding. It also improves fat metabolism and weight loss. You can also use it as a detoxifying supplement that improves body composition. These leaves help relieve premenstrual symptoms, such as cramping, vomiting, nausea, and diarrhoea. Raspberry leaf tea helps solve problems associated with menstruation and pregnancy.
Red raspberry leaves contain fragarine, a plant compound that tones and tightens muscles in the pelvic area (clevelandclinic.org). That is how it manages to reduce the menstrual cramping caused by spasms. Unfortunately, there is no standard quantity to drink. However, sipping on raspberry leaf tea may relieve some of the discomforts of your menstrual cycle. Drinking enough tea gives you iron that fights anaemia experienced by women with heavy menstrual cycles.
Potential downsides
Although raspberry leaf tea has many benefits than disadvantages, consult with your doctor before taking it or any other supplement. Consider pregnancy concerns before preparing raspberry leaf tea. Discuss potential risks with your healthcare provider if you are pregnant or breastfeeding a baby. 
Take note of medication interference before you consider taking raspberry leaf tea. Sometimes it interacts with some medications and is avoided. Red raspberry leaf may mimic the effects of oestrogen in the body. Consult your doctor before you start using raspberry leaf tea as a supplement. if you are sensitive to the effects of oestrogen, you can be affected too. 
Consuming red raspberry leaf in pregnancy is, to some extent weak. Raspberry leaves have some toxicity that comes with large amounts of raspberry leaf extract. Red raspberry leaf tea may not be ideal for people with gestational diabetes. They may become hypoglycemic after consuming the tea. 
Hypoglycemia is when your blood sugar level is lower than the standard range related to diabetes treatment (mayoclinic.org). The tea is not for people whose previous labor was three or fewer hours and people who have had a caesarean delivery.
Those who have experienced premature labor and those with any vaginal bleeding in the second half of the pregnancy should not drink raspberry leaf tea. Avoid the tea if you have a history of breast or ovarian cancer, endometriosis, or fibroids. 
When it comes to people expecting a baby in the breech position,  they should not drink raspberry leaf tea benefits. Those with complications or health problems during pregnancy are likely to suffer from high blood pressure. That is why you should avoid consuming tea. When expecting twins, try to avoid raspberry tea. 
For consumption, take 1 to 3 cups a day of red raspberry leaf tea. That is a safe dose. However, the tea may cause contractions, do not consume the remedy before the third trimester. Women should reduce or stop drinking this tea if they experience contractions. Only adults should consume tea. 
How to make Raspberry Leaf Tea
To make a cup of red raspberry leaf tea, take about one teaspoon of crushed or dried raspberry leaves and place it into a cup. 
Pour boiling water into the cup and let it steep for at least 5 minutes. Now you can then drink the tea.
Alternatively, you can follow any instructions on the tea's packaging or buy red raspberry leaf tea bags. These are user-friendly. All you need to do is steep in boiling water for 5 minutes before drinking. This tea is brewed with a fresh raspberry or loose-leaf tea packages from your garden. Tea bags also make brewing simpler and faster. Purchase your tea in grocery stores and local health food stores.
How many cups of Raspberry Leaf Tea can you drink?
Drink 1–3 cups per day. However, you should reduce. It has to be limited to 1 cup during early pregnancy. That gives you enough nutrients and antioxidants that boost your health for both men and women.
FAQs
Can raspberry leaf tea raise blood pressure?
There is a slight rise in blood pressure when consuming raspberry leaf tea. 
Can you drink too much raspberry leaf tea?
No. It causes gastrointestinal upset. Raspberry tea has natural laxative properties that can cause digestive upset. Therefore, taking high doses of the tea or drinking too many cups can cause problems, including diarrhoea and vomiting. Reduce intake to one or two cups of raspberry leaf tea per day.