What is Sencha Green Tea?
Sencha is a traditional Japanese tea that is from steamed green Camellia sinensis. These are healthy tea bushes that are popular for their refreshing flavours. This tea releases vegetal, green, seaweedy, or grassy flavours when boiled for a few minutes. It is a versatile tea that can be served differently depending on the type of sencha and how it is brewed.
Sencha green tea requires the leaves to be freshly collected. When this tea leaf is harvested, consumers process it by steaming the leaves. This feature helps to ensure the tea is protected against oxidization. Oxidization leads to the loss of the green colour and tea flavour. The next part involves rolling, shaping, and drying the Sencha green leaves. 
Sencha tea is also standard in Asian countries such as China and South Korea. Brands from these nations often differ from the Japanese version because of the climates. These differences in tea plants affect the methods used for processing the tea. Consumers enjoy blending Chinese/Korean Sencha for a toasted and nutty flavour. It differs from the grassy taste of Japanese sencha.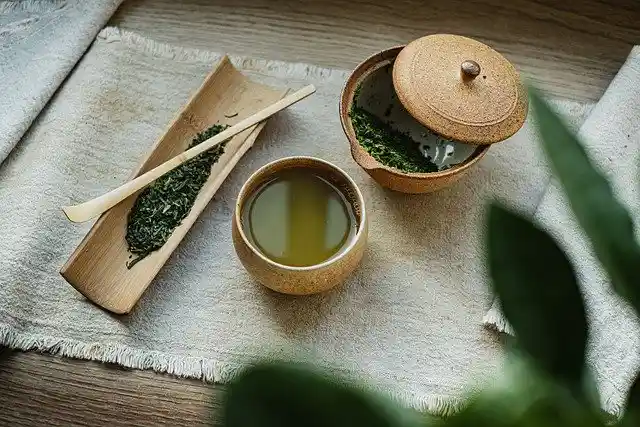 Chemical properties of Sencha Tea
According to the National Center for Biotechnology Information (NCBI), Sencha green tea contains catechins, epigallocatechin, flavonoids and polyphenols. It is heavily saturated with hydroxyl groups, the key to its potent antioxidant properties. The chemical composition of Sencha tea is formed from over ten groups of compounds. The most important chemical components include phenolic acids, polyphenolic compounds, amino acids, proteins and fats.
Nutritional Facts of Sencha
Studies by the NCBI show that Japanese Sencha Green Tea is a very low-carb drink. From one cup of Sencha tea, the consumer will receive
0.1g total carbs 
0g net carbs 
0g fat 
0.4g protein
0 calories
Benefits of Sencha Tea
Sencha tea leaves are known for their numerous health benefits. It is a valuable complement to healthy lifestyles and allows long-term health improvement. 
Free Radicals
Japanese Sencha tea is known for its ability to protect human cells against the presence of free radicals. Free radicals are known for causing harm to human cells. Free radicals are all around us and have the effect of prematurely ageing our organs and tissue. Studies have linked these molecules to DNA damage and cancer development within the body. Sencha tea has a significant level of antioxidants. Antioxidants are helpful for binding to and neutralizing free radicals. Consumers who stock up on antioxidants often see an overall health improvement.
Weight-Loss Benefits
Consumers who are looking to lose weight can make use of Sencha tea. This blend is known for assisting individuals in achieving their long-term weight-loss goals. One cup a day of Sencha green tea contains a healthy amount of caffeine. This ingredient often has the effect of boosting human metabolism. Combined with neutralized free radicals, this feature means the body speeds up. Consumers who drink this tea often report feeling more energy to exercise.
Boosting Immune System
Japanese Sencha tea is an excellent alternative for consumers who seek to improve their immune system. It is a natural alternative used by consumers who suffer from immune deficiency disorders. Boosting your immune system is possible by absorbing the antioxidants, and vitamin C found in Sencha tea. The tea is balanced enough to provide extra functionality in the white blood cells. It is also beneficial to supplement medicine with Sencha tea when experiencing a cold or flu. 
Reduces Cholesterol
Sencha tea reduces LDL. Studies have shown that this harmful cholesterol can be broken down with Sencha tea. Cholesterol has the effect of causing heart disease, meaning that Sencha tea can assist those with a family history of the disease. Incorporating Sencha green tea into your daily routine will make you less prone to the risk of heart disease. The tea helps to regulate the body meaning the effects of high blood pressure and sugar irregularities are also lessened with sencha green tea.
Oral Health
Unlike other caffeinated drinks, studies have found that Sencha green tea can be good for your teeth and oral health. The beverage contains a significant amount of fluoride content; over time, it can improve the health of your teeth. Brushing your teeth daily and combining this with a cup of Sencha tea reduces the risk of your teeth developing cavities. The tea has natural qualities that minimize any unwanted germs in the mouth. Drinking Sencha tea regularly should reduce bad breath and minimize the growth of gingivitis.
Potential downsides of Sencha Tea
Japanese Sencha tea has a small number of tannins in it. This natural compound causes a decline in the absorption of essential vitamins and minerals. It operates similarly to folic acid and iron. Sencha tea has minimal compound levels; however, in excess, tannins can be responsible for significant levels of stomach acids. Drinking too much Sencha tea can cause adverse health symptoms such as nausea, heartburn, and stomach aches.
How to make Sencha Tea
Choose the proper teaware.
Japanese sencha is typically prepared in a 7-14 oz teapot. You can then serve the tea in a small Japanese cup of 3 to 5 oz. It is also acceptable to use a regular cup.
Choose suitable water and boil it.
Sencha green tea has a delicate flavour and bright transparent colour. This needs to be preserved by using Springwater. Boil the fresh spring water before beginning to brew.
Preheat the teaware
Preheating teapots and cups will keep the tea at the appropriate serving temperature. It will reduce the chances of a rapid temperature decline. Water with a temperature of around 158 °F is often ideal for making Sencha. A 9°F difference in tea liquid and teaware can cause the Sencha flavour to fizzle. 
Brew Sencha Tea leaves in the teapot.
You should mix 5 grams of Sencha tea leaves with 7 oz water in the teapot. You can add the hot water directly into the teapot. It is essential to carefully consider how many leaves you use, as this will determine the quality of the flavour experienced. Miscalculating the water to leaves ratio can lead to lower antioxidants in the cup. 
Once poured, allow the tea to brew for 1-2 minutes. It is essential that with each infusion, you reduce the brewing time substantially. You can perform multiple reinfusion for a robust roast.
How many cups of Sencha Tea can you drink?
2-3 cups a day of Sencha tea is often adequate to enjoy the benefits fully. Ideally, consumption should be spread throughout the day to maximize the advantages of the tea.