Tulsi is a well-known plant and tisane in the Indian herbal medicine philosophy known as Ayurveda, one of the oldest types of herbalism. Before the name "adaptogen" existed, people used this adaptogenic tea as "the elixir of life" and consumed it to prolong their lives. It is also known as holy basil, a vital component of many dietary supplements designed to reduce stress. There have been no systematic reviews of human studies on tulsi's clinical efficacy and safety. Here are some more options for tulsi tea that you can always try.
Fennel (Foeniculum vulgare Mill)
It's common to compare the flavor of the seeds and bulb of the Mediterranean fennel plant to that of licorice or anise. So if you enjoy them, fennel also makes a tasty tea that reduces inflammation. Fennel contains many phenolic anti-inflammatory chemicals, just like rose hip does. Caffeoylquinic acid, rosmarinic acid, quercetin, and kaempferol are a few of the most potent ones. According to some studies, fennel may lessen pain, mainly associated with menstruation, because of the plant's entire anti-inflammatory components.
Ginger (Zingiber officinale)
Ginger has more than 50 different antioxidant chemicals, according to research. Many of them reduce your body's synthesis of cytokines, which promote inflammation. Compared to a placebo, ingesting 1,600 mg of ginger decreased fasting blood sugar, total cholesterol, triglycerides, and inflammatory blood indicators, including C-reactive protein (CRP).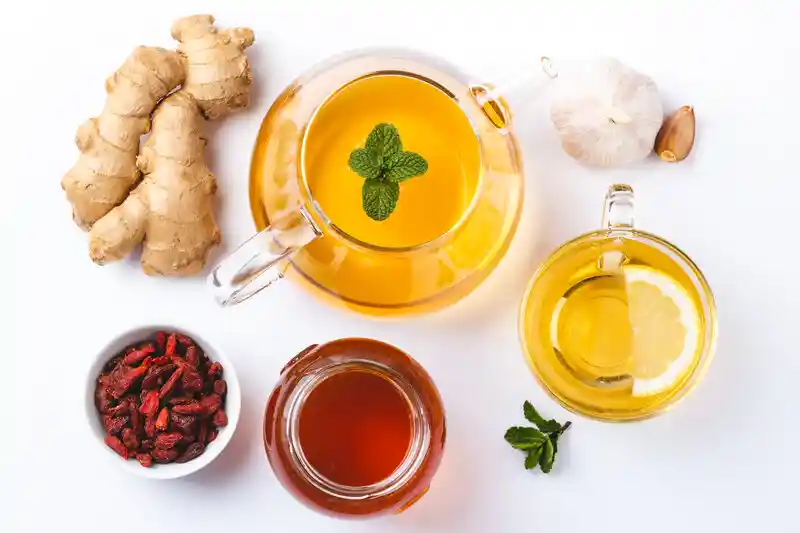 Similar to this, persons with osteoarthritis who took 1,000 milligrams of ginger daily for three months saw a significant decrease in inflammatory markers. But rather than ginger tea, substantial doses of ginger were employed in these investigations. Consequently, whether consuming ginger tea would result in the same outcomes is still in discussion. Ginger produces a fantastic tea because of its flavor, which is slightly sweet and spicy. Simmer one teaspoon of ginger powder or one tablespoon of fresh, peeled ginger in 2 cups (475 ml) of water. After 10 minutes, strain it and serve it with honey or lemon.
Green tea (Camellia sinensis L.)
The leaves of green tea come from the same bush as black tea, but because of a different processing method, they maintain their green hue. Green tea contains polyphenols, the most potent of which is epigallocatechin-3-gallate (EGCG), which has health-promoting properties. IBDs like Crohn's disease and ulcerative colitis can cause flare-ups that can be alleviated in some instances by EGCG's anti-inflammatory capabilities.
Additionally, green tea appears to lessen inflammatory diseases like heart disease, Alzheimer's, and even some cancers. Tea bags or loose tea leaves should be steeped in a tea infuser for five minutes to make green tea. You can quickly stir a tablespoon of matcha powder from finely ground green tea leaves into hot water or milk. While most individuals can safely drink green tea, it contains caffeine, which may interfere with sleep for some people. Additionally, consuming a lot of this beverage may prevent iron absorption.
Turmeric  (Curcuma longa)
A blooming plant called turmeric has an edible root or rhizome that is frequently dried and turned into a spice. Additionally, the root can be peeled and chopped. The primary compound in turmeric is curcumin, a yellow substance with a long list of health advantages. Inflammation contributes to muscular soreness following exercise and the pain associated with arthritic joints. By blocking some of the mechanisms that cause this illness, it lessens pain and inflammation. Studies on the effects of turmeric and curcumin on chronic inflammatory diseases such as rheumatoid arthritis, IBD, and heart disease have been conducted.
Peppermint
You can also make tea with dried or fresh peppermint (Mentha piperita) leaves. A member of the mint family, peppermint is a plant. It is an organic cross between wild mint and spearmint. The leaf and the oil have medicinal uses, and digestive tract spasms can be reduced with peppermint oil. It can create surface warmth when applied to the skin, relieving discomfort underneath the skin.
Irritable bowel syndrome patients take peppermint supplements (IBS). Additionally, it might aid in "cooling" the skin and easing itching. There isn't enough solid scientific evidence to support many of these claims, which include treating indigestion, bed sores, tension headaches, anxiety, sleeplessness, memory, and many other issues.
Sage tea
Sage tea is an aromatic infusion produced from the leaves of common sage, a plant related to mint (Salvia officinalis). Sage has a long history of use in conventional and alternative medicine and is a popular spice. Its tea is notable for being loaded with possible health advantages. There are several potent plant components in sage tea. In particular, its antioxidants fight off dangerous substances known as free radicals. These can cause chronic illnesses like type 2 diabetes and some malignancies when they build up in your body. Rosmarinic acid is notably abundant in sage tea. Studies on animals and test tubes have revealed that this antioxidant has various advantages, including lowered blood sugar and inflammation.
Rose hip tea
Rose hip tea is a herbal beverage produced from the rose plant's fruit. The rounded portion of the flower directly below the petals is called a rose hip. They go by hip fruit, dog rose fruit, rose haw, and berry. The plants are frequently helpful in producing rose hip oil, which, together with other essential oils and seed oils, is used in aromatherapy to promote relaxation. In addition, rose hips are frequently ideal for making tea and culinary preparations. Rose hip tea is devoid of caffeine by nature. You can use rose hips and fresh or dried tea bags.
Effects of Tulsi on Lung and Respiratory Health
The majority of adaptogens have broad effects on all bodily systems, but they typically have a preference for one in particular. Tulsi is perfect for the lungs. Tulsi has historically been used to treat lung infections, strengthen the lungs, and enhance lung health during recovery. In conventional medicine, it is regarded as warming, drying, and stimulating.
Tulsi's Health Impact on the Immune System
Tulsi has immunomodulatory properties, making it a fantastic choice if your immune system needs a little prodding or reassurance. It's an adaptogen with an immunological control. People with an overactive immune system can safely use it in moderation. As with anything else, always talk to your healthcare provider before using it, and never treat yourself!
How does Tulsi help in weight loss?
Tulsi can help your body eliminate toxins and improve nutrient absorption by including it in your daily diet. This medicinal plant's leaves can help jump-start your metabolism. For those who are unaware, you will burn more calories the faster your metabolism is. Holy basil also has a low-calorie count and a high nutritional content. Tulsi leaves can be added to your diet easily by soaking them in water overnight and drinking the solution first thing in the morning. Lemon juice and mint leaves are further optional additions. However, only a few individuals enjoy its bitter flavor.