What is a good replacement for tea
Lemon Water
Lemon water is a tea alternative for your daily stress. An easier way would be to squeeze some lemons into a glass of lemon water. It helps in weight loss, skin improvement, and digestion and keeps you hydrated. Lemon water is acidic, but you still get some of its nutritional benefits. Lemon water is a mixture of the juice of lemons mixed with water.
The amount of lemon juice in lemon water depends on your preference. Drink it cold or hot, adding lemon rind, mint leaf, honey, turmeric, or other ingredients. Lemon water is a morning beverage that boosts energy levels and metabolism.
Lemon water is not just a beverage but water which keeps you hydrated. It helps you drink enough water every day. Since some people dislike plain water, using lemon juice adds some flavor to your water, and that may help you drink more.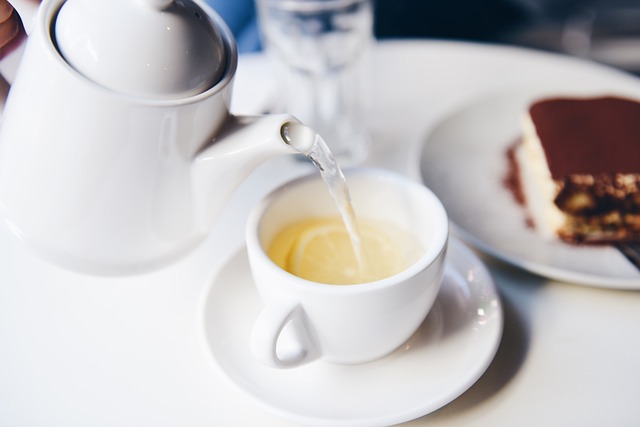 Drinking water helps prevents dehydration. Lemon is a source of Vitamin C, an antioxidant that helps protect cells from damaging free radicals. Drinking lemon water may help you increase your water intake and works as a weight-loss strategy. Unlike other sweetened beverages like juice, soda, sports drinks, sweetened water, and energy drinks, lemon water does not have added sugars. 
Drinking lemon water before meals promotes and improves digestion since the citric acid in lemon juice boosts gastric acid secretion, a digestive fluid in the stomach that enables your body to break down and digest food.
To make lemon water, squeeze half a lemon into 8 ounces of water. Infuse more flavour depending on preference. You may also add a few springs of mint, maple syrup or raw honey, fresh ginger, cinnamon, turmeric, or slices of other fresh produce, such as limes, oranges, or cucumber slices, and wash them well before slicing.
Lemon ice cubes add lemon to your water fast. Squeeze the fresh lemon juice into ice cube trays and freeze. Drop some cubes into a glass of cold or warm water. Start your morning with a mug of warm lemon water, and keep some water with sliced lemons in your refrigerator to drink throughout the day.
Is drinking tea a good substitute for water
Yes, drinking tea is a good substitute for water. A cup of tea is a healthy alternative to water, which counts 6-8 glasses of fluid daily. It has multiple antioxidants. Your body requires a few to keep it going. It may not be about how much water you drink but the taste. Not everything your body feels thirsty for, but that does not mean your body is not dehydrated.
Whenever tea is mentioned, some think of sugars which is not always the case. You can still have your sugar-free tea. Tea is calorie and sugar-free unless you add milk and sugar (Healthline.com). If you want it sweet, you can add sweeteners like honey. 
Drinking tea is better for you than drinking water. Water is fluid, but tea replaces fluids and contains antioxidants. Tea has the benefits of antioxidants and flavonoids. Flavonoids are chemicals in food that help prevent cell damage in the body. They help reduce your risk of developing conditions such as heart disease and certain types of cancer. Three or more cups of tea are enough for the day. You can continue drinking tea for tea drinkers as it will contribute to their overall hydration level. 
Replacing tea with milk
Tea has antioxidants, catechins, and epicatechins, but adding milk reduces these antioxidants making it a healthy drink (Biomedcntral.com). A source of inflammation and acidity. Tea with milk has different benefits and is a good substitute for coffee.
Milk tea is prepared by adding a tablespoon or 2 of milk to brewed black tea. It is consumed hot in some parts of South Asia. Some of the advantages associated with drinking milk tea include the following:
Replacing tea with milk gives your cup a better taste. That sharp taste you get from tea is reduced with milk. This kind of tea becomes flavorful and favoured. Amongst the benefits you get from milk is added flavour. You can add ginger, cardamom, cinnamon, clove, tulsi leaves, mint leaves, and some herbs. This adds more flavours along with additional health benefits.
Adding milk to black tea might not boost your energy levels. Tea is more beneficial than milk. Tea has multiple fluorides for bone and dental health, but milk tea has a reduced amount.
Caffeine content is low in tea. Mixing it later with milk may cause your heart to beat faster and increase your blood pressure. Tea helps in weight loss, while the milk in tea adds calories. 
Can you substitute green tea for water?
Yes, you can substitute green tea for water. However, consuming too much green tea against water hydration may cause health complications. Hydration is needed, while green tea can make up part of your daily fluid intake. That can still be a beverage you drink each day.
Although it contains caffeine, green tea still has multiple health benefits that outweigh its caffeine content. It is rich in antioxidants such as flavonoids. Green tea helps your body fight damage from free radicals, causing cell death.
Replacing green tea with coffee
Green tea and coffee are healthy and safe. Green tea can be a better choice for people suffering from anxiety or insomnia. Coffee is for increased alertness or improved physical performance. Green tea has a longer effect, although it has a lower concentration of caffeine than coffee.
Replace tea with honey
Drinking green tea with honey gives you more benefits than just soothing your throat. Honey makes your tea a natural sweetener. Honey soothes skin allergies and arthritis, relaxes muscles, helps digestion, fights colds, and acts as an antioxidant.
Can I replace tea with mint?
Yes, you can replace tea with mint. All you need is fresh mint and water. It gives you an amount of flavour in spearmint, peppermint, or chocolate mint. These have different flavours.  Mint has a calming effect that always hits you when suffering from anxiety.
Tea alternative without caffeine
Herbal teas such as ginger and peppermint do not contain. These teas are not made from the camellia Sinensis plant as most teas, but dried flowers, leaves, seeds, or caffeine-free roots.
Substitute for milk tea
Chamomile tea 
Chamomile tea contains antibacterial and anti-inflammatory benefits that improve your overall health. It is a relaxing tea that can be used as a substitute for your cup of milk tea. It uses chamomile flowers that treat many health problems. It is known for its calming and soothing effects. For better results, consume chamomile tea before sleeping at night.