Yerba Mate Tea is among the most popular drinks in South America. For those seeking an alternative to coffee, yerba mate tea is becoming increasingly popular. A few factors make yerba mate tea healthier for you than coffee while still providing you with the necessary energy. Ilex paraguariensis is the plant that yields yerba mate. It belongs to the Holly plant family, which has more than 500 species. 
Since the plant originated in South America, that region is where Yerba Mate is most well-known. It has been gaining popularity because of its comparable levels of caffeine to coffee and its health advantages. However, when consuming yerba mate, you must exercise caution. Mate may be healthier for you in some ways, but you may also want to think about the alternatives listed in this article.
Black Tea as a Healthy Coffee Alternative
Black tea is by far the most well-liked Yerba Mate substitute for caffeine! Camellia Sinensis plant leaves make black tea. We can also get white, green, oolong, yellow, and dark tea from the Camellia Sinensis plant. You can substitute any of these teas for energy by drinking them. Just the taste and caffeine content vary between them. Black tea and Yerba Mate are similar, making it simple to substitute one for the other in your morning cup of coffee. It is warm and dark and gets customized by adding milk and sugar.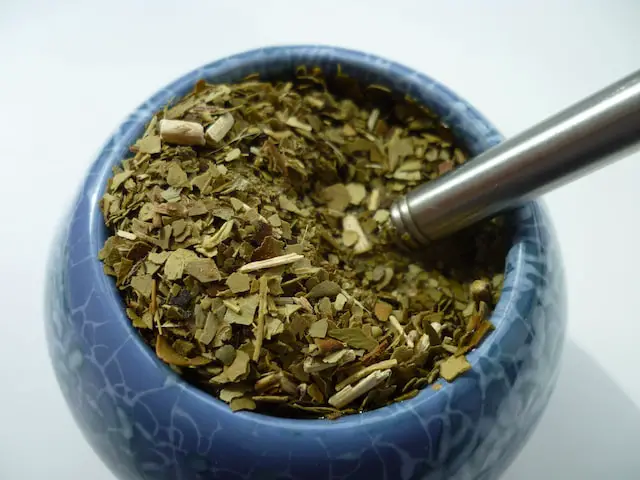 Matcha – A Yerba Mate Alternative or Energy
Matcha is an excellent caffeine-containing alternative to Yerba Mate if you want a little bit more of a kick. The Camellia Sinensis plant produces green tea in the form of matcha. Matcha and black tea are very different even though they come from the same plant. First, leaves must be grown under the shadow to manufacture matcha. The amount of amino acids increases when a plant is produced in the shade, resulting in even more L-theanine. The slow-building benefits of tea's mental energy are due to L-theanine. After that, you can ground matcha leaves into a powder. It implies that you consume the actual matcha leaves when making matcha (generally, with tea, you only steep the leaves). You're consuming more of the compound by drinking rather than soaking.
Guayusa alternatives to Yerba Mate Tea
The ilex guayusa plant is the source of guayusa. It's technically a different tree but belongs to the same plant family as yerba mate (holly). They are very diverse yet come from the same plant family. Originating in northern South America, mainly in the Amazon Rainforest, the guayusa tree is helpful in Ecuador. Argentina, Uruguay, Paraguay, and Brazil are Southern South American countries where yerba mate is farmed and consumed. 
Guyana is one of the most excellent yerba mate alternatives for energy, even though it has a little less caffeine than yerba mate and may be a little more pleasant to drink. If a mate is too strong tasting for you, you may like guayusa better. It does contain a bit less caffeine than mate, but it also has a much more mild taste. It's more similar to an Oolong or green tea.
Yerba Mate Caffeine Vs. Coffee Caffeine?
The most effective coffee substitute for energy may be yerba mate. It has the highest caffeine content yet, like tea, and doesn't give you the jitters or a crash. It can both stimulate and calm. Then how!? L-Theanine is responsible for this in tea. Because yerba mate is adaptogenic, this is the case. Being an adaptogenic substance, it controls all bodily functions. It can harmonize and adapt to your body, stabilizing various stressors.
Chocolate contains theobromine, a moderate stimulant that boosts blood flow to the brain. Additionally, it has substances that coffee lacks, like theophylline and theobromine. You can have airways connected to theophylline, also present in tea. Your airway muscles are relaxed, allowing you to breathe deeper and more efficiently.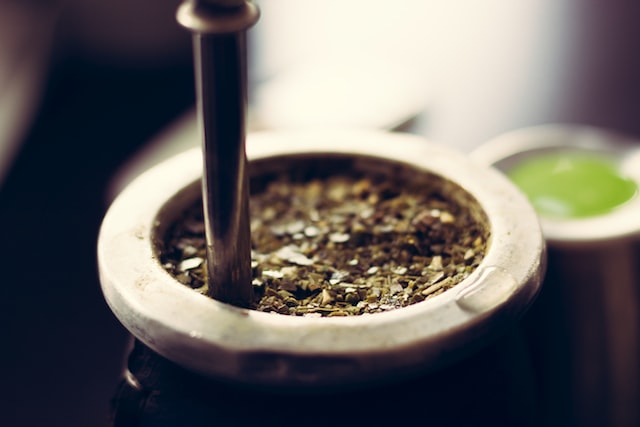 Can you drink Yerba Mate every day?
Absolutely. Regular consumption provides numerous health advantages. An ordinary adult's mate consumption is unlikely to have any negative consequences or endanger their health. Don't wait to discover more about yerba mate's properties, health benefits, nutritional value, and why it might be considered a superfood. You can always ask your doctor any questions.
The added value of Yerba Mate
There are numerous physical and mental health advantages of mate tea consumption. Some claim that no other beverage offers as many advantages. Yerba mate strengthens the body's defense mechanisms and guards against illnesses and cellular aging. Additionally, it contains nutrients, including iron, calcium, phosphorus, and magnesium.
Energy drinks don't harm you or pose a health risk when consumed in moderation, but they also don't offer many benefits. Instead, overusing hypertonic beverages can lead to gastrointestinal issues because the body needs to create more and more water to dilute the high concentration of sugars and electrolytes. The excess sugar gets stored as body fat.
How to drink yerba mate for energy:
To enhance focus and energy levels, drink it before any activity, from studying to high-impact sports. Additionally, the antioxidants' stress-relieving and cardiovascular health-promoting qualities enable excellent physical condition and performance.
Consume yerba mate while exercising to aid the body in processing carbs effectively, boost endurance, and extend training sessions. Yerba mate also prevents the body from storing lactic acid.
After training: According to this study, the recuperation rate after working out increases by 8.6% up to 24 hours after exercise.
How to prepare yerba, mate?
Depending on how it is grown and brewed, yerba mate can have a range of appropriate brewing temperatures and steeping times. Ask your tea dealer for brewing instructions particular to the yerba mate you bought. In the interim, consider these general yerba mate brewing tips:
Make use of filtered, cool, fresh water. The best water is spring water.
Typically, you can soak yerba mate in hot water that is not boiling, between 160 and 180 degrees, which is equivalent to the temperature of green tea. 
Water boils at 212 degrees at sea level, so bear that in mind if you don't have an electric kettle with temperature control. Water simmers at 190 degrees. The boiling temperature drops by around one degree for every 100 feet.
Follow the exact brewing instructions that came with your yerba mate if provided. However, it is safe to use roughly 2 grams of loose-leaf herb per 8 oz. cup of water.
Cover your yerba mate while it steeps to keep all the heat in the steeping container.
Taste your yerba mate to determine whether you would like it to steep for a little bit longer after the predetermined infusion period (we steep our Teatulia yerba mate for 4 to 5 minutes). The longer yerba mate soaks in hot water, similar to regular tea, the more astringent and bitter it can become.
You can also infuse Yerba mate several times. Each infusion unveils new facets of the herb's flavor.
Although yerba mate can be consumed unsweetened, it's also customary to add honey, agave nectar, sugar, or even milk or cream to the brewed beverage to make it taste more like regular tea. Some people like to add extra herbs, such as mint, to the beverage to flavor it. Others flavor and sweeten the drinks by adding fruit juice or lemonade. With Yerba mate infused several times, each infusion unveils new facets of the herb's flavor.