Did you know that there are an entire species of female ants? The queen ant reproduces asexually, creating replicas of herself. Ants are one of the most common pests on the planet. There is no part of the world where they do not exist. There are so many different species of ants across the world. Their bite ranges from mildly annoying and irritating, to extremely painful. Different species attack differently.
Some ants chew on furniture and can cause irreparable damage. These can cost you a whole lot of money in replacing the furniture for your home or your business. The bulldog ant from Australia, however, holds the title of the most dangerous and. Using its venom, it can kill an adult in 15minutes. There are ways to deal with ants using essential oils. Let us take a look at some essential oils that can help you get rid of them.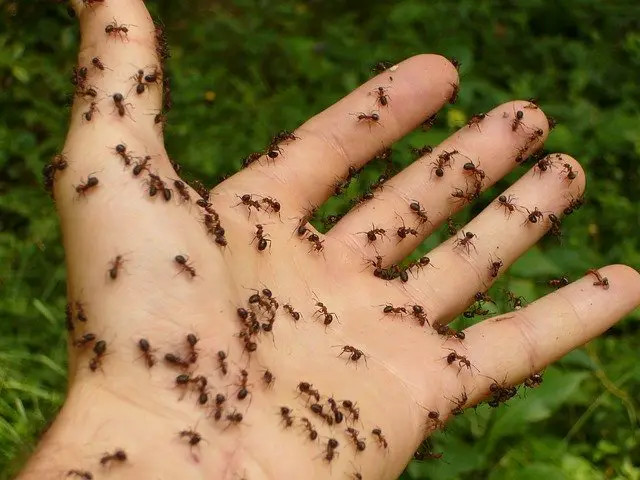 How to use essential oils for ants
You can get rid of ants in your home or office naturally. You do not need to use chemicals or sprays that could be harmful to you and other living organisms. Natural means like essential oils can be just as potent and powerful. You can make a repellent spray using essential oils such as peppermint oil, citrus oil, and tea tree oil.
Make sure to spray places you think the ants may be gaining access to your space. Make sure not to use the spray on surfaces far from food or the kitchen. Essential oils should never be ingested and this is the reason why it is important to make sure that when you spray you are nowhere near food or where you prepare it.
Another way that you can use essential oil, is by dropping five droplets on a piece of cotton and putting the cotton where the ants usually come in. Cedarwood essential oil has a potent scent that ants do not like. This will repel them.
How to make your own spray
To make the spray, you will need a spray bottle, water, tea tree oil, peppermint oil, and citrus oil. Get a spray bottle and pour in the water, a quarter cup of it. Then add 15 drops of tea tree oil, 15 drops of peppermint oil, and also seven drops of a citrus oil you like. Mix it well and start to spray in places where the ants usually congregate or where you have an infestation.
Another recipe for making repellent spray needs you to mix 15 drops of cinnamon bark essential oil, 15drops of clary sage, half a cup of white vinegar, half a cup of distilled water all in an 8ounce spray bottle. Make sure to shake well and that the oil is properly distributed. You can use this spray up to 3 times a day in places where ants are prone to be.
What else works?
There are other methods that you can also use to get rid of ants around your home. One of the great ways to do this is to wash away scent trails. We all know how ants will always gather where they are invited and the invitation is in the form of them following a scent trail laid out by one or more ants that would have found a food source. Washing this trail away can help you get rid of them. Use water and soap, and you may need to do this quite often. You can easily identify a scent trail, by preemptively wiping around your bin or possible food sources for ants.
You can also use vinegar. Dilute an equal part of vinegar with an equal part of water and mix them well. Spray areas where you usually see ants. You can also use ground chalk to draw around entry points for the ants. You can rest assured the ants will not cross the chalk outline.
I know you always hear that ants come for sugar, but did you know that sugar supplements like aspartame, actually help get rid of ants. This supplement has a poisonous substance that the ants don't like. You can also use castile soap as a spray to kill ants. Take a dried out bar, grind it and mix a quarter cup of it with a few drops of peppermint oil and a quart of water. Use this mixture to spray around ants to kill the ants. You can also sprinkle cornmeal or cinnamon. Another option you can use is poison-free ant-traps which are cheap and safe to use. These traps use pheromones to attract ants and any other pests.
Why do ants suddenly appear?
If you have ants in your home there are a couple of reasons. The most common is having food laying around. Ants in the area will be drawn towards the food. This is why parents insist on the "no food in the bedroom" rule. Of course, a lot of kids don't listen to this, and this is how you end up with a colony under your bed.
Ants will also follow the trail of pet food that you have in the house. This means that you will need to keep your pet feeding area clean so that you avoid attracting ants.
The other reason why you may be seeing ants in your home is that they have colonies close to you home and they have many ways of getting in. If this is the case, then your thorough cleaning may not make much of a difference.
How do I find where ants are coming from?
Sometimes trying to get rid of ants can be a futile exercise if you don't deal with where they are coming from. there are a couple of ways to do this. You can set a trap for the ants. Sprinkle something sweet in the area where they are. They will begin to form a trail going back to their nest, which you can then follow. When you figure out where the nest is, you can then spray it and get rid of them.