Wondering what some Lapsang Souchong Benefits are? In this post, we explore the fascinating realm of Lapsang Souchong tea and its potential benefits. If you're a tea lover looking for a unique and powerful experience, Lapsang Souchong might be your thing. From its smoky aroma to its bold flavour, this tea has gained a loyal following. But what exactly are the benefits it brings? Join us on this aromatic journey as we uncover the secrets and discover how Lapsang Souchong can improve your tea consumption. Are you ready to discover the wonders of Lapsang Souchong?
What is Lapsang Souchong?
Lapsang Souchong is an oxidized Chinese black tea from the Wuyi Mountains. The word lapsang means small sort. Whilst it is called this today, that was not its original name. This was given to it for easy identification on the market.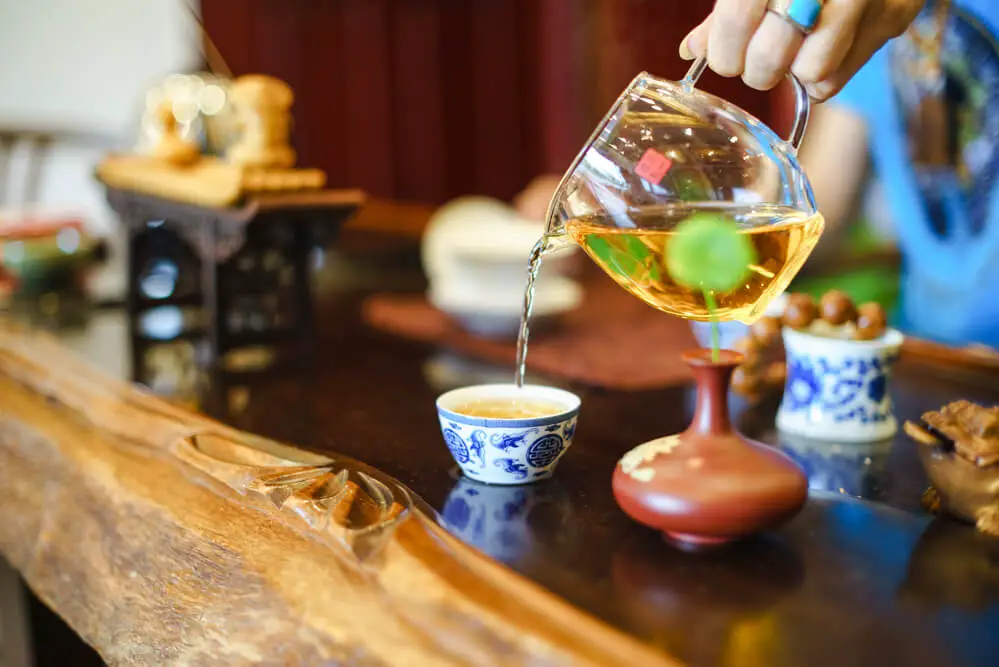 The tea was developed during the Qing dynasty. But how did it come about? The story goes, around 1646, as people tried to flee from Qing soldiers to a safer space in the mountains, they carried their tea. They didn't want it to go bad, so they dried it over a fire. This gave the tea a much longer shelf life and the smoky flavour it is synonymous with today.
Other tales go along with the creation of this tea. The common denominator is that the fresh leaves had to be dried by smoking. The finished product is made from the fresh leaves of the Bohea cultivar plant.
How is lapsang souchong produced?
Lapsang souchong tea is produced through the following process:
The bud and leaves of the tea plant are hand plucked and placed in bamboo baskets to initiate drying and remove moisture. Some areas also use sun-drying at this stage.
The partially dried leaves are further dried indoors at a temperature of 140˚F. This can be done over slatted floors or in bamboo baskets that allow smoke to pass through. The purpose is to expose the leaves to heat and infuse them with the desired pine smoky flavour.
After the drying process, the leaves undergo oxidation. They are rolled back and packed in sacks for approximately 6 hours. To halt the oxidation, the leaves are pan-fried.
Once fried, the leaves are rolled again to achieve the final appearance of the tea.
The leaves are then sieved in bamboo baskets and exposed to hot air and pine smoke. The smoke is directed using pine needles placed in a hole. This stage ensures the desired smoky aroma is imparted to the tea. The final drying process lasts around 12 hours to eliminate any remaining moisture.
This production process results in the distinctive smoky character of lapsang souchong tea.
How to brew lapsang souchong tea.
For an optimal experience brewing lapsang souchong tea:
Heat water to around 95˚C.
Use approximately 1.5 grams of tea per 100 ml of water.
Steep for 6 minutes at a water temperature between 90˚C to 95˚C.
Adjust the amount of tea leaves for desired strength and flavour.
Increase the number of leaves for a stronger brew.
Extend the steeping time to extract more flavour if desired.
Lapsang souchong tea leaves can be re-infused for a bolder flavour profile. No need to wait for the tea to cool down. Re-steep as soon as the water boils. Aim for approximately 1.5 minutes for the second infusion to extract the most from the leaves.
These steps will help you brew lapsang souchong tea to enjoy its unique taste and aroma.
How to make chilled lapsang souchong tea
Chilled Tea Brewing Method (Pitcher – 1 litre)
Add 6 slightly heaping teaspoons of loose tea, 6 tea bags or 6 Q3 portion packs into a heat-resistant pitcher.
Boil 1¼ cups/315ml of filtered or freshly drawn cold water and pour over the tea.
Allow the tea to steep for 5 minutes.
Fill a quarter of a serving pitcher with cold water.
Strain the tea or remove the bags, then pour the tea into your serving pitcher.
Add ice and fill up the pitcher with cold water.
Add garnish and sweeten to taste.
Remember, when preparing fresh brewed iced tea, it's advisable to strengthen the hot tea as it will be poured over ice and diluted with cold water.
Chilled Tea Brewing Method (Individual Serving)
Place 1 slightly heaping teaspoon of loose tea, 1 tea bag or 1 Q3 portion pack into a teapot for each serving required.
Boil 6-7oz/170-200ml of filtered or freshly drawn cold water per serving and pour over the tea.
Cover and let steep for 5 minutes.
Strain the tea or remove the bags, then add the hot tea to a 12oz/375ml glass filled with ice.
Sweeten and/or add lemon to taste.
Again, remember to increase the strength of hot tea as it will be poured over ice and diluted. Enjoy your refreshing chilled tea! 1http://www.empressteahouse.com/Profiles/Sp%20Black/Lapsang.pdf
What makes lapsang souchong stand out?
What makes this tea stand out is its smokey flavour and aroma. It's a unique taste and smell that people have found quite appealing. Even if you are not a huge fan of smokey flavours, this is one tea that you should try at least once, as it can provide a memorable experience.
What does lapsang souchong tea taste like?
Lapsang souchong has bold unique flavours. It has a sweet and smoky taste, which comes about because of the smoking process that it goes through. It is smoked with pine wood, and as such, it has a pine-like flavour infused in it. The taste also influences the aroma. So even before you taste it, you can smell the smoky pine.
Nutritional Information
Nutritional Information Overview for Lapsang Souchong Tea
Lapsang Souchong tea is a low-calorie beverage that offers a unique smoky flavour without contributing significantly to your daily caloric intake. Here's a detailed overview of its nutritional content based on regional guidelines:
1. Canada
Per 175 ml serving, Lapsang Souchong tea provides:
Calories: 0
Fat: 0g (0% of Daily Values)
Sodium: 2mg (0% of Daily Values)
Carbohydrate: 1g (0% of Daily Values)
Protein: 0.1g
It's not a significant source of saturated fat, trans fat, cholesterol, dietary fibre, sugars, vitamin A, vitamin C, calcium, and iron.
2. USA:
For a serving size of 1 teabag or 2.5g of loose tea, which makes 8 fl oz or 240ml:
Calories: 0
Fat: 0g (0% of Daily Value)
Sodium: 2mg (0% of Daily Value)
Carbohydrate: 1g (0% of Daily Value)
Protein: 0.1g
Like in Canada, it's not a significant source of saturated fat, trans fat, cholesterol, dietary fibre, sugars, vitamin A, vitamin C, calcium, and iron.
3. UK:
A 100 ml tea infusion (no milk) typically provides:
Energy: 2kJ, less than 1kcal
Protein: 0.1g
Carbohydrate: trace (of which sugars: trace)
Fat: trace (of which saturated fats: trace)
Fibre: 0g
Sodium: trace
Per serving of 200ml (1 cup)
Per serving of 170ml tea infusion and 30ml semi-skimmed milk:
*These values are based on tea brewed with freshly boiled water for 3 minutes.
In summary, Lapsang Souchong tea is a virtually calorie-free beverage, making it a great choice for those watching their caloric intake. However, it's important to note that adding milk or sweeteners will alter these nutritional values.
Benefits of lapsang souchong tea
Reverses intestinal dysbiosis caused by a high fat diet (HFD)
Alters gene expression in tissues for improved metabolic function
Modulates DNA methylation, an important epigenetic modification
Effectively prevents obesity in mice fed a high-fat diet (HFD)
Supports overall gut health and promotes a balanced microbiome 2

Liu, X., Hu, G., Wang, A., Long, G., Yang, Y., Wang, D., Zhong, N., & Jia, J. (2022). Black Tea Reduces Diet-Induced Obesity in Mice via Modulation of Gut Microbiota and Gene Expression in Host Tissues. Nutrients.
Improves cardiovascular health
One of the major benefits of this tea is that it helps improve heart health. It has numerous flavonoids that aid in reducing LDL cholesterol and minimising damage to the artery walls. The flavonoids also help reduce blood clots. The tea also has manganese, which helps reduce the occurrence of heart disease. The elements in this tea help to improve heart muscles. This is one of my favourite lapsang souchong tea benefits. 3(Geleijnse, Johanna M et al. Inverse association of tea and flavonoid intakes with incident myocardial infarction: the Rotterdam Study. Am J Clin Nutr 2002;75:880-86.)
Rich in antioxidants
Lapsang souchong is rich in antioxidants in its unique blend. It has polyphenols, thearubigins, theaflavins, and catechins. These all work to help protect the cells from damage. 4Phytochemical Composition and Antioxidant Capacity of 30 Chinese Teas by Guoyi Tang, Cai-Ning Zhao, Xiao-Yu Xu, Ren-You Gan, Shi-Yu Cao, Qing Huo Liu, Ao Shang, Qian-Qian Mao, Hua Li:
Helps to improve the immune system
This Chinese black tea also helps to improve the immune system. The blend's antioxidants help prevent DNA damage as they fight free radicals. They also help to fight viruses that have been known to cause flu and other similar infections. This is thanks to the tannins in the tea. Alkylamine antigens in the tea help to support how the body's immune system responds.
Improves focus
Lapsang souchong black tea has the right balance of caffeine to help improve your focus. Drinking a cup in the morning can help keep you more focused and energetic throughout the day than if you don't. Whilst it may have caffeine, the rate it transfers to your bloodstream is lower than with coffee.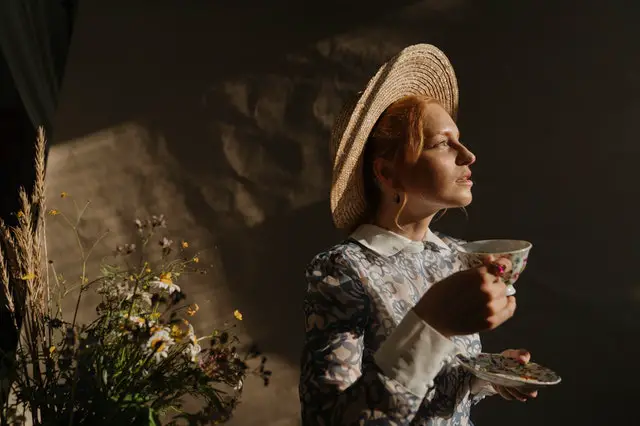 However, it keeps you focused for a longer period. The tea also has amino acids, which help keep the brain more alert and focused, another great reason to have this tea in the morning to kick start your day. Since the effects are so long-lasting, you will not need to take in as much caffeine for the same level of focus. This is a health benefit on its own.
Is Lapsang Souchong good for you
Lapsang souchong tea has several benefits, but knowing the possible side effects is important. Since it contains caffeine, it's important to consume it in moderation. Excessive caffeine consumption of over 1,000 mg can lead to adverse effects such as heartburn, fertility problems, or an increased risk of high blood pressure. To avoid these potential problems, drinking Lapsang Souchong tea in moderation is advisable.
Do you put milk in Lapsang Souchong tea?
Lapsang souchong tea is a full-bodied tea. You can have it with or without milk. The choice is entirely up to you and depends on your preference. Just keep in mind that milk alters the way the blend will taste, so it may not taste the same as having it without, allowing all the natural flavours to stand out.
How to serve lapsang souchong
Lapsang souchong tea is often served in a teapot with a large teacup. It also tastes good when served hot with one or two ice cubes.
Does lapsang souchong cause cancer
Limited research suggests possible health risks associated with Lapsang Souchong tea, as carcinogens are suspected in the green leaves used for the tea powder. However, there is no conclusive evidence of a direct link between Lapsang Souchong tea and cancer. Consuming any food or beverage in moderation is advisable as part of a balanced diet. It is advisable to consult a physician for individualized advice regarding specific health concerns.
Does lapsang souchong have caffeine?
Lapsang Souchong tea contains moderate caffeine, about 30 mg per cup. It has a lower caffeine content than an equal serving of Coca-Cola. Lapsang Souchong tea has a much lower caffeine content than coffee, which usually contains between 80 and 100 mg of caffeine per cup. If you want to reduce the caffeine content, you can reduce the caffeine content by about 25-50% by briefly rinsing the tea leaves with very hot water without affecting the taste.
See how it compares to Geinmaicha
Why is lapsang souchong outlawed in Europe
Lapsang Souchong is not outlawed in Europe. Although it is not banned in most parts of the EU, there are restrictions. Lapsang Souchong is classified as a "tobacco substitute" rather than a tobacco product, prohibiting its sale in many EU countries.
Some European laws ban entire product categories, including caffeinated teas. Therefore, no tea, regardless of its origin, may contain caffeine in these cases.
Is lapsang souchong the same as earl grey?
Lapsang Souchong tea and Earl Gray tea are not the same. Although they come from the same plant species, Camellia Sinensis, they differ significantly in taste and preparation method.
Lapsang Souchong is a black tea dried over pine branches in a unique smoking process. This gives it a strong and aromatic smoky flavour. It is usually brewed with boiling water and can be enjoyed with milk or sweeteners.
Earl Gray, on the other hand, is a light green tea infused with natural or artificial flavours, often including bergamot oil. Compared to Lapsang Souchong, it has a lighter and more delicate taste. Earl Gray is usually brewed with slightly cooler water and often served in smaller tea cups.
Although both teas use the same plant species, Lapsang Souchong and Earl Gray differ in taste and preparation.
I want to buy lapsang souchong now. Can I buy it online?
If you're looking to buy Lapsang Souchong tea in the UK, you have several options available:
The availability and shipping options may vary, so check the websites for the most up-to-date information.
Can I buy lapsang souchong in the US?
If you're looking to buy Lapsang Souchong tea in the US, you can consider the following option:
The Brew Tea Company: They offer loose-leaf Lapsang Souchong tea that has been smoked for a deep, earthy flavour. It is described as slightly light and sweet, making it a delightful choice for oaked wine or whisky fans.
Storage and Shelf Life
Proper storage of your Lapsang Souchong tea is critical to maintaining its unique smoky flavor and freshness. Here are detailed instructions on how to store your tea depending on its variety and condition:
Loose Tea:
Unopened: Loose Lapsang Souchong tea has an impressive shelf life of 20 years from the production date when stored properly. Keep it in a cool, dry place away from direct sunlight to preserve its quality and flavour.
Opened: Once opened, the shelf life is reduced to 2 years. Transfer the tea to an airtight container and store it in a cool, dry place to maintain freshness.
Tea Bag (Classic)
Unopened: Classic tea bags have a shelf life of 10 years from the production date if stored properly. As with loose tea, they should be stored in a cool, dry place away from direct sunlight.
Opened: Once opened, the shelf life is reduced to 2 years. Store the opened tea bags in an airtight container in a cool, dry place.
Tea bags (pyramid):
Pyramid tea bags have a shorter shelf life of 2 years, whether opened or unopened, from the production date. This is due to the biodegradability of the tea bag material. Store as directed, preferably in a cool, dry place out of direct sunlight.
General Storage Tips:
Unopened: Store your unopened Lapsang Souchong tea in a cool, dry place away from direct sunlight. This will preserve its quality and flavour.
Opened: Once opened, place the tea in an airtight container. This will prevent exposure to air, moisture and odours that can affect the quality of the tea. Keep the container in a cool, dry place.
Remember that tea can be stored in various conditions, but if you follow these guidelines, your Lapsang Souchong tea will retain its unique smoky flavour and freshness for as long as possible. Enjoy your tea!
Conclusion
Lapsang Souchong, a Chinese black tea, is known for its smoky flavour due to its manufacturing process. It's rich in antioxidants, improves cardiovascular health, boosts the immune system, and increases concentration thanks to caffeine. However, moderation is advised due to the caffeine content. There are unproven concerns about possible health risks, such as certain cancers. The tea can be drunk with or without milk and is easy to brew. Contrary to misconceptions, it's not banned in Europe and can be purchased online or in the US.