If you're looking for a natural remedy to relieve headaches, essential oils may be the solution you've been searching for. Essential oils are concentrated liquids extracted from various parts of plants, including leaves, stems, flowers, bark and roots. They have long been used in aromatherapy to promote overall well-being, including stress relief and improving blood circulation through their delightful scents.
Several essential oils are known for their potential effectiveness in relieving headaches. Let us take a look at some of the most popular options:
Headaches are a common ailment, affecting more than half of the world's adult population at any given time. Although over-the-counter and prescription medications are widely available, they often have undesirable side effects. That's why many people with frequent headaches turn to natural remedies like essential oils.
For centuries, essential oils have been utilized to enhance both physical and psychological well-being. Even a small amount of inhalation or application can yield powerful health benefits. These oils contain aromatic and therapeutic compounds that interact with neurotransmitters in the brain and cells throughout the body, combating diseases and promoting overall health.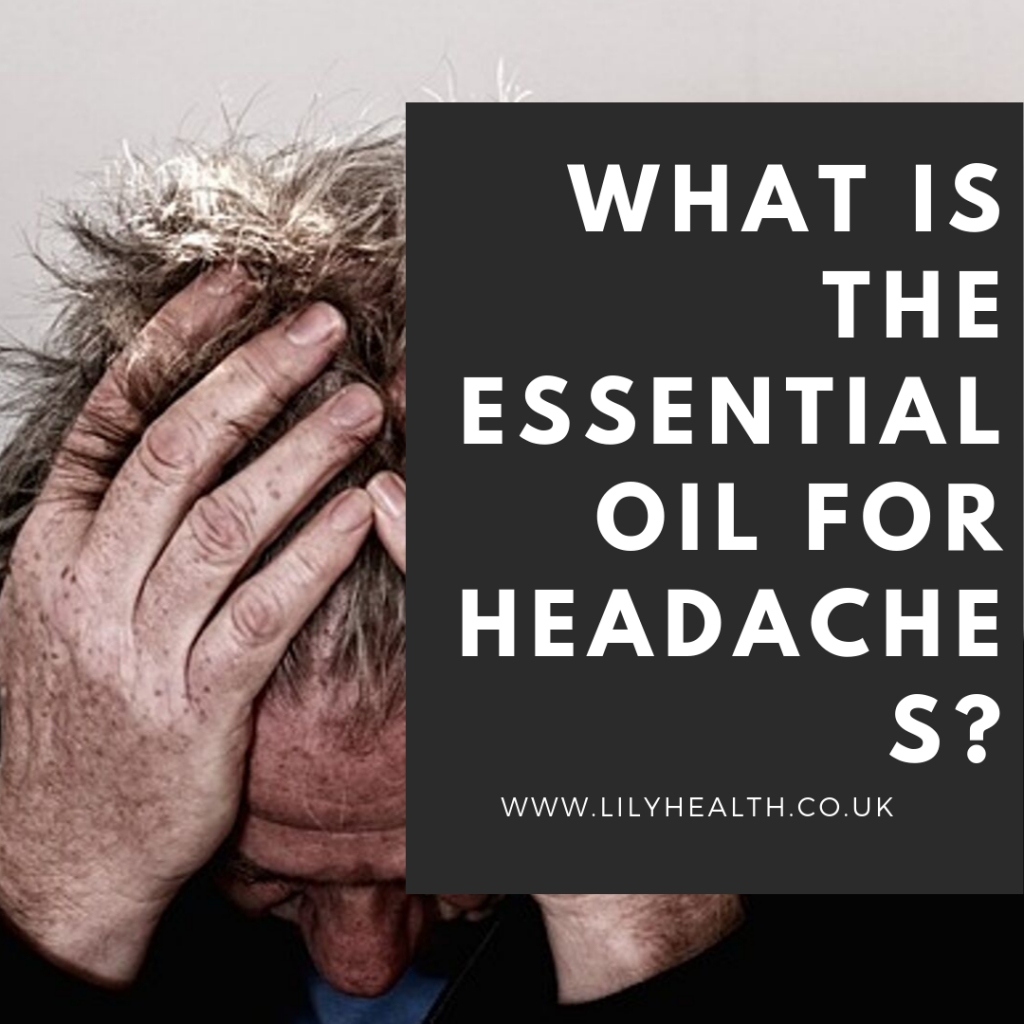 The benefits of essential oils go beyond headache relief. They can also help relieve stress and anxiety, balance blood sugar levels, and improve skin health. Essential oils are especially valuable for relieving headaches and migraines with their anti-inflammatory, stress-relieving, calming, detoxifying, and stimulating properties.
If you are looking for a natural alternative to traditional headache treatments, explore the potential of essential oils. In the following sections, we'll go into more detail about the benefits and uses of the above essential oils.
Our 6 Favorite Essential Oils for Headaches
Peppermint Oil
Peppermint is a cross between water mint and spearmint plants, and it grows wild in Europe and North America. Peppermint oil is the most popular essential oil used to treat headaches for various reasons. One beneficial thing is relieving sinus pressure, which can relieve headaches. Inhaling diffused oil can immediately unclog your sinuses and reduce stress in your head.
It is also a great natural choice for helping migraine headaches go away. Applying the oil to the forehead and temple is an effective natural remedy for migraines and headaches. Additionally, it contains menthol, which can encourage muscles to relax and ease the pain. As a slight anaesthetic and numbing agent, peppermint oil on any head area can help provide relief.
Lavender Oil
Lavender oil, extracted from the blue-violet flowers of the lavender plant, is a versatile essential oil known for its numerous benefits. Not only does it have the ability to relieve stress and anxiety, which are common triggers for tension headaches and migraines, but its calming properties also help relieve muscle tension and promote restful sleep. Regarding essential oils for headaches, lavender oil shines as a top candidate.
The remarkable properties of lavender oil go beyond headache relief. It positively affects various health problems, making it a favourite among essential oil lovers. When combined with other oils like peppermint, lavender oil becomes even more effective at relieving headaches. To experience the pain-relieving effects, apply two drops of each oil to the back of the neck and temples. You will find that this natural remedy is very effective in providing relief.
In addition, lavender oil offers other benefits beyond treating headaches. When applied at night, it can help improve the condition of your skin and lift your mood, making it a valuable addition to your essential oil collection.
Discover the wonders of lavender oil for headaches and take advantage of its holistic benefits. Whether you seek relief from headache-related stress or want a better sense of well-being, lavender oil is an excellent choice for natural healing.
Rosemary Oil
Rosemary oil stands out in aromatherapy for its invigorating properties. Valued for centuries in folk medicine, this essential oil promotes blood circulation, alertness and reduces stress, including headaches. A five-minute inhalation of rosemary oil significantly lowers cortisol levels, combats stress release and prevents related health problems.
In addition to stress relief, rosemary oil also provides quick pain relief. A steam bath with rosemary oil takes advantage of its powerful anti-inflammatory properties and relieves pain. Improved blood circulation aids in pain relief and healing.
Applying rosemary oil directly to the temples relieves migraines or tension headaches. Use rosemary oil as a natural remedy for headaches and stress relief. Its versatile benefits go beyond pain relief and promote general well-being.
Chamomile Oil
Essential oil is extracted from the flowers of chamomile, one of the oldest medicinal plants. Known for its soothing properties when drunk as tea, chamomile oil provides similar effects.
This oil proves to be extremely effective in relieving stress headaches. Chamomile oil relieves muscle and joint pain thanks to its anti-inflammatory, stress-relieving properties. It reduces the severity of headaches, toothaches, sinus pressure and bone injuries. Constricting the blood vessels around the cranial nerves effectively reduces stress in the head and relieves pain.
Dilute a few drops of chamomile essential oil in a carrier oil and add it to a bath or hot water to experience its effects. Inhale the soothing steam. Pregnant women should avoid chamomile essential oil because of the risk of miscarriage.
Eucalyptus Oil
Eucalyptus oil is extracted from the leaves of the Tasmanian eucalyptus tree and offers significant benefits. It's a valuable remedy for relieving headaches caused by sinus pressure and respiratory disorders. Eucalyptus oil has an expectorant effect and effectively combats headaches caused by sinus pressure. Opening the nasal passages and eliminating fluids and harmful microorganisms associated with sinus pressure, provides relief and promotes respiratory wellness.
Thanks to its anti-inflammatory, antibacterial and antiviral properties, eucalyptus oil proves versatile in treating respiratory diseases that can cause headaches, pain and tension. Dilute a drop of eucalyptus oil in carrier oil and apply it to the chest to clear the sinuses. Alternatively, add a few drops to hot water and inhale the invigorating steam.
Discover the natural power of eucalyptus oil for sinus headaches and respiratory relief. Use its ability to increase your well-being and relieve headaches associated with sinus pressure and respiratory problems.
Sage Oil
Sage oil offers several benefits in relieving headaches. Relaxing the veins and arteries, helps lower blood pressure and relieve stress and tension. This relaxation causes blood vessels to dilate, which improves circulation, oxygenation and metabolic performance. In addition, sage oil has anti-inflammatory and calming effects, providing comfort in moments of stress or anxiety.
In addition, sage oil proves beneficial for hormonal headaches. It supports hormonal balance and relieves the pain associated with PMS and other hormonal headaches. This essential oil has several therapeutic properties, including an antidepressant, antispasmodic, sedative, antihypertensive, and antiseptic.
Discover the natural relief that sage oil provides for headaches and its ability to promote hormonal balance. Embrace its soothing properties and find comfort in headaches and hormonal fluctuations.
Are there any risk factors?
Essential oils are generally safe when used correctly. A carrier oil is needed to mix with essential oil to be absorbed into the skin safely. They may cause skin irritation if used unmixed.
Some people are allergic to essential oils, even when diluted. So it should be safe to put a small amount on a skin patch first to test for an allergic reaction. If there is a reaction, it will show within 48 hours. If not, then the oil is safe to use. Very few essential oils are recommended for infants under one year or pregnant and breastfeeding women. Lavender and rosemary oils, in particular, can be dangerous.
Essential oils can also cause complications if you have preexisting conditions like asthma or heart problems. Ask your doctor before using any essential oils to ensure they won't aggravate any existing health problems. It is important to remember that the FDA does not monitor Essential oils for purity, quality, or safety. If purchasing essential oils, be sure to buy from a reputable company.
Conclusion
In summary, essential oils are a promising natural remedy for headaches. Peppermint oil relieves sinus pressure and relaxes muscles, while lavender oil relieves stress, anxiety, and muscle tension and promotes restful sleep. Rosemary oil improves circulation and quickly relieves pain, chamomile oil relieves stress, headaches and joint pain, and eucalyptus oil is valuable for sinus-related headaches and respiratory relief. Sage oil relieves hormonal headaches and promotes relaxation.
Essential oils should be used with caution. Dilute them with carrier oil and perform a skin patch test to rule out allergic reactions. Avoid certain oils if you are an infant, pregnant or nursing, or have pre-existing conditions. Buy essential oils from reputable companies, as the FDA does not monitor their purity, quality or safety.
Discover the potential of essential oils as a natural alternative for headache relief and enjoy their many holistic benefits. Consult your doctor if you already have health problems before using essential oils.