Natural Treatment for Actinic Keratosis
The sun is wonderful, but it can wreak just as much havoc as joy. Take your skin, for example, and consider the conditions to which sun damage can contribute. One of those is a condition called actinic keratosis.
Actinic keratosis appears as patches of skin which are rough and have a scaly appearance. These are a direct result of sun exposure. They usually appear on the ears, head, arms, hands, and neck. Actinic keratosis begins as odd small patches and spreads to larger areas.
Thankfully, actinic keratosis might be a nuisance. If you catch it early enough, you can say goodbye to it over a short period. Let's check out 7 of the best ways to do just that.
Topical Apple Cider Vinegar
Apple cider vinegar is a natural treatment for many different conditions. Actinic keratosis is one of them. All you need to do is:
Take a cotton wool ball and soak it in the apple cider vinegar.
Place the ball over the area you want to treat and wrap a bandage around it to hold it in place.
Leave the bandage on for a few hours, preferably overnight.
Remove it. Repeat this regularly over three weeks; the area should be cleared independently.

Directly Applied Virgin Coconut Oil
Another useful method is virgin coconut oil, but organic is best for this use. All you need to do is apply the virgin coconut oil directly to the area once daily and continue until the area clears up. This method is best for the face, nose, head, neck and forehead and isn't so effective on arms and hands.
Organic is best in this regard because you can be sure you're getting the purest product possible. That means no added extras that may otherwise aggravate your skin, making the actinic keratosis worse.
Drink Green Tea
Green tea is known for its antioxidant and astringent powers, and you can either drink it or apply it topically to help actinic keratosis. If you are drinking green tea, never consume more than five cups daily, as it can have a few side effects for some people. Soak a green tea bag in warm water and apply it to the area if you're going for the topical route. This is a good option for general sunburn too.
Diluted Tea Tree Oil
Essential oils are known for their powers and can help with many skin problems. Tea tree oil, in particular, has powerful anti-inflammatory properties and antimicrobial properties. However, you should never dilute tea tree essential oil with carrier oil. Make sure you do this before you apply it to the area topically. Virgin coconut oil is a good way to dilute the essential oil and will give you an extra boost of power also. You should apply the mixture to the area of actinic keratosis a few times every day.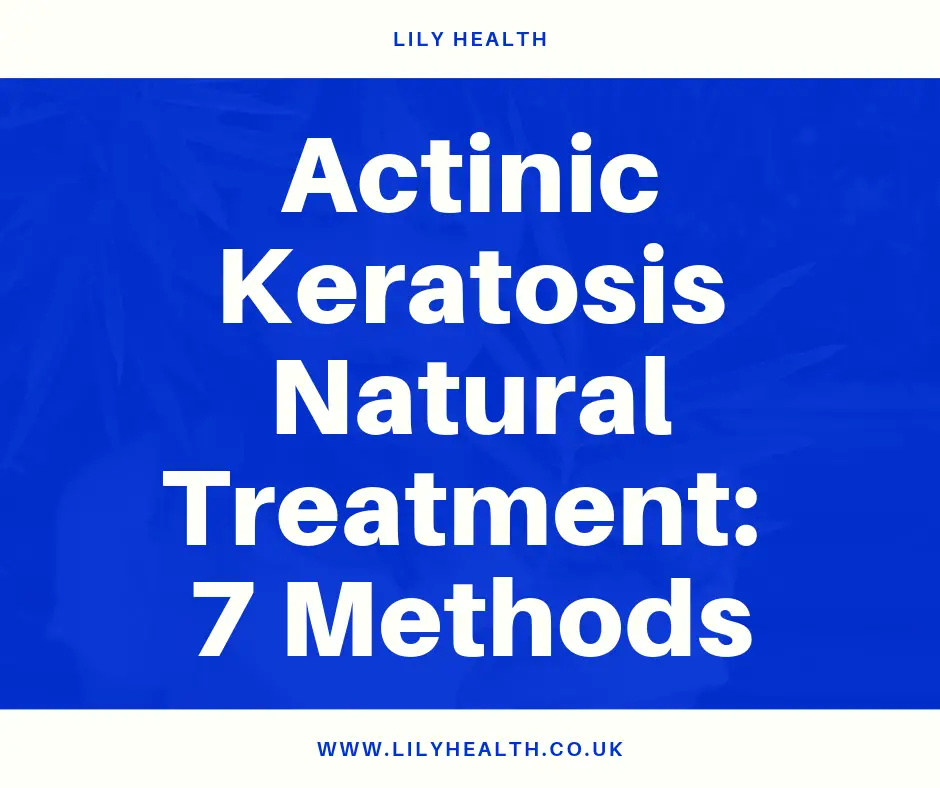 Drink Plenty of Water
It might sound simple, but drinking plenty of water will also work wonders. This is because you are hydrating your body and your skin too. There is some debate over how much water we should drink daily, but the 8×8 rule is the consensus. This means 8 x 8oz glasses of water daily.
Of course, fluids don't just mean water; you can drink fresh fruit juice, unsweetened teas and coffees to reach your hydration quota too. However, water is best for your skin, and you can flavour this with a squeeze of fresh lemon or lime juice if you prefer.
Topical Castor Oil
Another option is to use castor oil, something which most people use for other conditions. Simply apply it to a cotton wool pad and hold it against the area you want to treat.
You'll need to repeat this regularly, and it may take some time to show improvement. Despite that, many people have found success with using castor oil.
As with any of these topical treatments, if you notice any extreme singing, burning, rashes, or anything adverse, make sure that you stop using it and seek medical attention.
Whilst most of these methods are safe, it doesn't mean they are without side effects completely. Everyone is different, and nobody can be 100% sure how a topical method will affect them until they have tried it themselves.
Assess Your Diet
Whilst the above methods are all useful for reducing the appearance of actinic keratosis and helping to eradicate it, you should also look at what you're putting into your body. Avoiding sun damage in the first place will help. Ensuring you get a good balance of different nutrients will help you prevent actinic keratosis.
The 5-a-day rule is in a debate, as many people think it should be more but ensuring that you get 5 savings of fresh fruits and vegetables daily will not see you far wrong.
The brighter, the better because they're packed with healthy antioxidants, which will help regenerate your skin cells. They also give your immune system a welcome boost. Ensure you get plenty of omega-3 fatty acids, which are abundant in oily and fatty fish.
Summing up
Actinic keratosis is an unpleasant and upsetting condition to deal with, and when left unchecked, it can occasionally develop into more serious issues, such as skin cancer. Thankfully, when tackled early, the condition is easily treated and will disappear out of sight.
These seven methods will help you achieve that aim and provide you avoid sun damage in the future. You should be free of actinic keratosis from that point onwards.
Further Reading
https://www.dermnetnz.org/topics/actinic-keratosis/
https://www.skincancer.org/skin-cancer-information/actinic-keratosis
https://www.nhs.uk/conditions/actinic-keratoses/
https://www.mayoclinic.org/diseases-conditions/actinic-keratosis/symptoms-causes/syc-20354969
https://www.medicinenet.com/image-collection/basal_cell_nevus_syndrome_picture/picture.htm